By Audley Southeast Asia product executive Dan
Right in the middle of the Indonesian archipelago, the island of Sulawesi hides in plain sight, overshadowed by Borneo to the west and Bali to the south. Splayed out like a giant K, the island's four peninsulas are separated by a mountainous interior — travel from north to south and you've journeyed the equivalent length of the UK.
The island's challenging topography has protected its pristine underwater environments and helped many of its communities develop in isolation — you can watch Torajan funeral customs that you won't see anywhere else.
This is a destination for the adventurous: the infrastructure is limited and travel times can be long. I first visited in 2013 and, on my most recent trip, discovered that very little has changed since — Sulawesi clings firmly to strongly held traditions.
Toraja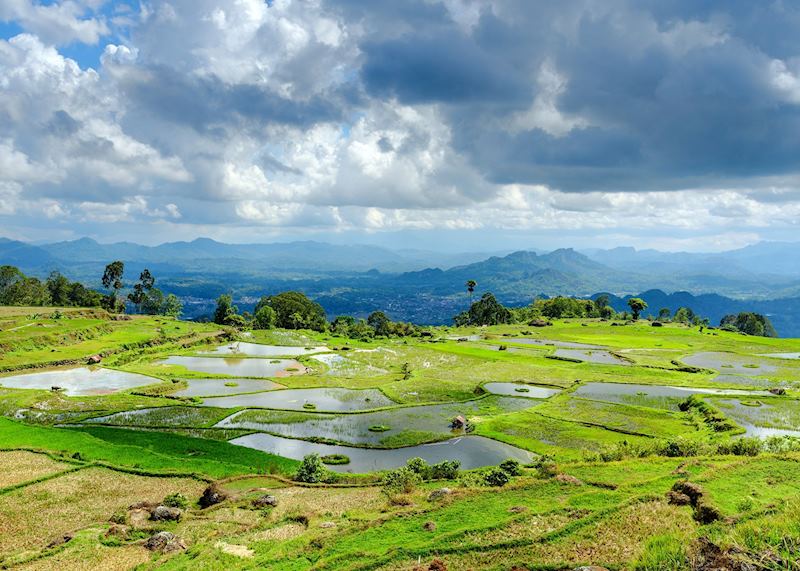 Toraja is a hilly province at the northern end of South Sulawesi. The ethnic people who've lived here since at least the 9th century are known as the Torajans. It's a Christian enclave within a Muslim country thanks to Dutch missionaries who arrived in the 16th century, but Christian faith sits alongside an animalistic belief known as Alik To Dolo (way of the ancestors).
A hundred shades of green, Toraja is a landscape of rice paddies, deciduous forest, clumps of jungle and ferny cliffs. Explore on foot or bicycle with a guide and you can take in the surroundings, with the flexibility to stop off along the way.
Villages, connected by dusty tracks, dot the landscape. Each settlement is defined by a series of saddleback-roofed houses. These are tongkonan, the ancestral homes of the Torajan people. Built on stilts, the buildings are dwarfed by oversized roofs whose shape is thought to look like the boats the first Torajans arrived on (from a distance they do resemble a land-bound flotilla). A post decorated with buffalo horns marks the entrance — the more horns, the more important the family.
I was welcomed into one tongkonan and asked if I'd like to meet the family matriarch. This was where my Western sensibilities faltered slightly — she'd been dead for a number of months. In Toraja, spending time with the dead before a funeral is seen as a precious time to say goodbye. Relatives prepare meals and converse with dead family members for months, or even years.
When asked how the bodies were preserved, I was told it was a combination of herbs, spells and enchantments (and, my guide lowered his voice, an injection of formaldehyde). Funerals are huge occasions that only take place once all the far-flung relatives have been gathered.
Today, tongkonans are a sign of status and whilst some families still use these as their home (I saw one with children's toys and a TV inside), many families now live alongside in more comfortable, modern houses.
Twice a week, you can stop at Boku cattle market, where surrounding villages come together to sell buffaloes and pigs. In Toraja, the color, shape and characteristics of the buffalo determine its price due to the significance these animals have in funeral rituals. I spoke to a man selling a single albino buffalo. He'd been bringing it to the market for two months — no takers yet, he told me, but the eventual sale will keep his family fed for years.
Attending a funeral in Toraja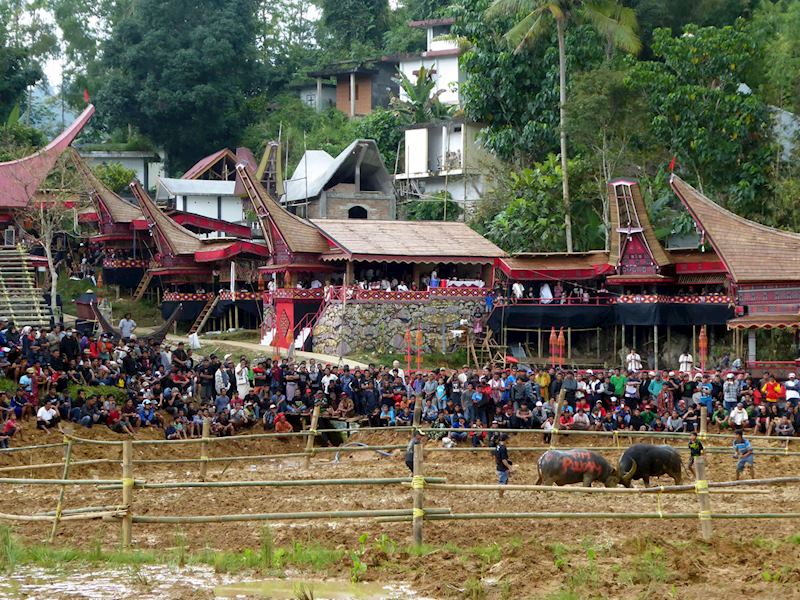 Families spend their lives saving and preparing for funerals. Depending on the person's status, this could involve buying a prize buffalo (at the same outlay as an expensive car in the West). And, while it might seem intrusive, foreign guests are welcomed. In fact, your presence is seen as evidence of the family's importance.
At high-status funerals, you might be chauffeured to a covered platform specifically for out-of-town guests. As I sat watching one elaborate ceremony, many people came over to sit with me, asking where I was from.
It's difficult to plan to visit a funeral, although they tend to be more frequent in July and August. They don't take place on Sundays or over Christmas and Easter, when Christian celebrations are priority. I suggest journeying through Toraja with a driver and local guide, who'll know of any events and can tweak your plans accordingly. Most mourners wear dark clothing, so I try to follow suit.
The celebrations (to the community the event is a celebratory festival) last a few days, including the chanting of rhythmic poems at the Ma'badong ceremony. The more elaborate funerals include a fight between two buffalo, watched by an attentive crowd — most of the community bet on a winner. Another important part of the proceedings is the sacrifice of a number of animals, usually buffalo or pigs, depending on the status of the family. Your guide will know the order of events, if this is something you'd like to avoid.
Torajan burial sites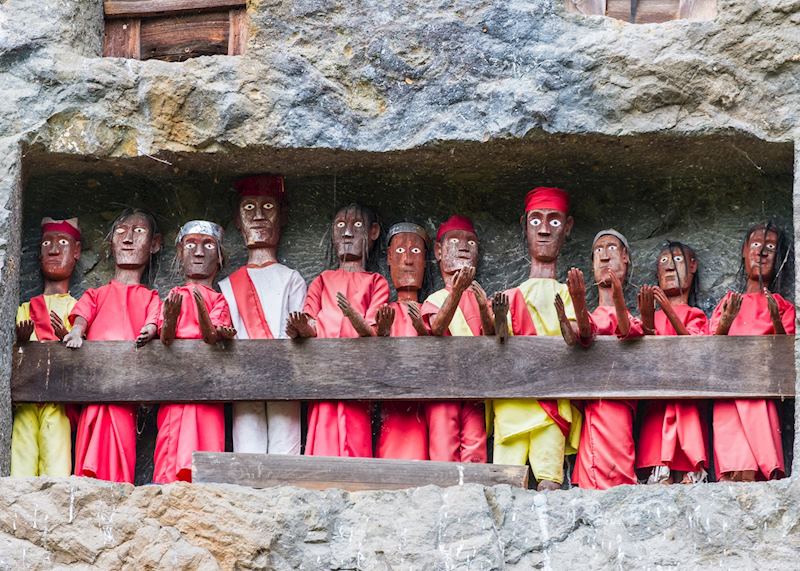 The burial sites of the Torajan people are just as complex as the funerals. A range of traditions depend on family status and ethnicity.
In Tampangallo, a cave burial site, a carefully arranged pile of skulls marks the entrance. Placed in niches around the cave are narrow wooden coffins, their lids mirroring the boat-bow shape of the tongkonan. In front of some coffins you'll see an intricately carved wooden figure standing sentinel. These are tau taus, wooden effigies of the dead that are usually dressed in the deceased person's clothes — sometimes including sunglasses, jewelry and hats.
Tau taus are the sign of a wealthy family. At Suaya burial site, graves have been carved into limestone cliff walls, the wooden figures peering out across the landscape from little balconies. Many of the graves here belong to the royal family of Sangalla, a dynasty that has gradually petered out. Some tau taus are dressed in starkly modern clothing — every few years, families re-dress the figures in an elaborate ceremony.
Getting to Toraja
You can catch a flight to Makassar, the region's main airport, from Singapore or Kuala Lumpur as well as a number of other Indonesian islands. From Makassar, a number of internal flights will take you closer to Toraja. Schedules change regularly, so it's best to speak to your specialist for the most up-to-date advice.
The alternative is a two-day road journey of around 320 km (198 miles), staying overnight in Sengkang. Along the way, you can lunch with an Indonesian family and stop in the Torajan's administrative city of Makale, which is watched over by a towering Jesus statue (it's larger than Brazil's Christ the Redeemer).
Where to stay in Toraja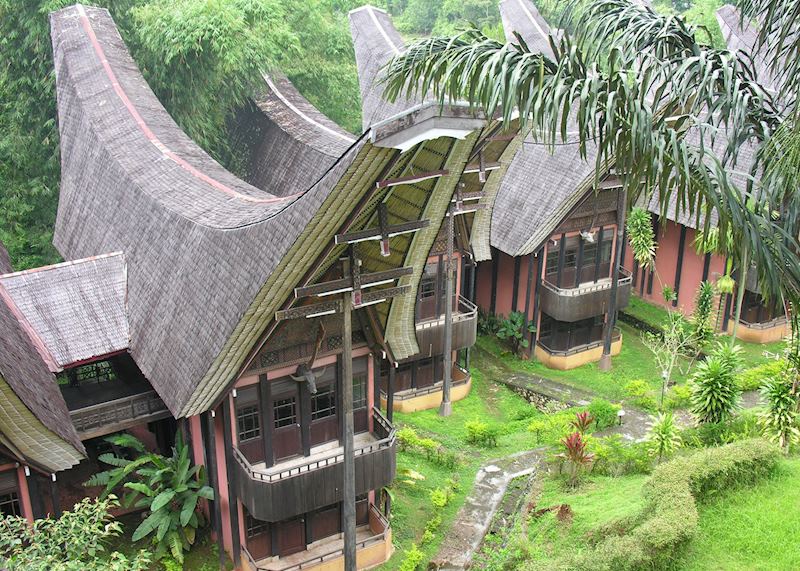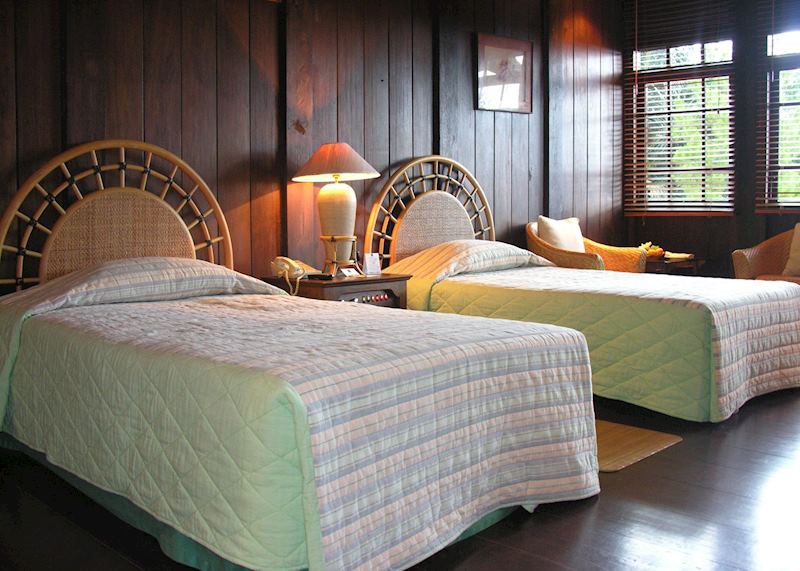 The superior and deluxe rooms at the Toraja Heritage Hotel are in the style of a tongkonan, with distinctive wooden roofs and woven panels. Inside they're a little more luxurious, with hardwood floors and a balcony overlooking the hills. The service and food won't rival Bali or Lombok, but it's the best in the region.
North Sulawesi
When the Portuguese visited Sulawesi in the 16th century, they were so confused by the geography of the island they assumed it was an archipelago. Things have got a whole lot easier since then, and a network of domestic and international flights let you combine a trip to south Sulawesi with time in the north.
The call of the north is its natural geography and wildlife, with fumaroles, lowland rainforests and marine parks that lay claim to some of the best diving in the world.
Bunaken Marine Park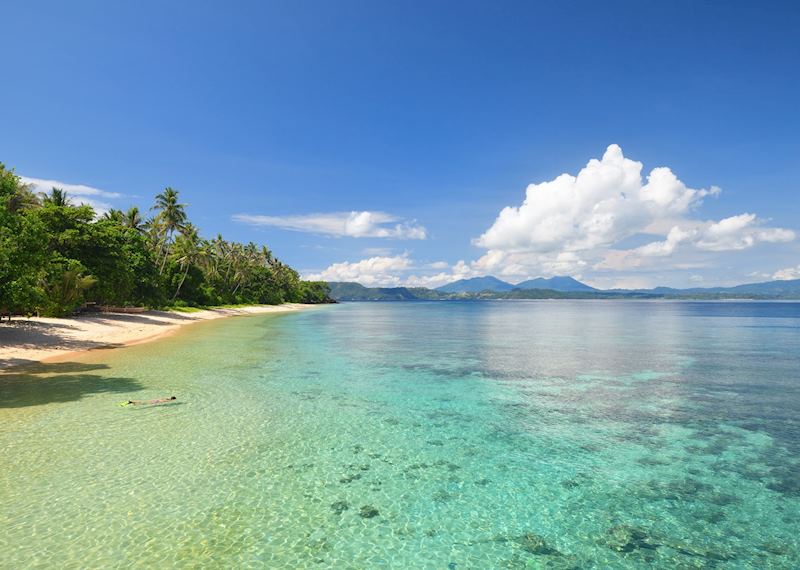 Just off Sulawesi's northernmost tip are a smattering of five small islands that make up Bunaken Marine Park. In essence, these are jungle-topped volcanic tufts that stick out of the Celebes Sea. On the small, tropical island of Siladen is Siladen Resort & Spa, a collection of wooden villas, set within fern-planted gardens. Some villas open out right onto the stretch of silvery-taupe sand.
At Siladen, you can relax by the saltwater pool, wander the beach, kayak along the coast or take a dolphin-watching trip. But, the real wonders are underwater. You're at the very heart of the coral triangle — the global focal point for marine biodiversity. A five-star on-site PADI school covers everything from guided snorkeling sessions to advanced diving qualifications.
In the ocean, the walls teem with coral. A rich collection of frothy soft coral sways in the current, interspersed with sprigs of hard coral, sea fans and sponges. On a single dive I saw reef sharks and turtles, eagle rays and a huge humphead (or Napoleon) wrasse that outsized me.
You're mostly drift diving, with a choice of more than 50 sites surrounding the islands. To snorkel, walk a few minutes along the coast where you'll find coral growing right from the shallows.
All your meals are included (it's eat here or nowhere) and served by the beachside restaurant. The sun sets behind the cone of Pulau Manado Tua Volcano on the horizon and I spent my last night, cocktail in hand, watching the sky redden as a local band played behind me.
Lembeh Island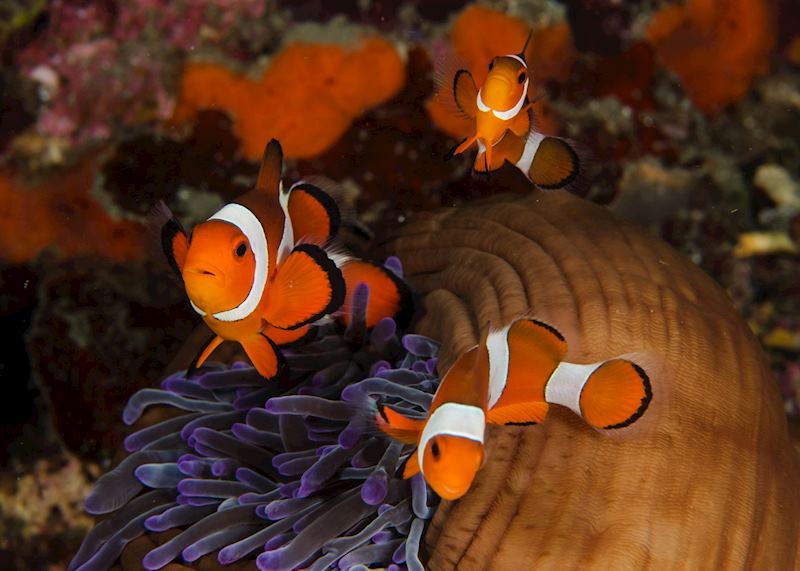 If you want to concentrate purely on diving, I'd suggest Lembeh Island. Located around the headland from Bunaken Marine Park, Lembeh Resort is tucked into a private cove overlooking the Lembeh Strait, in touch with around 60 dive sites. There's not much beach here, just a narrow band of sloping black sand — the resort's cottages and rooms are hidden among the island's close-knit jungle, which overhangs the inky water.
Chatting to some of the diving staff, I heard that the average visitor to Lembeh has clocked up over 800 dives. The island attracts some of the world's most experienced divers for one reason: muck diving. The black volcanic sand is littered with dead coral, coconut husks and other debris (hence the name) making the area one of the world's most renowned muck diving destinations. You might see pygmy seahorses, octopuses, juvenile fish and pièce de résistance of underwater oddities, the nudibranch.
Peering down at the seabed, which is relatively featureless (making these macro-creatures easy to see), I spotted some crawling nudibranchs. These psychedelic sea slugs are cartoonish with their ribbons, frills and horns. Ironically, as I watched them, a whale shark came in from the deep to see what we were up to — the largest fish in the sea.
The Lembeh Resort has marine biologists on site, who train the dive guides and are on hand to help identify any unknown curiosities. The dedicated photography and video department is overseen by a professional underwater photographer, who runs workshops to improve your skills.
The dive school runs a variety of courses including complete beginners' sessions. As many of the dive sites are relatively shallow, this is one of the best places to try muck diving as a newly qualified diver.
How to get to North Sulawesi
A number of domestic flights land into Sam Ratulangi International Airport in Manado. From here, it's about an hour's drive to Siladen's jetty then a half-hour boat ride to the island. The Lembeh jetty is approximately three hours' drive from the airport, followed by a ten-minute boat trip.
The islands combine well together. After staying a few nights on Siladen, you can travel by boat to Lembeh, stopping for a couple of dives along the way.
Tomohon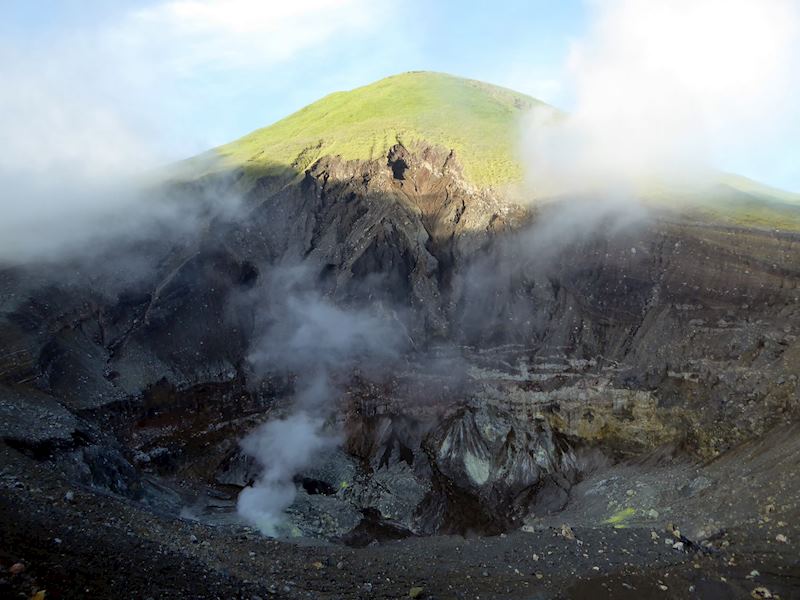 You can experience Indonesia's volcanically made topography in detail by staying for a few nights in Tomohon, a town tucked below Gunung Lokon Volcano, a three-hour drive from Manado's airport.
Gunung Lokon and its twin, Gunung Empung, are straddled by a steaming crater. You can hike up to the crater along a dried lava flow that has created a channel down the mountain. It took me about two hours to reach the edge, clambering up this dark-gray, shiny gulley that stands out against thick, waist-high grass. At the top, you can peer into the crater, as well as look across the surrounding landscape.
While you're in the area, a guided tour will introduce you to other interesting natural features including Lake Linow. The changing chemical composition of this volcanic lake shifts the water through a spectrum of shades, from deep blue to red or a Northern-Lights-glowing green. Around the lake's edges, you can watch geysers spurt and fumaroles smoke.
Trip ideas: Sulawesi

Start thinking about your experience. These itineraries are simply suggestions for how you could enjoy some of the same experiences as our specialists. They're just for inspiration, because your trip will be created around your particular tastes.
View All Tours in Indonesia