By New Zealand specialist Lucy
For me, it's the one-off experiences that make a honeymoon, and New Zealand is such a strong contender for those 'once-in-a-lifetime' moments. You could find yourselves heli-hiking on a glacier, taking a scenic flight to what Māori spirituality considers the end of the world, or jet boating into the heart of Peter Jackson's Middle-earth.
And, New Zealand isn't just about shouty, adrenaline-charged activities: you could spend a day holed up in the hot tub of a hotel in the Marlborough Sounds, gazing out at the aquamarine water and watching for passing dolphins. Or round off your trip on the beaches of the Cook Islands.
Planning your honeymoon route in New Zealand

You can combine the experiences I mention below by starting your trip in the North Island at the Bay of Islands (from where you can access Cape Reinga — more on that shortly) before heading to the South Island to explore the Marlborough Sounds, Queenstown, Fiordland National Park (for Doubtful Sound) and Mount Cook. The easiest way to travel around is by driving yourself, but other options exist for anyone reluctant to get behind the wheel.
A scenic flight over Cape Reinga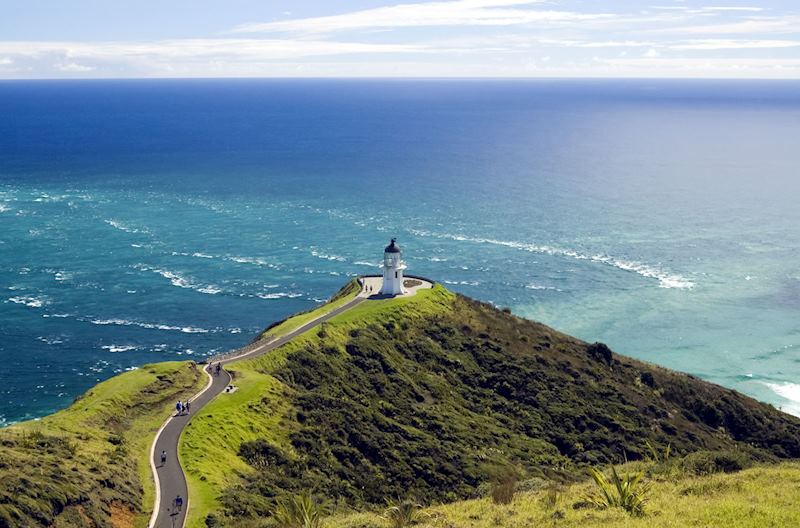 While scenic flights are possible in different areas — including from Wanaka to Milford Sound — if you're going to splash out on this experience, I'd head to a quieter corner of New Zealand.
From Kerikeri in Northland, you can catch a six-seater fixed-wing to Cape Reinga, virtually the country's northernmost area. It's the very best way to reach this remote promontory, a journey that would take over three hours each way by road.
Heading north, you fly over tropical-looking beaches and bright turquoise sea, then forests of kauri trees and the entire length of 90 Mile Beach (which actually measures 88 km [55 miles], but its size impresses nonetheless). From the air, it looks like a desert strip with flaxen drifting dunes; offshore rollers form white furrows. Beyond the beach, pastures and myrtle-green forestland pave the way to the cape, which tapers into a finger-like peninsula crowned by a squat white lighthouse.
When the plane touched down on Cape Reinga itself, the sense of remoteness was immediate — there's little on this weather-lashed headland save a small shop and a web of trails taking you to lookouts.
My group were met by a local guide, who explained to us the significance of this area for Māori. On the rocks at the farthest point of the cape clings an 800-year-old pohutukawa tree, the gateway to Hawaiki, the afterlife. Spirits must leap off the clifftop and make their way down through its roots. Eurydice-like, they take their last look back at the mainland when they reach the uninhabited Three Kings Islands, strewn 55 km (34 miles) offshore. Plaques around the cape narrate this story.
You could spend an hour exploring the tracks that lead off around the clifftops. But, for me, the greatest marvel is seeing where two great bodies of water — the Tasman Sea and the Pacific Ocean — collide. From the lighthouse, you can look out across the water and watch white-crested waves crashing together, an event known as a tidal race.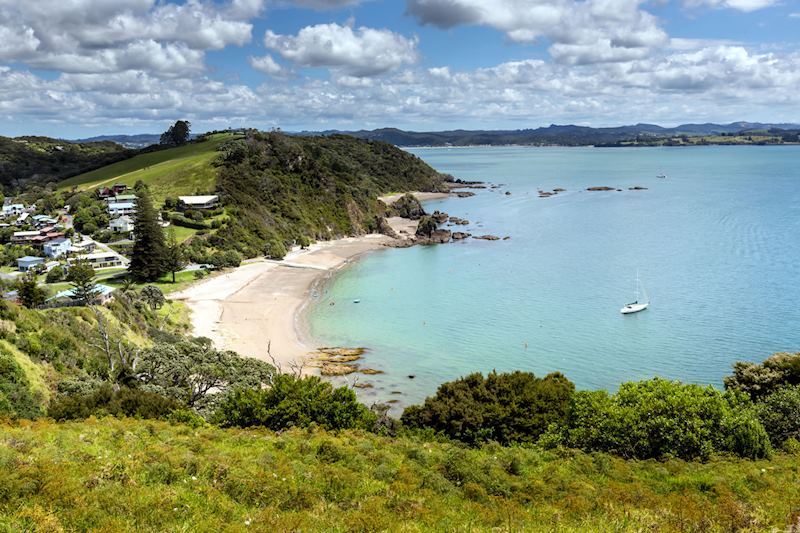 Although you fly from Kerikeri, I'd opt to stay a 45-minute drive away in Russell in the Bay of Islands. Once the area's de facto capital, it has since been outgrown by the bustling backpacker town of Paihia, but it's worth the extra journey time.
Formerly known as 'the hell-hole of the Pacific,' Russell was a debauched whalers' town with gin palaces a-plenty, but now boasts the rather more flattering soubriquet of 'romantic Russell'. I like its excellent history trail, and waterfront lined with good restaurants.
Exploring (and relaxing) in the Marlborough Sounds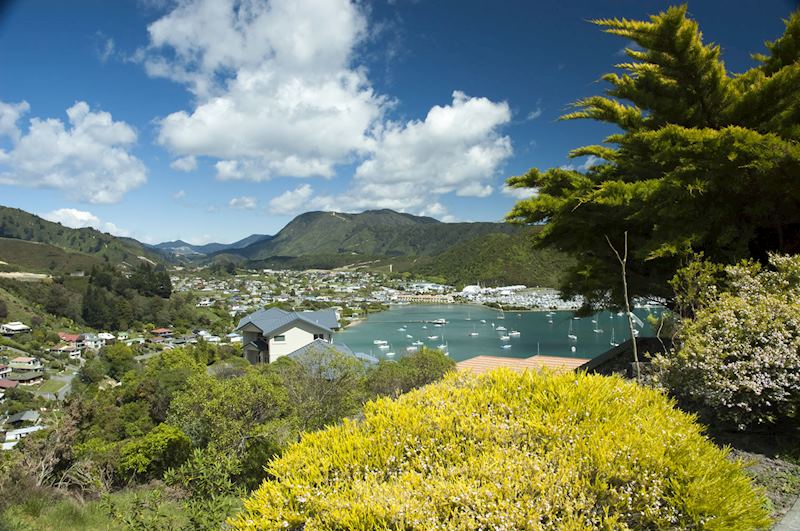 The Marlborough Sounds are a latticework of bays, inlets and skinny peninsulas broken up by green bush-clad hills. On the rich azure waters, you're just as likely to see local salmon and mussel farmers transporting their wares as you are enraptured visitors and pods of dusky or bottlenose dolphins. This is my preferred place for downtime in New Zealand: you can take a water-taxi out to properties cut off by road. There's an immediate disconnect.
I love the hotel named the Bay of Many Coves, set on a secluded scythe of shingle beach just off Queen Charlotte Sound. There's no passing traffic, but you may just encounter, as I did, a fur seal while out paddleboarding.
Swimming is possible — the water is bracing — but you may simply prefer lounging in the pool or hot tub, looking out for inquisitive (though rare) orca. It's a hillside hotel, with each room offering its own vantage point out across the water, and balconies covered with foliage. It's tempting to hide out here for a few days.
Or not. The hotel offers easy access to the Queen Charlotte Track, one of the country's most scenic tramps (hikes, in New Zealander parlance). It also forms an excellent base for wine-tasting trips into Blenheim (a 30-minute drive from Picton, the Sounds' main town).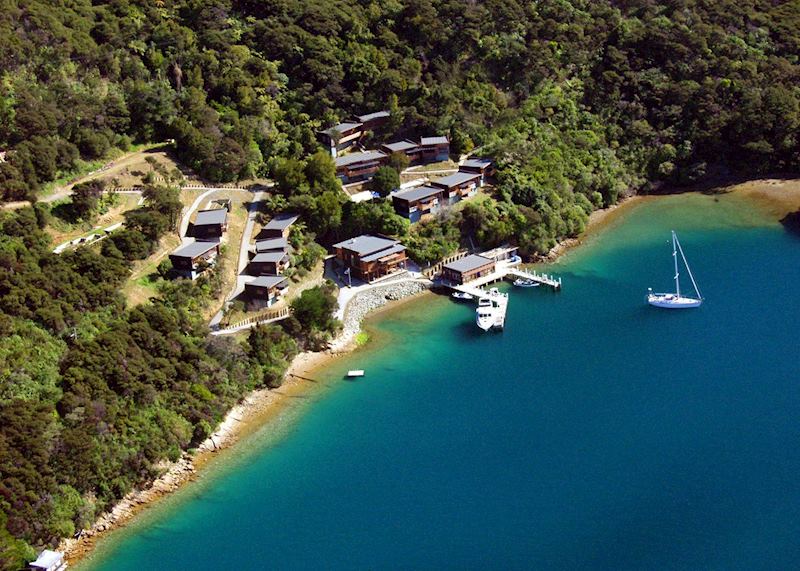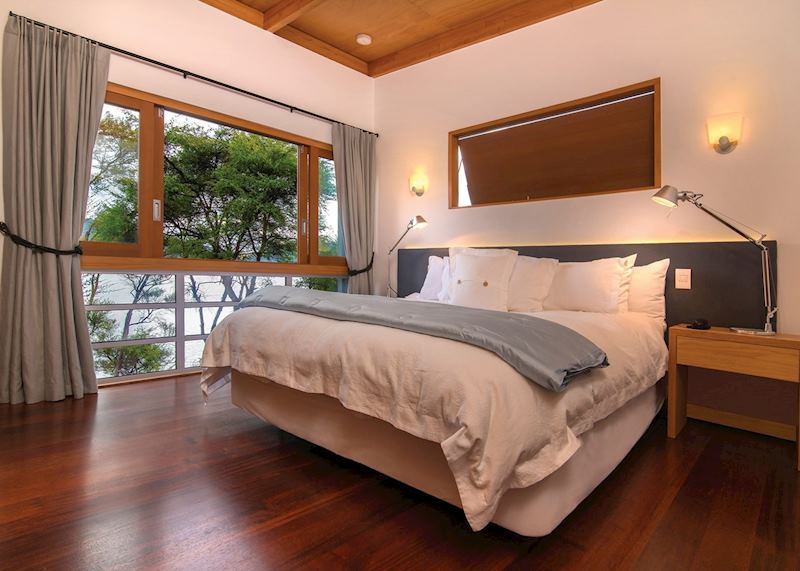 A great way of exploring the wineries is to cycle between them, with either a guide or independently, stopping off at cellar doors for impromptu sauvignon blanc tastings and a lunch platter or two.
I'm also a fan of the Marlborough Sounds' Greenshell Mussel Cruise, despite, or perhaps because of, the months I spent working in a local seafood factory (fun, but probably not one for your honeymoon).
The cruise departs from the estuary town of Havelock and takes you on a tour of the sounds while treating you to the local delicacy: green-lipped mussels (also known as greenshells). Luscious and oversized, they're easily the biggest I've ever eaten. You might leave the cruise wanting to try them in all their varieties: battered, grilled, steamed, smoked and marinated.
A land of ice… and heat
Don't be surprised if 'glacier fever' descends on you in New Zealand. It's a common enough malady, but fortunately there are many ways to get up close and personal with these behemoth ice rivers and develop a stronger sense of their scale and science.
The heart of the South Island is a frozen one. Aoraki Mount Cook, Australasia's highest peak at 3,755 m (12,320 ft), watches over an area of cloud-scuffed greywacke peaks. But, below this winterscape, tussocky foothills speckled with delicate alpine flowers such as snow gentians show that there's more to this environment than ice and altitude.
Taking a ski-plane flight over Aoraki — known as 'cloud piercer' in Māori — would top my list, if I were planning my own honeymoon in New Zealand. Departing from Mount Cook Village, you fly over the Mount Cook Range, the Tasman Glacier (among others) stretching out in the valley below like a great white tongue.
Conditions permitting, you'll touch down on the glacier's snowline, standing in the still-soft névé snow, before skimming your way back past the slopes of Aoraki itself. Look closely, and you'll see huts perched on the edge of precipices: the final stop for mountaineers waiting to summit Aoraki's ice cap. (Tip: book your flight for the first slot of the day, as if the weather is looking too wild, there's a good chance you'll be postponed to an afternoon flight, and so avoid missing out on the experience altogether.)
If you have time, you can also take a motorboat cruise on Lake Tasman. Your guide navigates between the bergy bits floating in the pewter-shaded water as you approach the Tasman Glacier's retreating terminal face.
Some are amorphous moraine-studded lumps lurking just under the surface; others glow menthol-blue and form anvil-like shapes. While it's dangerous to journey right up to the actual snout, you'll still get teasingly close to where the icefall meets the lakewater. If you're lucky, you might see ice calve from the face, and your guide will almost definitely chip shards off the floating bergy bits for you to examine.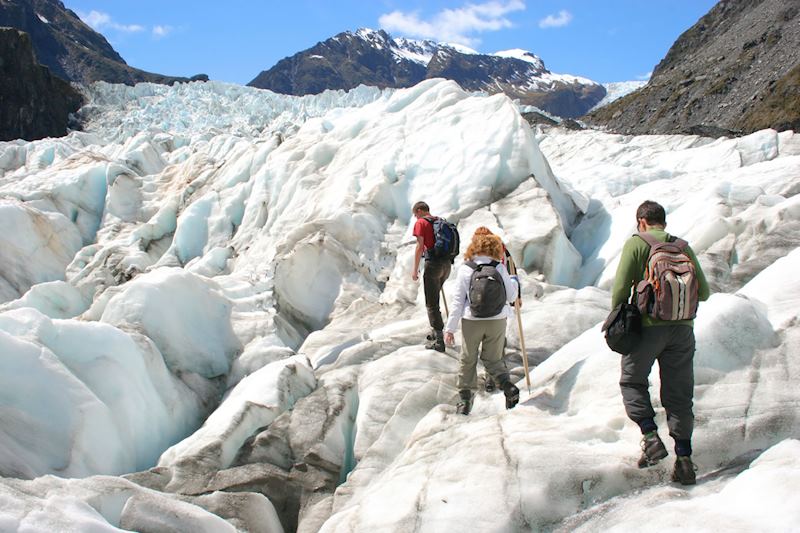 Finally, you could try heli-hiking. For this, it's best to head to the west coast, where Franz Josef and Fox Glaciers grind their way down to river valleys and temperate rainforest. After your helicopter deposits you on the glacier's surface and you have pulled on your crampons, you have around two hours to explore the ice with your guide.
The glacier befuddles your perspective: what looks like a short walk away is actually an arduous eight-hour scramble, so pitted and crevassed is the surface. The time goes quickly as you slip through ice caves and observe phenomena such as moulins, wells that swirl water right into the glacier's underbelly, or nunataks, pyramid-like peaks protruding from the surrounding ice.
One of New Zealand's many geographical twists is that areas of geothermal activity sometimes sit right alongside (or even underneath) alpine regions and mid-latitude mountain glaciers such as Franz Josef. You can make the most of this by following up a heli-hike from Franz Josef Glacier with a dip in the gateway town's hot pools. Entry is included in your heli-hike admission. You can easily while away an hour or so there, warming up in the mineral-rich waters with their curtain of native bush.
An overnight cruise… or a thrill-seeking wilderness boat trip

Most visitors spend a day in Fiordland, but lingering longer here pays dividends. I think one of the best ways to experience this glacier-gouged wilderness is by spending 24 hours cruising on Doubtful Sound, the overlooked (but no less good looking) brother of the more famous Milford Sound.
Setting off down the fjord ('sound' is a misnomer) in your intimate, eight-person vessel, you sail between great vertical rock faces veiled in native bush such as nothofagus trees (southern beech), and tree and crown ferns.
In good weather, the fjord waters are placid and glossy, and you might stop to kayak in a cove, or make your way out to the open sea, passing rocks of rowdy fur seal packs. But bad weather brings its own delights. The mountainsides become streaked with spidery white veins, as hundreds of waterfalls rush down into the sound.

For more thrills and spills, try jet boating on the Dart, a braided river that threads its way north of Queenstown past the tiny township of Glenorchy and into Mount Aspiring National Park. Jet boats were invented as a way of getting around these shallow river forms found in New Zealand, and they're able to plane in remarkably little water.
I like this particular trip as not only do you get the fun of the sudden twists and 360-degree turns of the jet boat, you're taken deep into roadless backcountry. You skim along a valley floor towered over by schist mountain ranges and flanked by golden tussock grass. You'll see ancient red beech forest, glimpse the one-home stop of Paradise, and pass Diamond Lake, which sometimes throws out glints of pink or sea-green as it catches the light.
It was also a prime filming location for Peter Jackson's The Lord of the Rings. The muddy flats of the Dart River Estuary lent themselves as the surround to Saruman's stronghold, while the mountainside opposite was CGI'd to create the dam-burst scene during the Battle of Isengard.
Switching off in the South Pacific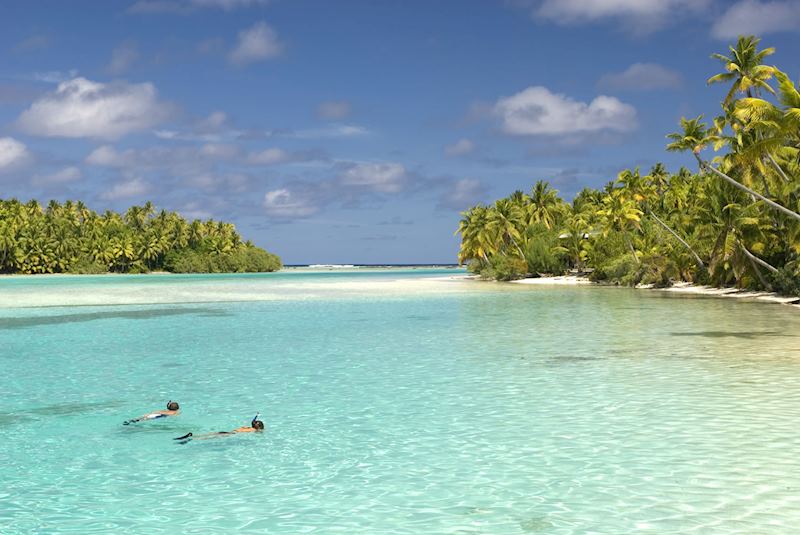 New Zealand is often a place of lots of outdoor activities, so if you're looking for some respite at the end of your honeymoon, one alternative to the Marlborough Sounds is to spend a few days on the Cook Islands, less than a four-hour flight from Auckland.
They're less developed than Fiji and French Polynesia, even slower in pace, and distinctively Polynesian. Cook Islands Māori (similar to New Zealand Māori) is spoken alongside English, and you'd be hard-pressed to find chain hotels or businesses. I think they're an incredibly fulfilling place to visit for anyone who has ever dreamed of white-sand beaches, pellucid, electric-blue water and the chance to snooze under coconut palms.
Rarotonga is your entry point, a mountainous island with a thick mantle of tropical forest inland, and beaches and a protective coral reef on the outside. The snorkeling (and sunbathing) is excellent here, but, if you can, try to spend a day or two on Aitutaki.
This low-lying sand island hugs its own lagoon, a 40-minute light aircraft flight away from Rarotonga. Much of it is rustic and unpretentious: hotels sit next door to chicken farms. The highlight is the chance to take boat trips to the lagoon's uninhabited motus (islets) for beach barbecues, and more snorkeling on coral ridges.
Start planning your honeymoon in New Zealand

Start thinking about your experience. These itineraries are simply suggestions for how you could enjoy some of the same experiences as our specialists. They're just for inspiration, because your trip will be created around your particular tastes.
View All Tours in New Zealand