Old world elegance, highbrow culture, Soviet austerity and capitalist ostentation collide in Moscow, Russia's capital and the country's largest city. It's a political, economic and cultural powerhouse and a city of immense contrasts where the bright fairytale domes of St Basil's Cathedral sit next to brutalist Soviet-era blocks and gleaming skyscrapers. World renowned opera houses and galleries full of Old Masters co-exist with brash designer malls that cater for the city's extravagantly wealthy. Yet, this inconsistency of character merely adds to the city's vibrant and spirited nature. Moscow is anything but predictable and, consequently, a fascinating place to explore.
Moscow is the heart and soul of Russia with all its complexity, history and culture, but what I love most is its contradictory character with the nouveau riche partying under the watchful eye of Soviet icons.
Russia specialist Nick
Things to see and do in Moscow
The Moscow Kremlin
Enclosed behind imposing walls, the Kremlin is a colossal fortress that has been at the heart of political and historical events in the city for centuries.
As a home to the tsars and a bastion of state and religious powers, its palaces, churches and museums were designed by leading architects and its eclectic collection of buildings spans several centuries of style. You can explore many of the monumental buildings as well as the Armoury and Diamond Fund, which contain a superb collection of riches from lavishly decorated thrones, crowns and carriages to a glittering hoard of Fabergé eggs.
St Basil's Cathedral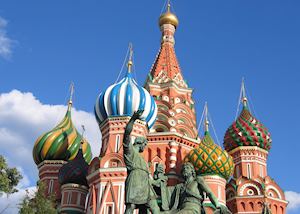 Lording over Red Square, St Basil's Cathedral's fairytale onion domes are a whimsy of riotous patterns and colors. It's unlike any other building in the country and its inspiration remains a topic of debate among architectural historians to this day.
The church was commissioned by Ivan the Terrible to commemorate the capture of Kazan and was built between 1555 and 1561. It came close to demolition during Stalin's premiership, when he decided it interfered with a clear procession route for his tanks through Red Square.
Inside, eight smaller chapels surround the larger central Church of the Intercession with its soaring roof and golden iconostasis. The chapels are connected by a warren of narrow passageways and staircases whose walls are decorated in ornate floral and geometric patterns.
Novodevichy Convent
One of Russia's most beautiful religious complexes, Moscow's Novodevichy Convent was established in the 16th century and showcases a glorious collection of Russian Orthodox architecture. Known as 'New Maiden's College', it became a retirement home for the country's female nobility and a prison for rebellious or unwanted wives who were forced to take holy orders.
The museum displays rare Russian artworks and illuminated manuscripts and describes how the noblewomen lived in much comfort despite their enforced stay. Adjacent to the convent is the Novodevichy Cemetery, the final resting place of some of Russia's most notable artists and politicians including Khrushchev, Chekhov, Gogol and Mayakovsky.
Gorky Park
Leafy Gorky Park in central Moscow was designed as part of a grand plan to promote 'culture and leisure' in the city. It's a vast green space where locals flock to walk, ride or skate, paddle across ponds, play tennis or enjoy the funfair rides. In winter, the ponds freeze and seemingly the whole city comes out ice-skating.
There are children's playgrounds, formal gardens, woodland and an artificial beach, as well as a host of restaurants, open-air bars and street entertainers, making it a great place to wander and observe everyday life. The park also hosts regular events, including exhibitions and concerts.
Lenin's Mausoleum
One of Russia's most significant and controversial political figures, Vladimir Ilyich Lenin lies preserved in an austere mausoleum on Red Square. Although he was a highly divisive politician, he was revered by his own people and upon his death in 1924 he was embalmed using secret methods.
A visit to his tomb is a surreal experience that allows you a brief look at his carefully preserved body, kept behind bullet-proof glass in a dimly-lit, temperature-controlled room. Guards move visitors along quickly but outside you can examine the busts and headstones of other political leaders, including Stalin and Brezhnev.
Bolshoi Theatre
Known the world over, the Bolshoi Theatre is renowned both for its beauty and its ballet. The current theater was built in the mid 18th century and has a neoclassical design with a striking portico surmounted by a statue of Apollo. This famous Moscow landmark is equally opulent inside after an extensive renovation.
We can arrange tickets to a show here, but you can also take a backstage tour. It reveals much about the theater's history and design, and may even offer a glimpse of rehearsals in progress.
The Moscow metro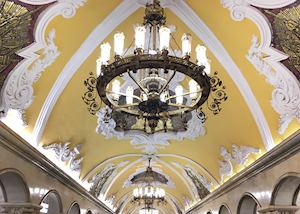 Moscow's metro system is one of the busiest and most beautiful in the world, carrying over nine million passengers each day and providing an intriguing insight into Russia during Soviet times.
Lavish depictions of military victories or happy Communist living adorn the station walls along with baroque stucco-work, elaborate mosaics and deliberately atmospheric lighting. Combined with crystal chandeliers, stained glass and life-size marble figures, it feels more like a series of museum pieces than a public transport system.
A guided tour takes you to the most remarkable stations and offers an essential overview of the history of the metro.
Star City
Formerly a secret military training facility, Star City is a complete town home to the Gagarin Cosmonauts Training Centre and to Russian cosmonauts and their families. Located about 25 km (15 miles) from Moscow, it's a captivating destination if you're at all interested in space travel.
In a day trip, you can learn about the history of Russian space exploration, watch astronauts in training and even try the G-force simulator. The Space Museum houses a full-scale mock up of the Mir space station, Yuri Gagarin's office and an impressive collection of space suits and vehicles.
Sanduny Baths
Steam baths are one of Russia's oldest and most treasured customs, and this traditional banya, or bathhouse, is a place to relax and unwind with a hot steam bath and a vigorous massage.
Sanduny Banya is Moscow's oldest and grandest public bathhouse and is housed in an opulent building with richly decorated rooms, elaborately carved paneling and the air of grace and elegance. The steam rooms here are extremely hot and you'll be offered a felt hat to help you regulate your temperature and oak or birch twigs to stimulate your circulation.
Izmailovsky Market
Row upon row of Russian dolls, fur hats, hand-carved chess sets and Soviet paraphernalia line the stalls at this huge market just outside the city. It's the best place to shop for souvenirs as well as being an intriguing place to wander, with antiques, rugs, pottery, jewelry and religious art in among bric-a-brac and second-hand clothes. The market is at its best and busiest at the weekend, when the volume and variety of stalls increases. It's worth spending a day here, stopping for a lunch of fresh flat breads and shashlik (skewered meat) cooked on an open grill.
Ritz-Carlton rooftop bar
Boasting panoramic views of central Moscow, the rooftop lounge in the Ritz-Carlton hotel overlooks the Kremlin and St Basil's Cathedral and offers a fairytale perspective on this historic part of the city.
The hotel is just a couple of minutes' stroll from Red Square, and the stylish, modern bar has become a fashionable haunt for the city's well-heeled elite. An impressive vodka menu is accompanied by champagne, cocktails and sushi, while the restaurant serves a modern Peruvian menu.
Sip a drink on the terrace, watch the twinkling lights of the city below and just soak up the atmosphere of Moscow old and new.
Ziferblat anti-cafés
A counter-culture movement started in Moscow, the Ziferblat, or clock face, cafés offer everything for free except your time. A visit has the frisson of a clandestine activity as the cafés are generally unmarked and you must ring a doorbell to gain access.
On arrival, you choose from a collection of clocks, help yourself from the wide array of coffees and herbal teas, Russian cakes and biscuits and then hand back your clock as you leave, paying per minute for the time you spent there. Relaxed, unconventional and well-hidden, these underground cafés offer a glimpse of modern youth culture in Russia.
Best time to visit Moscow
Late spring and early autumn are the best times to visit Moscow, with mild weather and fewer visitors. Although the summer months are warmer, they can be extremely busy and prices are consequently higher. Moscow can be brutally cold in winter, but the city looks at its most romantic under a sprinkling of fresh snow.
Festivals, events and seasonal reasons to visit
Winter: from December to February the city is covered in a soft blanket of snow and, although bitterly cold at this time of year, it's when Moscow looks at its finest.
New Year: the start of the year is rung in on Red Square with fireworks exploding against a backdrop of Moscow's most famous landmarks. Book early.
Speak to someone
who's been there
Start planning your tailor-made trip to Moscow by contacting one of our Russia specialists
Suggested itineraries featuring Moscow
Our itineraries will give you suggestions for what is possible when you travel in Moscow, and they showcase routes we know work particularly well. Treat them as inspiration, because your trip will be created uniquely by one of our specialists.
Places & hotels on the map
Our expert guides to exploring Moscow
Written by our specialists from their own experiences of visiting Moscow, these guides will help you make the most of your time there. We share both our practical recommendations and the best ways to appreciate Moscow at its best.
Go slow in Moscow and St Petersburg: experiences worth lingering over

Go slow in Moscow and St Petersburg: experiences worth lingering over

Go slow in Moscow and St Petersburg: experiences worth lingering over

Less is more when it comes to Moscow and St Petersburg, Audley Russia specialist Lucy says. She picks some of the best experiences to focus on in each city, and explains which places are worth visiting with a private guide.

Retracing Romanov Russia in St Petersburg, Moscow and Ekaterinburg

Retracing Romanov Russia in St Petersburg, Moscow and Ekaterinburg

Retracing Romanov Russia in St Petersburg, Moscow and Ekaterinburg

Discover famous places in Russia associated with the Romanov era, from palaces and art to lesser-known exhibits and poignant churches. Audley Russia specialist John recommends what to see on a St Petersburg vacation or a trip to Moscow.

Visiting Russia's St Petersburg and Moscow in winter

Visiting Russia's St Petersburg and Moscow in winter

Visiting Russia's St Petersburg and Moscow in winter

Visiting Russia in the depths of winter? Absolutely, says Audley specialist John, and it can enhance your experience of the country. He also suggests what to see and do in Moscow and St Petersburg during the colder months.
Accommodation choices for Moscow
We've selected a range of accommodation options for when you visit Moscow. Our choices usually come recommended for their character, facilities and service or location. Our specialists always aim to suggest properties that match your preferences.
Ideas for experiencing Moscow
Our specialists seek out authentic ways to get to know the places that could feature in your trip. These activities reflect some of the experiences they've most enjoyed while visiting Moscow, and which use the best local guides.