The best time to visit Switzerland is between April and October, though winter sports enthusiasts may prefer December to March. The country has four distinct seasons, each with its own attractions.
The spring months of March to May bring Alpine blooms, flowering trees and cows heading out to pasture. In the warmest months of June, July and August summery temperatures prevail, though you'll rarely get any humidity thanks to the high altitude. This is when locals and visitors alike head to the lake shores, meaning thicker crowds.
The wine and fruit harvests dominate the fall months of September to November and from December to February, you'll find snow, cold and winter sports.
In the lowlands, rain most often falls in November and May. Because it's between the busy summer and winter seasons, these months are when many attractions have limited hours and residents often take their own trips.
Creating tailor-made tours for over 25 years

Excellent
TrustScore

4.7 | 3290 reviews

Month-by-month guide for traveling in Switzerland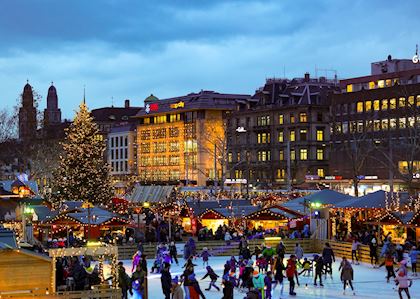 Visiting Switzerland in December - January
December and January are the coldest, but not the wettest, months of the year. There's frequently snow, which makes the Christmas markets in Switzerland's main cities even more festive. Temperatures hang around freezing, but it's still common to enjoy crisp blue skies and bright sun reflecting off the snow.
Events & Festivals
Christmas markets (mid-November through early January): Cities feature cute wooden chalets, lots of traditional food, handmade crafts and hot spiced wine.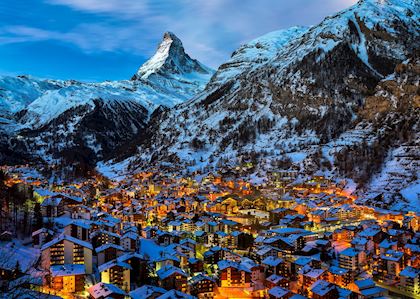 Visiting Switzerland in February - March
Temperatures begin to rise in February and March, but these months tend to see more rain and snow at altitude. Ski resorts are very busy at this time, since many schools take their mid-term breaks.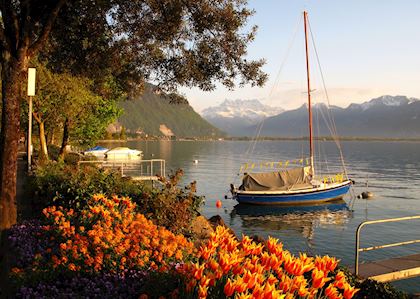 Visiting Switzerland in April - May
Spring arrives over April and May, and bright flowers come out on the Alpine mountainsides and in the green, low-lying valleys. Meadows return to life, dairy cows are released to graze and Alpine resorts become void of skiers. April can sometimes see a late flurry of winter weather.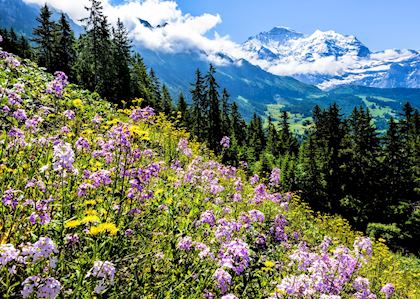 Visiting Switzerland in June - July
In the summer months of June and July, the mountain scenery is at its best. The weather is mild and temperatures are pleasant and rarely too hot. Days are generally dry and sunny, offering clear views across the mountain peaks and rolling countryside.
Events & Festivals
Montreux Jazz Festival (July): The biggest music festival in Switzerland with artists from around the world performing for two weeks on the shores of Lake Geneva.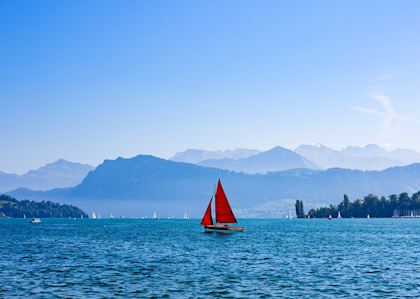 Visiting Switzerland in August - September
As fall approaches in August and September, the lakes, mountains and cities all overflow with harvest beauty. Flowers adorn wooden chalets, the forest scenery takes on a cloak of golden brown and more mountaintops take on snowy caps. Farmers are out in force as fruit trees ripen and grapevines bend under their heavy load.
Events & Festivals
Swiss National Day (August 1): A lot of towns and cities celebrate with street festivals and parades, many with elaborate fireworks and live music.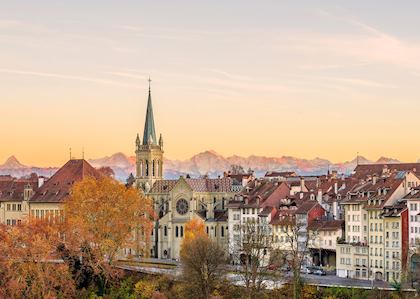 Visiting Switzerland in October - November
October and November mark the late fall, when the last of the wine grapes are harvested, the cows are brought down from the hillside and the weather begins to turn cold. In early October you can be blessed with lovely sunny days, but as the days shorten through November many hotels, restaurants and attractions close their doors for respite and refurbishment before the busy winter arrives.
Events & Festivals
Christmas markets (mid-November through early January): Cities feature cute wooden chalets, lots of traditional food, handmade crafts and hot spiced wine.
Switzerland Climate Guide
Destination
Jan
Feb
Mar
Apr
May
Jun
Jul
Aug
Sep
Oct
Nov
Dec
Geneva

3°C

78mm

5°C

77mm

9°C

74mm

14°C

71mm

18°C

86mm

22°C

94mm

25°C

72mm

24°C

90mm

20°C

90mm

14°C

79mm

8°C

93mm

4°C

84mm

Lugano

3°C

67mm

5°C

65mm

8°C

89mm

12°C

128mm

16°C

169mm

20°C

158mm

23°C

128mm

22°C

158mm

19°C

135mm

14°C

128mm

8°C

109mm

5°C

60mm

Zermatt

-6°C

131mm

-5°C

117mm

-4°C

125mm

-1°C

135mm

3°C

150mm

7°C

168mm

9°C

151mm

9°C

173mm

7°C

140mm

3°C

129mm

-2°C

143mm

-4°C

133mm

Zürich

2°C

64mm

4°C

63mm

9°C

65mm

13°C

87mm

18°C

110mm

21°C

136mm

23°C

127mm

25°C

134mm

22°C

91mm

13°C

67mm

7°C

76mm

3°C

67mm
Why travel with Audley?
100% tailor-made tours
Fully protected travel
Established for over 25 years
98% of our clients would recommend us Travel advice
Practical tips for traveling to Switzerland, from social protocols to guidance on money matters, with a link to the latest Government of Canada travel advice.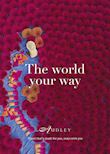 Request our brochure
Covering all seven continents, The world your way shows you how you can see the world with us. It features trip ideas from our specialists alongside hand-picked stays and experiences, and introduces our approach to creating meaningful travel experiences.
Trip ideas and travel guides for exploring Switzerland