By Audley Thailand specialist Mark
Thailand's beautiful coastline lends itself to cruising, but this is not the only area where you can take to the water to see the country from a different perspective. River journeys out of Bangkok are the perfect remedy to a busy few days in the capital, or you can head west to the River Kwai for a historical insight into Thailand during World War II.
Bangkok to Ayutthaya cruises

A UNESCO World Heritage Site, Ayutthaya was the capital of Thailand from the 14th to 18th century until it was razed by the Burmese. The site lies some 80 km (50 miles) north of Bangkok and can be visited by road, but a boat journey along the Chao Phraya River is a much more relaxed method of travel. After a few days whizzing around the busy streets and bustling markets of the city, it comes as a welcome change.
Life along the river is very traditional. Teak homes dot the shoreline and children splash in the water as you pass, while local fishermen trawl up and down, selling their catch from the boat.
As you journey toward Ayutthaya you'll pass the glistening Grand Palace and Arun Wat temple, the latter of which can be visited as part of the cruise. Your crew may also stop at Pathum Thani market to buy supplies for dinner, allowing you an hour or so to explore and see some of the more interesting produce on offer, from exotic fruit and unusual looking fish to all manner of Thai sweets, including little pancakes filled with spiced cream.
Your first glimpse of Ayutthaya will be Bang Pa-In Royal Palace, also known as the Summer Palace, on the outskirts of the city. An old residence of the Thai royal family, the Summer Palace's brightly colored roofs and manicured gardens are a charming introduction to this once majestic city.
Boat options for cruises along the Chao Phraya River

I recently took a two-day cruise along the Chao Phraya aboard the Mekhala Rice Barge, part of the Asian Oasis fleet.
This long teak vessel has been converted to carry just 12 passengers and five crew members, including the captain and a chef. Facilities are basic but comfortable with en suite, air-conditioned cabins and a polished wooden deck from where you can watch the riverside pass by.
Dinner on board is an atmospheric affair. We moored up at the Wat Kai Tia Temple, which was decorated with glittering glass, and watched the sunset surrounded by candles before tucking into hearty Thai cuisine of curries and fried rice. We spent the night at this temple and watched the sun rise the following morning before continuing our journey.
A trip on the Mekhala also works really well as part of a longer journey. From Ayutthaya you could continue north by train to Sukhothai, Thailand's earliest capital and another UNESCO site. From here continue to Chiang Mai, the country's second largest city, which is sprinkled with pretty temples and hosts a vibrant night market.
The Anantara Song is a more luxurious option for a cruise along the Chao Phraya. Also a converted rice barge, the vessel is beautifully furnished with varnished teak and polished brass.
With only four rooms and a maximum of eight passengers, the Anantara provides an intimate experience over three days, sailing from Bangkok to Ayutthaya and back again. All cabins are en suite and air-conditioned, with little indulgences such as bathrobes and slippers.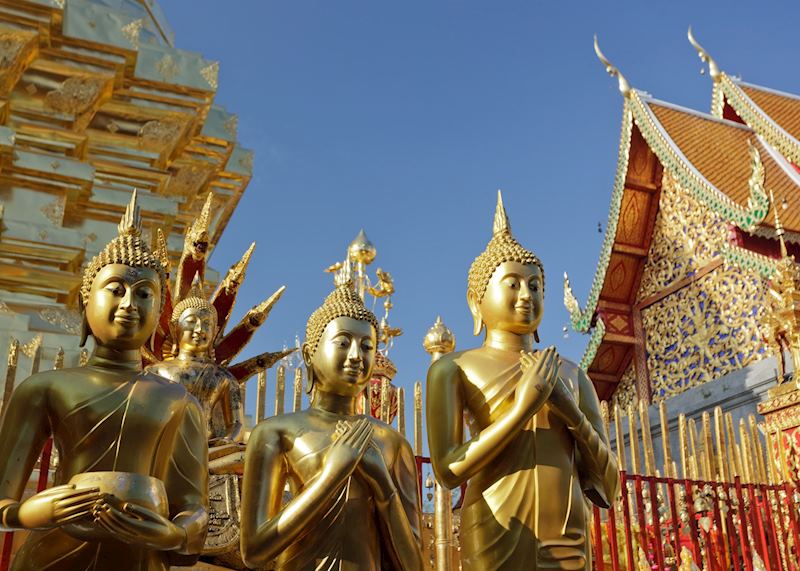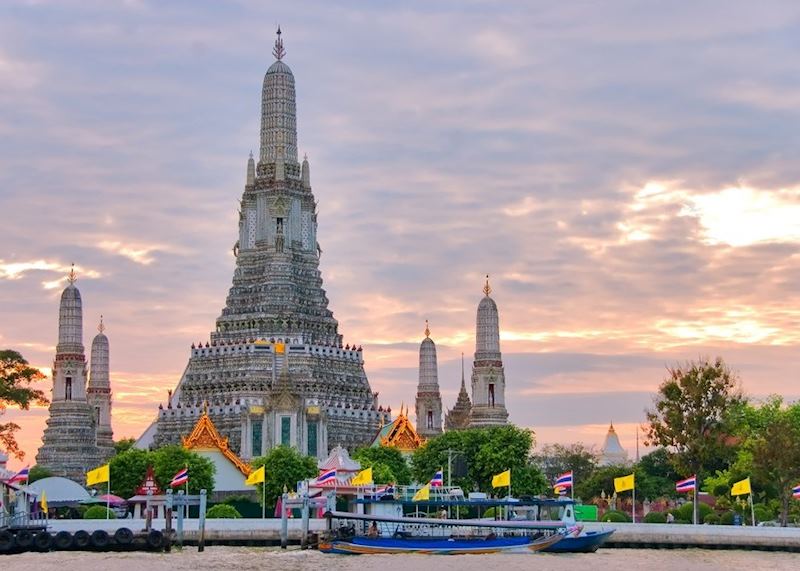 A number of tours are included on this cruise and Wat Arun (the Temple of Dawn) is your first port of call. While you may have already visited the temple during your time in Bangkok, the vantage of the river reveals an alternative viewpoint. You'll be taken around by one of the boat's guides, learning about the history of the site and its design. With a Khmer-style central prang (tower) and decorated in broken porcelain, it's distinctly different from any other temple in Bangkok.
You'll also stop at the Royal Barge Museum, where you can view ornately decorated royal barges, and a small island in the middle of the river that's home to a Mon community. This tribe is originally from Myanmar and make a living producing clay pots.
Once you reach Ayutthaya you'll have the opportunity to spend a full day exploring this extensive archaeological site with your guide, taking in the reliquary towers and Buddhist monasteries that still remain.
On your third and final day you'll return to Bangkok and from here you could fly down to the beaches of the south. Or, perhaps, head up to Chiang Mai for trekking opportunities and its markets. It's also a great place to learn about the region's cuisine on a cookery course.
Best time to cruise along the Chao Phraya River
You can cruise the river at any time of the year, although June through to August can be particularly hot and sticky.
A cruise along the River Kwai

The River Kwai travels through a remarkable region of limestone gorges, jungle-clad riverbanks, natural hot springs and tiered waterfalls. Cruises begin and end in Bangkok and include a visit to Kanchanaburi, a provincial town known for its World War II sites such as the Bridge on the River Kwai, Hellfire Pass and the Death Railway, which you can take a trip along as part of your time onshore.
Hellfire Pass is a moving memorial to the prisoners of war who were forced to excavate the route through solid rock using just hand tools.
Boat options for cruises along the River Kwai
The RV River Kwai is a brand new river cruiser. It has a traditional design with a colonial feel, teak furnishings and ten en suite cabins capable of accommodating up to 20 guests. There are 11 crew members on board who provide a very high level of service, and the food is exceptional.
As this three night cruise starts and ends in Bangkok it's easy to pair with some time on the beach. A short flight from the capital will take you to the Andaman Coast, where limestone outcrops burst out of the sea, and some of the country's most recognizable islands such as Phuket and Koh Phi Phi, with their world-class beaches, are found.
Best time to cruise along the River Kwai
The RV River Kwai is in dry dock during May and June. The best months for travel are December, and March and April when the river levels are good and temperatures are comfortable.
Sea cruises around the Andaman Coast

The Andaman Coast, off the southwest of Thailand, has inspired movie makers and artists alike. Limestone karsts erupt out of the sea just off the shoreline of some of country's most enchanting islands, providing an attractive setting for a sea cruise.
By sailing these waters, you'll have access to islands that otherwise can't be reached. Explore the Similan Islands, a marine park renowned for world-class snorkeling and diving, where colorful coral and fish bring the ocean to life, and blinding white sands fringe a jungle-clad interior.
Further afield, pay a visit to Phang Nga Bay, home of James Bond Island, instantly recognizable for its appearance in The Man with the Golden Gun. It's also where a Malaysian fishing village has sprung up as villagers have attached their homes to the side of a limestone karst that juts out of the ocean. You'll have the opportunity to meet these local people and learn about their way of life, fishing in the waters that surround their homes.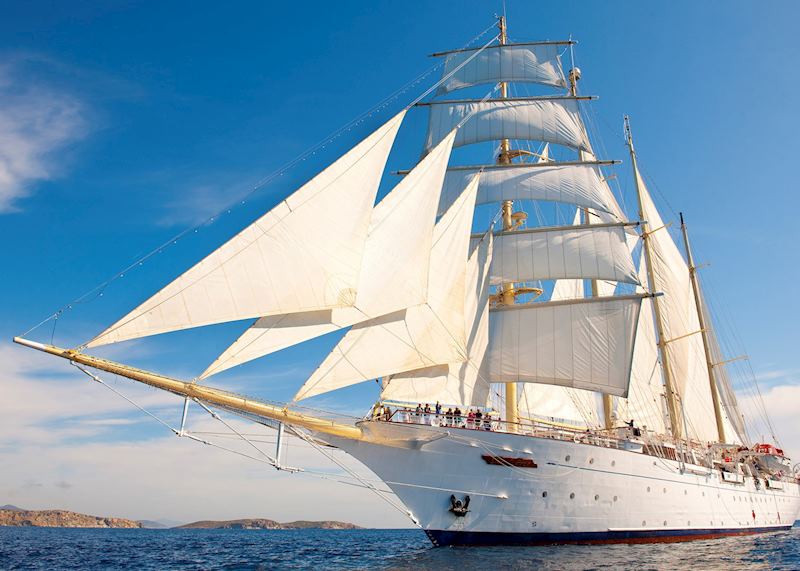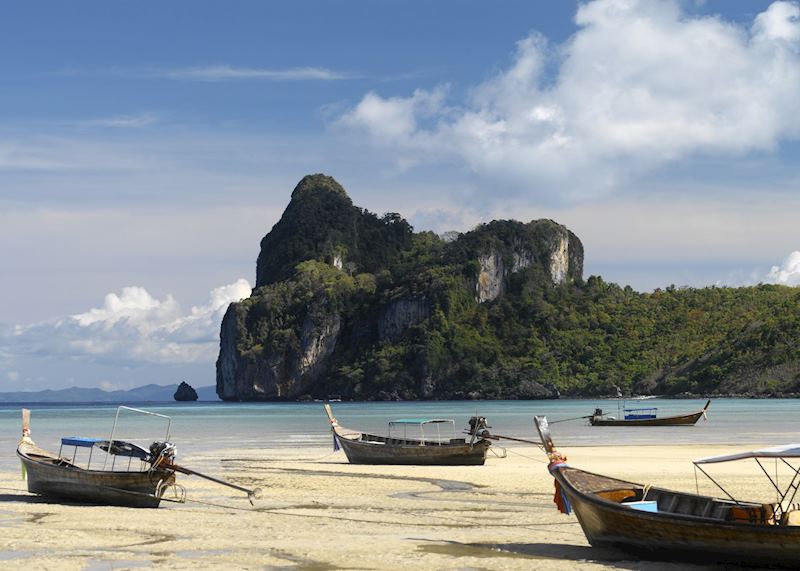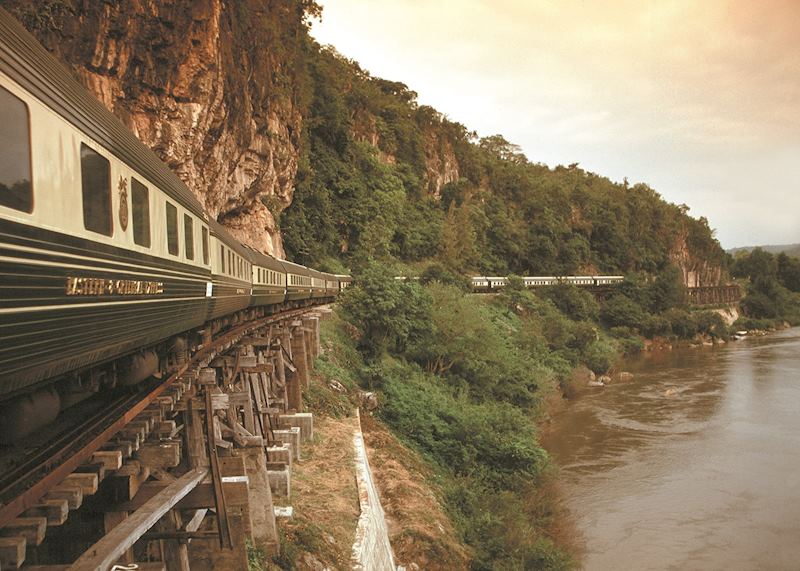 The deck features two swimming pools, an inside/outside bar, sun loungers and bowsprit nets to relax on. Inside there is a large open plan dining room, an Edwardian style library and seven different categories of cabin. I would recommend choosing category two, three or four as these are a little higher up on the ship and all have windows or portholes. Cabins further down are below the waterline.
Food on board is very good quality. Lunches are buffet meals with a tasty selection of fresh fish, grilled meats and salad, while evening meals are à la carte. A piano bar provides the evening entertainment and performers from the local islands will often come aboard to sing and dance.
This week-long cruise starts and finishes in Phuket. It's a lovely alternative to beach time at the end of a cultural tour of Thailand and is fantastic value for money.
You can also cruise from Singapore to Phuket. In my opinion this provides a superb alternative to the Eastern Oriental Express train, which travels from Singapore to Bangkok.
Start planning your cruise in Thailand

Start thinking about your experience. These itineraries are simply suggestions for how you could enjoy some of the same experiences as our specialists. They're just for inspiration, because your trip will be created around your particular tastes.
View All Tours in Thailand