By Tibet specialist Duncan
Buddhism came to Tibet partly by way of a marriage. The 7th-century ruler Songtsen Gampo, Tibet's most celebrated king, took both a Chinese and a Nepalese Buddhist princess as his wives. Today, Buddhism is the lifeblood of the region, bound up with much of what you might associate with Tibet — strings of prayer flags, mountaintop lamaseries and chanting, maroon-robed monks.
If you're planning a tour of Tibet, visits to monasteries can give you a chance to witness the depth of Tibet's spiritual life first-hand.
Why visit Tibet's monasteries?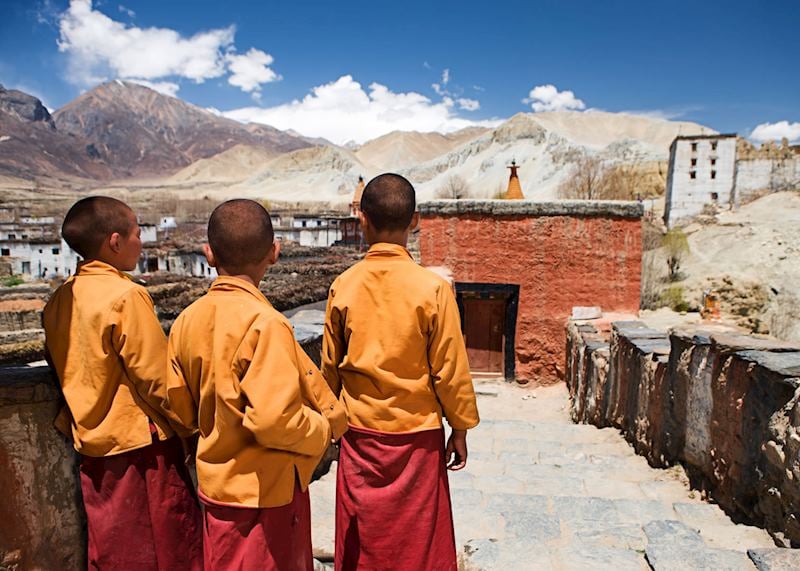 There are a few reasons for devoting a large portion of your visit to experiencing the monasteries. It's interesting to see how highly monks are regarded by ordinary Tibetans, and it's also intriguing to compare how monasteries differ in personality and feel, according to the particular sect of Buddhism followed by their occupants.
And, if you go to Tibet between the end of September and the end of December, you'll visit monasteries alongside scores of pilgrims. Often farmers or nomads, they venture from the farthest corners of the region to reach the cities in time for Losar, Tibetan New Year.
Accompanying the faithful — many of whom are swathed in heavy travel garments and have walked for weeks to reach these monasteries — is almost a sensory experience. You might walk shoulder to shoulder, pressed together. You hear them uttering prayers under their breath, mumbling chants, shushing their children, and breathing in the incense-sweetened air.
You can read more on what to expect when visiting a monastery (and why they're so beguiling) in my guide to experiencing Tibet
Some of the best monasteries to visit in Tibet
Drigung Til Monastery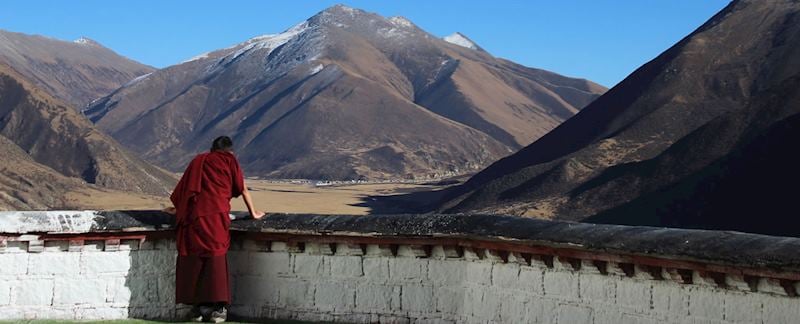 This complex, set on a steep hill, is admittedly remote. Getting there entails a four-hour round trip from Lhasa. But, because of its isolation, the monks here don't see many visitors. When my guide, Tashi, and I arrived, they draped khatas (ceremonial scarves) around our necks as a welcome gesture.
What I like about this place is the chance you might get to walk around the monks' living quarters. They're an irregular tumble of dwellings, almost a miniature village, with smoke rising from little chimneys.
The mountain ridges around this monastery are also an important sky burial site. It's a custom that can be a bit overwhelming for Western sensibilities, but for many Tibetans it remains the preferred form of funeral.
You're not permitted to watch sky burials taking place, but you might see evidence of them: vultures circling, and coffins draped in sheets destined for the burial site.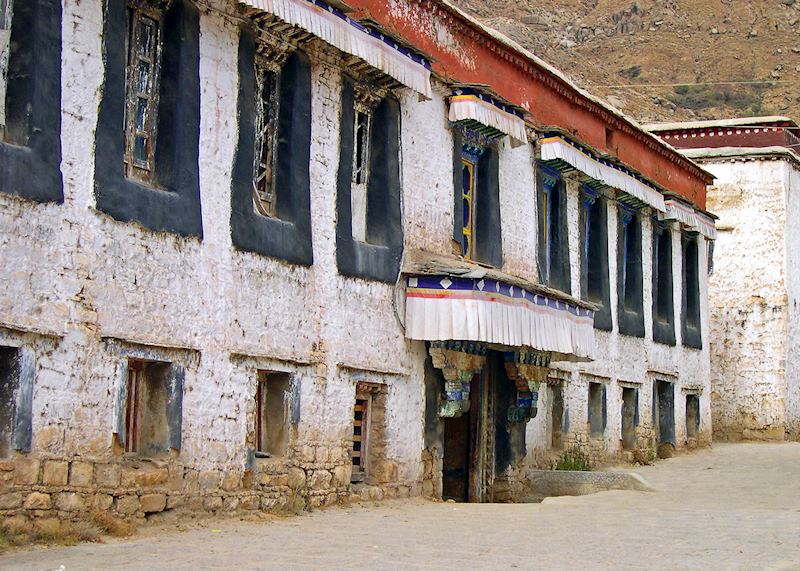 Sera's convenient location, just outside Lhasa, makes it a magnet for visitors, both Western and Chinese. Its main claim to fame are the debating sessions that take place, reliably, at a set time each day. Although you'll likely be joined by a large group of fellow spectators, the debating isn't a touristy gimmick — it's part of the monks' schooling.
You'll see monks clapping and foot stamping as they make philosophical points to their opponent. The younger ones tend to be more theatrical and animated, while older sages sometimes sit with their eyes closed, nodding along.
Tidrum Nunnery
Nuns wear similar robes to monks and shave their heads, but they don't share the suvc ame social status in Tibet.
At Tidrum, you can see the workings of a far-flung nunnery, which welcomes few visitors but is within a four-hour drive from Lhasa (with the potential to stop en route at Drigung Til and passing semi-nomadic herder settlements on the approach).
Inside the nunnery, you might hear the sisters chanting, and you'll also have the chance to walk the hillside overlooking the convent and its valley setting. It's said Padmasambhava, the mythical forefather of Buddhism in Tibet, spent years meditating in a cave nearby, which you can step into as you explore.
Interestingly, all the images hanging on the nunnery walls are of men, including former lamas and the Panchen Lama.
Your room for the night is at a guesthouse in the valley, where you can bathe in hot springs frequented by locals, who claim the waters have medicinal properties.
Monastery etiquette

This is a bit of a misleading section — there's actually little real etiquette for monastery visits, except to take off any hats and sunglasses before stepping inside and not to take photographs once inside. It's also good practice to step over the doorsill without touching it, and to take a clockwise route around.
My advice is to take your cue from your guide (who always accompanies you on visits). I've had guides who were very relaxed, and others who doffed their hats and behaved reverentially toward the monks.
You might notice that Tibetan city dwellers from Lhasa are quite blasé around monks, whereas pilgrims from rural areas are very respectful.
You sometimes get to meet some of the monks. Everyone I've had the pleasure of meeting (save one rather cantankerous chap — 'don't mind him,' my guide said, 'he's a hermit and not a fan of visitors') was extremely warm.
Read more about trips to Tibet

Start thinking about your experience. These itineraries are simply suggestions for how you could enjoy some of the same experiences as our specialists. They're just for inspiration, because your trip will be created around your particular tastes.
View All Tours in Tibet