By Audley USA specialist Beth
Yosemite is one of those places you just can't prepare yourself for. I'd seen many images of the park's granite cliffs, rushing waterfalls and sequoia trees clinging to the valley side. But, you don't get a sense of the sheer scale of the place until you're standing in the middle of it all, surrounded by vertical rock formations reaching 900 m (3,000 ft) into the sky.
A visit to Yosemite, whether driving through the park or spending several days hiking its many trails, not only places you among this striking natural scenery, but also gives you the chance to spot wildlife both rare and familiar, from families of deer to eagles circling prey.
Hiking in Yosemite National Park

The Yosemite Valley floor — the park's focal point and main visitor hub — is the starting point for most hikes and its flat terrain offers a gentle initiation for hikers. The surrounding steep rocks and mountains provide more strenuous trails.
Some trails have a particular focus, such as reaching a waterfall or viewpoint. Others offer a more general route as an introduction to the park, its wildlife and its best-known rock formations.
Hiking independently
Yosemite is easily explored on your own. Hiking trails are well signposted, paths are well maintained and staff will happily provide recommendations and give out maps showing the various routes, from half hour strolls to full day hikes, which are all graded by difficulty.
Hiking with a guide
I highly recommend exploring Yosemite with a guide at least once during your visit. Experienced and knowledgeable, guides can tailor a route based on what you want to see and how far you'd like to hike.
Along the way, they'll point out wildlife, fill you in on the history and geology of Yosemite and share personal stories of their time in the park.
My guide had eight years of experience under his belt. He recalled past forest fires, explained how the scenery changes with the seasons and identified plants and trees we passed.
Hiking the Mirror Lake loop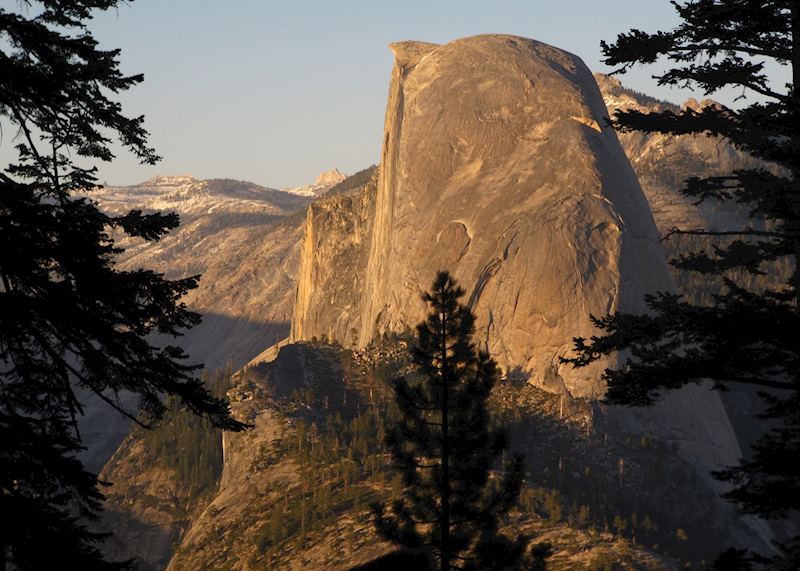 Half Dome's dramatic granite figure reflects in the clear waters of Mirror Lake. A glacial lake left over from the Ice Age, Mirror Lake is actually on the brink of disappearing altogether due to sediment build-up, and during the late summer it's better described as a meadow.
The best time to follow this 8 km (5 m) loop trail is between late April and early June, when snowmelt fills Tenaya Creek, forming the lake. Outside this time, it still makes a pleasant hike as you're surrounded by evergreens, wild flowers and cliff faces.
An excellent introductory hike, the loop trail starts after a half hour stroll from Yosemite Valley's visitor facilities along a paved road. The loop itself takes two to three hours to complete along fairly even terrain.
I was struck by the clarity and stillness of the lake, which stretched out like glass in front of me. As well as Half Dome, there are views of Mount Watkins' curved outline and the jut of Washington Column. Information points along the trail tell you about Mirror Lake's transition into a meadow and the area's history.
Hiking the Lower Yosemite Falls Loop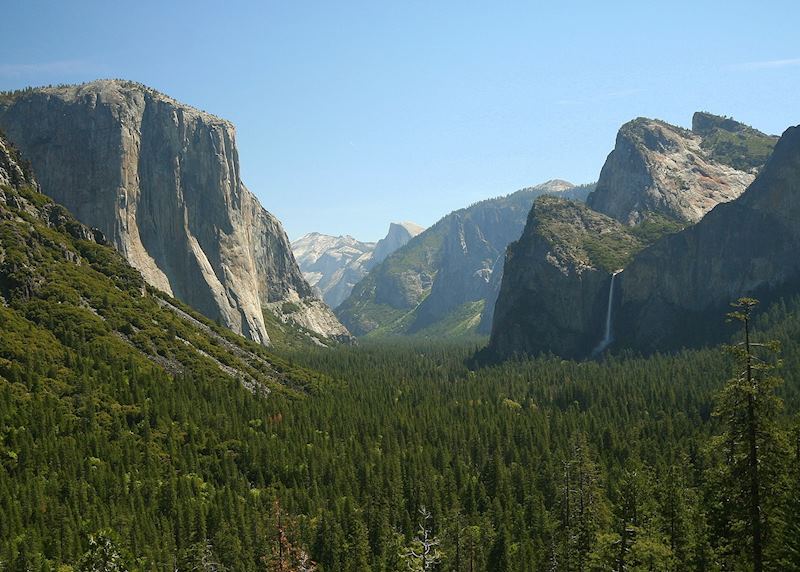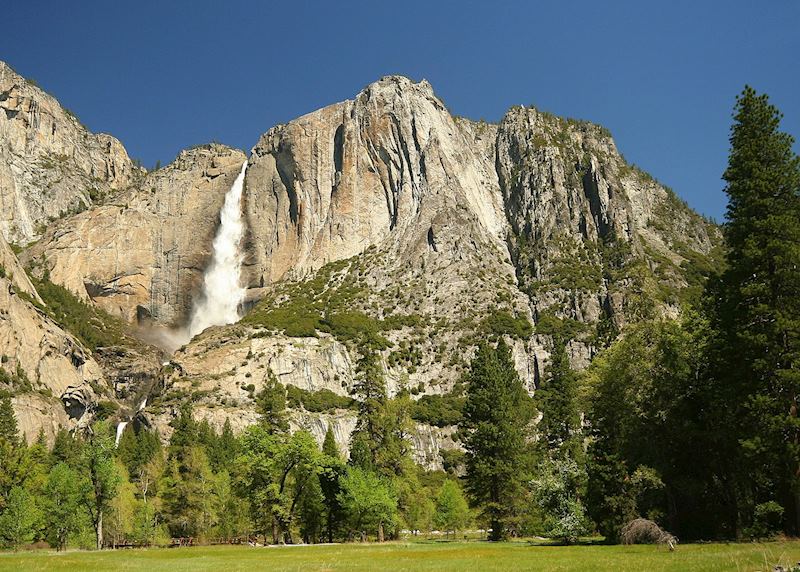 Another good first-time walk is the 1.6 km (one mile) loop trail to the base of Lower Yosemite Falls in the Yosemite Valley floor. The eastern side of the loop up to the waterfall is wheelchair accessible and easy terrain for families.
I'd definitely recommend following this trail during late April to early June, when the park's waterfalls are at their peak after the snowmelt.
After a few minutes' walk along a paved woodland path, you hear the thunder of cascading water. You'll then reach a bridge directly in front of the waterfall. Standing here, you can feel the spray and the power of the water as it plunges 98 m (320 ft) down the rock. If you look up, you'll have superb views of Upper Yosemite Falls, whose waters fall an impressive 440 m (1,430 ft).
Hike to the top of Yosemite Falls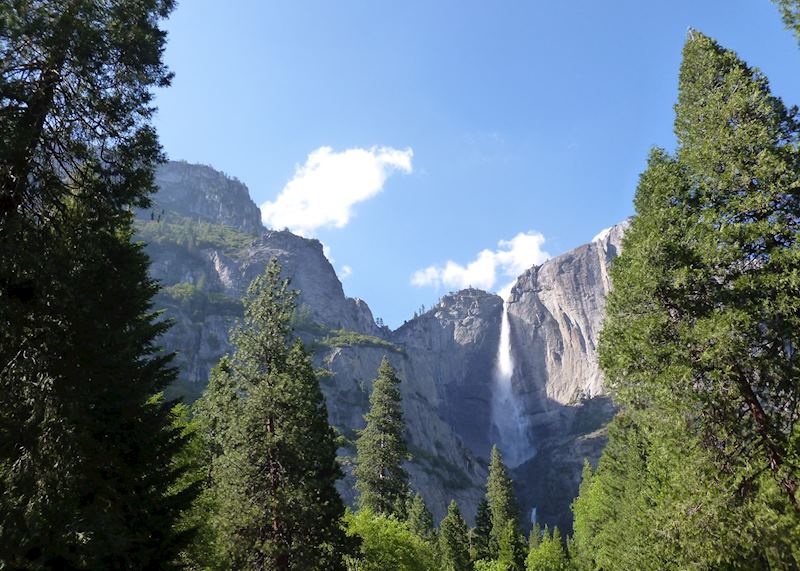 For a more strenuous hike, you can take the 19th-century trail to the top of Yosemite Falls (which encompasses both Upper and Lower Yosemite Falls). At 739 m (2,425 ft), this is the tallest waterfall in North America. It's a steep 11.6 km (7.2 mile) trek that takes around seven hours.
You'll ascend 823 m (2,700 ft), winding through woodland until you're above the treeline. The views from the top are a just reward for your efforts as you gaze over Yosemite Valley, Half Dome and distant mountain peaks, the green meadows and curving Merced River stretching far below.
Once at the top, you can hike to Yosemite Point in the east, which adds an additional 2.6 km (1.6 miles) to the trek. From here, you'll have closer views of Half Dome and Lost Arrow Spire, a stand-alone finger of rock adjacent to the falls that's popular with climbers.
Take the trail to Artist Point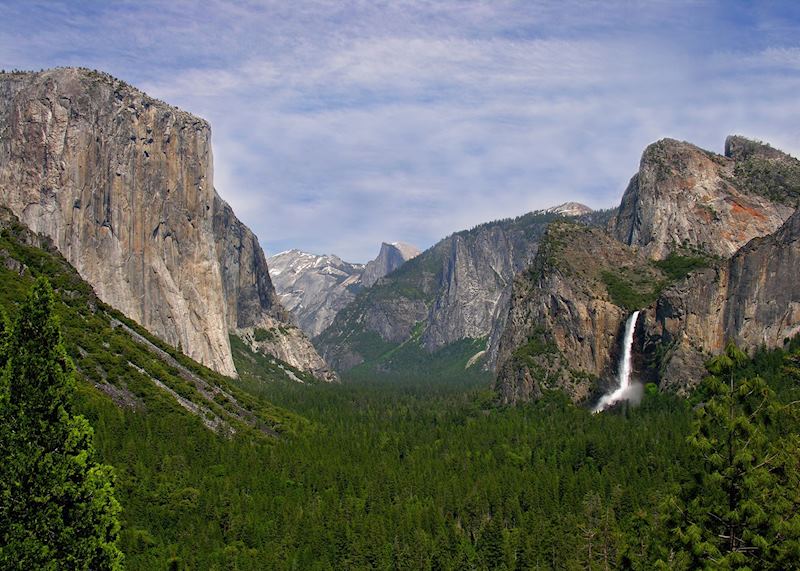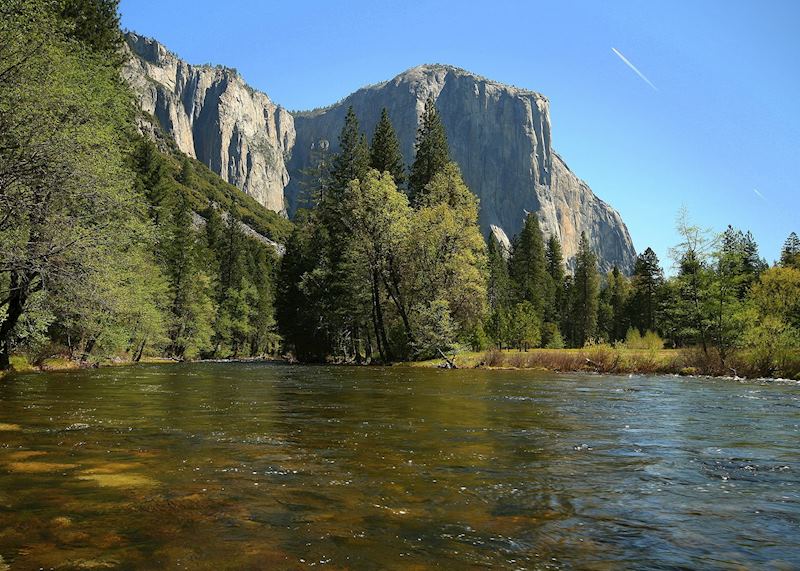 The 3.2 km (two mile) round trip to Artist Point is a relatively easy hike that gives you fantastic views, without the crowds. The trail starts from the Tunnel View platform, which looks out across Yosemite Valley.
While Tunnel View is a fantastic vantage point — views take in the granite hulk of El Capitan, Half Dome and Bridalveil Fall — it's a popular stop for coach parties and photographers. Take the rocky Pohono Trail and head uphill, clambering over a fallen tree or two along the way as you ascend 150 m (500 ft).
Once I'd turned onto the old stagecoach road and headed toward Artist Point itself, I found the hikers thinned out. I was left in peace to look at other Yosemite landmarks not visible from Tunnel View, such as the slender Ribbon Falls near El Capitan.
The hike there and back takes around an hour. At sunset, the view from Artist Point is particularly impressive as the valley is bathed in a warm orange glow.
Treks around Hetch Hetchy Reservoir

Situated in the lesser-explored northwest of the park, just over an hour's drive from Yosemite Valley, this is Yosemite's largest body of water. The surrounding sheer-sided cliffs feature two of North America's tallest waterfalls — Wapama and Tueeulala.
There are various walking trails here, but I recommend the two hour, 8 km (five mile) round trip to Wapama Falls. The trail has moderate inclines and declines, but you don't need a high fitness level.
Starting from O'Shaughnessy Dam, you'll follow the reservoir's shoreline, taking in views over the smooth blue water, with gray rock rising vertically on all sides.
En route, you'll see Tueeulala Falls' waters spilling 268 m (880 ft) down into the reservoir, and bright wildflowers speckle the rocks between late April and early June.
Wapama Falls flows year-round, so it's a good walk to do when those in Yosemite Valley have dried up. Its waters fall a total of 330 m (1,080 ft), and while you can't see the waterfall in its entirety from the trail (it's split into three sections), a wooden bridge allows you to get close enough to feel the spray of its final drop.
Driving in Yosemite National Park

Self-driving is the best way to access the park. The roads wind through hills, forests and sweeping mountain scenery, enticing you to stop and take photographs at every opportunity.
Once you've arrived in Yosemite, I advise spending as little time as possible in your car — there's no better way to explore the park than getting out on foot.
Parking is difficult during the peak season (May to June), so it's important to arrive early. Parking lanes can be found along some of the roads, but these also fill up quickly.
Some of the park's best viewpoints are only accessible by road, including Tunnel View and Glacier Point on Yosemite Valley's south wall. The latter is reached via a steep, winding road through pine trees, with the journey from Yosemite Valley's floor to Glacier Point's car park taking around an hour. At an elevation of 2,199 m (7,214 ft), it's only accessible between mid-May and November due to the snow.
There isn't a wide enough lens to capture the view that you get from Glacier Point. Standing close to the edge of sheer cliff faces, you've a panoramic bird's-eye view of the entire valley. Half Dome is directly across from you, while Yosemite Falls in the distance looks like someone left a giant tap running.
Outdoor activities in and around Yosemite National Park
Minibus tour of Yosemite's waterfalls and viewpoints

While nothing compares to exploring the park on foot, I found that this eight-hour minibus tour offered plenty of time to get out and see its highlights. I particularly recommend it if you're short on time or have limited mobility.
After winding up Yosemite Valley's steep sides to take in the views from Glacier Point, you twist back down to Tunnel View, pausing for photographs, before following the valley floor's one-way system to Bridalveil Fall — so called because of its fine spray. I chose a peaceful spot by the river to eat the packed lunch provided, then walked closer to the waterfall, cooling down in its rising mist.
After paying a visit to Lower Yosemite Falls, you're driven to El Capitan. Perhaps the park's most revered rock formation, its humongous vertical rock face is a Mecca for experienced climbers. I may not have believed that its 900 m (300 ft) high wall of sheer granite was scalable had I not seen for myself the tiny specks of climbers taking on possibly the biggest challenge of their lives.
The tour is led by an expert in Yosemite's ecology. As soon as I'd boarded the bus, my guide, Grant, captivated me with his knowledge and tales of the park. We heard all about its European-American discovery in the early 1800s, the geological processes behind the rock formations you see today, and the wildlife that thrives here, from mule deer to black bears.
Guided hike among giant sequoias

Within easy reach of Yosemite to the south is Nelder Grove. Here, some of the world's oldest and tallest trees have been growing for millennia, some reaching more than 60 m (200 ft) in height. While technically outside the park, it's far less visited than Mariposa Grove which lies within the park's boundaries, and its giant sequoias are just as impressive.
The experience of visiting takes two parts: first, the 40-minute drive from Oakhurst to the grove in an open 4x4. My guide, Chase, gave me a little background to the forest en route.
The second part is the hike itself, once you've arrived at Nelder Grove. We followed a loop trail for just under an hour, strolling between huge red trunks spanning up to 4 m (13 ft) in diameter and spongy to the touch. It was hard to put my camera down as I attempted to capture the trees' scale. Some had fallen after a thousand years of standing tall, their decaying bark still providing habitat for insects, molluscs and fungi.
Chase's passion for the forest and its ecosystem was clear as he talked about the trees and the wildlife that lives among them, from raccoons and squirrels to chipmunks, woodpeckers and spotted owls. We even came across some relatively fresh bear droppings — evidence that a black bear had passed through not long before us.
Wildlife in Yosemite National Park

A visit to Yosemite is like witnessing Mother Nature's greatest hits. Not only is there incredible scenery, but you'll encounter a variety of wildlife whether you're hiking or driving.
Over 400 species of invertebrates alone have been recorded living in the park's meadows, forests, mountains and streams.
Eagles and condors soar above you, bobcats skulk in the undergrowth and mule deer quietly forage in the thickets. An early start gives you the best chance of seeing black bears and coyotes as they hunt for breakfast, while up on the rocks around Glacier Point, western fence lizards bask in the sun.
Driving from the north of the park down into the valley, on one occasion, I suddenly came upon a deer and two fawns crossing the road in front of me. The wildlife is everywhere and you can happen upon it at any time.
Having a guide increases your chances of seeing wildlife you may not otherwise notice. It's also a good idea to have a pair of binoculars handy, and a wildlife handbook if you're interested in identifying unfamiliar species.
Where to stay in Yosemite National Park
Staying inside Yosemite Valley

Accommodation in Yosemite Valley can fill up quickly and is generally fairly basic. But you can't beat hiking up surrounded by the valley's striking landscape, and heading out into it before the crowds.
The Majestic Yosemite Hotel is situated between Yosemite Village and Half Dome Village in Yosemite Valley floor. It's conveniently located for access to hiking trails and has fantastic views of Yosemite Falls and Half Dome.
Built from stone and wood in the 1920s, it has a lodge feel and blends in well with its surroundings. The rooms, suites and cottages are of a high standard with modern amenities.
Staying outside Yosemite Valley

While requiring a little more driving, accommodation is often of a higher standard away from Yosemite Valley, and is a good option if you prefer a quiet setting.
The Redwoods in Yosemite are modern but traditionally styled cabins around an hour's drive south of Yosemite Valley. The cabins have up to six bedrooms as well as their own kitchen and barbecue, so they're a great option for families.
For a more remote stay, I'd recommend Evergreen Lodge, around an hour's drive north of Yosemite Valley. Set within woodland, the cabins offer an authentic but comfortable experience, ranging from studio to two-bedroom options. I particularly liked relaxing in the communal hot tub after a day hiking the trails.
Where to eat in Yosemite National Park

You'll find food outlets selling pizza and burgers in Yosemite Valley, along with small supermarkets where you can grab a sandwich, drinks and snacks.
The area's hotels have their own restaurants and/or self-catering facilities, and breakfast is usually available as part of your stay. For me, the restaurant at the Majestic Yosemite Hotel is the best in the park, serving steak, fish and pasta. For dinner, you'll need to dress smartly and children must be over four.
Best time to visit Yosemite National Park

June is the best time to visit Yosemite. The snow has melted and the waterfalls, rivers, lakes and streams are in full flow. These make up a big part of the park's landscape, so you get the full Yosemite experience. It's also not as busy or as hot as later in the season.
Visiting in September means you miss the crowds and benefit from cooler weather. In October, the landscape changes from green to golden brown and red as autumn arrives.
Practicalities of visiting Yosemite National Park
A visit to Yosemite works best as part of a wider trip around California and the west coast. I suggest spending three or four days exploring the park.
Yosemite Valley floor is 1,220 m (4,000 ft) above sea level, so it's best to start with short hikes until you become adjusted to the altitude.
Start planning your trip to Yosemite National Park

Start thinking about your experience. These itineraries are simply suggestions for how you could enjoy some of the same experiences as our specialists. They're just for inspiration, because your trip will be created around your particular tastes.
View All Tours in California