By Audley specialist Dani
The roads fizzle out pretty quickly in America's national parks. You don't have to take many steps on a trail before you feel like you're wandering into a vast, untamed wilderness — and you are. In the furthest reaches of many national parks, you could hike for days, swallowed up by mountains, gigantic rock formations, canyons, rivers and forest, without seeing another soul. I find this thrilling.
But, coupled with this exciting sense of backwoods remoteness is the fact that hiking trails in America's national parks are extremely well-maintained and varied in length, making them accessible to hikers of all fitness levels.
I've done most of my hiking in the big hitters of the southwest like Zion and the Grand Canyon, but I'd also encourage you to head for some of the area's slightly lesser-known national parks like Redwood or Arches. They receive less fanfare, but the geology and scenery you'll experience there are just as impressive.
Yosemite National Park

Sitting within California's Sierra Nevada Mountain range, granite cliffs and pinnacles soar up around a glaciated valley partly carpeted by pine forest but also opening out into meadows. Further afield, you'll find groves of giant sequoias and limpid alpine lakes.
The Merced River flows through it all, fed by creeks hidden in hanging valleys. I always think the spring is the best time to see the park, when its waterfalls, fed by the melting winter snows, are in full flow.
Driving into the park for the first time, you're likely to see the colossal rock wall of El Capitan, the largest granite monolith in the world (look out for climbers bivouacking on the wall). As you explore, you'll be able to pick out other noted formations, like the sliced sphere of Half Dome and its nearby arête, Cloud's Rest.
Hiking in Yosemite runs the whole gamut, from valley floor trails to ascending Half Dome via steel cables. It isn't always essential to travel by foot to find the best views — in fact, Glacier Point, one the highest points in the park, can be accessed by car.
I'm fond of the low-level hike to Yosemite Falls, which involves some fun scrambling over boulders to reach the falls' pool.
Zion National Park

Zion, in Utah, vies for the top spot in my personal hierarchy of US national parks (the other contender is Redwood — see below).
The tallest sandstone cliffs in the world, which change from fiery reds to pastel yellows or white depending on the light, tower over canyons bisected by rivers, with pockets of pools and hanging gardens. Still popular but not as overrun as Yosemite, I've done some of my most challenging and enjoyable hiking here.
Test your head for heights at Angels Landing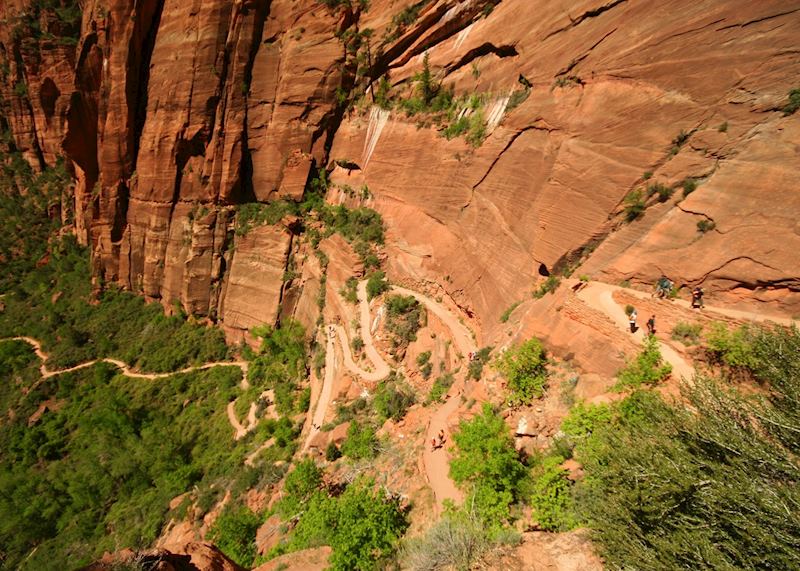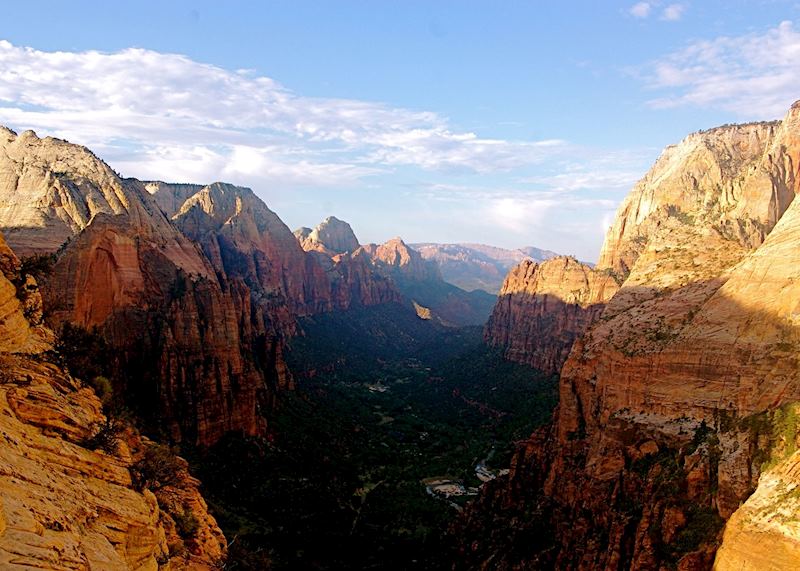 I started the 8 km (5 mile) Angels Landing Trail from an unassuming picnic area, before entering Refrigerator Canyon, which lived up to its name: the temperature suddenly dropped. A welcome breeze blew in as I began to climb up two sets of switchbacks.
The ascent to the official trail end is, frankly, not for the faint-hearted. I picked my way across a sheer ridge, trying to ignore the sharp drop-offs on either side, and using the chains that have been hammered into the rocks. Among the bare stone, a few hardy pines cling on. You may spot chipmunks dashing between them.
Reaching the perch at the trail end, I stood at eye level with the Great White Throne, a cliff face made of white Navajo sandstone (a type of early Jurassic sandstone named after the Native American tribe who came to Utah in the 18th century). I looked down the forested Zion Canyon in both directions. For me, the view here was more special than my first glimpse of the Grand Canyon, as you feel completely part of the landscape rather than just an observer.
My advice for less confident hikers is to end your climb at Scout Lookout before the chains section — the views here are virtually as good as those from the final 'landing' lookout.
Get wet in The Narrows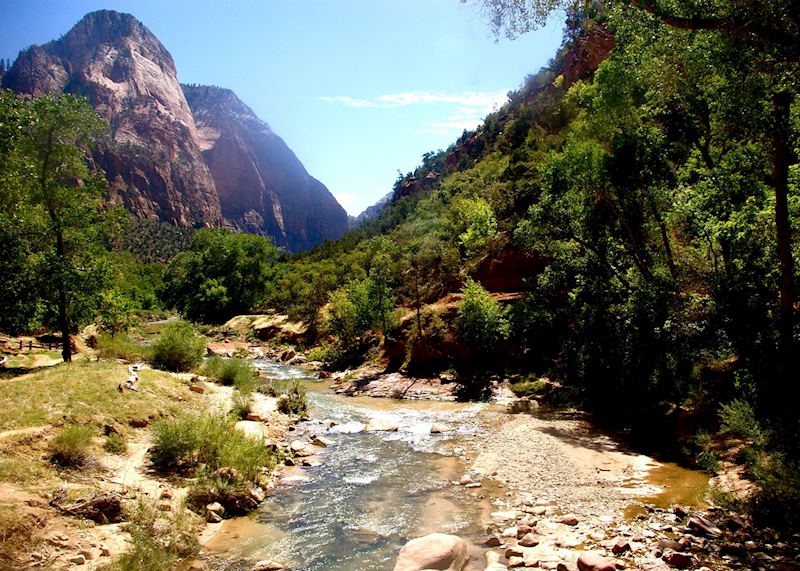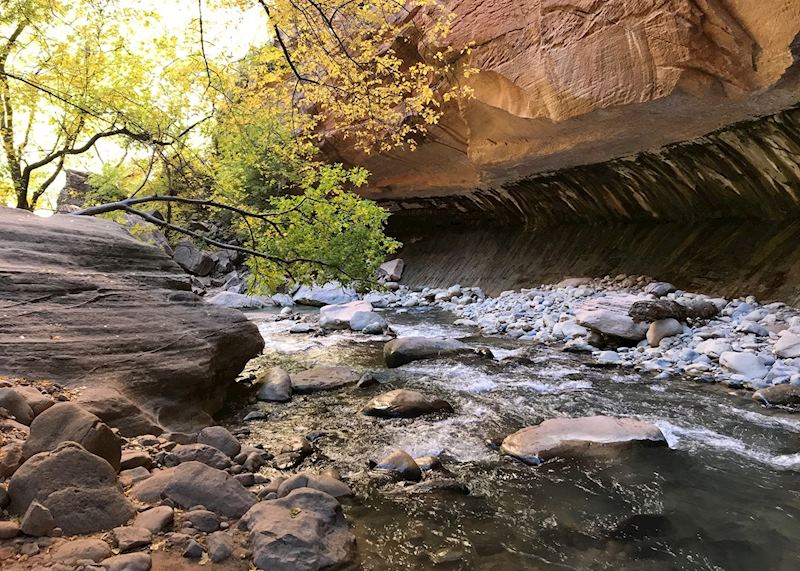 What struck me as I started The Narrows Trail, hiking under shady cottonwood trees alongside the Virgin River, was Zion's unexpected lushness. Hanging gardens of ferns and mosses spring up where water has seeped out of the otherwise stark rock walls of the canyon.
The first part of the trail is wide, paved and pleasant. Then the canyon walls close in as you enter the mouth of The Narrows, a slot canyon. Here there's hardly any path, and you have no choice but to wade through the blissfully cool river, using a stick to negotiate piles of rocks and slippery sections. (You're provided with both the stick and sometimes a half wetsuit when booking the hike with a guide.)
The only way out is the way you came in, so you can venture as far as you dare before you have to turn back.
Admire one of Zion's best views on the Canyon Overlook Trail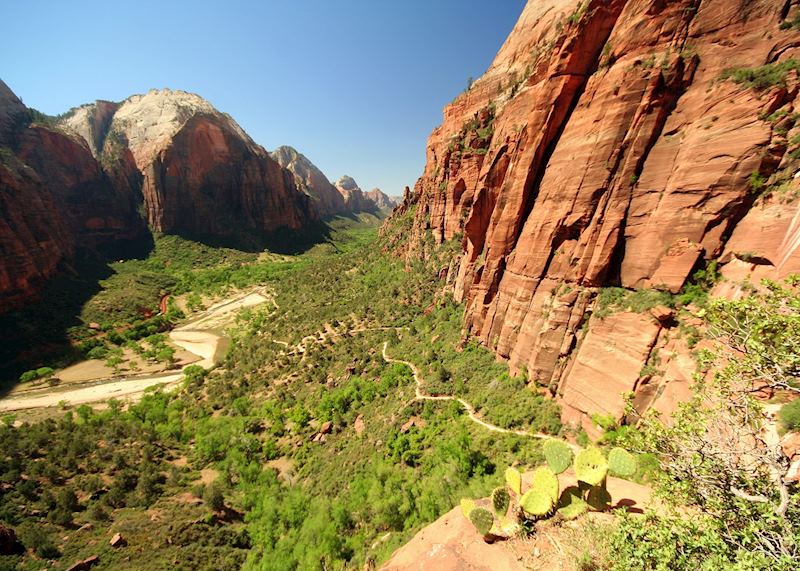 I came across this trail by accident when driving out of the park on Highway 9. From modest beginnings at a road tunnel opposite a parking area, it soon leads you onto a fairly flat, easy path over smooth sandstone and through shady, ferny spots.
After only 0.8 km (0.5 mile), I found myself looking out down one of the arms of Zion Canyon. There they were — several of Zion's important geological formations, like the 1066 m (3,500 ft) peaks called the Towers of the Virgins, and the mound-like Beehives.
Zion Lodge, a restored 1920s property, is the only hotel inside the national park, so it books up fast. It has log cabins as well as hotel rooms, and a great restaurant, the Red Rock Grill, with an outdoor terrace.
Bryce Canyon National Park

While visiting Zion National Park, try to make the two-hour drive to Bryce. It's less of a canyon and more of a series of huge natural arenas containing the surreal-looking hoodoos. These weathered spires of pink limestone have been carved out over time from a single plateau.
Time your five-hour hike of the Rim Trail to coincide with sunset, when long shadows are cast by these natural yet unearthly structures.
Arches National Park

Here, in another of Utah's national parks located 2.5 hours' drive from Zion, 2,000 natural sandstone arches have formed around scrubby red-earthed canyons.
If you're looking for some contrasting terrain to the gravel or paved trails of Yosemite and Zion, in Arches National Park you walk on solid, exposed rock. Some routes pass by formations such as the hoodoo-like stacks of the Three Gossips. My short, mile-round route took me near to Delicate Arch, the most striking arch in the park.
Redwood National Park

A four- to five-hour drive north of San Francisco, the world's tallest trees grow in this park, rising to over 100 m (328 ft). Groups of giant redwoods cluster in a mosaic-like fashion around a landscape of woodland, prairie and beaches. It has all been barely touched, save for a handful of trails.
Walk through the world's tallest trees on the West Ridge Trail
I did some great hiking here on the West Ridge Trail in Prairie Creek. What I love about this trail is that you're walking on the edge of a 30-40 m (88-131 ft) high canyon, with redwoods next to you on the path, and yet you're also able to look out and across at old-growth redwoods, trees that are thousands of years old. The giants are all around you, and they dwarf you.
Be prepared to end the trail with an aching neck as you compulsively stare up at these trees and try to take in their scale. You'll notice, too, how their reddish-brown bark brightens when the sun hits their trunks.
The trail also takes you through a wood dense with eucalyptus, bay, elder and oak trees. As is the case in many national parks, you're able to join up several trails to create a day-long hike. After finishing the West Ridge Trail, I took another path that led me down to sand dunes on the coast. As so many of America's national parks lie inland, it was a real thrill to be able to end my hike staring at the Pacific Ocean.
Elk Meadow Cabins, in the hamlet of Orick in the heart of the national park, is an ideal place to stay in Redwoods National Park. The rustic-looking cabins have comfortable interiors, and don't be surprised if you find herds of elk grazing on the lawn in the mornings.
Grand Canyon National Park

It may sound hackneyed, but I don't think any photographs of the Grand Canyon can do it justice. You simply have to see this gargantuan gorge for yourself, looking out over rippling ridges of red rock studded with scrubby vegetation to the distant rim shimmering in a heat haze.
To make the most of a trip here, escape the crowds that congregate around the main viewing areas and hike along the well-marked South Rim Trail. You can do as little or as much of it as you wish, as a shuttle bus stops regularly at points along the way.
Go down into the Grand Canyon on the South Kaibab Trail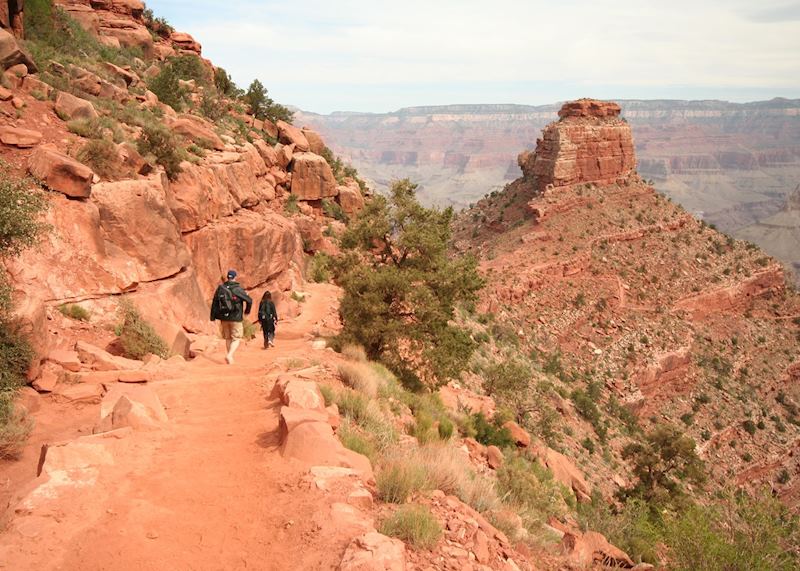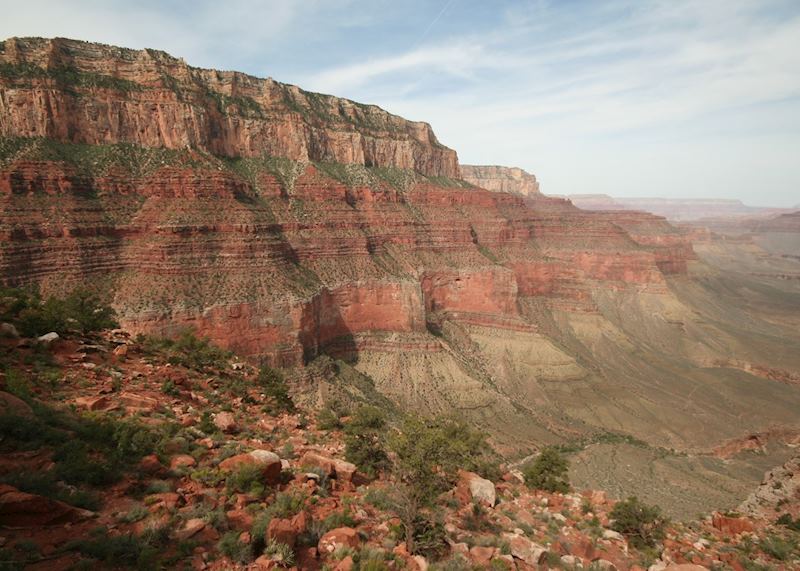 Via a few hairpin bends, this well-maintained trail meanders its way down into the canyon. It's a great route that lets you experience being in the canyon itself (notice how it gets hotter the further you descend), as opposed merely to looking at it.
The path is wide, bordered by cacti and other desert shrubs, and you can stop at various viewing points. The canyon is so deep that the powerful Colorado River looks like a ribbon at first. Once you reach Skeleton Point, you can see its swirls of white water.
Unlike most trails, the hardest part of this trek is the return leg, when you head back uphill to climb out of the canyon. Be aware of being too ambitious and descending too far.
The wooden El Tovar Hotel, built at the turn of the century, is listed as a heritage building in the USA. It has a bygone feel about it — Roosevelt and Einstein stayed here. But the real reason to stay, other than proximity to the park, is the fine dining restaurant that sits right on the South Rim. Window tables are worth the wait.
Death Valley National Park

It's the driest, hottest and lowest national park in the USA, a seemingly barren basin of desert, canyons, salt flats and sand dunes. You'd be forgiven for thinking that it's impossible to go hiking in Death Valley.
Journeying through the park on my way to California, I discovered that there are, in fact, short trails. They lead to places of interest like Zabriskie Point, which looks out over desolate badland ridges, or Badwater, a salt plain that's the lowest point in continental USA, 85 m (282 ft) below sea level. Trails are all bitesize, as the park's extreme heat makes it dangerous for longer treks.
Early one morning, while the heat was intense yet bearable, I explored the Mosquito Flats Sand Dunes on foot. Surrounded by rocky high ridges, and looking over nothing but shifting sands, I felt like I could have been in Namibia rather than the USA.
If you're staying overnight in Death Valley, I recommend the Furnace Creek Ranch, which has a spring-fed swimming pool.
Practicalities of walking in the USA's national parks
Road conditions are excellent in the USA, so self-driving is the easiest and most convenient way of journeying between national parks.
In general, try to start most hikes early in the morning. The weather will be cooler, the crowds smaller, and the wildlife more active.
Start planning your walking trip to the USA's southwest national parks

Start thinking about your experience. These itineraries are simply suggestions for how you could enjoy some of the same experiences as our specialists. They're just for inspiration, because your trip will be created around your particular tastes.
View All Tours in The US