Born to a family of four older sisters in Stamford, Connecticut, Katie was always eager to differentiate herself and moved overseas to attend University in London.
Pursuing a degree in International Relations, she formed an international circle of friends and spent school breaks gallivanting Europe and beyond. Upon graduating, Katie spent 3 months touring Southeast Asia and India before returning to Connecticut to work for several years. Unable to stifle her passion for adventure, Katie has since traveled to South America, The Middle East, Asia, Africa, the Caribbean and beyond.
In 2014, she found the perfect home for herself at Audley Travel where she found she could meld her love of travel with her career goals as a Southeast Asia and Sri Lanka Specialist. In 2015 representing Audley at The Lewa Safaricom Marathon in Kenya, Katie completed the full marathon raising considerable money for Audley's annual charity Tusk. Katie is now a Senior East Africa specialist building unique itineraries to Kenya and Tanzania from her home in Boston, MA. When not working you are likely to find Katie on the ski slopes of Sugarbush, soaking up a live music festival, training for a marathon or plotting shenanigans to keep her coworkers and friends on their toes.
Speak to Katie

Start planning your trip to Africa with Katie by calling
1-855-223-4126


Recommend Katie to someone you know
Help your friends and family discover the world with Audley. Recommend Katie today.
It seemed like our specialist knew Borneo inside and out and was able to grasp the kind of trip I wanted right from the beginning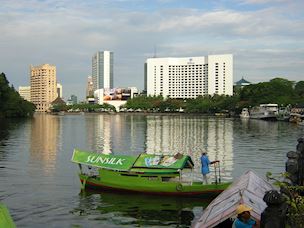 Jill R. traveled to Borneo for 21 days in October 2015, organized by Katie S
Right from the beginning, Katie was a miracle worker. She had just come back from Borneo and many of the places I mentioned she had just visited so she was so helpful. The more we talked, the more excited I got about traveling to such a remote region. We were lucky to work with Katie and lucky to have every detail work perfectly. While we were in Borneo we met a lot of people there were also clients of Audley. The handy binder your company provided was not only beautifully done, but also extremely thorough. Everything we needed was all in one place and we all appreciated that.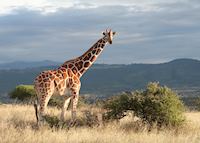 At the foothills of Mount Kenya, a vast plateau exists hope to prolific wildlife but also many rare and endangered species of African wildlife including a large population of wild dogs. With sparce lodges, your safari will be more intimate here. Perhaps what I love most is how active you can be here with hikes, fishing, river rafting, horse riding or visits to one of the many local villages.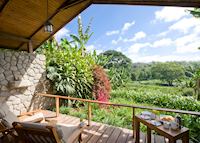 Out of the hundreds of hotels and lodges I have stayed at around the world, if I could close my eyes and be at one of them, it would be Gibb's Farm. The combination of incredible food, service, plush accomdation and incredibly serene and beautiful grounds make it truly magical. A stay at Gibb's Farm is never long enough. In addition to being a destination in and of itself, it offers perfect access to the stunning Ngorongoro Crater and Northern circuit of Tanzania.
I'll never forget when…
Revisiting the Naboisho conservancy in the Masai Mara was an extremely memorable experience. I had been there after I ran the Lewa Marathon in 2014 and it was my first safari experience. After 2.5 weeks on safari two years later in Tanzania and then into Kenya, I landed in the conservancy responsible for my love for East Africa. This was made all the more special due to a very chance encounter. While there in 2014 I had an amazing guide at Asilia's Naboisho camp, Lucas. My work trip did not have me staying at Asilia's camp but as luck would have it, on the day I arrived in the conservancy, I spotted an Asilia vehicle and made my Southern Cross driver follow it. It was my guide, Lucas! We both were nearly in tears. It was so special to find the man in the middle of the bush that was the reason I fell in love with Kenya and after 2.5 years changed from a Southeast Asia specialist to an East Africa Specialist. That is the magic of Africa.