A team of experts with knowledge of our destinations across the globe, our Global Travel Advisors are on hand to help if you're deliberating where to travel next. We work closely with our country-focused specialists to offer you sound advice and an honest take on any places you might be considering for your trip. We'll also recommend the countries that fit best with your interests, preferred time of travel, and budget.
If you're planning for a special occasion, such as your honeymoon, an anniversary celebration, or a trip of a lifetime, we can talk you through the options. Once you have narrowed down your choice, we'll hand you to a dedicated destination specialist, who'll plan your trip individually from start to finish.
Speak to one of our Global Travel Advisors
Start planning your tailor-made trip by contacting one of our Global Travel Advisors
How we'll plan your trip
Speak to a Global Travel Advisor

You might have strong opinions on what your trip should entail, or just loose ideas, but we can help you develop them. Speak to one of our Global Travel Advisors, and we'll advise you on the best destinations, depending on your interests and criteria.

Refine your choice from our ideas

After your conversation, your specialist will send you an assortment of brochures and example itineraries to give you inspiration for where to travel and what your trip could involve.

Put you in touch with a destination expert

Once you have fixed on where you want to go, we'll put you into the hands of a specialist who focuses on your chosen destination. Already briefed on your preferences, he or she will create your bespoke trip, drawing from extensive first-hand experience.
Who we are
Collectively, we've worked with lions in South Africa, trekked Costa Rica's jungles, snorkeled the Great Barrier Reef, and cycled around the Temples of Angkor. Our Global Travel Team are united by their passionate approach to travel and their commitment to finding the best destinations to fit your requirements.
Adley
Global Travel Advisor
Speak to Adley
1-866-346-2654
My passion for travel has really taken off since finishing college. After graduating, I was able to make my ultimate travel dream come true, by booking a last-minute trip to Paris. It's safe to say my expectations were exceeded. I vowed to myself to return as soon as I could, and sure enough I did four years later. I've been lucky enough to visit several other countries since that first trip to France, including Ireland, The Netherlands, Italy, and the United Kingdom. I've also spent time exploring several US National Parks and took an incredible road trip on California's Pacific Coast Highway. As a life-long Mainer, this drive along such a different and dramatic coastline, quickly made its way to a top spot in my favorite travel memories. I hope to add to this list of places at every opportunity, and to continue sharing favorite insights that I gain along the way.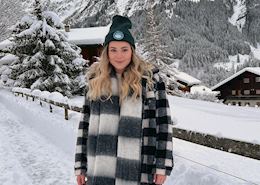 Lexi
Global Travel Advisor
Speak to Lexi
+1-866-346-2654
My passion for travel was sparked by a life altering experience I had. When I was twenty years old I developed an autoimmune disease and spent my entire summer on bedrest. It was during that time that I started consuming a lot of travel content. I told myself that once I got better I would travel. I did exactly that. I got a diagnosis in August, started treatment in September — and with nothing but sheer optimism for my health — I booked a trip to Switzerland for December. Luckily for me, I entered remission a week before my trip. Getting to experience the different culture and see the beautiful scenery ignited a hunger in me that only seeing more of the world could satiate. Since that first trip to Switzerland in 2021 I have been lucky enough to add a few more countries and US states to the list of ever-growing places I have explored — with many more to come.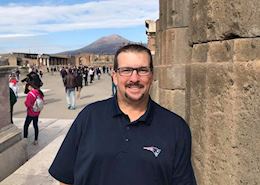 Joe
Global Travel Advisor
Speak to Joe
617 223 4749
My love of travel started later in life, after school and a move to the Carolinas I began to visit friends and family in Arizona, Florida and California. Over the last 10-15 years my travels have become very Eurocentric in which I spend most of my travel time in Italy. Being Italian was just the first reason for me to visit Italy but since that inaugural trip I have visited almost every region in Italy. Though we both love Italy, my wife and I have recently started branching out to other countries including England, France, Greece, Montenegro and Morocco. We enjoyed all the new parts of the world we have visited and look forward to upcoming vacations in Austria, Hungary and Egypt. I also just completed a golf trip with friend to Ireland which was truly amazing, and I look forward to additional trips there for more golf.
Julia
Global Travel Advisor
Speak to Julia
1-617-223-4568
My hunger for travel has always been apparent. I'm fortunate enough to have traveled with my family throughout my life, and every chance I get, I book a flight to go on my next adventure. My first big international trip was going to be studying abroad in Italy, but due to COVID it became a remote experience. Instead of diminishing my enthusiasm to travel, this setback only fueled my eagerness to explore new places. I knew my passion was to travel the world and that's when I found Audley. Now I am pursuing my dream of becoming a travel expert.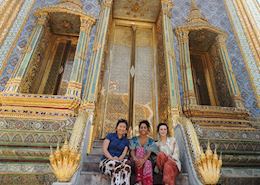 Elizabeth
Global Travel Advisor
Speak to Elizabeth
1-855-787-5606
My love of travel began at the age of six when my family moved from Taiwan to the United States, settling down in Houston, Texas. Since then my life has been an amalgamation of Eastern and Western influences and this bi-cultural lifestyle has inspired me to explore other countries, taste different cuisines, seek new experiences, and further my knowledge of the world. I have traveled to five continents and have enjoyed a multitude of experiences, which include hiking on world wonders such as Machu Picchu, going on safaris in Africa, haggling in Moroccan souqs, trekking through the Amazon, luxuriating in hot springs in Japan, and scuba diving in many of the best dive spots in the world. I've also enjoyed local street food and Michelin-starred restaurants all along the way. Prior to joining Audley, I studied at Boston University, receiving degrees in both Business and Art History (I'm now based in Boston, MA). I worked in both hospitality and art before finding my calling in the travel industry. When I'm not sharing my love of travel I can be found wandering through museums, eating voraciously, and planning my next trip. I also enjoy singing, painting, watching Netflix, and hiking in the woods with my precious Golden Retriever.

Arranging your honeymoon
If a honeymoon on the beach isn't for you, we have a choice of more than 80 destinations worldwide, covering the Arctic to Australia, Southeast Asia to South America. If your interests lie in wildlife, we could point you toward an African safari, tiger tracking in Rajasthan or whale watching off Canada's seaboard. For getting outdoors, there's trekking across old Inca paths in Peru or walking to view orangutans in Borneo's rainforests. Our Global Travel Advisors will guide you to the right decision.
View honeymoon ideas
Stuck for trip ideas?
Deciding where to go can be half the fun. Our Global Travel Team will guide you through the options, taking all the worry away from making the right choice.
School vacations
Regardless of which school break you're considering, we can find a destination to match the time of year and your family's interests. That might be tracking the Big Five in Africa during the summer, visiting Japan over Easter when it's cherry-blossom season, or spending an energetic Christmas of adventure activities in Costa Rica's cloudforests.
Cat
Special occasions
As everyone's idea of 'special' is different, we start by gauging just what your particular celebration means to your individual trip. You might be searching for the right destination to mark a big anniversary or birthday, or looking for a location to take the whole family. Whichever it is, we'll give you the inspiration to make your trip as special as the occasion demands.
Holly
Once in a lifetime
Whether it's a long-held wish to experience a well-known destination or the itch to explore a lesser-known island, we'll discuss all your preferences with you at length. We can help you choose a trip that's right for you and filled with personal touches.
Sarah