A team of experts with knowledge of our destinations across the globe, our Concierge specialists are on hand to help if you're deliberating where to travel next. We work closely with our country-focused specialists to offer you sound advice and an honest take on any places you might be considering for your trip. We'll also recommend the countries that fit best with your interests, preferred time of travel, and budget.
If you're planning for a special occasion, such as your honeymoon, an anniversary celebration, or a trip of a lifetime, we can talk you through the options. Once you have narrowed down your choice, we'll hand you to a dedicated destination specialist, who'll plan your trip individually from start to finish.
Speak to one of our Concierge specialists

Start planning your tailor-made trip by contacting one of our Concierge specialists
How we'll plan your trip
Speak to a Concierge specialist

You might have strong opinions on what your trip should entail, or just loose ideas, but we can help you develop them. Speak to one of our specialists, and we'll advise you on the best destinations, depending on your interests and criteria.

Refine your choice from our ideas

After your conversation, your specialist will send you an assortment of brochures and example itineraries to give you inspiration for where to travel and what your trip could involve.

Put you in touch with a destination expert

Once you have fixed on where you want to go, we'll put you into the hands of a specialist who focuses on your chosen destination. Already briefed on your preferences, he or she will create your bespoke trip, drawing from extensive first-hand experience.
Who we are
Collectively, we've worked with lions in South Africa, trekked Costa Rica's jungles, snorkeled the Great Barrier Reef, and cycled around the Temples of Angkor. Our Concierge specialists are united by their passionate approach to travel and their commitment to finding the best destinations to fit your requirements.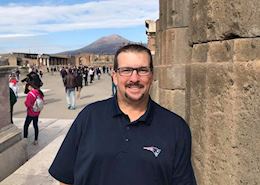 Joe
Concierge Service
Speak to Joe
617 223 4749
My love of travel started later in life, after school and a move to the Carolinas I began to visit friends and family in Arizona, Florida and California. Over the last 10-15 years my travels have become very Eurocentric in which I spend most of my travel time in Italy. Being Italian was just the first reason for me to visit Italy but since that inaugural trip I have visited almost every region in Italy. Though we both love Italy, my wife and I have recently started branching out to other countries including England, France, Greece, Montenegro and Morocco. We enjoyed all the new parts of the world we have visited and look forward to upcoming vacations in Austria, Hungary and Egypt. I also just completed a golf trip with friend to Ireland which was truly amazing, and I look forward to additional trips there for more golf.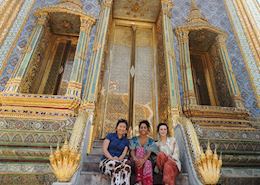 Elizabeth
Concierge Service
Speak to Elizabeth
1-855-787-5606
My love of travel began at the age of six when my family moved from Taiwan to the United States, settling down in Houston, Texas. Since then my life has been an amalgamation of Eastern and Western influences and this bi-cultural lifestyle has inspired me to explore other countries, taste different cuisines, seek new experiences, and further my knowledge of the world. I have traveled to five continents and have enjoyed a multitude of experiences, which include hiking on world wonders such as Machu Picchu, going on safaris in Africa, haggling in Moroccan souqs, trekking through the Amazon, luxuriating in hot springs in Japan, and scuba diving in many of the best dive spots in the world. I've also enjoyed local street food and Michelin-starred restaurants all along the way. Prior to joining Audley, I studied at Boston University, receiving degrees in both Business and Art History (I'm now based in Boston, MA). I worked in both hospitality and art before finding my calling in the travel industry. When I'm not sharing my love of travel I can be found wandering through museums, eating voraciously, and planning my next trip. I also enjoy singing, painting, watching Netflix, and hiking in the woods with my precious Golden Retriever.

Arranging your honeymoon
If a honeymoon on the beach isn't for you, we have a choice of more than 80 destinations worldwide, covering the Arctic to Australia, Southeast Asia to South America. If your interests lie in wildlife, we could point you toward an African safari, tiger tracking in Rajasthan or whale watching off Canada's seaboard. For getting outdoors, there's trekking across old Inca paths in Peru or walking to view orangutans in Borneo's rainforests. Our Concierge specialists will guide you to the right decision.
View honeymoon ideas
Honeymoon Gift Service
When you honeymoon with us, you can take advantage of our complimentary Honeymoon Gift Service to arrange your wedding gift list on your own custom website. View our gift service
Stuck for trip ideas?
Deciding where to go can be half the fun. Our Concierge team will guide you through the options, taking all the worry away from making the right choice.
School vacations
Regardless of which school break you're considering, we can find a destination to match the time of year and your family's interests. That might be tracking the Big Five in Africa during the summer, visiting Japan over Easter when it's cherry-blossom season, or spending an energetic Christmas of adventure activities in Costa Rica's cloudforests.
Cat
Special occasions
As everyone's idea of 'special' is different, we start by gauging just what your particular celebration means to your individual trip. You might be searching for the right destination to mark a big anniversary or birthday, or looking for a location to take the whole family. Whichever it is, we'll give you the inspiration to make your trip as special as the occasion demands.
Holly
Once in a lifetime
Whether it's a long-held wish to experience a well-known destination or the itch to explore a lesser-known island, we'll discuss all your preferences with you at length. We can help you choose a trip that's right for you and filled with personal touches.
Sarah