Audley Travel is thrilled to introduce you to Heather Heverling, the President and Managing Director for the US office. We sat down to have a chat about how she got started in travel, what makes a great guide, and what she's looking forward to at Audley.
Q: Can we start with a little about your background?
A: I've worked in the travel industry for 25 years — it's been my entire career. It wasn't the plan; I didn't even get on a plane until I was 16 years old, and I was terrified of flying for many years. When I graduated from Bowdoin College, I planned to become a teacher or maybe an editor at a publishing house.
Then, I moved to Boston without a job because publishing was shifting to digital, and new roles were scarce . To make ends meet, I took a temp assignment at a travel company. I started as the assistant to the CFO, getting coffee and taking notes in meetings, which was very boring. So, I made the effort to learn the other sides of the business — pricing and costs of trips and itinerary planning — and I just fell in love.
After more than two decades and over 40 countries visited, I can't imagine doing anything else, it's completely in my blood. I've done everything from scouting new trips and destinations to running a women's adventure travel company.
I've had my eye on Audley since the office first opened in Boston nearly ten years ago. Back then, US travel was still limited to groups, and I thought customized trips were really inspiring. It's been a pleasure to watch Audley grow over the past decade and I'm absolutely thrilled to join such a passionate and dedicated team.
Q: What inspires your passion? And how do you keep that passion alive after so long in the industry?
A: I love to learn and to try new things, and travel offers such a great opportunity to do that. You get to talk to new people and see the world through someone else's eyes. That mirror offers opportunities for introspection — I discover so much about myself by embracing different cultures, perspectives, and experiences when I'm abroad.
The travel memories that stay with me forever are always about the people that I met, and not the museums, monuments, or hotels. That human connection is transformative and is what I love about travel. 'Putting together an itinerary' sounds so sterile. But a great trip gives you the chance to make genuine human connections — that never gets boring.
To me, travel changes the shape of who you are as a person. People are more willing to step outside of their comfort zone and throw caution to the wind. They might find themselves eating fried crickets on the side of the road in Zimbabwe (like I did!). I even bungee jumped off Victoria Falls bridge!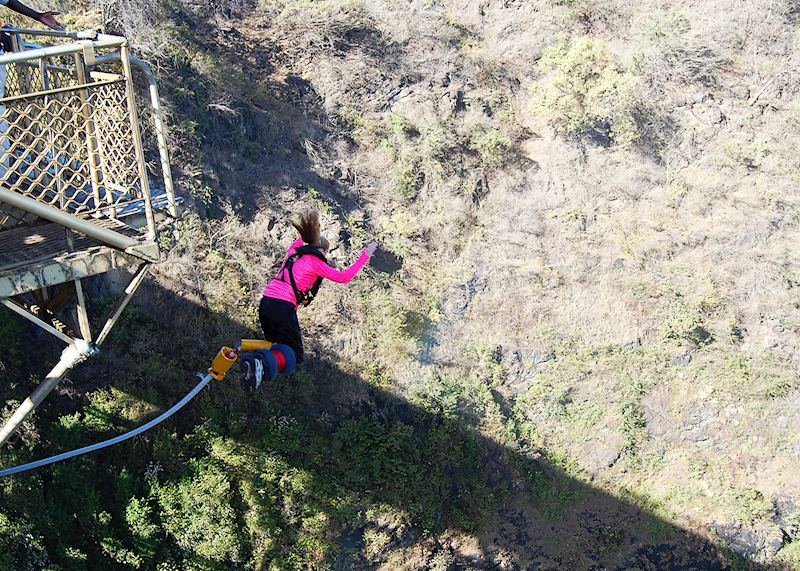 Q: Can you highlight some of your most memorable travel moments?
A: One of my most memorable experiences was in Myanmar when it had just opened up to visitors again in 2012. The people were so friendly and welcoming and generous of time and spirit, opening up their homes and sharing their food.
I was traveling with a group of trip leaders who we were training. At night, we went way out into the jungle to a local home. There was no electricity, so they hooked up a car battery to their TV and VCR and played old reruns of The Tonight Show, from back when Johnny Carson was still hosting. All their neighbors came over to watch. As they welcomed me into their home, they kept giving me bananas — I think I ate six bananas in an hour. We didn't speak the same language, but it didn't matter; there was that magic of this shared experience and sense of community.
Q: Can you talk about the best guides you've met?
A: You can have a perfectly crafted itinerary with all the right hotels and activities, but if you don't have a strong guide, it won't be an excellent experience. The best guides can transcend even an average itinerary, with issues along the way — a flat tire or an unexpected detour can be transformed into an opportunity for exploration. The most memorable moments on a trip are often those that are unplanned.
I think the top guides have the ability to make real, meaningful connections. I've been with guides who will bring people into their own homes with their guests and introduce them to their family, share a meal. Even if it's not a planned part of the trip, it makes a meaningful and lasting connection when they share a sliver of their life with you.
Great guides are good listeners and very perceptive. Last October, I set out on a coast-to-coast hike across the UK with Jeremy Martin, a guide who was originally from New Zealand. Early on in the trip, I mentioned that I love birding and for the rest of the trip, Jeremy was on the lookout for birds that he knew I couldn't see in the States.
Later I mentioned something about music, and we had a long chat to compare notes about bands that we liked. On the sly, he made a playlist of bands he liked that I didn't know, and we'd listen together on our long drives. I came home feeling like I'd expanded my horizons in a way I couldn't have planned.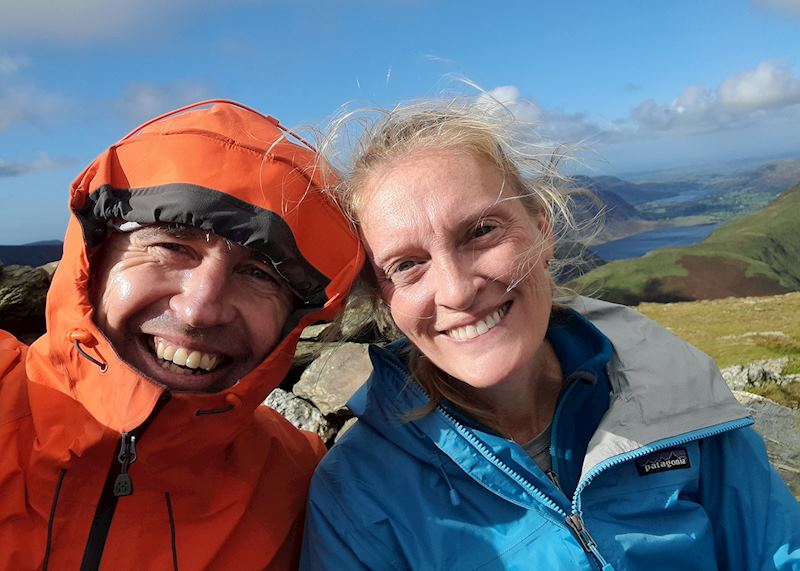 Q: We've missed International Women's Day, but it would be great to hear your thoughts on how we can continue to advocate for the women we work with — from guides to hoteliers and colleagues.
A: I'm so excited that this is at the forefront of more and more conversations. The number of companies that do women-only trips is increasing because everyone sees the benefit of catering to women in the market.
I work with some organizations outside of my day job that are focused on empowering women in the travel industry. wmnsWORK Tourism Accelerator was started two years ago by Iris Serbanescu, a woman who recognized the need for a space for women who want to start their own business in travel. It's harder for women to get funding all the way down the line. Iris created this women's program where subject-matter experts talk on different topics and share their wisdom from their experience working in the industry.
I've already lectured on the basics of building a business plan, and now I've signed up to become a mentor — the women can make appointments to talk about whatever they need advice on. When I started in this industry, men were running the companies, and the boards are always all men. There wasn't really a network or support system for the handful of women who had scratched our way into leadership roles in the industry.
That's why I think it's so important to establish spaces where women can come together collectively and honestly talk and share ideas and listen. There's so much power when you get diverse faces and perspectives together. Nowadays, there's a sustainability panel at every travel conference. So let's consistently have a women's panel, too.
Also, in many destinations, women don't get fairly compensated for their time. Women around the world want this, and it's our job to make these opportunities come to fruition and make sure we're finding real authentic local experiences.
Q: Can you talk more about that?
A: We've gone through a phase of green washing, and now you can see something like 'local washing'. Some travel companies throw around words like 'local' and 'authentic' without verifying that the money is staying in that community.
What Audley does really well is making sure that there are real connections with local women, and that we know the money is going to these women directly. It's hard to guarantee this 100% across the board, but I know Audley does a really good job of finding those women and making sure as much as possible that the money is getting into their hands.
So many companies don't even know where to begin. I love that Audley has made this a priority and is taking action. Last year Audley hosted a workshop with a bunch of suppliers to talk about women in travel and 80% of the participants came away with an idea to start a new initiative from the workshop. I think Audley is putting our money where our mouth is — we're hosting the workshop, initiating the dialog, and asking for the feedback. It's all about formalizing it and making it standard practice.
Women are the power behind travel. More than half the workforce is women, and something like 86% of travel decisions are made by women. It's driven by women so of course we should get women involved!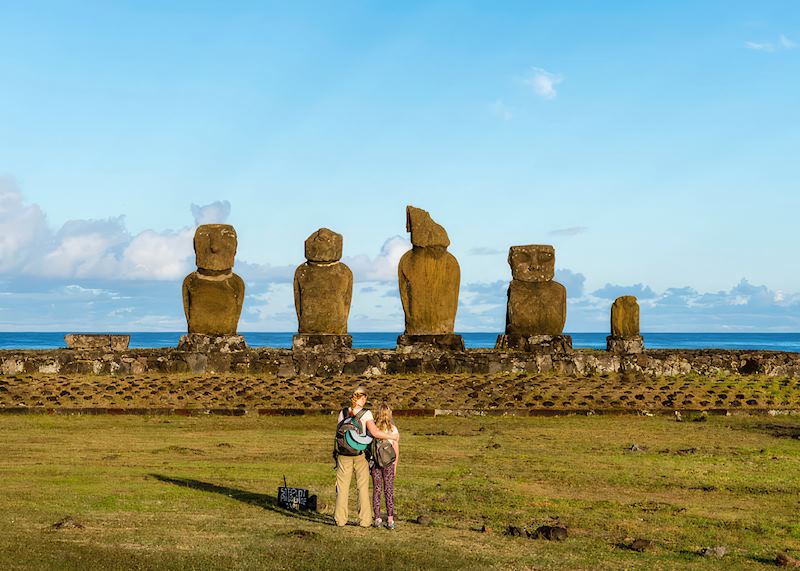 Q: What are you most looking forward to in your new role?
A: The people. The energy and passion at Audley is just palpable. It's such an exciting time in the industry in general but I'm thrilled to be a part of that energy and not be a spectator. These people love what they do, they want to be here, and I can feel that.
Q: Any travel trends or key destinations for 2023 and beyond?
A: I feel like my career path has mirrored changes in the industry. I started at a company that did group tours with 40 people. Then I moved to small group adventure travel, then an all-women travel company. That's not intentional on my part but now the momentum is shifting to customized travel, and I've moved to Audley.
As for destinations… In the past, everyone went to the same handful of places. But it's become clear that isn't a sustainable option. Places like Venice and Mallorca and Bhutan are working to curtail overtourism. Now, any destination can become the next big draw because people aren't trying to go where everyone is going.
I think that everyone wants to travel, that's it's a constant of humanity. But, with a focus on individual travel, I've noticed people are choosing to travel to more diverse and remote destinations. Where and how people travel now is so different, which is positive for us as humans and for the planet. It creates the opportunity for more intimate exchanges and understanding and immersion. I love that I still work in travel 25 years later and I get to be a part of this.
Further Reading