As a child, Brigitte was enthralled by tales from the Arabian Nights and the lure of the desert. Consequently, having finished her art and design degree and having become a partner in the family business she headed off to Morocco, falling in love with all that the country had to offer and spending every holiday for the next few years returning to explore new areas. Brigitte was so intrigued by Arabic culture that she later decided to return to university, studying a B.A. in Social Anthropology at the School of Oriental & African Studies in London, with a focus on North Africa and modern Arabic.
During this time Brigitte also traveled to Egypt to expand her knowledge of the region and assist with her studies. She then worked in the Civil Service for nine years before her love of travel took hold again and she embarked upon a yearlong round the world adventure. Upon her return she was delighted to see that there was a vacancy for a North Africa specialist at Audley, marrying her two lifelong passions, travel and the history and culture of North Africa.
Brigitte has recently completed a further extensive trip to Morocco and Egypt to really get an understanding of what our clients do there, cruising along the Nile and re-discovering the atmospheric souks of Marrakesh. When Brigitte is not working or dreaming about traveling, she enjoys walking in the hills and creating artifacts from recycled textiles.
Speak to Brigitte

Start planning your trip to North Africa & the Middle East with Brigitte by calling
1-855-838-8491


Recommend Brigitte to someone you know
Help your friends and family discover the world with Audley. Recommend Brigitte today.
We had very high expectations when we embarked on our trip. Our expectations were exceeded.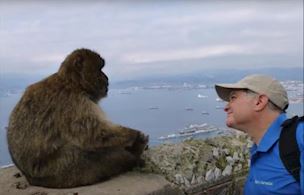 Linda G. traveled to Morocco for 13 days in October 2015, organized by Brigitte
From my first conversation with our specialist, Brigitte, we were excited about our Morocco adventure. We shared our interests and abilities with Brigitte and found that our requests were granted, down to the tiniest detail. We have already recommended Audley Travel and Brigitte in particular on social media and in person.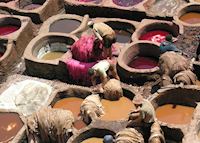 Fez is a wonderful, labyrinthine mediaeval city, less discovered than Marrakesh and a particular favorite of mine. It has almost two thousand winding narrow streets and passageways to explore with every twist and turn revealing something new. Whilst there I've discovered everything from rows of stalls selling wedding clothes and bakeries, where you can peer right into the heart of the mud brick ovens to the exquisite intricate detailing of an ancient mosque or fountain.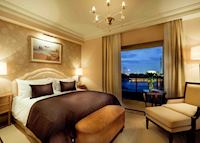 The Kempinski Nile Hotel is brilliantly situated in downtown Cairo fronting the Nile, and five minutes' walk from the Egyptian Museum. It is a smaller property with a total dedication to superlative service, incredibly comfortable beds and even a pillow menu! The restaurants here serve excellent food - either Mediterranean or Turkish inspired. Try out the small but perfectly formed heated swimming pool on the rooftop as the sun goes down, and the lights of Cairo begin to glow.
I'll never forget when…
Snorkeling in the Red Sea has to be one of my favorite memories of my time in Egypt. Many of the hotels have 'house reefs' which literally start where the beach ends. I hired a mask, fins and snorkel for a few dollars and as soon as I entered the water, the brilliance of the diverse corals looked like an underwater garden; not visited by butterflies but by shoals of fish in every form and color.