By Japan specialist Rebecca
Of all Japan's cities, Kanazawa is the most liveable — as well as compact and easy to get around. The ruling Edo-period Maeda clan developed it to rival Kyoto as Japan's city of culture, and, more than 400 years later, it still does.
Spend three days in Kanazawa and you can dip into a cross-section of Japanese culture, from garden design to pottery techniques, as I've detailed in my suggested itinerary below. Quieter than Kyoto and less overwhelming than Tokyo, Kanazawa works well as part of a grand tour across Japan.
Day one
Private guided stroll through Kenrokuen Garden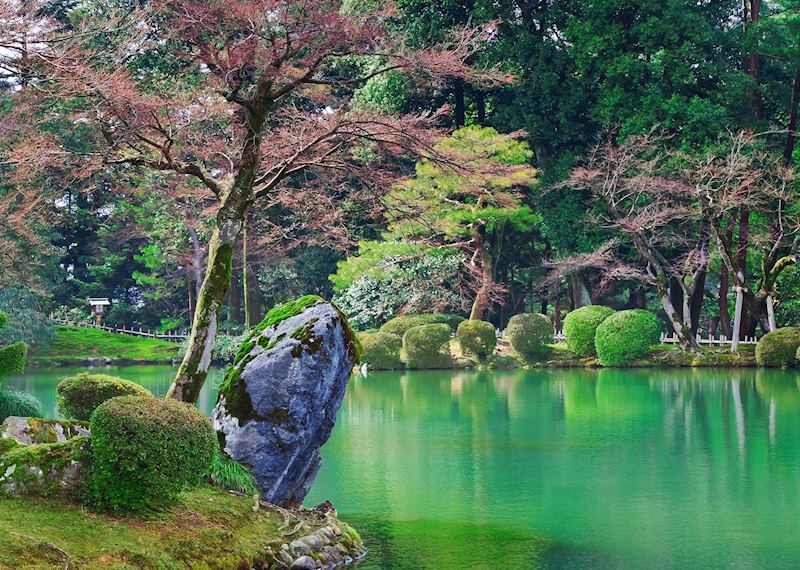 Over my years exploring Japan, I've learned that Japanese gardening is a subtle art. Like painting, there are different levels of meaning to the visual clues you'll see while walking the neatly trimmed paths. Kenrokuen, in central Kanazawa, is considered one of the best gardens in Japan and you're best served exploring with the help of a guide.
It's a strolling garden, designed to be followed in a set direction. Your guide will usher you the right way, demonstrating the principles of miegakure, the technique of angling visitors toward a set viewpoint. You'll hear how certain historical leaders shaped the garden with their ideas, and possibly pick up a few gardening tips — there's a very specific approach to pruning Japanese pines.
Your guide will then lead you out of the garden, ducking through an unassuming entrance gate into Gyokusen-en, a private Edo-era garden owned by the Nishida family. A traditional moss garden, this small space has been designed to look like a miniature landscape, with tiny hills and valleys reflected in a fern-fringed pond.
There are a hundred and one places in Japan to have tea, but the Gyokusen-en's teahouse is one of the oldest, its screen doors opening out onto the greenery. In these peaceful surrounds, you're taught the precise process of tea brewing, before enjoying a fresh cup of hojicha, Kanazawa's signature gently roasted tea, with a wagashi (a sweet usually made with bean paste, a specialty of the region).
After-hours in the Geisha District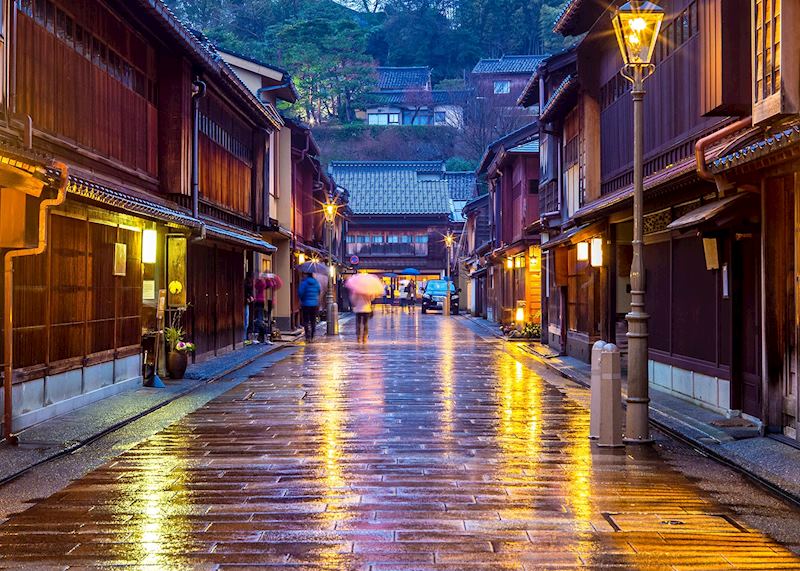 Kanazawa sees far fewer visitors than Kyoto, but in Higashi Chayagai District — better known as the Geisha District — you'll still encounter plenty of daytime sightseers. But, take an evening tour with a guide and you'll have the district to yourself.
Acting as a cultural ambassador for the city, your guide will be eager to share the heritage of the district as you navigate the narrow streets. You'll see hidden shrines and chaya (teahouses) where geisha perform.
Your guide will then lead you to a local restaurant for dinner, one of Kanazawa's low-key establishments that's all about Japanese home cooking and eating elbow to elbow with local residents. Menus offer simple hotpots and mixed rice dishes made from local ingredients.
Private audience with a geisha
With your guide to translate, you can easily add this experience into your evening. In a private townhouse, your host will discuss life as a geisha and serve you tea or sake with the meticulous, deft movements of the art.
Day two
Meeting Kanazawa's artisans
Rather than owning the biggest army, or building the largest castle, Kanazawa's ruling Maeda samurai clan showed off their supremacy to rival cities through culture.
Throughout the 16th century, artisans from across Japan were invited to work in Kanazawa, fusing traditional techniques with the samurai philosophy. This patronage of the arts has continued unabated for more than 400 years, resulting in the city's nickname, the City of Crafts, and its status as a UNESCO Creative City.

Spending the day with a guide will introduce you to a couple of craft masters (artisans who've achieved a particular level of respect for their art).
First stop is the home of Hisatsune-san, a master of Kaga Yuzen, the art of kimono dyeing, where delicate landscapes, flowers and birds are painted onto fine silk. Despite working with international brands and collaborating with high-profile designers, Hisatsune-san still works out of his living room, assisted by his daughters.
He greeted me with a swathe of silk to feel, then told me how much it was worth — making me promptly hand it back. You'll see what he's currently working on (each kimono takes around three months to complete) and how the dyes are extracted from natural ingredients including plums, cherry blossom and persimmons.
Later, you'll tour the ancestral home of Ohi Chozaemon, an Ohi pottery master. This style of pottery isn't only unique to Kanazawa, it's made by a single family. Ohi is both the name of the family and pottery, with each master taking the name Ohi Chozaemon.
The ceramics, predominantly made for tea ceremonies, are hand-shaped and finished with a knife that leaves distinctive marks in the clay. The clay itself is locally sourced and fired at a low temperature to achieve an ocher glow in the final glazed piece.
As well as showing you some of his pieces, Ohi Chozaemon (the 10th) will sit with you for tea served from his handmade ceramics.
Day three
The freshest breakfast possible at Omicho Market
Many of Japan's long-standing fish markets are closing down to make way for purpose-built structures that have a bit of a clinical air. But, Omicho Market is still a higgledy-piggledy array of stalls, where a bewildering cornucopia of sea creatures are laid out like specimens in a museum. Take a walk through the stalls in the early morning and you'll see the catch arriving straight from the Sea of Japan.
A local specialty my Japanese friends introduced me to is kaisen-don. It's simply a bowl of rice topped with a selection of the freshest sashimi of the day — maybe tuna, squid and tobiko (fish roe). To the Western palate this makes for an unusual breakfast, but I challenge you to find a fresher fish dish.
21st Century Museum of Contemporary Art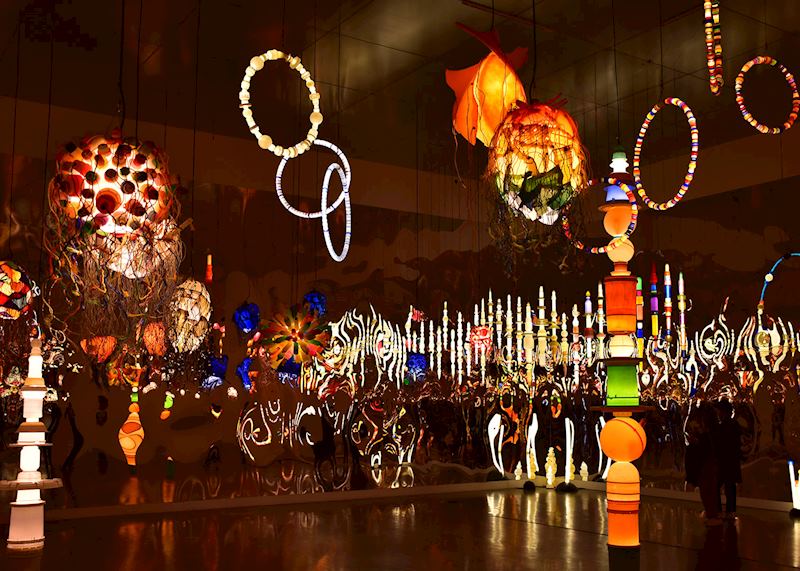 One reason I like Kanazawa so much is its walkable size. From Omicho Market, you can take a leisurely 20-minute walk through Kanazawa Castle Park — seeing the remnants of the castle walls — to the 21st Century Museum of Contemporary Art.
Outside the museum, you'll find a series of playground-like sculptures including Olafur Eliasson's swirling, tinted-glass Colour Activity House, and Leandro Erlich's The Swimming Pool — look in and you'll see people peering back from below the water-like glass surface (the underside is accessed from inside the museum).
The glass-walled building brings together exhibition spaces, an art library, a children's art studio, a traditional tea room and a restaurant. A multifaceted permanent collection of Japanese and international works grace the galleries, and a regular series of exhibitions aim to link Kanazawa to the world's foremost contemporary art.
Nagamachi Samurai District

A ten-minute stroll west of the gallery will lead you into narrow streets hemmed in by high earthen walls. Inside these mini-fortresses are bukeyashiki, traditional residences lived in by samurai and their families during the Edo period.
I could spend hours just wandering these secretive streets, but a number of residences also open to visitors. Nomura Samurai House is an elegant example of a wealthy, high-ranking home, with examples of samurai helmets and finely painted fusuma (screen doors). It's then an interesting contrast to visit Ashigaru Shiryokan Museum, which conserves the simple homes of two lower-ranking foot soldiers.
If you're exploring Kanazawa with children or don't mind your Japanese culture served with a side of kitsch, you could continue to Myouryuji. Sometimes called the Ninja Temple, this Edo-era edifice was built by Maeda lords who wanted a military outpost in the city but were restricted by the shogun's (the emperor's top military commander) strict building regulations.
An English-speaking guide, dressed as a ninja, will conduct you around the temple's tunnels, secret rooms, traps and labyrinthine corridors. Edo-period buildings were limited to two stories, but the temple's rebellious design hides a four-story building — the illegal floors only accessible by sneaky means (I won't ruin the surprise).
Where to stay in Kanazawa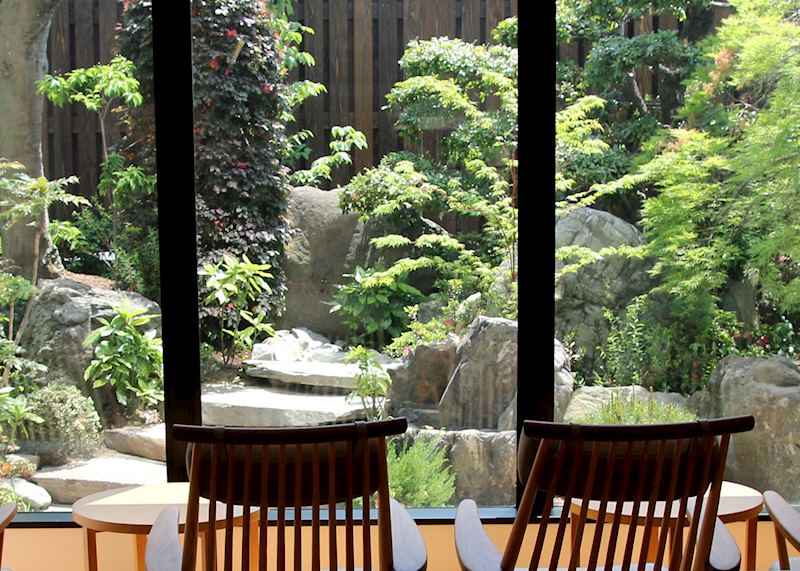 Kanazawa's hotels are mostly a selection of anonymous business establishments. But, I suggest Sai No Niwa, a Western-style hotel which still has a Japanese feel.
If you want a more authentic stay, I'd opt to stay in a ryokan (traditional inn), where tatami matting, futons and attentive hosts are the order of the day. Asadaya Ryokan, opposite Omicho Market, does a particularly good kaiseki dinner (a multi-course banquet of local delicacies).
How to get to Kanazawa
Kanazawa is two and a half hours from Tokyo, or two hours from Kyoto by bullet train. The station itself is pretty special — a 13 m (44 ft) high wooden gate marks the entrance to the terminal. Its wooden pillars spiral upwards to resemble tsuzumi, hand drums played in noh (classical Japanese drama developed in Kanazawa).
If you're looking to go off-piste during your time in Japan, Kanazawa is the point where you can pick up a car to drive the nearby Noto Peninsula. Extending 100 km (62 miles) into the Sea of Japan, its windswept coastline is a gnarly mix of thick forest, volcanic outcrops and glassy bays.
Read more about trips in Japan

Start thinking about your experience. These itineraries are simply suggestions for how you could enjoy some of the same experiences as our specialists. They're just for inspiration, because your trip will be created around your particular tastes.
View All Tours in Japan