By Audley Japan specialist Caitlin
I've always had an affiliation with Japan after watching Japanese cartoons as a child. The culture is so deep-rooted, yet it has one foot squarely planted in the future. Setting ancient traditions alongside modern innovations is something I think the country does so well. But there are many quirks I find fascinating — for example, for one of the most technologically advanced countries in the world, they confirm hotel bookings via fax.
Japan doesn't have sites of the Taj Mahal's fame or a list of quick-visit places. It's much more about experiences and customs: immersing yourself in the ritualized world of the geisha or learning the social etiquette involved in taking a volcanic hot-spring bath.
Learning about geisha culture

While geisha aren't as prevalent as they used to be, these icons of a highly ritualized and complex social structure still thrive. In demand as high-class performers, they're hired by wealthy families and big businesses to entertain at important occasions.
Gion in Kyoto is still a working geisha district. Young women enter one of the many geisha schools as a maiko (apprentice). They take classes in dance, song, music and tea ceremony performance, before emerging as a geiko, a fully fledged geisha. It's possible to meet a geisha by booking a private performance, but costs are incredibly high, so I'd suggest taking a walking tour of the district instead.
I visited the district with a guide, who led me through the streets pointing out the geisha schools, where you can see their programs of study pasted on the wall outside. We were lucky enough to spot geisha running to and from their appointments, dressed exactly as I'd seen in photographs. My guide explained the intricacies of their dress code, and how different hair and makeup styles symbolize their status.
Staying in a ryokan
For me, staying in a ryokan is one of the quintessential Japanese experiences. These traditional inns were originally used by samurai and tradesmen as a convenient place to rest for the night. They're now superb examples of Japanese hospitality, ranging from small local-run affairs to luxurious properties.
Stay in a family-run ryokan
Though smaller, family-owned ryokans are available across Japan, I particularly like to visit those in Tsumago, a small town in the Kiso Valley equidistant between Tokyo and Kyoto. Tsumago is built along the Nakasendo Highway, an important communication route established in the 8th century to enable rulers to send quick messages, goods and spies across the empire. It's a single street of wooden-fronted buildings, lit only by paper lanterns (although lightbulbs have now replaced the candles). During the electrical boom of the 60s, the townspeople banded together to conserve their town's 18th-century buildings and ban modern development.
The ryokans here are simple, but that's part of their charm. Family enterprises, they consist of a few rooms with shared bathroom facilities, but you have simple, private sleeping quarters with a futon and sliding doors that open out onto a beautifully manicured garden. The food served is home-cooked fare that makes the most of what's found locally, such as the fish in the river running through the town.
Bathing in an onsen

Happy by-products of a volcanically active country, onsens are bathing facilities built around a hot spring. Each weekend, many Japanese escape the cities to relax in their steamy waters. Traditional onsens are large, communal pools where bathers relax naked in the thermal water.
The normality of bathing in the nude took a little getting used to when I lived in Japan, but once I'd learned the social etiquette I really began to enjoy it. The Japanese people don't think twice about it and the steam protects your modesty to a certain degree. You enter the bath house on the correct side — men and women are segregated throughout — before taking a shower as you sit on a little stool. The hot spring itself is usually outside, the location chosen for its surrounding views. If you're not sure about trying a communal onsen, some hotels offer private options.
Onsen bath houses are found all over Japan, but for me, they are best experienced sat in a hot spring surrounded by snow. Hakone National Park, to the southwest of Tokyo, is surrounded by the forest and, from December through to February, snow. On a clear day you can see Mount Fuji in the distance.
Sampling Japan's food

Yakitori street food
In contrast to its southeast Asian neighbors, Japan doesn't really have a street-food culture, but yakitori comes close. Yakitori is coal-roasted strips of meat or vegetables marinated in a ginger, soy and garlic sauce, and in every big city you'll find narrow streets crammed with tiny open-air stalls set around open coal fires cooking it up. Chicken yakitori is most common, but you'll also find offal, meatball and leek versions.
Squeezing into one of the stalls, I always find myself surrounded by salarymen — the Japanese working class — with their ties loosened, enjoying a post-work beer. The sky is filled with the smoke of the coal fires and the is lane lit by paper lanterns. Looking up, you can't see the skyscrapers above, making it easy to forget you're in a modern city.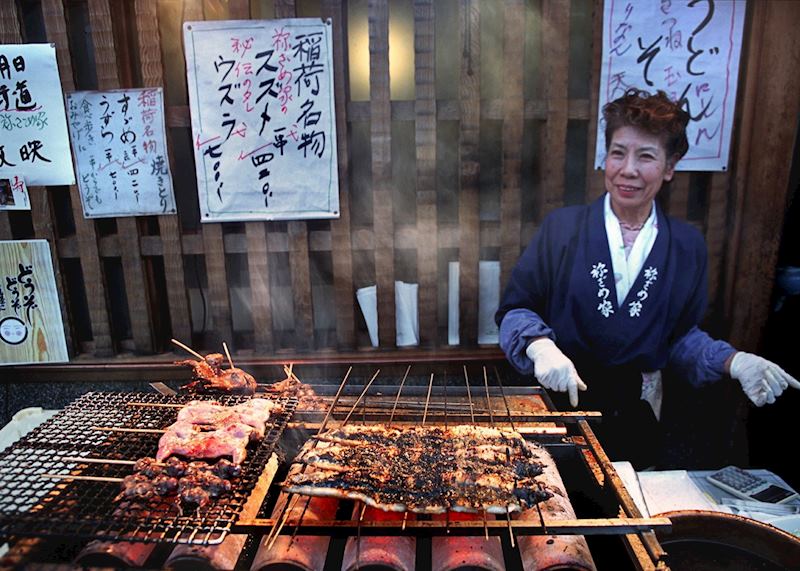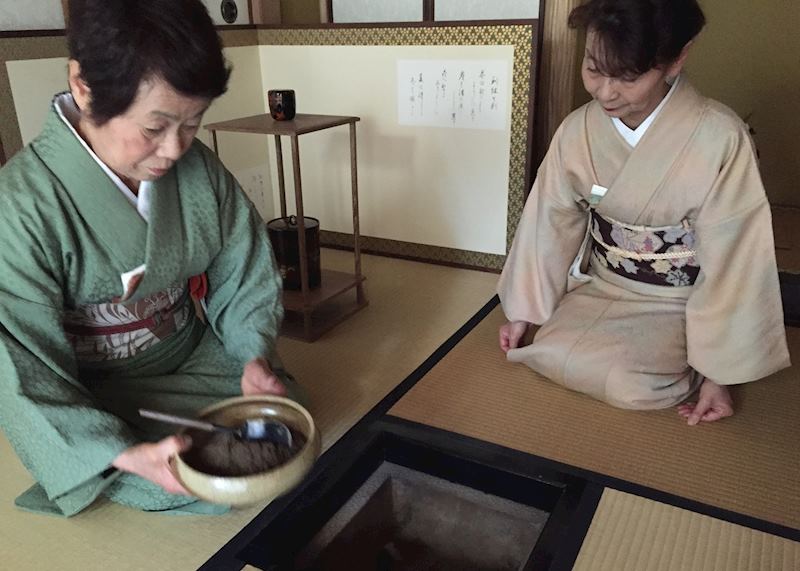 Kaiseki cuisine
For something more refined, I'd suggest sampling kaiseki cuisine: an elegant meal of seven or eight courses of delicately prepared light dishes. Usually served as part of a traditional tea ceremony, each course is meticulously made and beautifully presented. Some dishes are served alongside your own stove, on which you can cook slices of raw fish and meat.
A ryokan is the best place to experience this traditional meal, usually served in your room by a private maid. Dishes vary, based on the freshest seasonal produce available. It's a chance for the chef to display his or her skills, producing precisely cut sushi, carefully balanced soups and grilled meats.
My travels through Japan have often been led by my stomach, and I find it almost impossible to narrow down the country's food offerings to a few key highlights, but these are my must-taste experiences.
Spending time in Tokyo

Logistically you can't really miss Tokyo, and you wouldn't want to. The frenetic neon city has enough to keep you occupied for weeks, with new attractions, cafés and shops opening each week. It's worth lingering for a few days to explore different areas of the city.
Walk over the Shibuya crossing
Nothing makes me feel like I've arrived in Japan more than seeing the Shibuya crossing. Right outside Tokyo's Shibuya Station, a network of pedestrian crossings bridge the street corners, each as wide as a road. At the change of the traffic lights, thousands of people pour across the street in a minute of seemingly choreographed chaos, moving to the tune of wacky computer-game-style music, which the surrounding shops play 24 hours a day.
Visit Meiji Jingu Shrine
The inside of this shrine is so quiet, you wouldn't know you were in Tokyo. One of the oldest shrines in the city, it sits surrounded by a park in the bustling Shibuya district, right behind the station.
The shrine was built to memorialize Emperor Meiji and his consort, Empress Shōken. Enclosing the shrine is the forest garden, where each tree is a donation from a supporter of the shrine, and planted by a volunteer. Every time I visit, I manage to see a wedding procession, with the couple shaded under a traditional red umbrella.
Take a guided food tour
Ebisu is a district of Tokyo with a distinctly local feel, with a narrow network of alleyways lined with bars, restaurants and street-food stalls. Take a guided food tour with a local guide and you can get a feel for how Tokyo's residents eat — by bar and restaurant hopping across the district.
You'll stop for some sashimi here, a few yakitori chicken skewers there, before moving on. I particularly like karaage, crispy fried chicken, or ebi mayo, fried shrimps drenched in mayonnaise. Your guide will teach you how to read a menu and how to order, which are useful skills for the rest of your trip. There's also a family-friendly version of the tour which skips the bars.
Staying with monks on Mount Koya

Recently declared a UNESCO World Heritage Site, Mount Koya is a monastic complex located high in the forested mountains of southwest Japan, where you can shake off the city chaos. Mount Koya is home to the Shingon Buddhist sect, with red robed monks living among a collection of over 100 temples, many of which offer accommodation for visitors and pilgrims.
Staying in a temple gives you the chance to glimpse elements of monastic life you'd otherwise miss. Waking up early to the gentle chant of morning prayers, you might be able to watch a goma fire ritual, performed by the monks to destroy negative energy by lighting a fire in the middle of the temple. At dusk, you have the chance to wander through the cemetery, ribbons of smoke rising up from the lit incense marking each grave. Your room is simple but private, furnished with a futon, and bathroom facilities are shared.
Hiroshima and Miyajima Island

The choice to visit Hiroshima can be difficult: some of my clients find the experience fascinating, others find it uncomfortable. The harrowing events of 1945 have been sensitively commemorated in Hiroshima's moving Peace Memorial Museum and Park. When I was teaching in Japan, my 6th-grade students visited every year for their school trip. In the weeks prior, I would help them fold paper cranes, symbols of peace, which would be added to the Children's Peace Memorial in the park.
I'd suggest visiting if you have a particular interest in history, taking a guided tour You'll gain an insight into how the events have changed the country, and, more positively, how Hiroshima is leading the way in the fight against nuclear weapons.
Nearby, I'd recommend visiting Miyajima Island. A small shrine was built here over 1,500 years ago, and it has been a sacred site ever since. The island is marked by a huge red torii gate, nicknamed the floating gate as its base is surrounded by water when the tide comes in. The view of the gate from the beach is possibly one of the most photographed images in Japan, but if you catch the cable car to the highest peak on the island, you'll get an even better one.
Start planning your trip to Japan

Start thinking about your experience. These itineraries are simply suggestions for how you could enjoy some of the same experiences as our specialists. They're just for inspiration, because your trip will be created around your particular tastes.
View All Tours in Japan