The best time to visit the Netherlands is in June, or between September and November, when the leaves change and the foods and beers of the festive season emerge. You'll get the best balance of value, quiet, and activities during these times, and temperatures are pleasant, ranging from 9 to 19°C.
However, the Netherlands is a true year-round destination, with mild temperatures for much of the year and several winter-time attractions in the colder months. April is a peak month for visitors, with thousands arriving to see the tulip festivals and flower gardens. While this is a fun and lively time, with temperatures starting to rise after the winter, it's also very crowded and prices will be higher.
July and August are also peak months, with tourists from Europe and North America visiting during their summer breaks. The weather is balmy, with the low-lying coastal land preventing temperatures from getting too high most of the time. They tend to sit around a pleasant 20°C.
Things are quieter and less costly from December to March, although there are spikes in tourism during the Christmas market season and February's Carnival. Temperatures are low, ranging from 5 to 9°C.
Creating tailor-made tours for over 25 years

Excellent
TrustScore

4.7 | 3290 reviews

Month-by-month guide for traveling in the Netherlands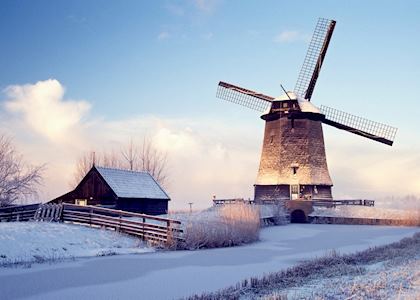 Visiting the Netherlands in December - March
December means Christmas markets in the Netherlands, which brings spikes of visitors in spite of the drop in temperature, which tends to be just above freezing. The country's large carnival celebrations bring another wave of activity in February, but in general these winter months are a quieter time to visit, when you can avoid crowds and enjoy reduced hotel rates.
Events & Festivals
Carnival (February): Carnival festivities take place all over the Netherlands. Street performances, parades, live music and extravagant costumes are the standard in this culture-spanning celebration.
International Film Festival Rotterdam (January–February): For 45 years, this ten-day film showcase has focused on celebrating independent and experimental filmmaking.
New Year's Dive: Join over 10,000 people in this New Year's tradition of diving into the frigid waters of the sea, followed by hot chocolate.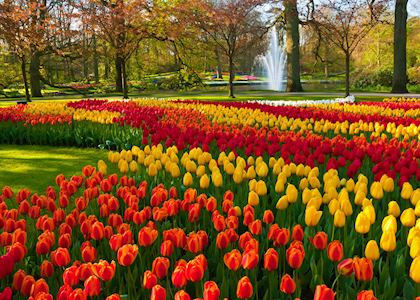 Visiting the Netherlands in April - May
Spring is in full bloom as temperatures warm, and the flower gardens attract millions to the country to see the renowned Dutch tulips. This is a singular sight, and a must if you're interested in tulip cultivation, history, or just the chance to see this intense concentration of multi-hued flowers all in one place. You may find it overwhelming, however, if you don't like crowds.
Events & Festivals
Keukenhof Flower Gardens (April-May): One of the Netherlands' biggest attractions, the Keukenhof Gardens fill with the vibrant hues of seven million perfectly planted tulips, daffodils, crocuses and hyacinths.
National Mill Day (May): For two days, 950 mills and watermills open their doors to visitors, detailing the importance water has played in the country and across Europe.
World Press Photo Exhibition (April–June): The annual press photography contest kicks off each year in Amsterdam, exhibiting the best press photos from around the world.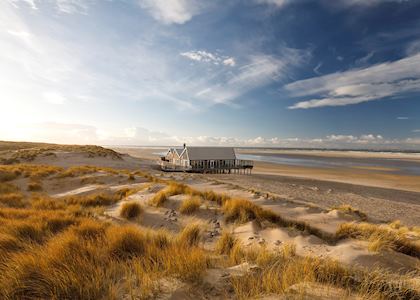 Visiting the Netherlands in June
With warm but not hot weather, medium-sized crowds and plenty of activities and festivals scheduled, June is a great month to visit between the busy flower season and summer vacations. Music festivals abound, including the Festival Classique celebrating classical music, Pinkpop, a massive rock festival that's been going since 1970, and Parkpop, a free outdoor music festival at The Hague.
Events & Festivals
Holland Festival (June): The largest performing arts festival in the Netherlands, this month-long festival celebrates music, opera, theater and dance from around the world.
World Press Photo Exhibition (April–June): The annual press photography contest kicks off each year in Amsterdam, exhibiting the best press photos from around the world.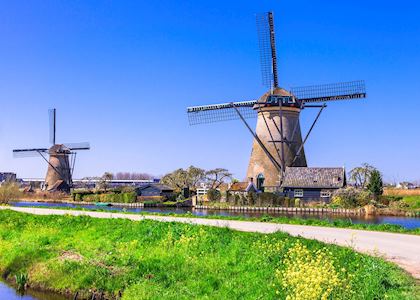 Visiting the Netherlands in July - August
The summer season has the best weather, with temperatures in this maritime climate averaging around 19°C. Sidewalk cafés, beaches and just walking or cycling through the country are best during this time, which also makes things crowded. The cities are full of lively events like the Rotterdam Summer Carnival and the Scheveningen International Fireworks Festival, and prices can increase as hotel availability becomes an issue.
Events & Festivals
Scheveningen International Fireworks Festival (August): Four nights of fireworks just outside The Hague, where individual countries battle for the award of most entertaining performance.
Rotterdam Summer Carnival (July): Mimicking the Carnival of Latin America, the Summer Carnival festival includes plentiful music, dancing and bright costumes over the course of the two-day parade.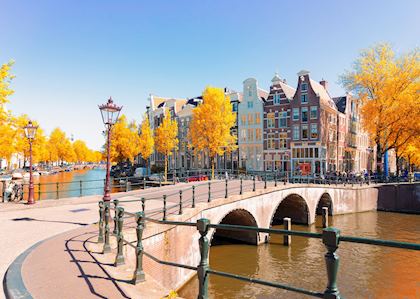 Visiting the Netherlands in September - November
As temperatures drop and fall sets in, the trees put on their golden, red and orange shows. While this is the rainiest time of year, the scenery is excellent, and crowds and costs decrease. There are several film festivals, and the cuisine, festive pastries and darker beers are especially suited to this time of year. It's also a great time to enjoy the countryside before winter sets in.
Netherlands Climate Guide
Destination
Jan
Feb
Mar
Apr
May
Jun
Jul
Aug
Sep
Oct
Nov
Dec
Amsterdam

5°C

67mm

5°C

46mm

8°C

60mm

12°C

48mm

16°C

52mm

19°C

61mm

21°C

71mm

21°C

70mm

18°C

75mm

14°C

82mm

9°C

88mm

6°C

80mm

Rotterdam

5°C

70mm

6°C

44mm

9°C

66mm

12°C

43mm

17°C

53mm

19°C

68mm

21°C

71mm

21°C

68mm

18°C

75mm

14°C

84mm

10°C

83mm

7°C

77mm

The Hague

5°C

70mm

6°C

46mm

9°C

62mm

11°C

47mm

16°C

51mm

19°C

62mm

20°C

71mm

21°C

70mm

18°C

82mm

14°C

87mm

10°C

93mm

7°C

81mm
Why travel with Audley?
100% tailor-made tours
Fully protected travel
Established for over 25 years
98% of our clients would recommend us Travel advice
Practical tips for traveling to the Netherlands, from social protocols to guidance on money matters, with a link to the latest Government of Canada travel advice.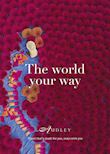 Request our brochure
Covering all seven continents, The world your way shows you how you can see the world with us. It features trip ideas from our specialists alongside hand-picked stays and experiences, and introduces our approach to creating meaningful travel experiences.
Trip ideas and travel guides for exploring the Netherlands
Luxembourg, Netherlands and Belgium