By South Korea specialist Rory
South Korea appeals to me because it isn't easy to define. Its wealth of culinary opportunities echo Southeast Asia, while the modern city architecture rivals Japan. There's a Chinese flair to the Buddhist-era temples, and a coastline of volcanic geology you're more likely to find in Indonesia.
I've picked out my highlights of South Korea in this guide. They fit together nicely into a two-week trip across the country, from the capital, Seoul, to the coastline and the volcanic islands beyond.
Start your South Korea trip in Seoul
Everyone seems to see Tokyo as this crazy futuristic city, but you should see Seoul. It's a starkly modern metropolis with a man-made river winding through its core. It makes sense to start your trip to South Korea here — flight connections are good, and the city's scope of experiences act as an introduction to Korean culture.
Explore Seoul with a local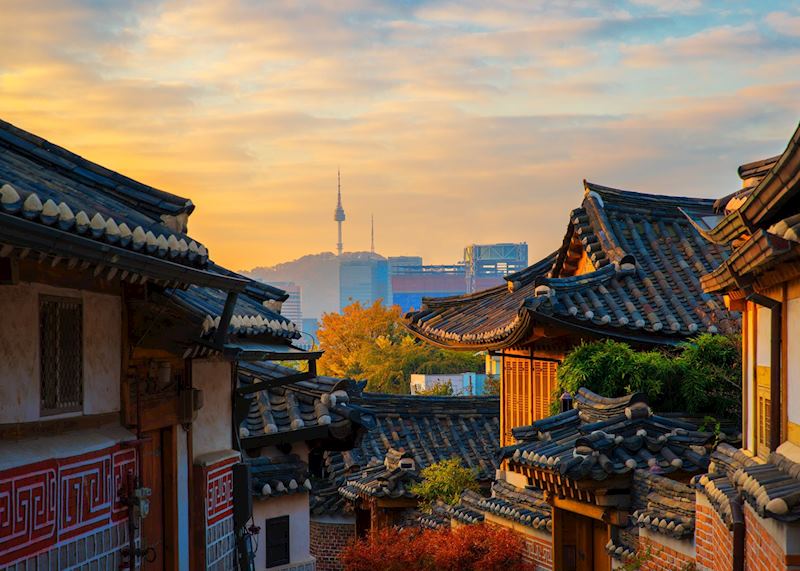 One thing to note is that, due to South Korea's various occupations and dictatorships, many historical buildings and sights have been destroyed. Instead, you'll often see remnants or memorials. I strongly advocate having a guide, who can bring them to life.
My guide for Seoul, Kim, had been born in the city and was particularly eager to make sure I experienced every cultural facet, from helping me pick out the best culinary delicacies to divulging her family history.
For an insight into Seoul's former glory, we visited Gyeongbokgung Palace, a royal palace originally built in 1395. It was systematically destroyed by the Japanese but has since been rebuilt in its original style. It now houses a series of museums and a reconstruction of the royal court.
One part of the city that's well preserved is the Bukchon Hanok Village, a 600-year-old collection of traditional Korean houses that line a warren of narrow, cobbled lanes. Its residents are used to visitors wandering their streets and are likely to invite you in to peek inside.
After exploring the city, I suggest joining your guide for the Korean national pastime: hiking. Seoul is cradled by mountains — so much so that walls were built between the valleys to protect the city. You can walk along the city walls or venture out into the mountains themselves.
Seoul's food and drink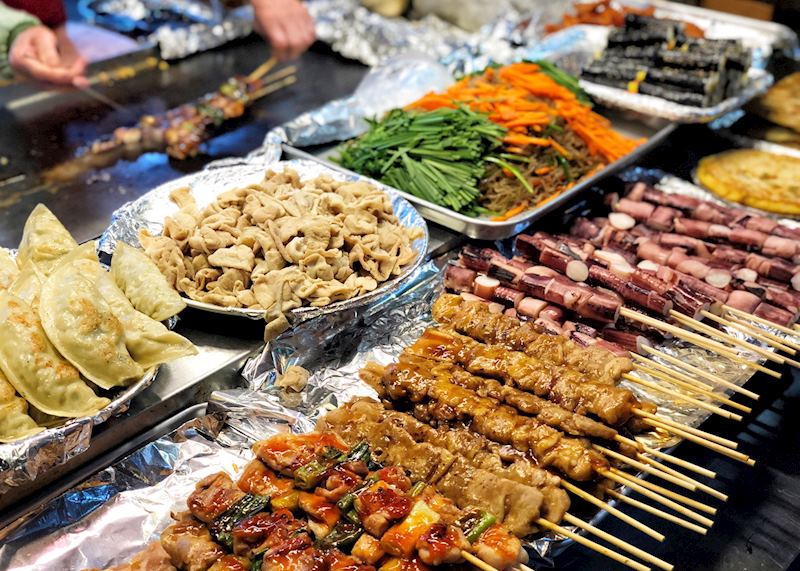 What I love about Korean food is that it hasn't had a massive boom worldwide, so you'll get a chance to try dishes you're unlikely to find anywhere else. There's everything from traditional Korean barbecue to niche (and often for the brave) seafood.
Again (and I'll bang this drum for the whole country) you'll have the best experience if you're accompanied by a local food enthusiast who can help you navigate the innovative food scene. For example, bindaetteok, savory mung bean pancakes, sound simple. But, it's a competitive industry, so you'll find a line of chefs competing to make the best, most creative dish. Your guide will know which chefs are the real deal.
If you're after a traditional tipple, ask your guide to take you to a local bar for a glass of soju, a clear rice wine that's surprisingly drinkable (especially if you're used to the Southeast Asian equivalents).
Tour the Demilitarized Zone (DMZ)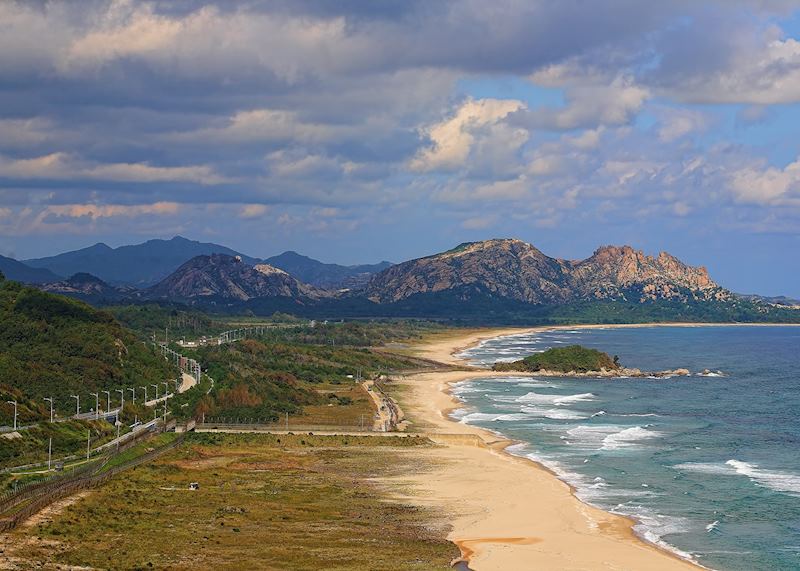 It's tricky to predict exactly what will happen on a tour of the DMZ, as public access to specific areas can be revoked at any time. I think that makes it all the more fascinating.
While you must visit as part of a group coach tour, I suggest having your own guide accompany you as the tour guide tends to be there to usher the group rather than provide information.
You'll be shown an amphitheater where peace concerts are regularly held, the Freedom Bridge and a battered train carriage — the last train to make it out of North Korea.
There's an observatory where you'll be encouraged to peer into North Korea with binoculars and you'll also see the villages stuck in limbo between the two countries. You could choose to do an all-day tour which will (probably) take you to the infamous blue-hutted joint security area, or just a half day option which incorporates everything else.
Visit Gyeongju: a former ancient kingdom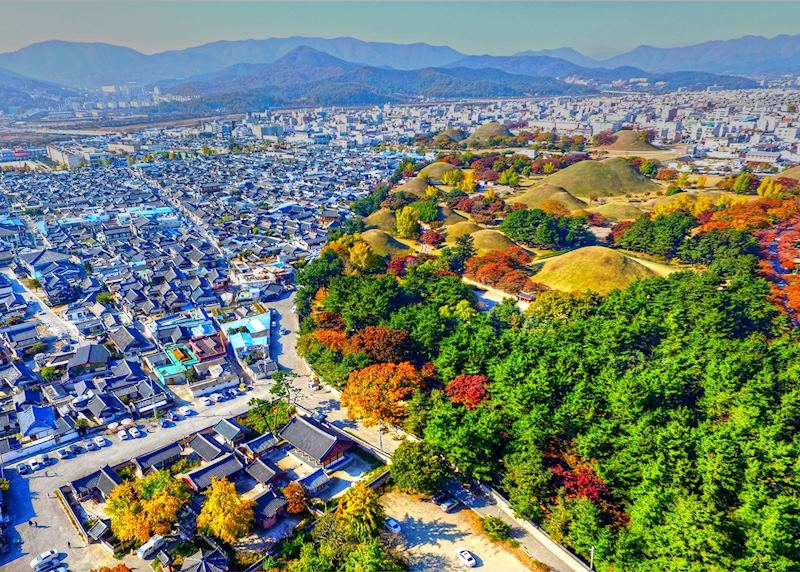 The lakeside city of Gyeongju is a two-hour train ride from Seoul. This was the capital of the Silla dynasty, which ruled the Korean Peninsula from 57 BC – 935 AD. During this period, the city was one of the largest metropolises in the world.
You'll need two or three nights here to explore the archaeological remnants of the kingdom, as well as its legacy of temples, shrines and pagodas.
Gyeongju's historical highlights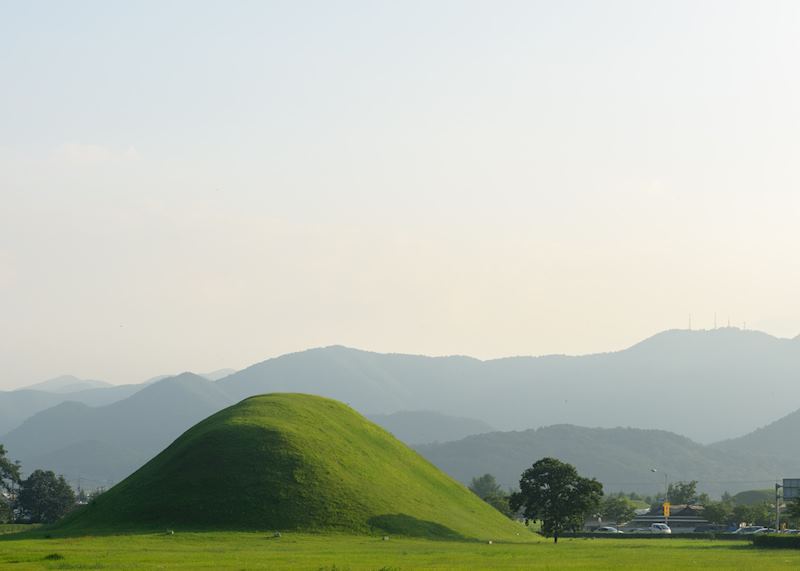 Right in the middle of the city, a cluster of small hills rise from a neatly gardened park. These are the Royal Tombs, a series of Silla-dynasty burial chambers dug into almost perfectly conical man-made mounds.
At first glance that might not seem as particularly dramatic as, say, similar regal burial chambers in Egypt or India. But, I found something striking in their simplicity and elegance, and a series of customs related to the mounds still continue today — including blue-robed attendants who visit the mounds daily to perform a series of Buddhist traditions.
My guide, Truman, brought these curves of earth to life. He explained that the size of the mound doesn't really reflect the importance of the king inside — rather, the might of his firstborn son who built it.
Other Silla-era sites include the Cheomseongdae tower, one of the world's oldest observatories, which stands in a park popular with kite-flying children and picnicking families.
For a sample of the dynasty's architectural prowess, look to the Donggung Palace, which has been partly restored, or the Bulguksa Temple, a UNESCO World Heritage Site and South Korea's finest example of Buddhist temple construction.
Visit Busan: a vibrant port city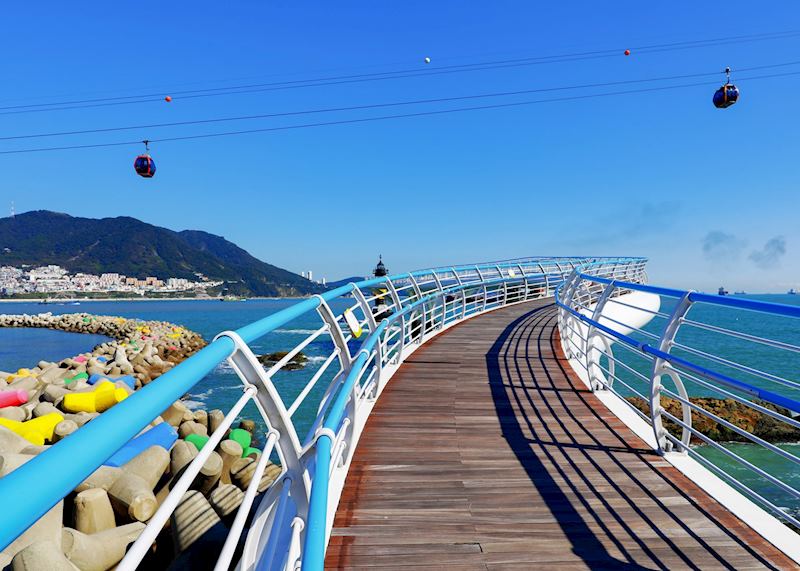 The architects of Busan have no qualms about tall buildings. It's a one-hour drive from Gyeongju, and you'll be greeted with a skyscraper city that's fringed with stretches of beach.
It's worth visiting one of the golden-sand coastlines (Haeundae is my top choice) but I'd suggest staying in the middle of the city where you'll find food markets, Buddhist shrines and sleek architecture.
One day with a guide and driver gives you enough time to explore. To get a feel for the city, peer across it from the Busan Tower observation deck, before dipping into delicately painted shrines and historical sites. You can also take a cruise around the bay, which is an interesting mix of scenic coastline and industrial container ships.
Jagalchi Fish Market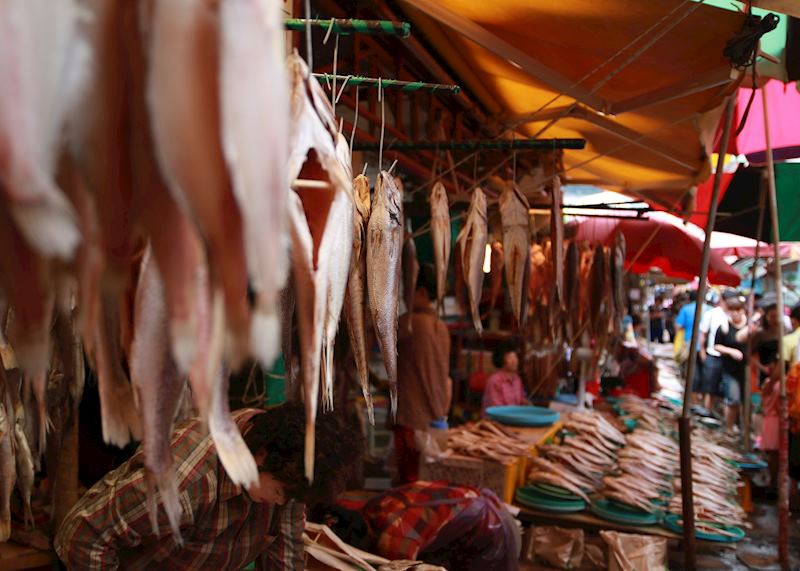 Seafood is popular across Korea: you'll see just how high the demand is as you stroll through Jagalchi Fish Market. Sprawling stalls outside are piled with rows of dried fish, while in the more modern (and pungent) indoor market you'll find fresh seafood for sale. If something catches your eye, one of the restaurants on the floor above will prepare it for you.
Gamcheon culture village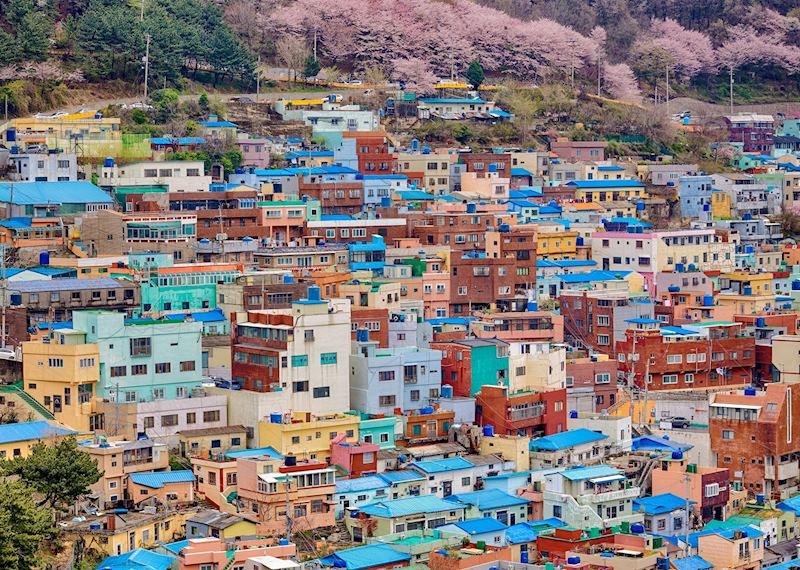 This brightly painted collection of tiny homes looks like (and now partly is) an art installation. But this settlement, surrounded by hills to the west of the city, was actually once a refugee camp. Korean families pushed out of their towns by Japanese occupation in the 1920s were forced to squeeze into this small region.
It's now flourished into a proud community, with art galleries, artisanal cafés and shops. On taking a guided tour, I found its residents eager to talk and share the collective history of their home.
Jeju Island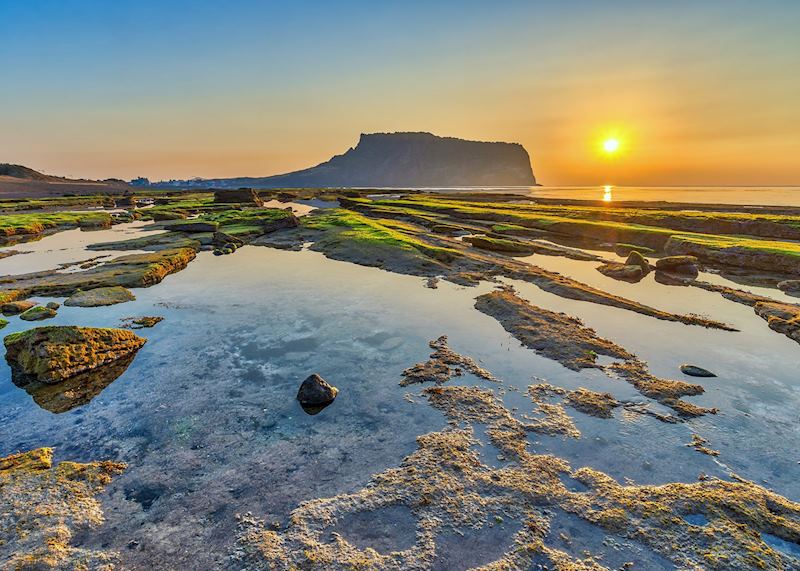 This isn't the sort of destination you end with a relaxing beach break — but in my book a volcanic island with a gnarled, rural coastline is even better. Jeju Island is a single-coned volcanic island a short flight from the mainland.
There's a small palace and a few architecturally notable government buildings, but you're here for the scenery. Do a little research on the island, though, and one of the first things that comes up is Love Land, an erotic sculpture park. Not recommended if you're with children, but its kitsch, eye-widening artworks are worth a visit for the curious.
Some of the best coastal scenery is in tiny Udo, a satellite island a short ferry ride from Jeju. I hired a bike and found it flat enough to cycle around. You can stop to stroll along its volcanic coastline. The black lava stone blends into soft-sand beaches edged with sheer cliffs that rival those of Indonesia.
Hiking on Jeju Island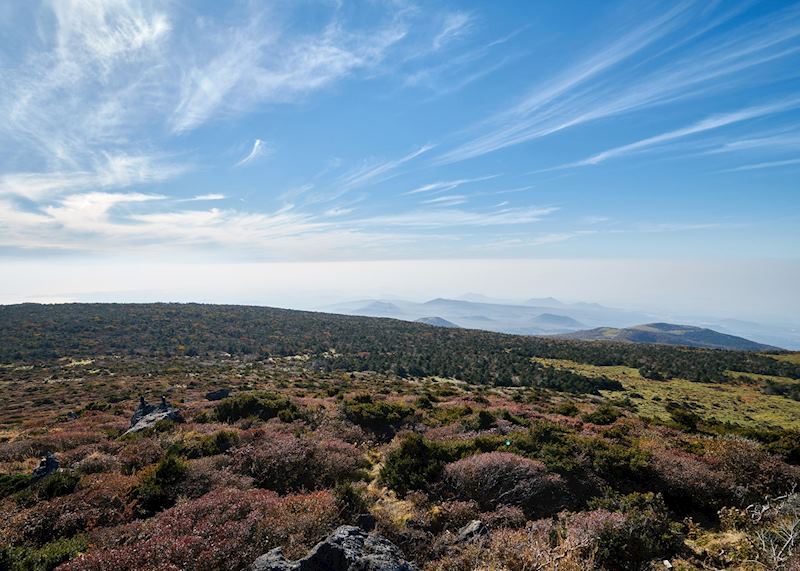 The island's volcanic cone is the UNESCO World Heritage Site of Hallasan National Park, crowned by Hallasan, South Korea's highest peak.
I'd say that the ultimate hike on the island is summiting the caldera's rim. You'll need to be prepared for an eight-and-a-half-hour return journey, but there's something very special about being on top of the skyline's only peak, surrounded by a serrated coastline and the East China Sea.
The route's clearly marked so you don't necessarily need a guide, but we can provide you with detailed notes to refer to along the way, particularly as the water refill points can be easy to miss. Make it to the summit and you can walk around the edge of the caldera, peering into the inky-blue lake inside.
If you're after an easier walk, Seongsan, known as sunrise peak, is the remains of a smaller secondary volcano — just the caldera is left. This almost bowl-shaped piece of rock is filled with a circle of bright green grass. It's a short, steep climb to its highest point, and, funnily enough, is ideal for catching the sunrise.
Start planning your trip to South Korea

Start thinking about your experience. These itineraries are simply suggestions for how you could enjoy some of the same experiences as our specialists. They're just for inspiration, because your trip will be created around your particular tastes.
View All Tours in South Korea