By Sri Lanka specialist Sophie
If you're looking for a destination with a flair for the luxurious, then you have come to the right place. The country's trifold appeal is in its culture, wildlife and beaches. Experiences are enhanced by knowledgeable guides, and you can travel in the comfort of a privately chauffeured car, scenic train or light aircraft.
Typically, hotels are finished to a high quality, and have attentive staff and enviable locations. For me, though, the luxury of staying in Sri Lankan accommodation comes down to location: exclusive tents in Yala National Park, colonial cottages in the tea region, or overwater bungalows in the central paddy fields.
Colombo
Often, Sri Lanka's capital, Colombo, is dismissed as an airport hub, and therein lies its benefit: few fellow visitors. Artisan-led boutiques, innovative restaurants (try the Ministry of Crab for the best crustaceans) and fashionable bars are popping up as the city develops, frequented by locals eager to ride the trend. The architecture is becoming akin to an Asian megacity, with gleaming high-rises sprouting up between colonial mansions and venerable temples.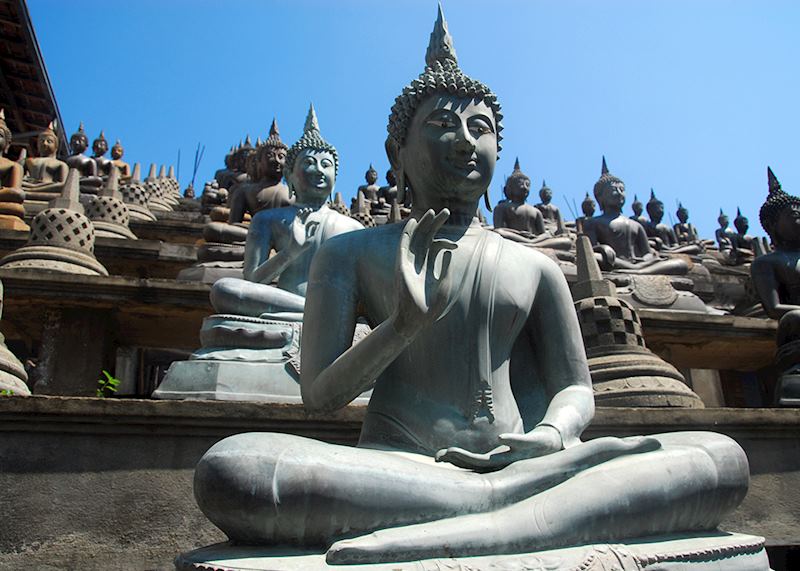 To explore the city, I joined a small group tour with a Colombo resident, who guided us along colonial boulevards and across well-tended parks. The British, Portuguese and Dutch have left behind a cache of buildings including the Old Dutch Hospital, the red and white brick Plantation House and the ornate cornices and balconies of the National Museum.
We visited Gangaramaya Buddhist Temple, the most sacred in the city. Every nook and cranny is filled with objects from old spectacles to gold jewelry, given as offerings — there are even a few donated cars in a garage outside. The tour finished in Pettah Market, which sells everything from karawala (dried fish) and cinnamon to Vesmuhunu (traditional wooden masks).
Luxury hotels in Colombo
There are some exquisite boutique hotels in Colombo — Tintagel has ten suites, hung with fine artworks — but my recommendation is the Galle Face Hotel. The grand dame of Sri Lanka, the hotel was opened in 1864 by British entrepreneurs and has welcomed guests including John D Rockefeller, Mahatma Gandhi and the Duke of Edinburgh.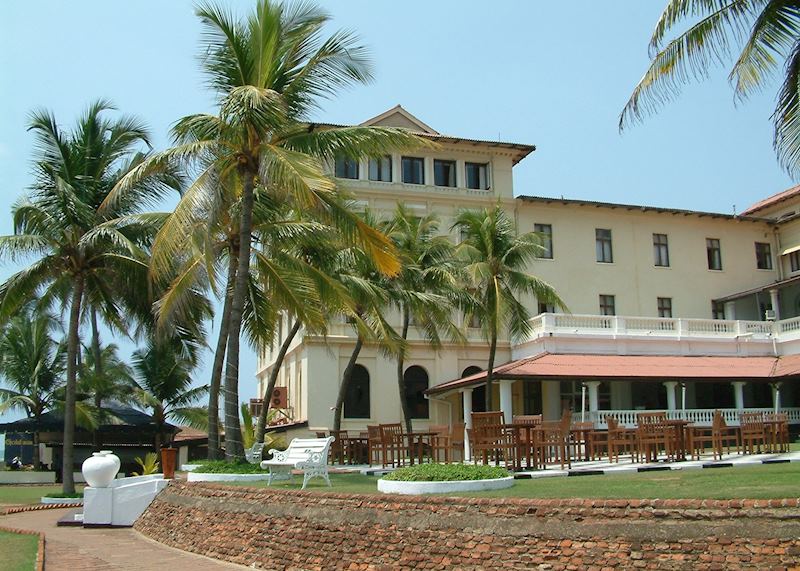 It has undergone a number of expansions and refurbishments since, but the hotel's checkered hallways and cloistered ceilings still hark back to colonial times. The balconied premier sea view room looks out to the Indian Ocean. I had an elaborate afternoon tea on the veranda, which included scones and clotted cream accompanied by an extensive menu of Ceylon tea.
The cultural triangle
A three-hour drive north from Colombo, the cultural triangle encompasses Sri Lanka's most concentrated wealth of sights, from the abandoned capital of Anuradhapura to Dambulla's cave frescoes. You'll need at least three nights to do it justice.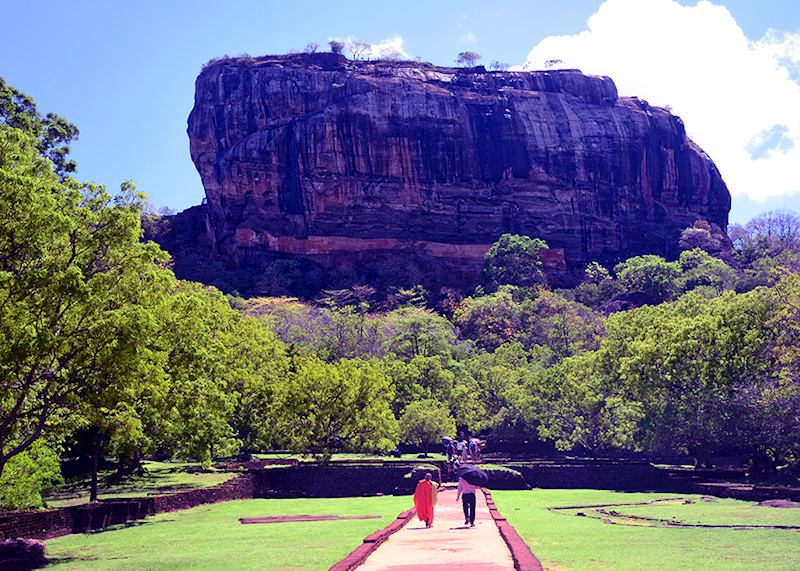 Journeying around with a chauffeur-guide, you have the opportunity to explore the sights at your own pace. My driver and guide, Sandun, stopped numerous times as we journeyed past coconut plantations and rice paddies for us to visit temple ruins, gilded stupas and a Buddha statue almost completely absorbed by the jungle.
Early one morning we set off to Sigiriya Rock, a plateau jutting up 200 m (656 ft) from the surrounding jungle. Tackling the summit early, we could watch the sun rise over the plains and also avoid the heat and visitors that arrive later.
A series of carved staircases and metal stairways lead to the top, where you're rewarded with views across the jungle and scrublands below, as well as the remnants of a 5th-century royal palace.
Luxury hotels in the cultural triangle
Personally, space to relax is key, and Vil Uyana has that in abundance. Each dwelling (as the hotel calls the thatched houses guests stay in) is set in its own patch of paddy field, marshland or suspended over water, with an open-plan lounge and veranda.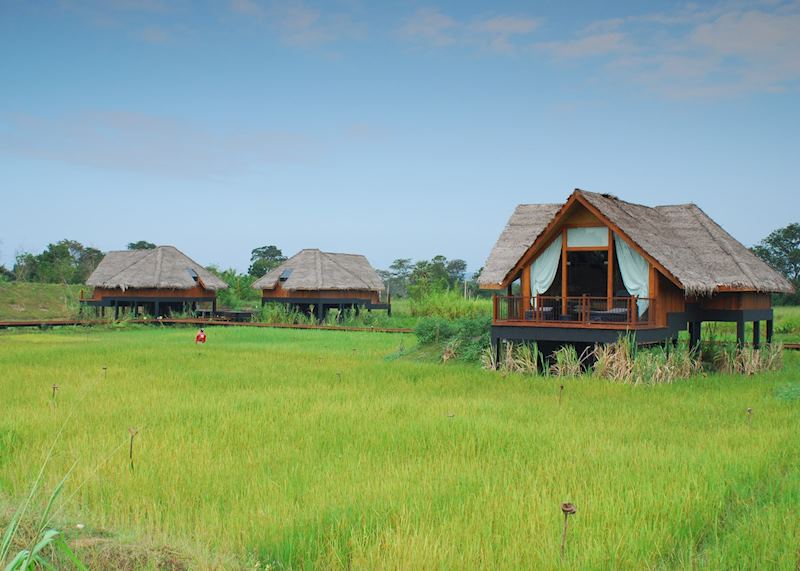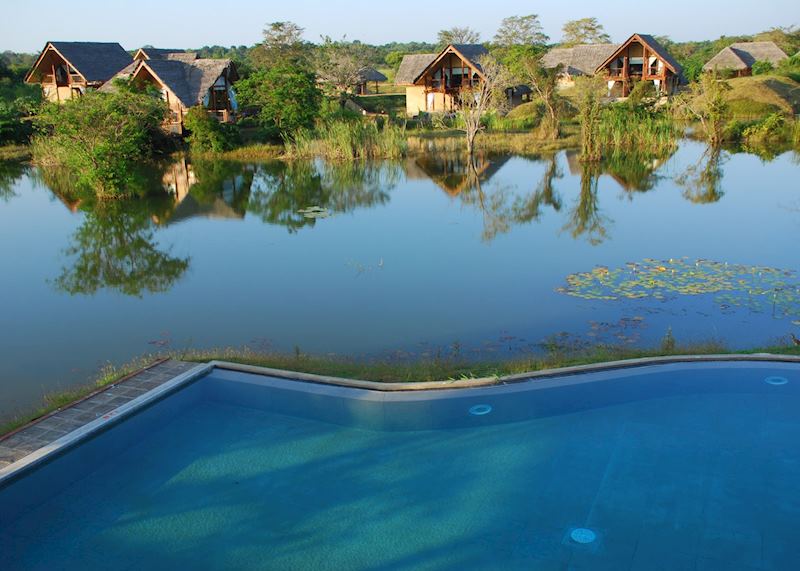 The forest dwellings are spread over two floors, each with a dining room and private swimming pool. The hotel is set within an eco-reserve and runs daily night walks through the grounds in search of the red slender loris that live in the surrounding forest.
Kandy
A three-hour drive south from the cultural triangle will bring you to Kandy. In fact, most roads in Sri Lanka seem to lead to the city, which sits prominently in the middle of the island. Kandy Lake lies at its heart, with forest-covered hills rising up on all sides. The lakeside Temple of the Tooth is the pre-eminent attraction. It houses Sri Lanka's most important relic: a casket containing Buddha's tooth.
I took time to explore the Peradeniya Botanic Gardens on the outskirts of the city. It was officially established in the 19th century by the British with plants seeded from Kew Gardens in London. While the plants are well labeled, it was my guide who revealed the gardens' history, explaining that they were once the royal gardens of King Wickramabahu III in the 14th century. They were also used by Lord Louis Mountbatten during World War II as headquarters for the South East Asia Command.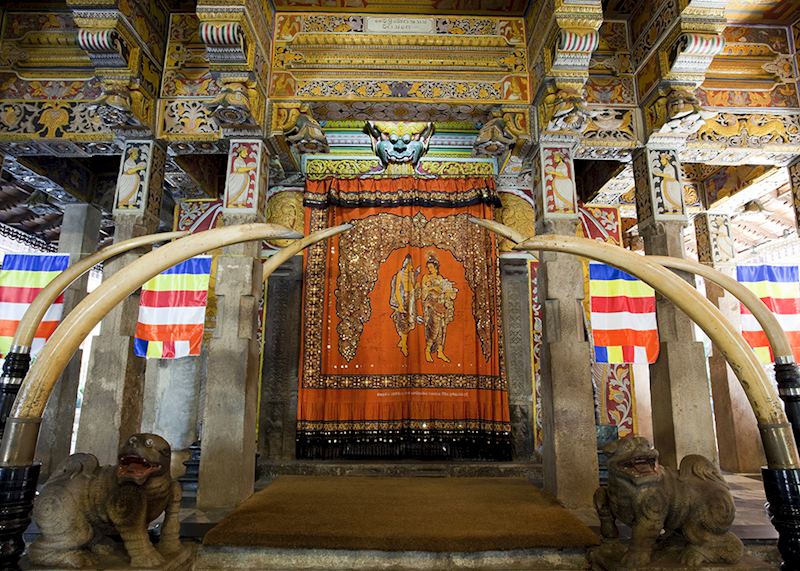 Luxury hotels in Kandy
As you walk up to Kandy House through its tropical gardens, you pass neat lawns and bougainvillea and hibiscus bushes. Built in 1804 by the Chief Minister of Kandy, the palatial villa was inspired by the gambrel roofs and bell-arch doorways of colonial Dutch architecture. The nine suites are decorated as if they're still part of a private home, with weighty teak furniture and an eclectic collection of antiques. Although the pool area feels like it's in a jungle clearing, you're a short drive from Kandy's main attractions.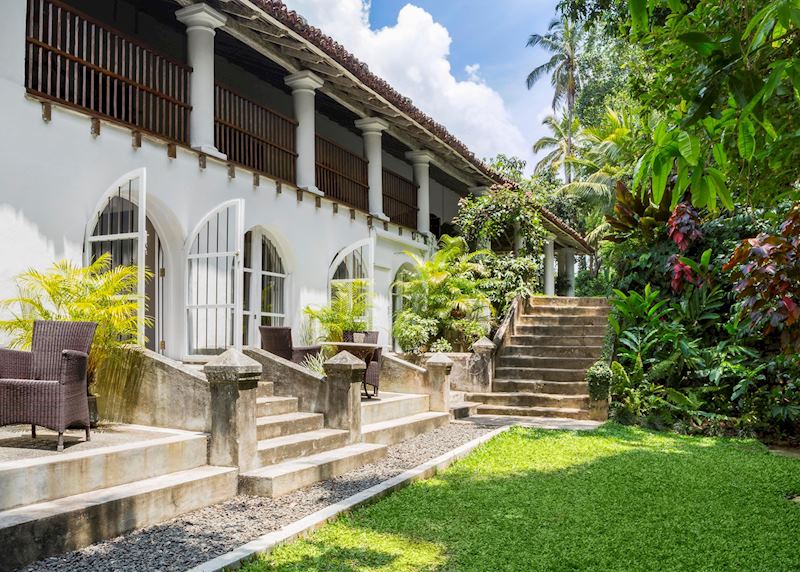 Tea region
The roads winding — and regularly bumping — up into Sri Lanka's tea hills can be slow-going, so I suggest catching the train from Kandy. It's an ambling six-hour climb into the hills, passing through villages and tunnels, the valleys stretching out below.
The train cabins are very comfortable, although which class you might be in can be unpredictable (the train configuration can change at the last minute).
There's not a long list of sights in Sri Lanka's tea region, more for me it's about appreciating your surroundings. The gentle rise and fall of the tea fields, covered in deep-green, carefully tended bushes, provides an ideal backdrop to relax. Most hotels have a network of walking trails mapped out around their property, which head up to nearby viewpoints or meander through the tea fields.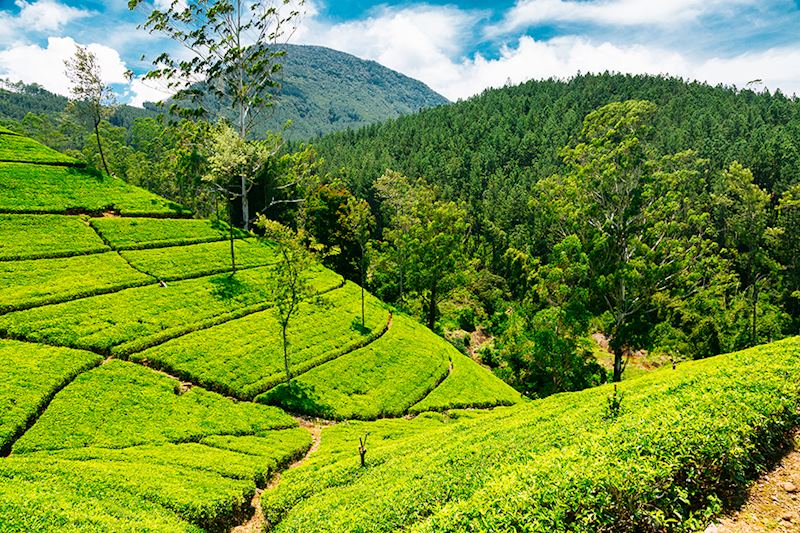 Luxury hotels in Sri Lanka's tea region
Ceylon Tea Trails have five restored colonial plantation bungalows set around Castlereagh Reservoir. Each has a character of its own, from the stone walls of Tientsin Bungalow to the pastel-pink Castlereagh Bungalow. I stayed in the newest addition, Dunkeld, which sits sentinel on the hillside overlooking the lake. From the infinity pool in the gardens you can look out across the lake: on a clear day as far as Pidurutalagala, Sri Lanka's highest peak.
The all-inclusive experience of staying in one of the bungalows is akin to being a guest in a luxurious private house. There are only a handful of rooms in each cottage, each with a communal lounge and a well-stocked bar. Guides are on hand to take you walking or kayaking, and you can join a tea-tasting class with the resident tea specialist.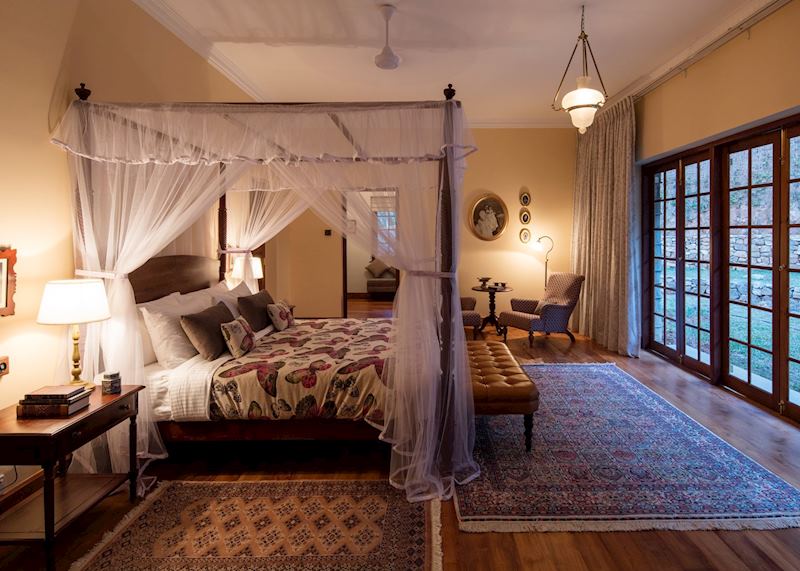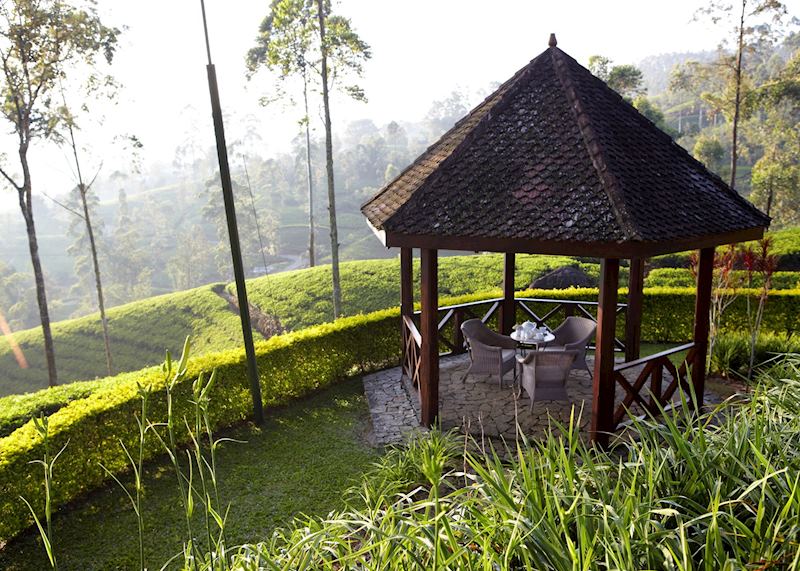 Chartered flights
Getting around Sri Lanka, especially through the hilly interior, is often laborious. You can skip the bumpy roads completely by flying by light aircraft. Cinnamon Air, the country's domestic carrier, runs a network of flights across Sri Lanka. These small amphibious craft carry no more than eight passengers and often land on lakes and reservoirs.
One of the most dramatic routes is from Kandy to Dickwella Reservoir on the south coast. As you fly from Sri Lanka's highest region to its lowest, the hills drop down sharply to the plains below as the landscape changes from rich-green fertile highlands to the light green palm groves of the south.
Wildlife in Sri Lanka: Yala National Park
Sri Lanka has more than 100 protected parks and sanctuaries, but the hotels around them can be quite basic. Yala National Park offers the best quality, as well as the services of experienced guides.
Luxury hotels in Yala National Park
Chena Huts feature 14 cottages, each with a private pool. The large living spaces are built from local materials, topped with a traditionally thatched roof. The cottages are scattered amid lowland forest that buts up against a pearly-gray beach. Located close to the park entrance, Chena Huts use their own jeeps and expert naturalists.
Though not luxurious in a classic sense, Noel Rodrigo's Leopard Safari tents are an exclusive experience. Pitched in the buffer zone of the park, the spacious tents each have a flushing toilet and outdoor shower, as well as comfortable beds. My naturalist had studied zoology and knew every little detail about the wildlife we spotted. Each evening I joined my fellow guests for a buffet dinner under the stars.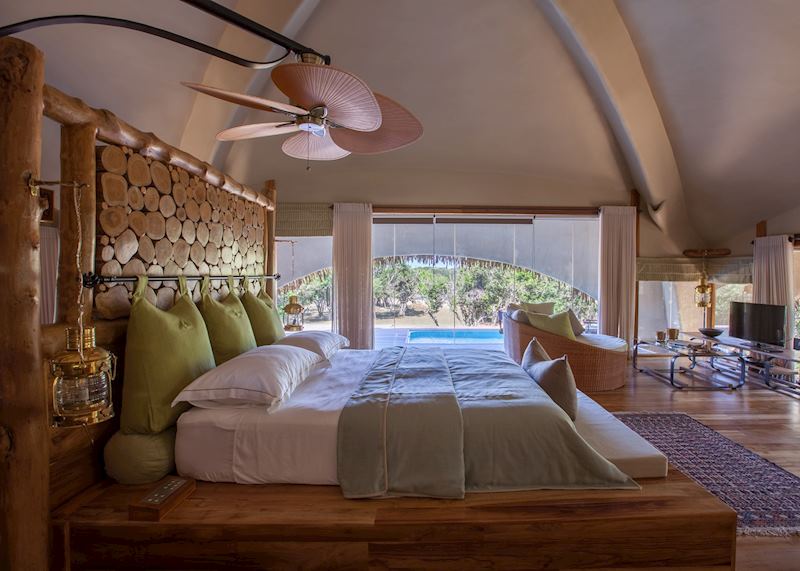 Galle
A fortified city built by the Dutch, Galle Fort rests on a promontory on the southeast coast of the island, three to four hours' drive from Yala. Although the fort is easily navigable on foot, I took a private cycling tour to cover more ground. Circumnavigating the inside of the fort, we peddled below its thick stone ramparts and sea-facing bastions.
Cycling out of the fort, we passed the cricketing Galle International Stadium before exploring some of the surrounding lagoons and paddy fields. Turning down a narrow backroad, we happened upon a busy fish market, where fishermen loudly advertised their catch while skilled hands de-scaled and filleted thousands of fish. My guide and I then continued on to a local beach from where we could look back down the coast to Galle Fort.
I probably cycled around 15 km (9.3 miles) in total but, as this is a private tour, your guide will plan a route to suit your fitness levels. The region is blissfully flat, making routes mostly easy going.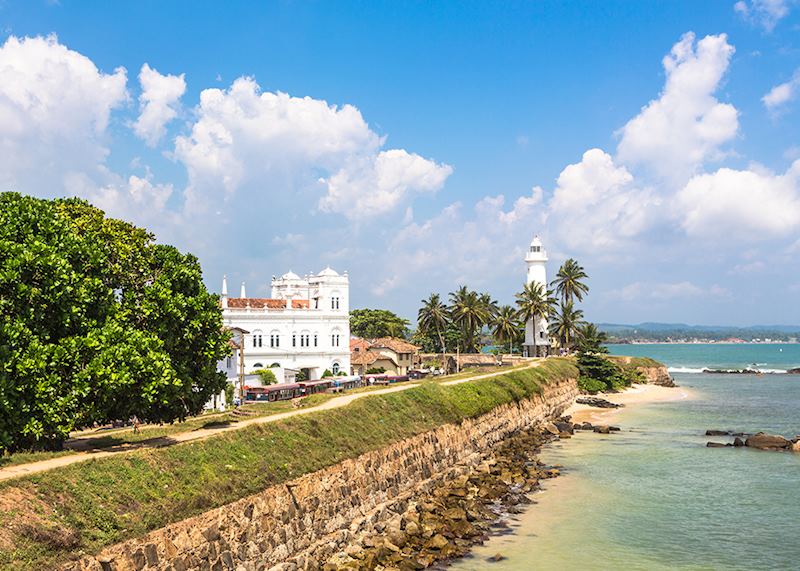 Luxury hotels in Galle
I suggest staying within the fort walls. A number of Dutch colonial buildings have been carefully converted into hotels, which are within walking distance of the cafés, boutiques and restaurants that light up the streets each evening.
The Amangalla was built in 1684 as soldiers' lodgings before becoming the New Orient Hotel in 1865. A star destination for Europeans touring Asia, it welcomed visitors for over 100 years. It's now been taken over and thoroughly polished by the Aman Resorts group, but the hotel has retained its heritage — gleaming teak furnishings, curved eaves and all.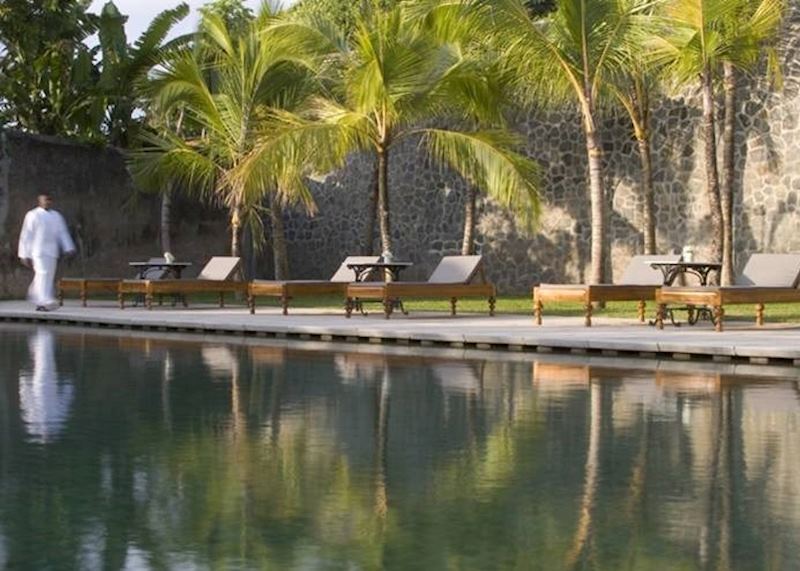 Luxury beach hotels in Sri Lanka
Sri Lanka's coastline varies from the black mineral-rich sands of the north to the rose-gold coves of the south. For comfort and service, the best choices reside on the southwest coast.
Cape Weligama is 30 minutes east of Galle, set on a rocky headland facing the Indian Ocean. The 39 suites and villas are dotted among tropical gardens, leading onto a crescent-shaped infinity pool raised above the sea. You need to clamber down a steep flight of steps to the beach but, once there, you have a cove of golden sand almost to yourself.
Sports staff are on hand to take you diving, surfing or sailing, or escort you on tours of the local area. The staff, who cover the hotel on golf buggies, were always keen to help — even bringing popcorn, unprompted, to my villa when I chose to watch a film. There's a dedicated spa villa with a hefty brochure of treatments, or you can opt for a specialist to visit you in your villa.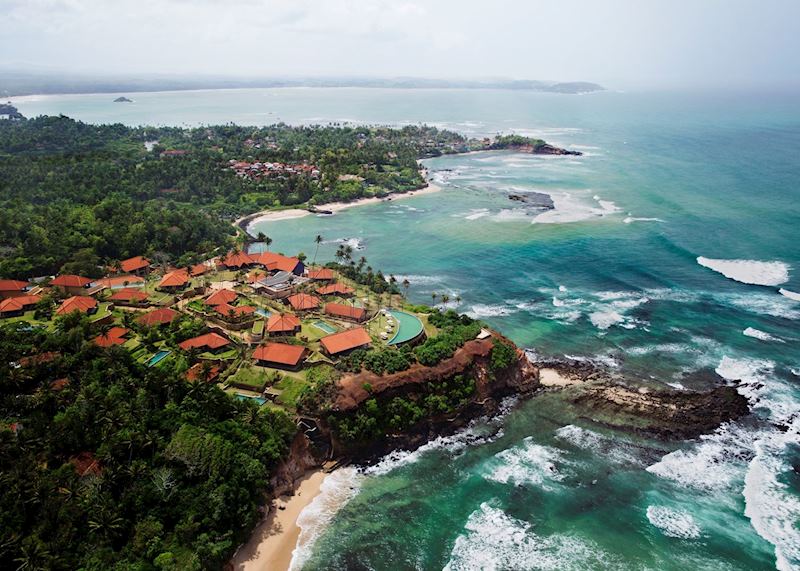 Extend your trip to the Maldives
The Maldives are only an hour's flight from Colombo. Costs can escalate quickly here, but I find Baros offers a top level of luxury for a sensible rate. A speedboat ride from the capital of Male, Baros is convenient for a short stay after a Sri Lanka tour, although you could easily stay longer.
I stayed in a villa that had a private decking area leading to the beach. You can swim up to the house reef from the sand, which is often busy with feeding turtles and nurse sharks.
The five bars and restaurants offer a high standard of food, particularly the overwater Lighthouse Restaurant where I enjoyed a seafood platter piled high with prawns, lobster, squid and langoustine.
Start planning your trip to Sri Lanka

Start thinking about your experience. These itineraries are simply suggestions for how you could enjoy some of the same experiences as our specialists. They're just for inspiration, because your trip will be created around your particular tastes.
View All Tours in Sri Lanka