By Galapagos specialist Michael
The Galapagos feels intrepid, and it is — you're visiting far-flung islands, some of which have never been inhabited by humans. They're places where the wildlife is firmly in charge. No two days are the same, but the days can also fall into a comfortable and (especially if you're on an expedition cruise) rigid routine. But, this rigidity doesn't diminish your experience.
If you're planning to explore the Galapagos by expedition cruise, your daily routine is likely to be similar, whatever size vessel you choose. Some sailings — such as this 10-day Galapagos cruise — take you to the remotest reaches of the archipelago. Or, you might opt for a shore-based stay, in which case your days are yours to plan as you wish.
A typical day on board a Galapagos expedition cruise vessel
Morning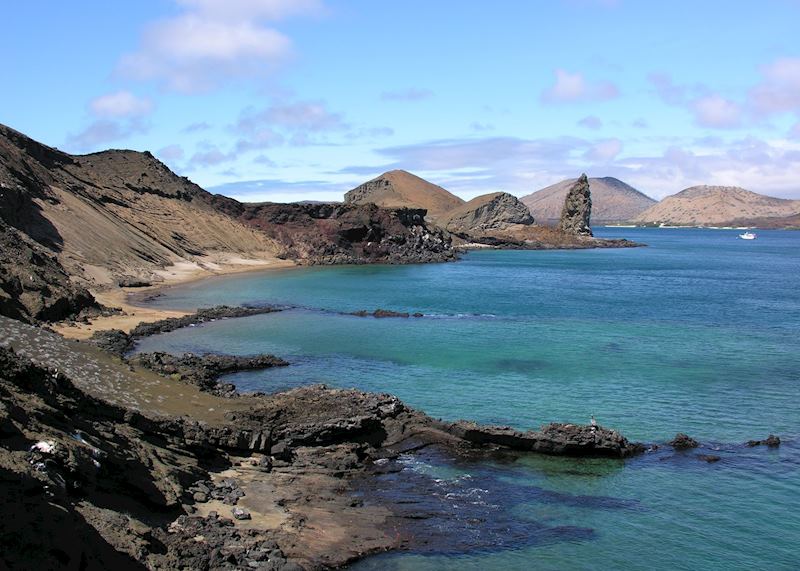 I always think that the excitement of a cruise is waking up every day in a new location: moored by a caldera, or within sight of broad bays and wave-lashed cliffs. On Galapagos expedition cruises, your vessel will do most of its open-water travel during the night. This not only helps ward against seasickness, it assures you that you're not missing out on anything of scenic interest.
Expect an early-morning wake-up call, as you rise to the sound of waves lapping up against the hull. Breakfast is served and everyone pulls on their walking boots in readiness for the day's landing.
You travel ashore on a small inflatable speedboat called a panga. This landing is led by your vessel's expert naturalist guide in a group of no more than 16 people — the maximum number allowed by the Galapagos National Park in any one group.
You might make a dry landing and walk trails around an island to see various species (different islands have different headline fauna and avifauna). Or, if it's a wet landing, you cruise around coves and bays to observe birds or marine life.
If you're ashore, you'll follow a designated trail, carefully avoiding sleeping sea lions and nesting seabirds. Here, you'll have the opportunity to observe and photograph the wildlife at close quarters.
At the end of the first outing of the day (which usually lasts a couple of hours or more), everyone heads back to the vessel for a buffet lunch.
Afternoon

After lunch, your vessel might travel for a while onto a new destination. This isn't dead time — in fact, it can be really enjoyable, giving you a chance to take in magnificent frigatebirds swirling around the boat or just relax on deck.
By mid-afternoon, your vessel will have navigated to another bay or island. You leave the vessel for a second outing, perhaps to go kayaking.
Evening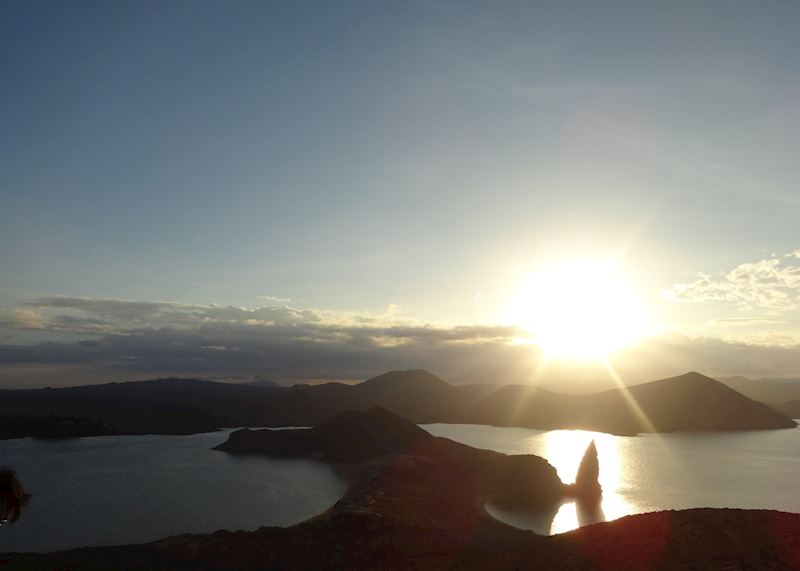 I really like the wind-down after the afternoon outing, as everyone returns once more aboard and begins to share their experiences of the day. Aperitifs are usually served on deck, and there's always a convivial atmosphere before and after dinner — many a trip ends with a swapping of email addresses.
Your guide will give an evening briefing, reliving the events of the day and explaining what's going to happen tomorrow. Over drinks, you have the chance to chat with your guides about their experiences, and pick their zoological or ornithological knowledge.
As the sky darkens, you can stargaze. There's little, if any, light pollution, and your captain might even extinguish the vessel's lights for you, if you ask.
Given that the days are so full (and you've breathed in all that bracing sea air), most people head to bed early — but almost everyone mingles a bit first.
A note on shore landings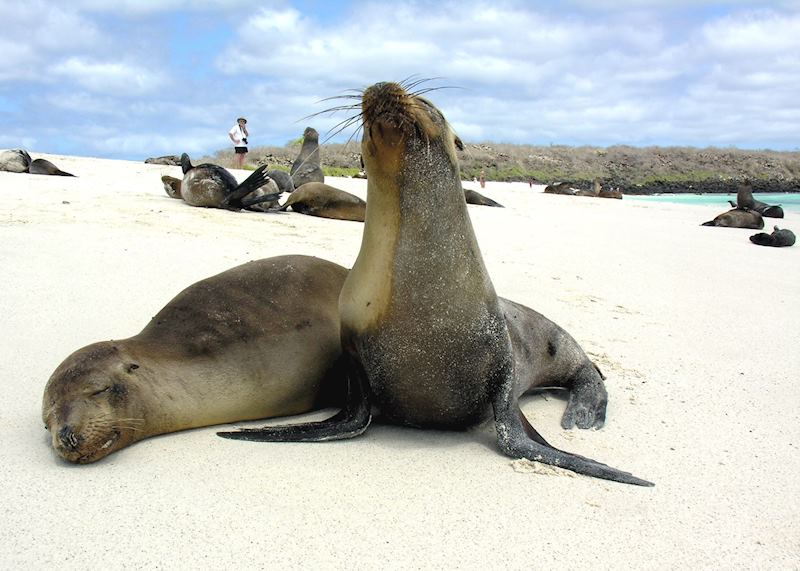 There's no such thing as independent travel in the Galapagos Islands. You're required to stick to your vessel's schedule when it comes to making landings on certain islands. And, to reiterate, when you're on land, you'll follow your guide around set routes — the Galapagos's status as a national park often means there's no provision for you to go wandering at will.
This regimentation helps protect fragile habitats, and it certainly won't impinge on your sightings — the wildlife is prolific, and it obeys its own rules. Some birds (such as masked or red-footed boobies) really do have a knack for nesting right on or next to a path, and you'll be obliged to skirt around them.
At some sites, you'll be given the option to kayak. Take these opportunities where you're given them — you won't necessarily be given a second chance to try kayaking at another location.
Staying ashore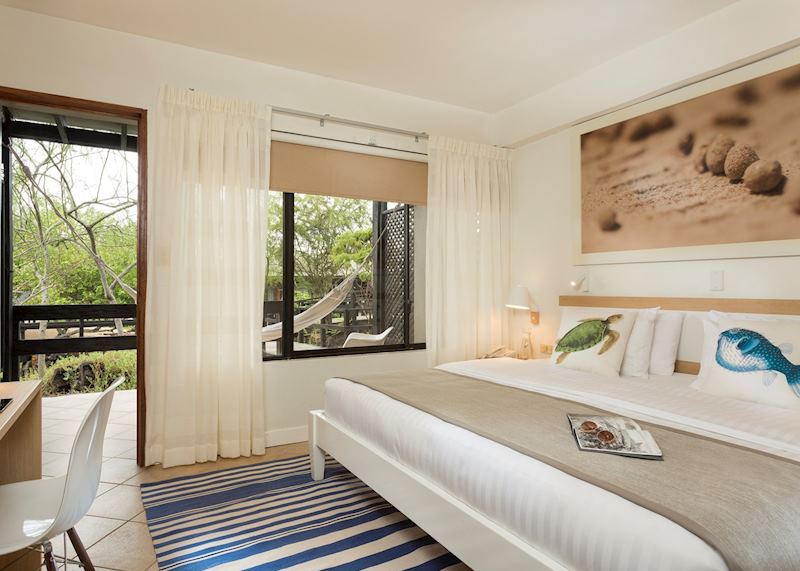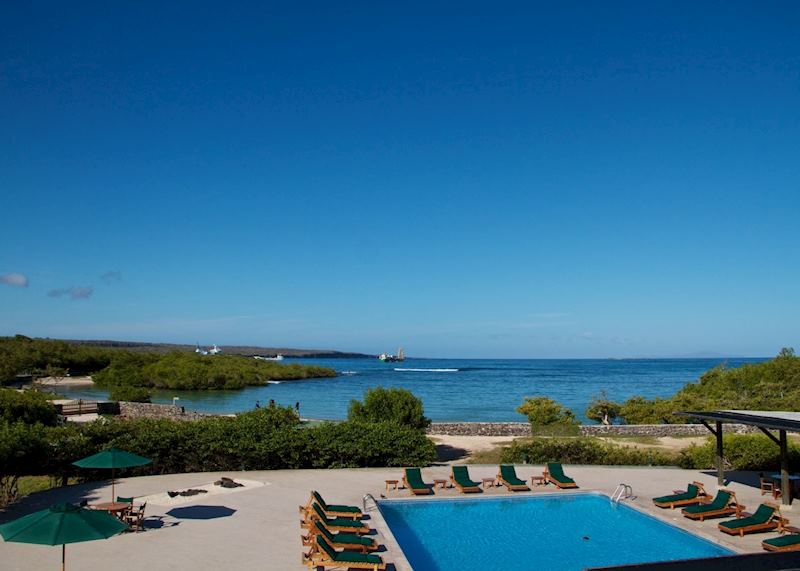 In some ways, land-based stays and island-hopping in the Galapagos offers you more flexibility (and, usually, more creature comforts) than expedition cruises. You return each night to your hotel and dine out wherever you wish, but the most significant difference is that you're more in control of your schedule. You can pick and choose which days you go island-hopping, and which days you spend simply relaxing.
You can also choose from more dedicated activities, including mountain biking and hikes into the cool highlands of Isabela and Santa Cruz Islands. Here, you'll walk around vast volcanic craters and across lava fields, and might see giant tortoises in the wild.
When you do take trips from where you're based to other islands, these outings will often be similar to those on an expedition cruise. You'll need to stick to set timings and walking trails.
Options for island-hopping are expanding all the time. As well as the town of Puerto Ayora on Santa Cruz Island, there are comfortable lodges on Isabela (which offers you the opportunity to hike the immense shield volcano of Sierra Negra) and San Cristóbal, whose dominant landmark is its twin volcanic spikes known as León Dormido, or Kicker Rock. These 'hops' are ideal if you're adventurous, as they involve taking speedboat rides (approximately two hours) between the islands.
Read more about trip ideas to the Galapagos Islands
Ecuador, Galapagos Islands

Ecuador, Galapagos Islands
Start thinking about your experience. These itineraries are simply suggestions for how you could enjoy some of the same experiences as our specialists. They're just for inspiration, because your trip will be created around your particular tastes.
View All Tours in The Galapagos Islands