By US specialist Alex
Cowboy culture, soaring mountains and bison-grazed grassland: the Rockies region gives you a good idea of how America was centuries ago. You can see wolves, bears and powerful volcanic geysers in Yellowstone, the nation's oldest national park, experience re-enacted Wild West shootouts in Jackson, Wyoming, and hike through the mountainous alpine scenery of Glacier National Park.
Then there are ranches, where you can really get to grips with rural life, be it horse riding through mountain-framed meadows or fly-fishing in crystalline rivers. I find my imagination runs wild whenever I visit this region, which is a true escape from the modern world.
You can explore all of the areas I've highlighted below as part of our On the trail of the bison trip idea, which also covers pioneer towns farther east, or as part of our Yellowstone National Park discovered itinerary.
Wolf tracking and volcanic forces in Yellowstone National Park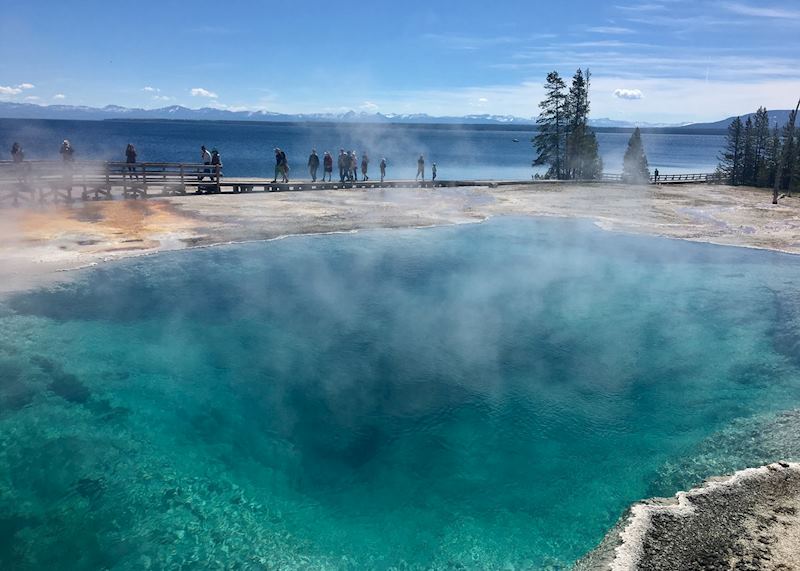 Whenever I'm planning a Rockies trip, Yellowstone is always top of people's lists. I admit, it's at the top of mine, too — where else can you encounter wolves and grizzly bears, watch geysers spurt boiling water 42 m (140 ft) into the air, and take in seemingly endless plains that haven't changed in millennia?
Visiting the Lamar Valley, in the north of the park, you'll see herds of bison 10,000 strong spread across the mountain-hemmed plains, alongside buffalo, pronghorn antelope and elk. And, you can join experienced naturalist guides in seeking the park's headline species: wolves.
I headed out at first light, when wildlife is at its most active. It wasn't long before my guide pulled us over, pointing to the hills in the distance. "They're over there." We got out and my guide set up a telescope so we could get a closer look. It was a pack of about ten wolves, loping across the hillsides with all the confidence of an apex predator. The day continued as it started, with sightings of two grizzly bears, a moose and far too many bison to count.
The southern side of Yellowstone, while slightly less scenic, is alive with geothermal activity. Following the Grand Loop Road, which forms a figure-of-eight across the whole park, you can stop off at various points to observe its collection of volcanic features. Boardwalks lead to hot springs fringed with vivid yellow, orange and red rings, steaming fumaroles emitting a pungent sulfurous smell, and thick, bubbling mud pools.
Where to stay in Yellowstone National Park
Yellowstone is so vast that it's best to base yourself in two different areas. In the north, I like Wonderland Lodge, which is situated in the town of Gardiner, close to the park's entrance. For exploring the south, stay at Old Faithful Snow Lodge & Cabins. Its proximity to the Old Faithful geyser means you can visit early to avoid the crowds.
Wild West heritage and the great outdoors in Jackson and Grand Teton National Park
The town of Jackson pairs well with a Yellowstone trip, being just a couple of hours south. It has retained the feel of a Wild West settlement: original 19th-century buildings still stand, you might see real cowboys walking through the streets, and every evening during the summer you can watch a re-enacted shootout in the main square.
The town is encircled by the snow-capped mountains of Grand Teton National Park, which, lacking foothills, rise suddenly from the plains. You're likely to spend most of your time here hiking along the park's well-marked trails, passing glassy lakes and rushing rivers while looking out for black bears, elk and moose. Or, explore the park on a guided two-hour horseback ride.
You could take advantage of the Snake River's rapids by joining a white-water rafting trip. You cover 13 km (8 miles) of the river's more turbulent sections, ending with a steak or trout dinner cooked over an open fire.
Alternatively, a gentle float trip follows a calmer 21 km (13 mile) stretch of the river. Throughout the trip, your guide tells you about the area's wildlife, geology and history, and you might come across beavers, moose, black bears and bald eagles.
Where to stay in Jackson, Wyoming
Rusty Parrot Lodge and Spa is an intimate wood-and-stone lodge in the heart of Jackson. I like its relaxed, welcoming atmosphere and its spa, where massages and treatments help you unwind after a day in the mountains.
Scenic drives and lake hikes in Glacier National Park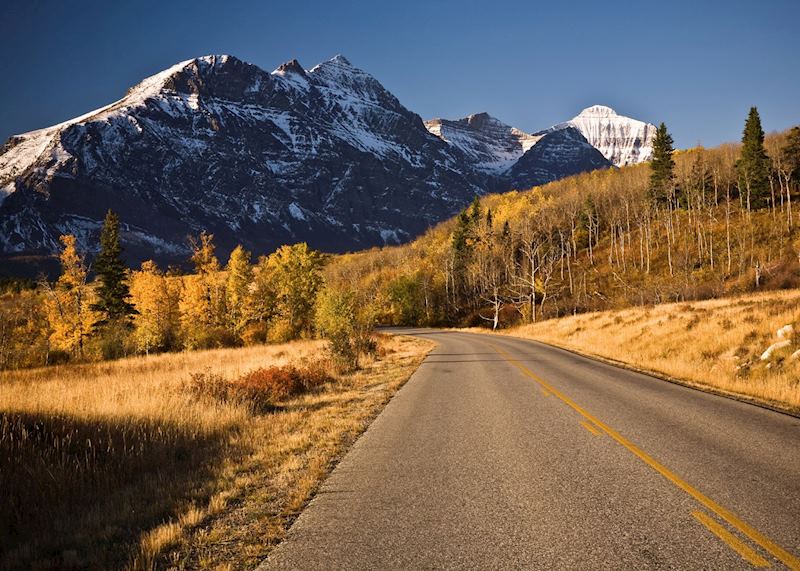 With its jagged mountains, U-shaped glacial valleys, thick forests and luminous-blue lakes, Glacier National Park is one of the US's most beautiful areas, yet it gets relatively few visitors. Right on the Canadian border in northern Montana, the park rewards anyone who ventures here with hiking trails and quiet drives that thread through alpine scenery.
To get the most out of your time, I recommend hiking with a private guide who can lead you to off-radar spots and help point out any wildlife you might encounter. While the park's vast size means wildlife sightings are often a matter of luck, you might see beavers, bighorn sheep, elk and bears.
My personal highlight was driving the Going-to-the-Sun Road. Stretching 80 km (50 miles) from west to east, the road passes through nearly all the park's terrain types, from cedar forests hiding glacial lakes to alpine tundra at higher elevations. You also cross the Continental Divide at Logan Pass, a mountain pass at an altitude of 2,026 m (6,646 ft).
It only takes a couple of hours to drive the road's entirety, but there are plenty of points to stop off at along the way that will extend your journey time. I recommend getting out at Jackson Glacier Overlook for views over the glacier and stopping for a picnic at Avalanche Creek beside the river's clear, emerald waters.
Where to stay in Glacier National Park
If you're driving the Going-to-the-Sun Road, it's best to stay in both the east and the west. In the east, I like Many Glacier Hotel, on the shores of Swiftcurrent Lake. From here, you can take guided boat trips out on the lake or hike to Avalanche Lake.
In the west, stay at The Lodge at Whitefish Lake, also set on a lakeshore in the small mountain town of Whitefish. It has its own spa, lakeside pool and hot tubs.
A Rockies ranch stay
Spending a few days living like a cowboy is one of the best things I've done on my trips to the Rockies. The ranch lifestyle is one that doesn't take long to become accustomed to: amber sunrises over rolling countryside and distant mountains, daily horseback rides across meadows and evenings spent toasting s'mores around the campfire.
While some ranches can be pricey, your stay tends to include all or most activities, food and drink. Ranches also vary from luxurious countryside retreats to more down-to-earth, traditionally styled properties.
The Ranch at Rock Creek, Montana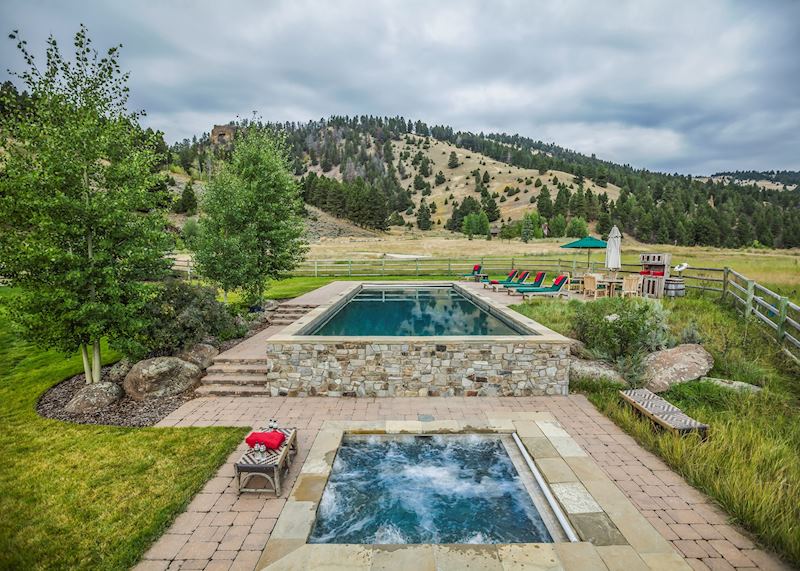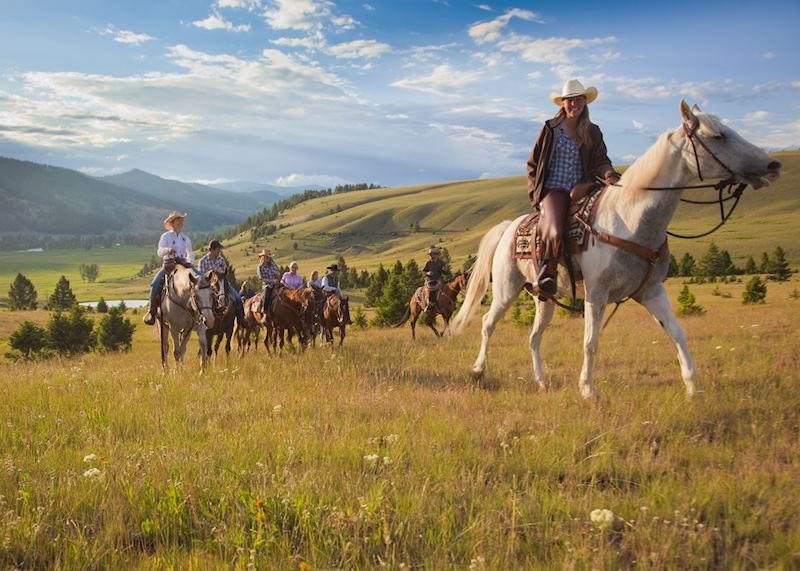 When you arrive at The Ranch at Rock Creek, in the heart of western Montana's sweeping countryside, you put your wallet away. Everything is included in your stay here, including two guided activities per day and impeccable food.
You have a choice of room styles here, too, from Western-influenced ranch rooms and wood-and-canvas glamping cabins to a 19th-century converted barn and luxurious multi-room log cottages.
Your days are spent horseback riding, hiking and mountain biking through pine forests and wildflower meadows. You could join painting and photography workshops to capture the natural beauty of your surroundings. And, you can learn new skills in archery and clay-pigeon shooting. To relax, join a yoga class or soak in the outdoor pool and hot tub, taking in views across the green hills.
I was surprised that I most enjoyed fly-fishing. Rock Creek, the river that runs through the property, is blessed with some of the cleanest water in the country, earning its Blue Ribbon status. You can easily while away an afternoon fishing for the six species of trout found here, with no sound but the running water and birdsong. I had never cast off before, but with the help of my guide I soon caught my first fish — a rainbow trout. Releasing it, I watched it swim off, its vivid pink streak still visible in the clear water.
Best time to visit the Rockies
Because of the region's high altitude, it's best to visit the Rockies between June and September, when your journey won't be hampered by snow. I particularly like September, when parks tend to be quieter and you can enjoy the changing foliage (read more in our guide to fall in the US).
Read more about trips to the USA

Start thinking about your experience. These itineraries are simply suggestions for how you could enjoy some of the same experiences as our specialists. They're just for inspiration, because your trip will be created around your particular tastes.
View All Tours in The US
Further reading