New England's fall draws thousands of visitors each year. But, look beyond this region and you'll find quieter alternatives where the scenery is just as beautiful in the run-up to winter.
In Yellowstone, the valleys' grassy carpets turn from green to burnished gold and you can witness wildlife preparing for winter. The temperate rainforests of the Pacific Northwest shed huge maple leaves that crunch beneath your feet, while cities host food festivals to celebrate the year's harvest. And, in the South, you can follow roads and trails through Shenandoah National Park's mountains, ablaze with deep reds, ochres and rusty browns.
Fall leaves and wildlife highlights in Yellowstone National Park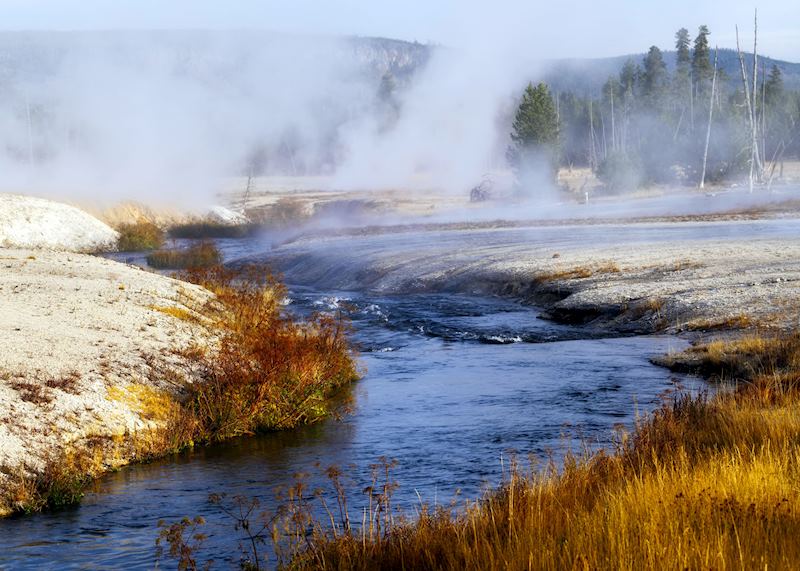 By Sophie
When to experience fall: September
The vivid yellow, blue and green waters of Yellowstone's geothermal springs add color to the landscape at any time of year. But, when the leaves change in fall, the effect is almost kaleidoscopic.
As you follow the Grand Loop Road, which traces a figure of eight through the park, you pass forested hills and mountains where green firs mix with the dappled reds, oranges and yellows of cottonwood and aspen trees. The park's clear lakes reflect the leaves of trees lining their shores in a perfect mirror image. And grasses, lush and green in summer, now glow copper.
I recommend spending most of your time in the north of the park. Here, the open grassland of the Lamar and Hayden valleys turns amber and rusty-gold, contrasting with the darker mountains. These are the best areas for seeing the park's wildlife, particularly in fall, when animals migrate down from higher elevations.
Elk are in the peak of their rut season — you might see males aggressively clashing antlers as they compete for harems. The defeated males, weakened by their fights, are sometimes picked off by black and grizzly bears which, on the cusp of hibernation, are gorging on as much protein as possible.
And, as temperatures cool, wolves become more active. While sightings are never guaranteed, you're more likely to see them in fall. You can join a wildlife tour led by a naturalist guide who'll give you the best chance of seeing wolves.
I got up before dawn and we headed into the valley as the rising sun shone its first golden rays across the landscape. My guide set us up with binoculars and telescopes and talked us through what we were seeing.
Large herds of bison were already up and grazing, their breath steaming in the crisp air. Pronghorns turned their heads to look at us before determining that we weren't a threat. We were all silenced by the throaty bugle of an elk — it started off low and guttural, rising to a shrill whistle and then a series of grunts.
Then, 'Wolf!'. My guide pointed across the valley floor and I aimed my binoculars. Sure enough, two wolves were running across the grass. Mission accomplished.
Where next?
Spend a few days in Grand Teton National Park after exploring Yellowstone. Here, you can go hiking around forest-fringed lakes and through foothills ablaze with falls foliage. End your trip in the Old-West town of Jackson.
Autumnal forests, wine-tasting and city parks in the Pacific Northwest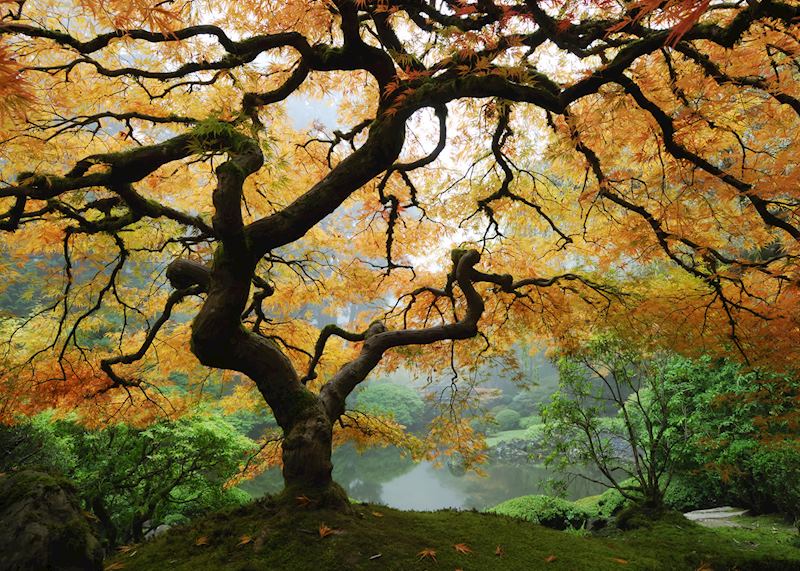 By Samantha
When to experience fall: September or October
Spanning the states of Washington and Oregon, the Pacific Northwest experiences fall at roughly the same time as New England. But, the Pacific Northwest remains relatively off-radar.
Take a self-drive trip through the Pacific Northwest and you encounter a variety of landscapes, from the driftwood-scattered beaches and distinctive rock formations of its coastline to volcanoes, vineyards, lakes, forests and mountains.
From Seattle, you could head west to Olympic National Park — one of the best places in the region for leaf peeping. Walks through the temperate rainforest get you close to bigleaf and vine maples whose face-sized leaves blaze red, yellow and orange among the green hemlock and spruce trees.
At ground level, bright-red ferns hide clusters of mushrooms that sprout in the damp conditions, and fallen leaves create a satisfying crunch with each footstep.
In the park's valleys, you can listen and look for rutting male elk, which drape their antlers with strings of moss and grass to assert dominance.
You can also admire the fall on a city break in Portland. Here, the Hoyt Arboretum and Japanese Garden both showcase autumnal foliage, with fiery Japanese maples and yellowing magnolias contrasting with evergreens.
I find it's a good time to be in the city for other reasons, too. Known for its food scene, Portland hosts its Feast Portland festival each September. You can taste fresh produce both from the region and from further afield, and watch demonstrations by up-and-coming local chefs.
While you're in Portland, we can also arrange for you to join a wine-tasting tour into the Willamette Valley, visiting several different estates in the region as they harvest their grapes and sitting down to a wine-paired lunch.
Where next?
Continue south along the Pacific Coast into northern California for wine-tasting in Napa Valley, guided strolls through Redwood National Park, and sightseeing in San Francisco. En route, I recommend stopping at Crater Lake, the deepest lake in the USA. Formed within a caldera, it contains a cinder-cone island that you can cross over to by boat.
Scenic drives and hiking through fall foliage in Shenandoah National Park, Virginia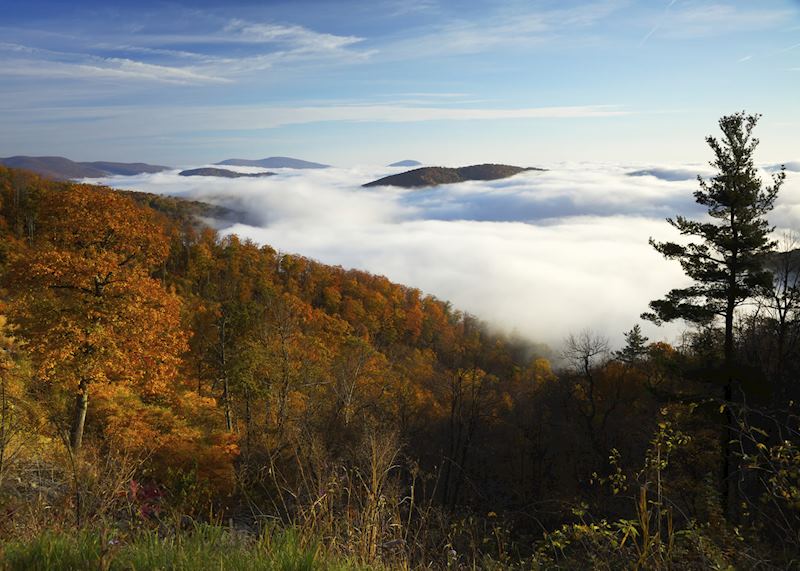 By Shannon
When to experience fall: October and November
Situated in the state of Virginia, fall comes slightly later to Shenandoah National Park than in New England. It's also far quieter. And, compared to the hot, humid summer months, you can enjoy the outdoors in pleasantly mild temperatures.
You can visit the park as part of a self-drive trip that takes in the Blue Ridge and Smoky Mountains as well as Washington DC.
The highlight of my stay in Shenandoah was following the Skyline Drive, a 169-km (105-mile) road that winds along the crest of the Blue Ridge Mountains. The low speed limit forces you to take your time and soak up views over the valley where the trees create a dappled coppery carpet.
It takes about three hours to complete the journey, but there are more than 70 overlooks where you can stop, which can make the trip stretch for a whole day. Mile markers indicate places of interest along the route, whether you're looking for a peaceful picnic spot or a lengthy hiking trail.
I suggest leaving time for a hike. A network of trails (including a section of the Appalachian Trail) take you through forest, often leading to a waterfall or panoramic viewpoint.
I enjoyed hiking the 10.3-km (6.4-mile) round trip to Overall Run Falls. Situated at mile 21.1 in the park's North District, the trail takes you downhill to the highest waterfall in the park, which drops 28 m (93 ft) down a rock face, breaking into several wispy cascades.
Even if water levels are low, you can still enjoy the views over the valley and Massanutten Mountain, dressed in their fall foliage.
While accommodation in the park itself is fairly basic, you could balance this with a stay at the Inn on Biltmore Estate in Asheville, which lies further south in North Carolina. Built and owned by the wealthy Vanderbilts — one of the country's best-known socialite families during the Gilded Age — the estate's 19th-century French Renaissance chateau is as ostentatious as a building could be. The extensive grounds are also worth exploring, particularly in fall when they're framed by bright foliage.
Where next?
Take a self-drive tour of Virginia's Historic Triangle, including the early colonial settlements of Jamestown and Williamsburg. You could also head north to visit the Civil War battlefield at Gettysburg and spend time in Philadelphia.
Historic railroad journeys and guided hikes through the Rocky Mountains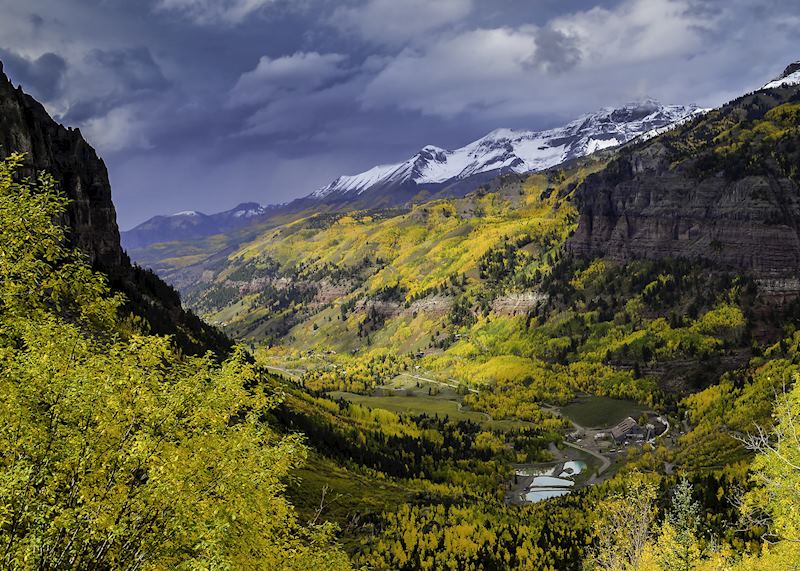 By Imogen
When to experience fall: September
The Rockies form a striking backdrop at any time of year. But, when fall arrives, their jagged, snow-dusted peaks contrast with the lemon-yellow aspens and flame-orange cottonwood trees that coat the foothills, and it becomes hard to put your camera away.
I spent my teenage years living in Colorado, and fall holds some of my fondest memories. It's much quieter than summer or winter ski season, so you can hike the many trails in relative solitude, staying in mountain towns such as Breckenridge, Vail and Aspen.
We can arrange for you to walk the foothills with a guide who'll tell you about the area's wildlife and geology — I was surprised by how much I learned despite having lived in the area.
One of the best ways to take in the scenery during your Colorado Rockies trip is by riding a train along the Durango and Silverton Narrow Gauge Railroad, originally laid in 1882 to transport silver and gold from the San Juan Mountains.
Today, the train climbs steadily through the Weminuche Wilderness and along the Animas River canyon, giving you lofty views over the yellow-and-green splotched foothills.
Each leg of the journey takes three and a half hours. On-board narrators in period dress tell you about the history of the railroad, the area's mining heritage and what life was like here in the late-19th and early-20th centuries. You also have a chance to explore the old mining town of Silverton for a couple of hours in-between.
Where next?
You could stay in a log cabin at The Lodge and Spa at Brush Creek Ranch, in Wyoming's countryside. Spend your days horse riding, mountain biking or taking guided walks, and help out at the property's cattle ranch for an insight into cowboy culture.
Start planning your trip to the USA

Start thinking about your experience. These itineraries are simply suggestions for how you could enjoy some of the same experiences as our specialists. They're just for inspiration, because your trip will be created around your particular tastes.
View All Tours in The US