Sadly there are very few places left where you can still see chimpanzees in the wild. The best countries to see these endangered creatures are Tanzania, Rwanda and Uganda.
Although all of the chimpanzees in these places are wild, many groups have become fully habituated to humans. This means that along with your guide you can get much closer to them to study their behavior and to take photographs.
You will often hear them long before you see them as they whoop and holler and break branches high up in the dense forest canopies they inhabit.
Based on your own personal preferences our specialists will happily put together a tailor-made trip which includes seeing chimpanzees. One word of warning though, although the guides will do their best to find the chimpanzees, sightings are never guaranteed.
Wildlife itinerary ideas

Start thinking about your experience. These itineraries are simply suggestions for how you could enjoy some of the same experiences as our specialists. They're just for inspiration, because your trip will be created around your particular tastes.
View All Tours in Africa
Places to see chimpanzees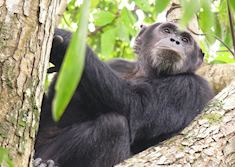 The Mahale Mountains are the best place in Africa to track and observe wild chimpanzees; crouching low, you can watch them grooming, drinking and playing. Visiting Lake Tanganyika is another highlight.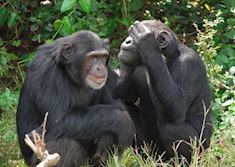 Kibale Forest is home to the greatest variety and highest concentration of primates in East Africa (13 species in total). There is also larger game including lion, leopard, elephant and buffalo.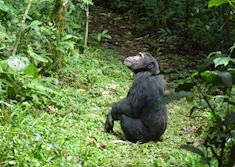 The Nyungwe Forest National Park protects one of the oldest forests in Africa. The main attraction are the primates: chimpanzee tracking can be arranged and several other monkeys are readily seen as well.
What is a typical day chimpanzee trekking?
Your scouts will go out at dawn to locate the chimps and then you will follow. Obviously, however, the chimpanzees are wild and so are free to roam around at will over a large area. This means that your trek can last from under an hour to several hours, depending on how far the chimps have ranged within the park or reserve.
As the terrain passes over slippery, muddy slopes and through thick vegetation, the trek itself has the potential to be fairly strenuous. Therefore a certain level of fitness is required to cope although you do not need to be 'very' fit. Our specialists can advise you if you are unsure. In terms of clothing lightweight long trousers and a lightweight long-sleeved shirt are recommended.
Due to the risks of passing on human colds or other illnesses to the chimpanzees, it is essential that you are in good health if you want to see them. You are allowed to spend an hour with these fascinating creatures before you return to your camp.