By Argentina specialist Jasmine
Don't be overwhelmed by Argentina's size. I often compare it to New Zealand, as it contains similar dizzy extremes of landscapes, from desert to glaciers to a coastline frequented by whales. The distances, of course, are far greater, but a good network of direct internal flights make many corners of Argentina surprisingly accessible.
And you may be surprised by what's on offer here. The northeast has the Iguazú Falls, but it also contains a thriving wetland ecosystem, ghostly Jesuit ruins, and the best estancia I've ever stayed at.
And, if you're a first-timer to South America, I'd also encourage you to make Argentina your first foray into the continent. More fiery and Latino than Chile, less commercially driven than (areas of) Brazil, Argentina is a hugely fulfilling destination.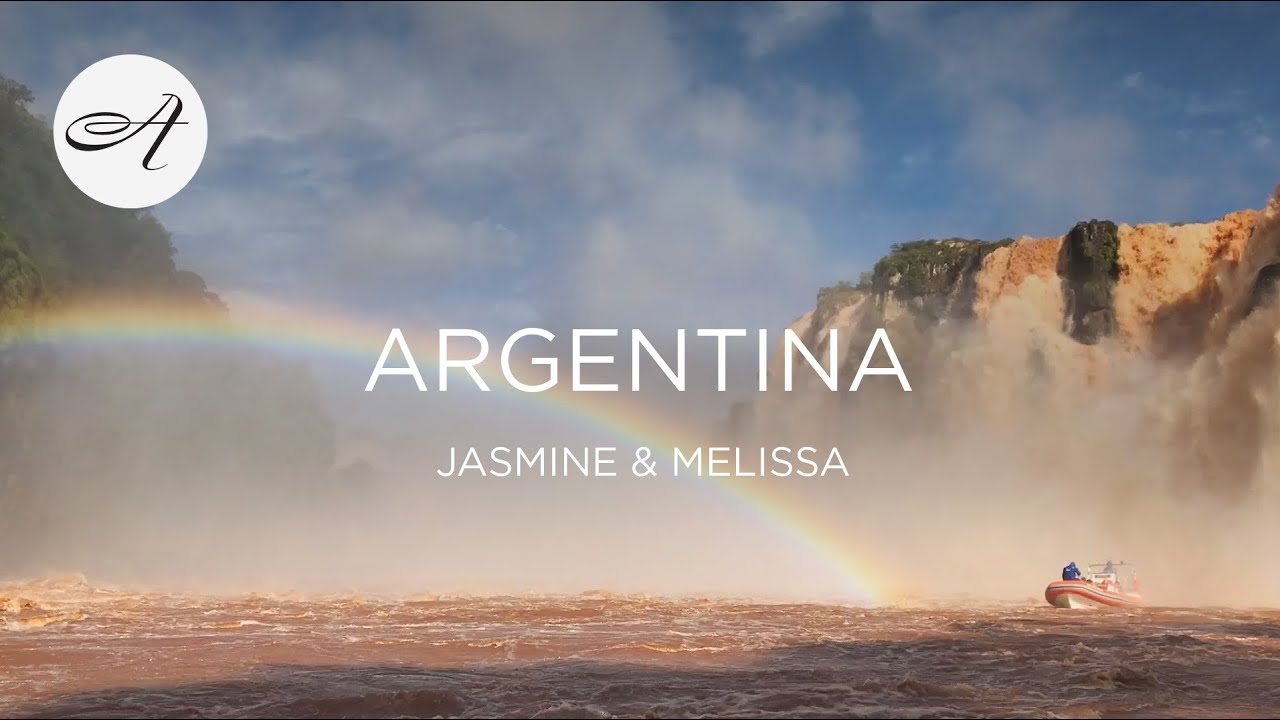 Things to do in Argentina: my selected highlights
Buenos Aires
Argentina's flamboyant, rough-around-the-edges capital takes no prisoners. It can sometimes seem wildly disorientating, a mélange of European-inspired architecture with home-grown, authentically Argentine elements.
Meanwhile, over in the waterfront Puerto Madero barrio (district), gentrified warehouses rub alongside shiny new skyscrapers and an influx of bars where the city's young and affluent come to see and be seen.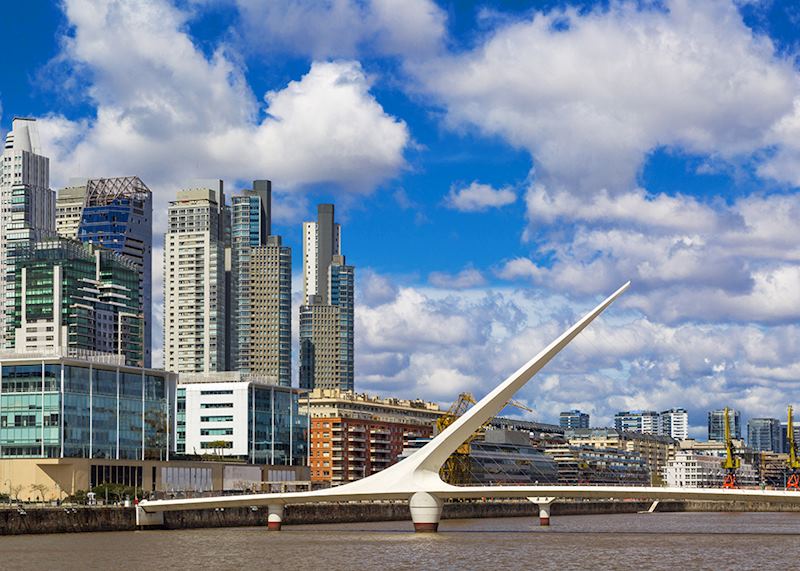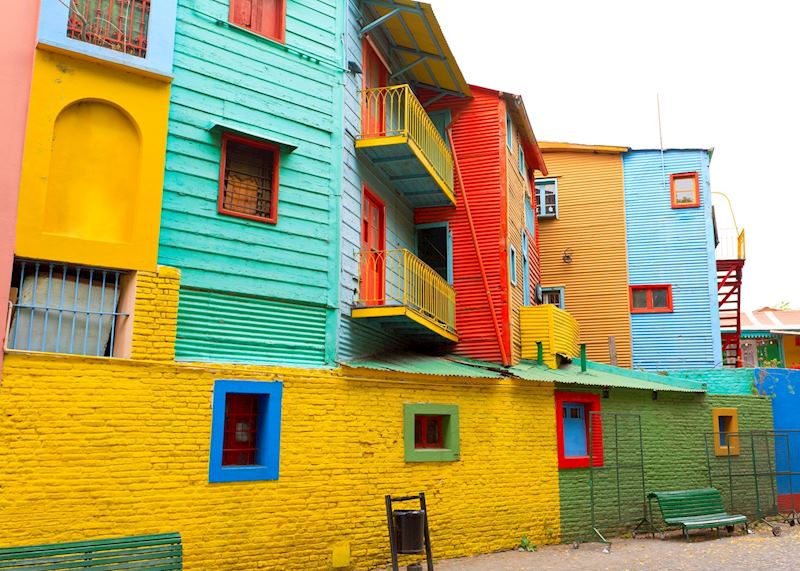 But Buenos Aires is equally El Caminito, and a street of garishly painted houses in La Boca, and a gutsy working-class barrio at the mouth of the Riachuelo River. Here, artists hole themselves away in studios while the street whirrs with its perennial crowd of hawkers and hustlers.
All over the city, locals-only speakeasies are crammed into the most unexpected of places: apartment blocks, old warehouses, café basements. Nor are you ever far from a pizzeria or trattoria-style spaghetti house — Buenos Aires wears its Italian heritage with pride, a fact that's evident even in the Argentinian Spanish accent.
Porteños (Buenos Aires dwellers) party all night and routinely go to bed at 1am. As an expatriate, it can be exhausting; as a visitor, you can simply enjoy being swept along on its delirium for a few days. And yet it's also an earthy place, the kind of city where Pope Francis, the son of another working-class barrio, Flores, would take the same local bus he always had whenever he returned home.
Tango
A slick whirlwind of a performance, the El Querandi show takes you on a journey through Argentina's most famous art form from its origins in La Boca's impoverished dockside community to how the dance style entered into society's upper echelons.
For something a little less polished and more soulful, I like to wander around the San Telmo market on a Sunday. Here, on makeshift wooden platforms or simply in the middle of café-packed plazas, couples of all ages will often start spontaneously dancing tango. It's sometimes like a ripple effect: one couple starts, and the dance gradually spills over into adjoining streets and squares.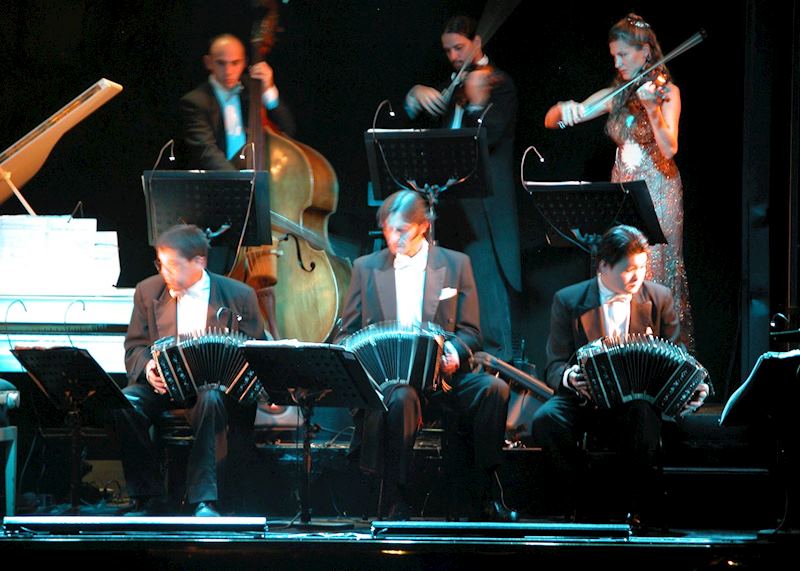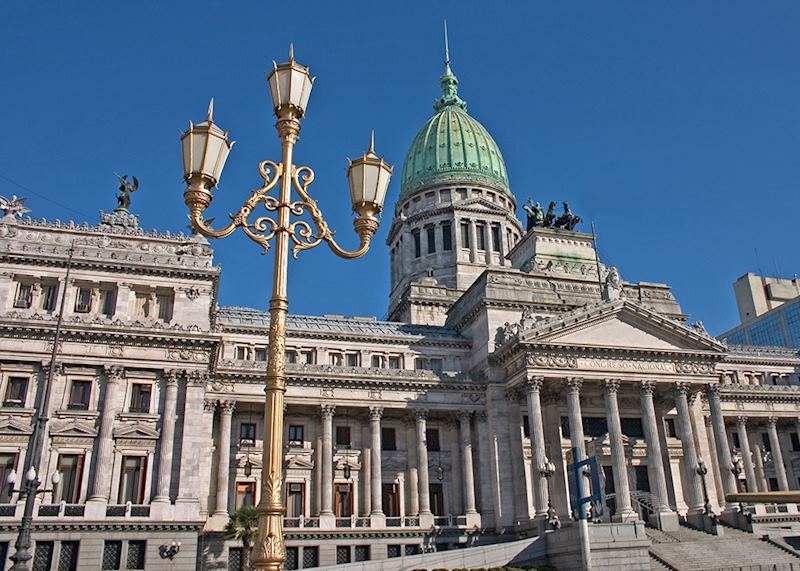 Recoleta Cemetery
This village-sized necropolis (no exaggeration: here the dead are buried on named streets) is a hodgepodge of plots, tombs and mausoleums seemingly seeking to outdo each other in ostentation.
It's a real showpiece of familial pride, with some plots the size of a small studio apartment. Some are neo-Gothic and neoclassical monuments adorned with winged angels and much Greco-Roman statuary. Others blend classical elements with more identifiably Latin American or Argentine elements: a soaring obelisk topped with a condor springs to mind.
Rather than being a morbid experience, it's a strangely absorbing history lesson. All the great and good of Argentina's political arena are buried here, along with aristocrats and paupers.
You can immediately identify Eva Perón's tomb by the throngs of people usually milling around it, and the roses or carnations attached to the vault's door. Really, though, Evita's tomb is one of the least grandiose as she was simply buried in her family plot, itself part of a terrace. I was surprised at its modesty, given that she remains a huge national icon.
But the story of how she came to be buried here is stranger than fiction. Go with a guide, if you can, and ask him or her to recount it to you. Suffice to say, it wasn't the first place Evita was laid to rest, and her body went on something of a transatlantic odyssey.
The other tomb that particularly sticks in my mind is that of Liliana Crociati de Szaszak, which is decorated with a murky-green bronze statue of its occupant. Wearing her wedding dress and depicted with a forlorn, faraway expression, she looks like a young Miss Havisham. Her hand rests on a statue of her pet dog, its nose shiny from the number of passers-by who have rubbed it for luck.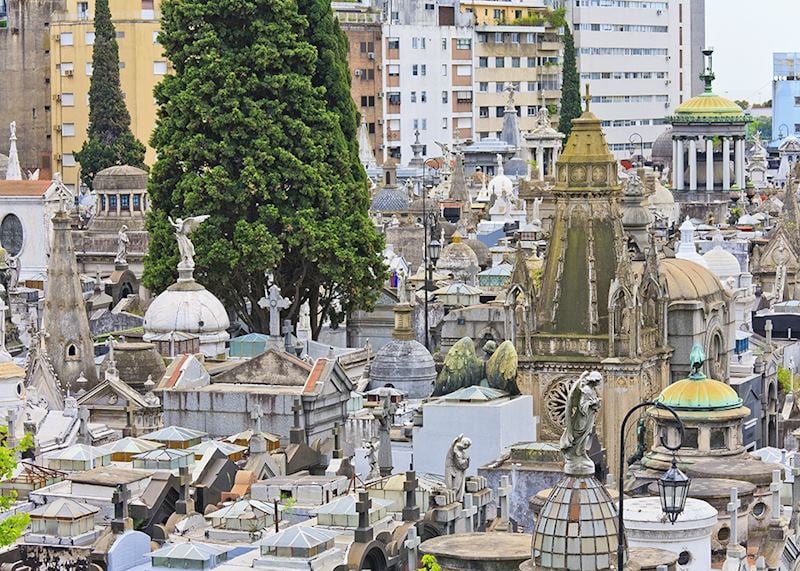 The Iberá Wetlands
From one waterlogged landscape to another. A roughly one-and-a-half-hour flight from Buenos Aires brings you to Posadas, the gateway to the Iberá Wetlands. Similar to Brazil's Pantanal — but much quieter — this is a vast waterworld of swamps, lagoons, and floating islands of vegetation, some privately owned and some official conservation sites.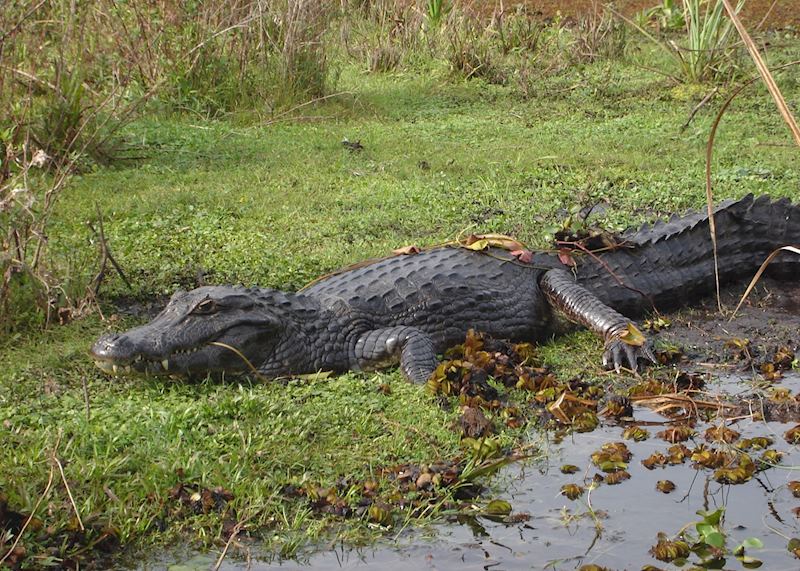 At water level, you soon lose all ability to distinguish between solid ground and marshland. At times, looking out over an unbroken sea of spongy green, it felt like I could just walk straight off my boat and over the water itself, so densely packed were the reeds and irupé (waterlilies) in places.
My guide explained how, each day, he needed to navigate a different route through the naturally forming channels. They constantly change course as the protean landscape of islands and vegetation patches floats around.
It's a scarcely populated area with only a handful of estancia owners, and this has helped wildlife to flourish. I arrived for the first time feeling hopeful about potential wildlife sightings, but I certainly didn't expect to see as much as I did.
Within five minutes of being out on a boat with my guide, we came within touching distance of a basking caiman. Soon we'd seen so many I was getting quite blasé about spying their leathery muzzles snooping out of the water. Pulling into a larger lagoon, we saw feeding herons and storks, even an egret. Capybaras came to graze on grassy mounds near where our boat docked, munching away, unabashed.
Then came the pièce de resistance: marsh deer. My guide had warned me that they were extremely timid, and tricky to see, hiding out in thicker patches of vegetation. We spotted a couple from afar, their ears bobbing just above the reeds. Then the boat turned a corner. Over on a nearby bank stood a muscular 15-year-old stag (I learned how tell his age from the size and shape of his antlers.) 'We must be downwind,' whispered my guide. We watched as the creature walked along the water's edge, seemingly surveying his dominion, before slipping from view. I took it as a good sign that even my guide was excitedly (and quietly) taking photographs.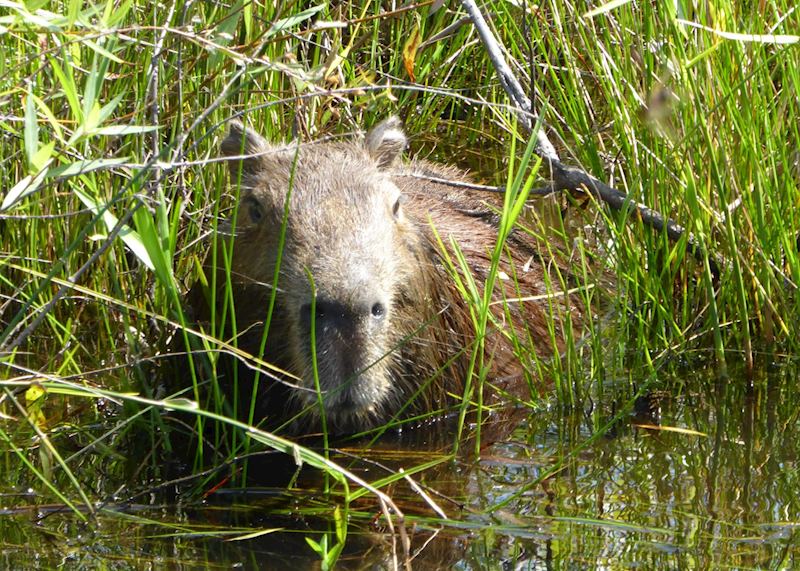 Iguazú Falls
This immense shelf of water straddles the borders of Argentina and Brazil and although it's a celebrated South American landmark, what most people don't know is that it's hidden in the midst of jungle — the eco-region known as the Atlantic Forest.
The waterfall changes character depending on the weather — I've seen it shimmer in bright sunshine, but I also like it when it's brown with mud from heavy rainfall.
As much as I love seeing the water — I always find there's something hypnotic about watching its surging power — my suggestion for anyone visiting is to take on some of the many trails that wind in and out of the forest. If you're able to, approach the falls on foot via the Sendero Verde path. As you emerge out of the tangly semi-deciduous trees, you come face to face with the falls. You're seeing them just as the region's first explorers would have done.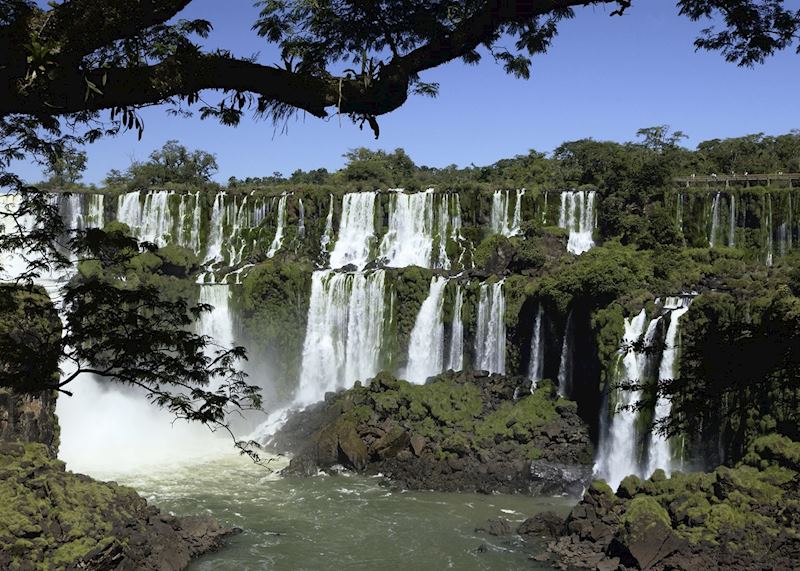 Argentinian Patagonia
Perito Moreno Glacier
Argentinian Patagonia is an untameable beast, a yawning wilderness of waving pampas that turns to steppe before reaching the ice fields of the far south. To the west, it erupts into the vertiginous granite peaks around the town of El Chaltén.
I won't even pretend to cover all of Patagonia's topographical wonders within the scope of this article. I'll just home in on what I think is one of its greatest highlights — the Perito Moreno Glacier in Los Glaciares National Park.
There are glaciers and glaciers. What I love about the Perito Moreno is that (unusually) it's advancing, not retreating. You approach its gigantic toothed terminus via a boat journey from the town of El Calafate, a three-hour flight from Buenos Aires. Unlike glaciers I've seen elsewhere in the world, such as New Zealand, it's hemmed in by forest, not bare rock face.
I'd encourage you to take on an ice trek. Equipped with crampons, you follow your guide for several hours as he or she hews a path through the ridges of the glacier's surface, observing features such as ice caves, azure-blue crevasses, and moulins (well-like shafts).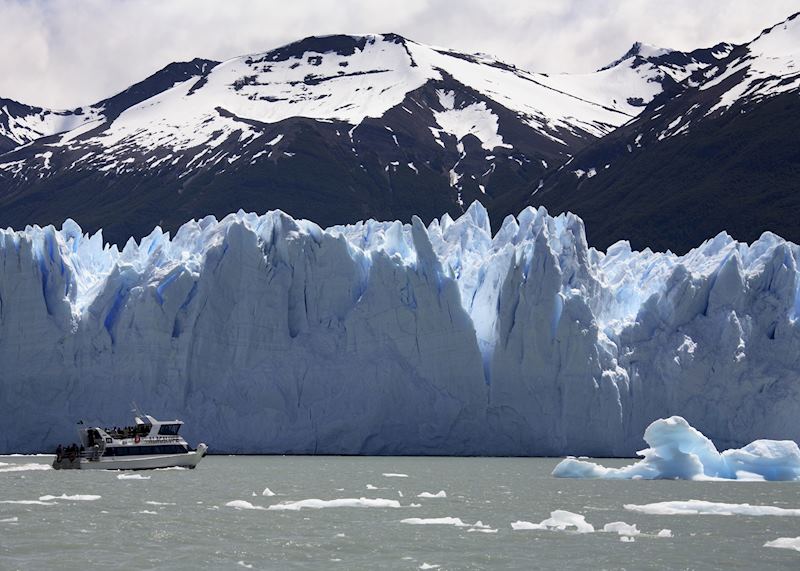 Trelew and the Península Valdés
A two-hour flight from the capital brings you to Trelew, a town on the cusp of Patagonia, from where you can access the wind-stripped spit of land known as the Península Valdés. It's a treeless, seemingly inhospitable place, where only hardy shrubs such as the thorny, yellow-flowering quilemba survive.
And, yet, between June and December the coves around the peninsula become hives of activity, as southern right whales arrive to train their calves to swim in the shallow water. You can take a whale-watching cruise to watch this nurturing in progress, but sometimes it's possible to spot the calves from on land (since they're more naïve, they tend to swim closer to the surface).
You can also take guided walks around the peninsula to observe weighty elephant seals: the population is so healthy that scientists often come here to conduct research and censuses.
Then, an hour's drive south along the coast road from Puerto Madryn brings you to a colony of Magellanic penguins in Punta Tombo. Unlike other penguins, these birds nest in cliffside burrows. They're a lonely outcrop of a species that you'd normally need to go much further south to see.
Most visitors rush through Trelew — it's a fairly uninspiring town — but there's one good reason to make a detour here. Its museum houses the largest dinosaur fossil ever found. Dubbed a titanosaurus and believed to be herbivorous, based off this thigh bone it is believed the dinosaur was 40 m (130 ft) long.
Less-visited sights in Argentina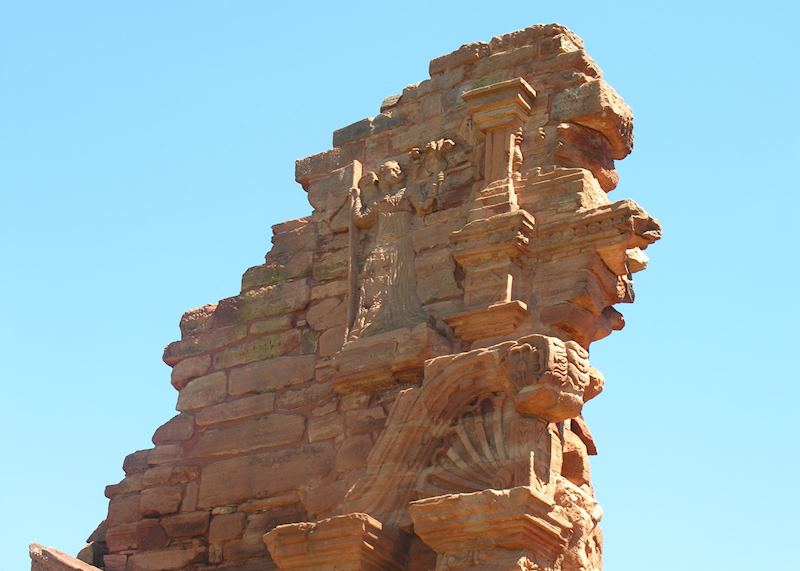 The ruins of San Ignacio Mini
These well-preserved red-sandstone brick remnants of a 17th-century Jesuit mission are well worth visiting for a day from the Iberá Wetlands. Built in a style that combines Baroque with the animal-based designs of the indigenous Guaraní people, the site is surprisingly huge. You'll see its communal buildings, a central square and an orchard as well as a church. Some structures are furry with moss.
Abandoned by the Jesuits after their society was dissolved in 1767, it's an eerie testament to the scale of their project in northeast Argentina. Today, the only signs of life are the remaining orange trees, which fill the air with their sweet fragrance.
Driving in northwest Argentina
If you really want to get a feel for utterly remote, rural Argentina and get truly off the beaten track, I suggest a road trip on Ruta 40. This hallowed highway runs from Andean foothills in the far north and crosses red sandstone gorges, mountain ranges whose kaleidoscopic strata look painted on, desert, salt pans, and national parks with unnerving, lunar-like geology. And that's just a selection.
Driving it requires a good command of Spanish and a willingness to stay in some fairly dull hotels. But it allows you to look upon landscapes so remote, few Argentinians have ever made it there (save Che Guevara), never mind international visitors.
Where to stay in Argentina
An estancia stay is an essential part of experiencing Argentina, with horses and hearty home-cooked meals and plentiful wine. However, they are a topic worthy of more than a few sentences, so I'll point you to an article about the estancia experience and instead speak about one of Patagonia's newest lodges.
explora El Chaltén
Nestled amid the granite mountains and massive glaciers that make this one of the world's best hiking destinations, explora El Chaltén offers an exceptional base for the region's many outdoor activities. The 20 indulgent rooms all have wide picture windows, to make the most of the sweeping views. Inside, the decor is inspired by traditional estancias, with a minimalist esthetic so as not to detract from the panoramas.
The real attraction is the menu of treks, overland trips, ice hikes, and even rock climbing in the surrounding wilderness. The wide range of options means you're likely to find something that suits your ambitions, whether that's a casual half-day stroll or the technically challenging climb of Cerro Chaltén (sometimes known as Mount Fitz Roy).
Best time to visit Argentina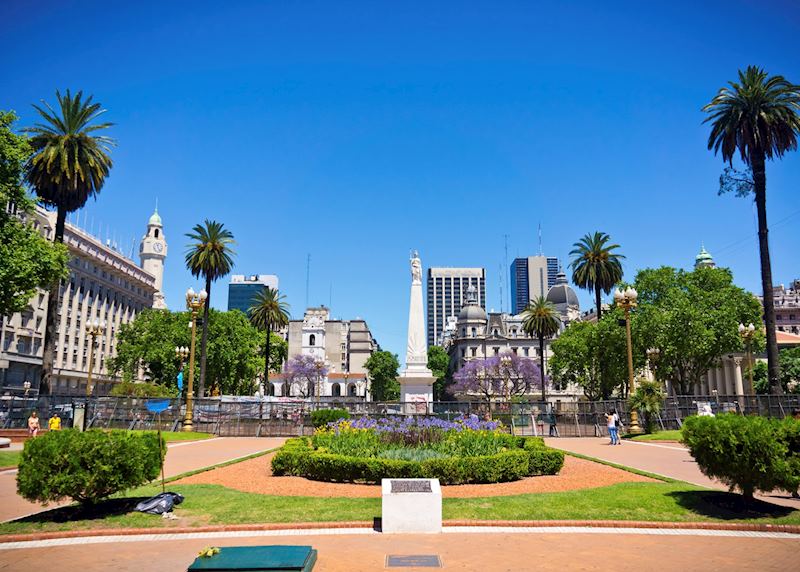 There's no single best time to visit Argentina, to be honest. You'll find something to do and see across the country, year-round. Patagonia is most accessible between December and March, when the weather is hotter in Buenos Aires, but if you prefer crisper weather, you might consider a visit in July or August. The autumn months of April and May are an exceptional time to enjoy the wine valleys around Mendoza during the harvest.
Getting to and around Argentina
Most international flights will come into Buenos Aires, though you can hop across the border from Iguaçu Airport in Brazil if you're coming from São Paulo or Rio. There are also good land connections via private transfers, rental cars and public coaches if you're coming from within Chile, Bolivia or Brazil.
The country is vast, so for travel inside Argentina, you can take advantage of a robust network of domestic flights between many of its most popular destinations. For shorter distances, you can avail yourself of the public coaches. And, as I mentioned earlier, the northwest lends itself to long, leisurely road trips that let you enjoy the freedom of driving yourself with plenty of time to admire the scrolling landscapes out your car window.
Start planning your trip to Argentina

Start thinking about your experience. These itineraries are simply suggestions for how you could enjoy some of the same experiences as our specialists. They're just for inspiration, because your trip will be created around your particular tastes.
View All Tours in Argentina