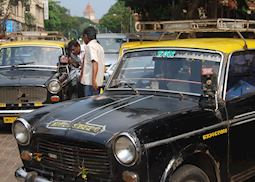 Mumbai is often referred to as the New York of India! It's one of the world's fastest growing cities, India's economic powerhouse, its fashion capital and of course home to Bollywood movies.
It has everything that India has to offer: teeming bazaars, a fantastic, efficient if not overcrowded suburban train service, skyscrapers, and is home to Asia's largest slum Dharavi, of which tours are a fascinating insight into the communal way of life of its residents. There is the Victoria Terminus railway station, which is one of the most outstanding examples of British colonial architecture.
Getting lost in the bazaars and simply walking the streets, seeing the sights or for the brave jumping on one of the many suburban trains is a great way to explore this amazing city.