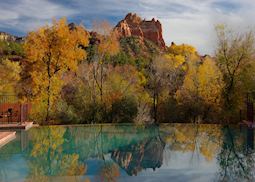 My favorite destination in the southwest USA is definitely Sedona. Located just two hours south of the Grand Canyon it is nestled amid striking red sandstone formations at the south end of the 16-mile gorge that is Oak Creek Canyon.
Most come to discover the natural beauty of the area and to explore the nearby Indian ruins. In addition to the beauty of the canyons and cliffs, these majestic red rocks have also long been known for their ability to inspire and Sedona is nationally recognized as a spiritual mecca of the Southwest. Yoga, hiking and meditation are just a few of the activities regularly enjoyed by the locals in this artsy and creative community.
The town is a buzz with local eateries, bars, local art galleries, spas and plush resorts, making it the perfect, peaceful retreat. And due to low levels of light pollution there are incredibly clear views of the night sky.