I am lucky enough to have been exploring the world since as far back as I can remember. My parents always put an emphasis on the importance of being exposed to different cultures and life experiences, and I have loved discovering new cities and seeing what each place had to offer since I was a young child.
After graduating from college, I wanted to continue my travels so I chose to move to Thailand to teach English in a small, rural village. I have never experienced such hospitality and genuine kindness from people before. There, they showed me what it was like to live in and be a part of a community. I was eager to share my experience and returned home to become a Thailand and Indonesia Specialist in the hope of guiding others to uncover the hidden secrets of Southeast Asia.
Speak to Sydney

Start planning your tailor-made trip with Sydney
Q&A with Sydney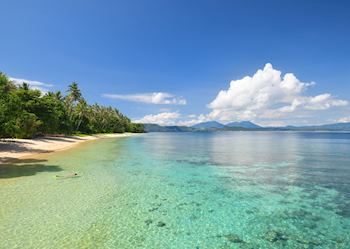 What's the one thing you always pack?
One thing that I always pack for my trips to Thailand and Indonesia is an insulated water bottle. The weather is most likely going to be hot and humid, so cold water is a necessity especially when doing something active. Also, being able to avoid plastic water bottles is hugely important for me, and ultimately, for our planet.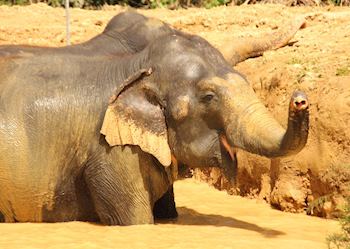 What's your most vivid travel moment?
I was staying on a floating hut in Khao Sok National Park in southern Thailand, surrounded by dense jungle and limestone mountains. It was dusk and the sun was just going down when I heard trumpeting in the distance. The trees on the shoreline began to shake as the trumpeting got louder and then three elephants emerged: a large male with two long tusks, a protective female and a tiny baby elephant still trying to figure out how its trunk worked. It was the most special moment and I've never felt more a part of nature than just sitting observing this family across the river.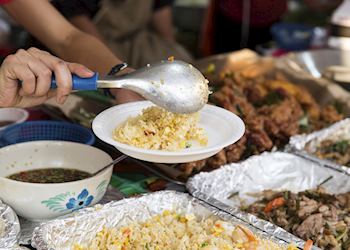 Which book, film or artwork captures Southeast Asia the most?
I was living in Bangkok when Netflix launched a documentary series called Street Food and the very first episode was based in Thailand. It focuses on Thai culture and dives deep into the stories of the cooks behind the food stalls. The documentary is true to the real street food you'll find while there and shines a light on how Thai people live. I would suggest watching it before visiting just to get a sense of what the food is like, it's far from what might pass as Thai food at home. If you don't have Netflix, parts of the series can be seen on YouTube.