A Bostonian, Matt started his career in travel as a commercial pilot after graduating from the University of South Florida. Not wanting to miss the action on the ground, he changed gears and began organizing group travel to Central America and the Caribbean. Through extensive educational trips Matt uncovered local cultural secrets, new destinations and quality lodging to ensure client satisfaction.
Upon joining Audley as a country specialist, his travels led him all over Southeast Asia. After spending more than a month in Thailand and Burma, Matt developed an intimate knowledge of the local culture, accommodations, and must see's. He is particularly fond of sampling the local cuisine in Southeast Asia. Matt will try anything once - from fried grasshoppers in Bangkok to street food in Yangon.
Speak to Matthew

Start planning your trip to Southeast Asia with Matthew by calling
1-855-838-6573


Recommend Matthew to someone you know
Help your friends and family discover the world with Audley. Recommend Matthew today.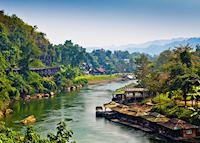 As a war history buff, I'd recommend adding Kanchanaburi to your itinerary. Located only three hours outside of Bangkok, Kanchanaburi is the historical site of the Burma Railway (aka Death Railway) that was built by World War II Japanese prisoners of war, as well as the infamous bridge over the River Kwai and Hellfire Pass. We arrived to the bridge aboard a long boat and took a local 90 minute train ride to Hellfire Pass. Along the route we visited World War II museums and trekked a short portion of the route through Hellfire Pass.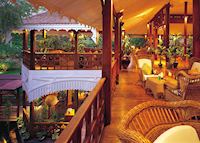 I'd highly recommend staying a night in the Governor's Residence in Yangon. The hotel was built on a colonial style mansion and the teak wood rooms are luxurious by any standard. The hotel is still small enough to be considered boutique but has all the amenities of a world class resort - a gem in the bustling city. My favorite part is the quiet pool area where the staff will cut fresh coconuts to make the best coconut drinks.
I'll never forget when…
My most memorable experience in Thailand was jumping in the water with the elephants in Kanchanaburi. My guide arranged a one-on-one experience after the other tourists left the camp. Not only did I get to enter the river where the elephants were bathing, I also got to ride one of them out of the water with the careful guidance of its mahout. This experience would have never happened without the personal knowledge of my private guide.