By Tibet specialist Duncan
A land of unblemished blue skies. Thin, almost astringent air. Wide-open, barely inhabited spaces. Plus, the world's highest mountains, their immense cols and summits thick with snow. If this description stirs something in you, you'll likely find Tibet rewarding.
Yet Tibet's appeal also lies in the fervent spiritual devotion of its people, and the all-consuming influence of Buddhism on their lives. It can be mesmerizing to observe.
Still, this isn't a place for everyone. Tibet specialist Duncan reveals what a trip to Tibet involves, the region's main draws, and how you should approach a visit.
All of the places and activities Duncan mentions can be included in a classic tour of Tibet, or in an extended Tibet trip taking in the Friendship Highway.
What draws you to Tibet?
Apart from the starkness of its high-altitude scenery (which has a brutal beauty), I'm completely entranced by the role religion plays in ordinary Tibetans' lives.
I've spent a lot of time in China and have visited temples in Japan. Although I've enjoyed seeing the spiritual side of these places, they pale in comparison to Tibet, where religion is everything.
This was really brought home to me on a recent trip, when I saw farmers from remote parts of Tibet making pilgrimages to Lhasa and important monasteries (more on that, shortly).
I also like the fact that there are far fewer Western visitors here, certainly compared with many parts of Asia.
What are the best things to see and do in Tibet?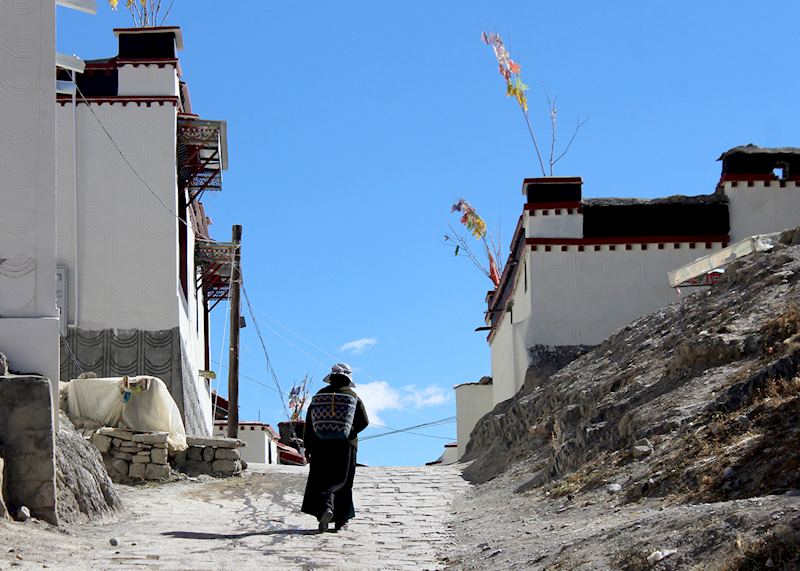 I think the best trips to Tibet have three main components: the monasteries, the major palaces and temples of Lhasa (its capital), and Everest.
You can also visit lost-in-time towns such as Gyantse, with its fortress and utter lack of Western influence or development, or Shigatse, an outpost-like town with a thriving carpet-weaving cottage industry.
I'm about to hone in on the aspects of Tibet that I think offer the most stimulating experiences, but it's certainly possible for trips to be more wide-ranging.
Tibet's monasteries: why visit, and what can I expect?
Monasteries are the ne plus ultra of Tibetan culture. They're manifold, and all occupied by different Tibetan Buddhist sects. They're peppered all over the region, and, although they appear similar at first, they present different experiences and perspectives on Tibet's religious life. But what is it that makes them such interesting places to visit?
For me, it's the fact that you're not given any special treatment as a Western outsider: you're in among everyone else, among all the worshipers. At certain times of year (see below), you'll rub shoulders with pilgrims from Kham (Eastern Tibet) and Amdo (in the modern-day province of Qinghai in China). Many are swathed in thick travel cloaks and garments, and (in the case of the women) carrying rainbow strands of prayer beads.
Their devotion is visceral, at fever pitch. You might find yourself in a line of adherents packed together, some pushing, some mumbling and chanting, some holding out their children for blessings.
People dollop yak butter onto shrines as an offering, or throw money in front of different Buddha statues. Incense perfumes the air and, sometimes, a monk will be banging a cymbal.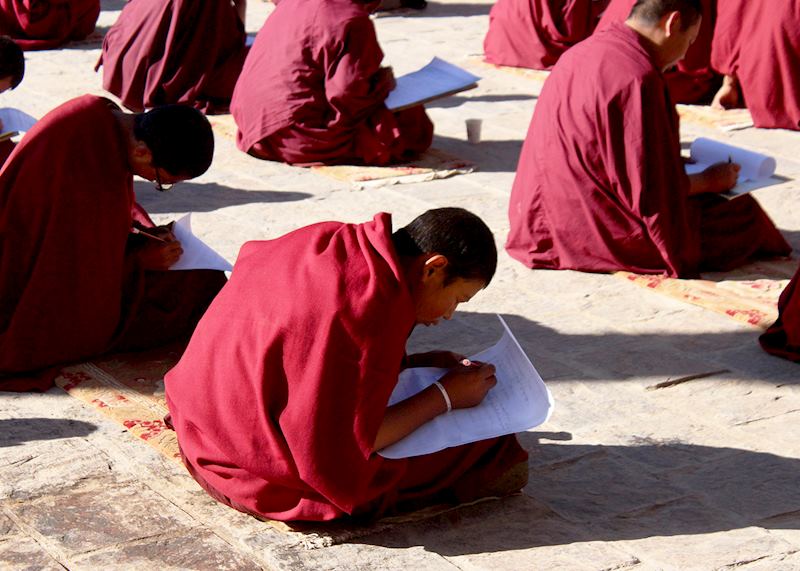 You might attract a few stares, but in my experience people soon lose interest, and return to their observances.
Nothing is set up or arranged, so it's impossible to say exactly what you'll see in each monastery. It's more a case of glimpsing vignettes of the monks' enigmatic, cloistered lives.
You might see novices chanting in an antechamber: you'll skirt the edges of the room with your guide and they won't bat an eyelid. At Shalu Monastery, I even stumbled upon a group of monks hunched over their knees in a courtyard, completing an exam paper.
No matter where you visit, you'll likely see people walking a kora (a rite in which you walk a circuit around a sacred place as a form of meditation or active worship).
I'd encourage you to try one yourself, if you like walking — you'll see locals determinedly plodding along, pushing prayer wheels or even prostrating themselves and stretching their arms over their head every few paces.
Koras come in differing lengths. I especially like the one circumnavigating Ganden Monastery, which is built on a switchback-riddled ridge and gives you views over the yak-dotted hillsides of the Kyichu Valley.
What can I see in Lhasa?

Lhasa's not the Shangri-La-esque, antiquated place you might be imagining. It's an unashamedly modern Chinese city awash with cookie-cutter tower blocks and new construction projects.
But, it does have a thrumming old town, where you can wander among cobbled streets lined with shops selling yak butter and monks' robes. Try grabbing a bowl of noodles at a workaday teahouse alongside locals playing cards. People still live here; it's no twee museum.
The gold-roofed Jokhang Temple sits in the heart of this old town. Although its architecture and interior isn't anything to write home about, you might observe particularly passionate pilgrims here prostrating, having reached their journey's end (all Tibetans must visit the temple at least once in their lifetime).
Potala Palace, a vast white-and-gold edifice and the one-time home of the Dalai Lamas, squats on an escarpment overlooking a square designed to mirror Beijing's Tiananmen. You shuffle around its lifeless halls and chambers with many other guests, and you'll see where the Dalai Lamas once sat as rulers.
It's more interesting, I think, to visit Norbulingka Palace, the flower-bordered summer residence of the Dalai Lamas. Here (like everywhere in Tibet), you won't find any images of the current Dalai Lama, but you will see objects gifted to him — most idiosyncratically, a cutesy painting of cats (a present from France) and a Western lavatory (a present from the UK).
How do I see Mount Everest?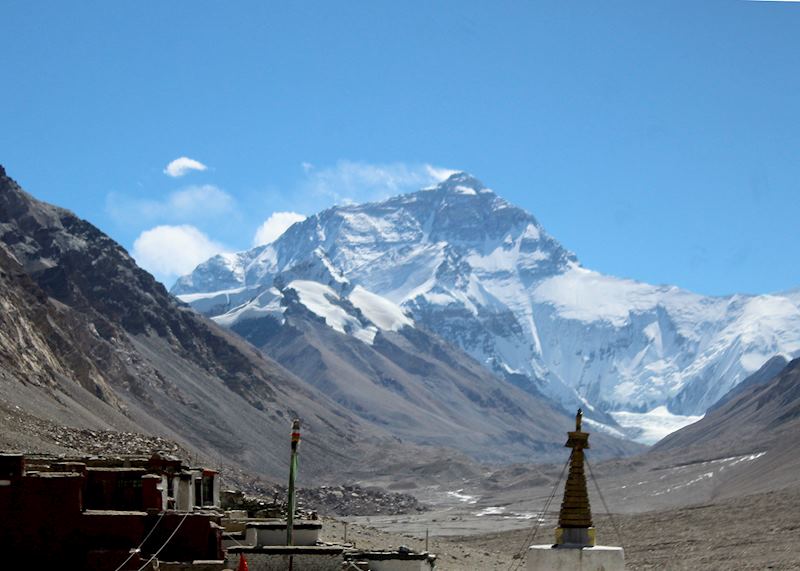 The chance to clap eyes on the world's highest mountain at close quarters (without the need to trek to Base Camp, unlike in Nepal) is understandably a major reason to visit Tibet.
You approach it via a long drive that sees you traverse a high pass, Pang-La, decked with fluttering prayer flags. From the pass, you'll see a row of five mountains over 8,000 m (26,000 ft) high, including Everest and Lhotse (Everest's 'guardian').
Then, you wind your way down a long valley before reaching Rongbuk Monastery. Behind it, Everest's north face rears up like a great white pyramid scarred with gray.
If you're handling the altitude and feel fit enough, you can hike along a 4-km (2.5-mile) trail for an even closer view of the north face and summit. It hovers ahead of you as you walk, and it's the closest you can get as a non-climber.
Rongbuk itself is a shabby cluster of buildings with very crude facilities and meals. The pay-off is the view: the monastery's stupa with Everest's north face in the background.
Driving on the Friendship Highway
For an intrepid and highly scenic swansong to your Tibet tour, you can opt to visit Everest as part of an epic overland route from Tibet to Kathmandu, named the Friendship Highway.
You'll overlook aquamarine lakes, spiral down steep roads, pass through desert and in the shadow of ruined forts, and become blasé about mountains exceeding 7,000 m (23,000 ft) — easy to do when you're already journeying at 5,000 m (16,400 ft).
As you edge closer to the Nepalese border, and as you cross it, the land transmogrifies before your eyes into rice terraces and subtropical forests.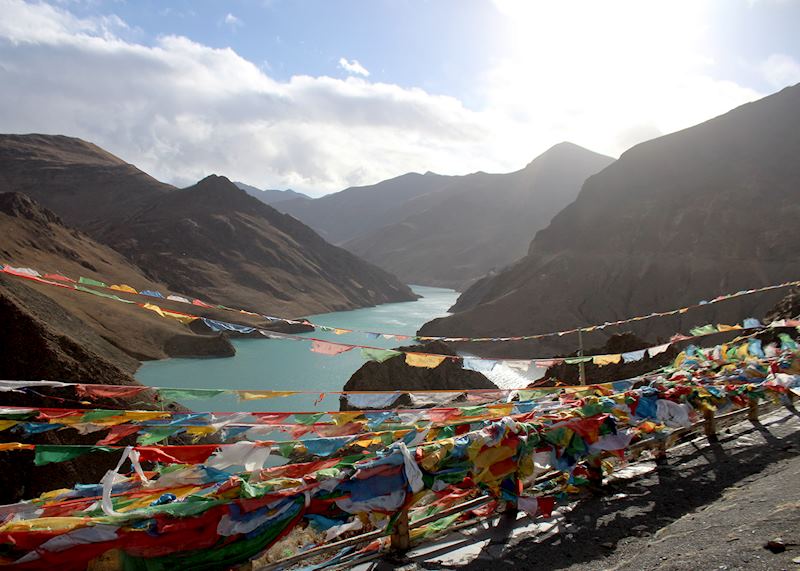 What should I be aware of when visiting Tibet?
Tibet's complex political situation is widely felt, but usually verboten
Propaganda billboards bearing the face of Mao and China's current president line the roadsides. Tour guiding cars are fitted with cameras. Some guides talk willingly about Tibet's political situation, but only outside the car and monastery walls. It depends on which guide(s) you're allocated, but be prepared for the topic to remain off-limits.
Travel is regimented and requires a flexible, patient attitude
The visa process for Tibet necessitates staying in Kathmandu for three days prior to entering (unless you come via China), and Tibet's airport officials are infamously brusque. You travel in Tibet on a permit, which sometimes requires stops at local police stations, and you're unable to deviate from your prearranged itinerary.
Conversely, expect sudden road closures, or for your plans to change last minute due to the whims of local government.
Guides are obliged to accompany you everywhere, although you're at liberty to wander around cities such as Lhasa independently.
You'll need to forgo some creature comforts
Outside Lhasa (which has a few high-end hotels, including the bonafide five-star St Regis Lhasa Resort) expect slightly worn, nondescript places to stay, with the odd power cut.
Nor are you here for gourmet cuisine. You'll mostly eat an unvarying menu of yak meat in many forms (it's a bit tough if fried, but quite nice in momos [steamed dumplings] or broth).
There might also be Tibetan bread (a fried flatbread), noodle soups, curried yak and potatoes, and pink radishes.
If you're in need of more variety (and some vegetable dishes), try eating at Chinese restaurants.
Everywhere you go, you'll be served yak butter tea (an acquired taste, but not bad if you like your drinks salty) or sweet, milky tea — usually placed in the middle of a table in flasks for sharing.

You're at very high altitudes for your whole trip…
… so my advice is to take it easy for the first few days (and, to be honest, in general — don't expect to walk briskly everywhere).
I also recommend wearing a high-factor sunscreen, lots of lip balm (Tibet is an extremely dry climate), and layers. Even on bright, sunny days, you quickly become cold once you step into the shade.
When's a good time to go to Tibet?
Between the end of September and the end of December is an excellent time to visit Tibet, because it's when you'll be joined by pilgrims coming into the cities and monasteries in time for Losar, the Tibetan New Year. May and June are also preferred months to visit, when you'll see the country at its greenest.
For Everest, travel from September to October. As long as you can handle the cold at this time of year, you also have a good chance of blue skies — ideal for that optimum view of the mountain.
Travel permits aren't issued from January to March, which prevents visiting at this time. We also recommend you avoid the first week in October, when many Chinese tourists are in Tibet.
Read more about trips to Tibet

Start thinking about your experience. These itineraries are simply suggestions for how you could enjoy some of the same experiences as our specialists. They're just for inspiration, because your trip will be created around your particular tastes.
View All Tours in Tibet
Further reading