Renowned for their remote setting amid Alaska's immense wilderness, Alaska's wilderness lodges offer intimate hospitality, great food, comfortable rooms and expert guides.
Most are impossible to reach by road, so light aircraft or boat transfers provide an exciting introduction. A typical day will usually consist of kayaking, whale watching, fishing, or taking a guided walk through a coastal rainforest in search of grizzly bears.
You will return to a hearty meal, perhaps a soak in the hot tub with a glass of wine, and the conversation of fellow guests.
Start planning your wilderness lodge stay in Alaska

Start thinking about your experience. These itineraries are simply suggestions for how you could enjoy some of the same experiences as our specialists. They're just for inspiration, because your trip will be created around your particular tastes.
View All Tours in Alaska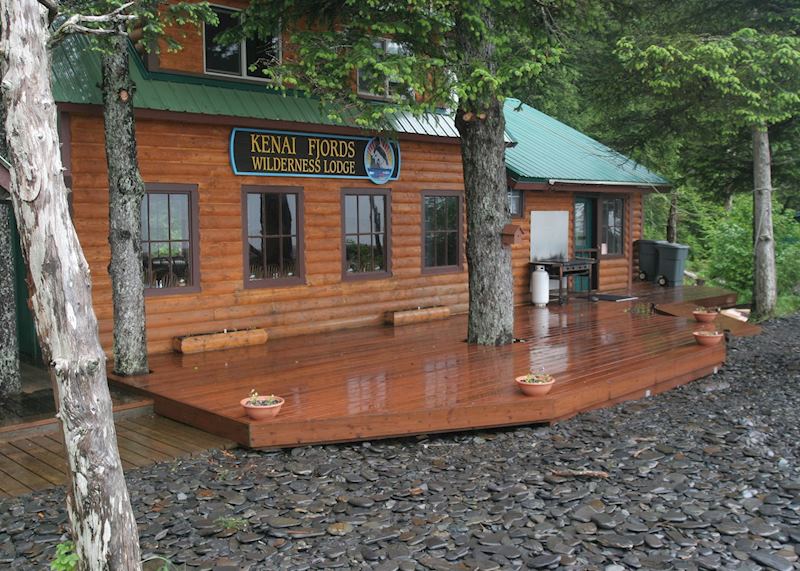 Kenai Fjords Wilderness Lodge
Fox Island in the vast expanse of Resurrection Bay is the setting for the remote Kenai Fjords Wilderness Lodge, which is only accessible by boat from Seward.
Its comfortable waterfront cabins are nestled in the woods between the ocean-side pebble beach and a quiet freshwater lagoon. There are never more than 18 guests staying overnight, which makes for a very personal experience.
Meals are served in the main lodge, where guests can relax with a book by a wood-burning stove, on one of the comfortable sofas.
You can enjoy a gentle walk to one of the nearby secluded beaches, a more strenuous hike on the mountain trails or a guided sea kayaking trip.
When you leave the lodge you will return to Seward on a day-long cruise through Kenai Fjords National Park.
This tour takes you deep within the park to view tidewater glaciers calving into the sea below and the marine wildlife that is abundant during the summer months; expect to see orca and humpback whales, sea otters, Steller sea lions, bald eagles and a wide variety of other birds including puffins.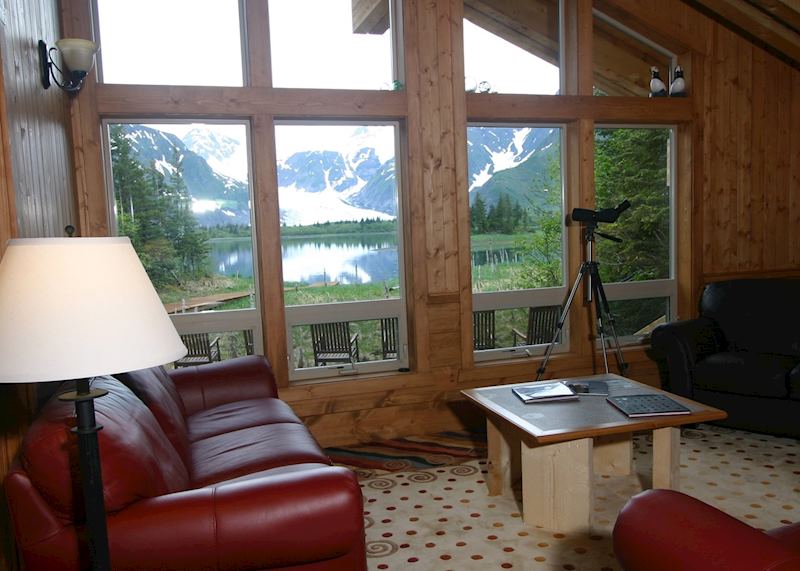 Kenai Fjords Glacier Lodge
Kenai Fjords Glacier Lodge sits on the shores of a protected lagoon in full view of Pedersen Glacier and offers a unique way to experience Kenai Fjords National Park.
It's the only lodge located within the park, and features an elegantly rustic main building and 16 nicely appointed cabins, each with private bathroom.
The setting is breathtaking, and cabins have been designed to be barely visible from the adjacent Pedersen Lagoon while still offering spectacular views from within.
A range of activities is available for guests to participate in, from guided hiking and whale watching to kayaking through the lagoon and Aialik Bay. Other options include searching for sea lions, bald eagles and harbor seals, viewing calving glaciers or strolling along the beach.
The property is located within a native-owned wildlife sanctuary, and these heritage lands represent a small portion of the ancestral homeland of the Alutiiq people, who once lived along the entire coast of south-central Alaska.
The lodge is reached by boat from Seward.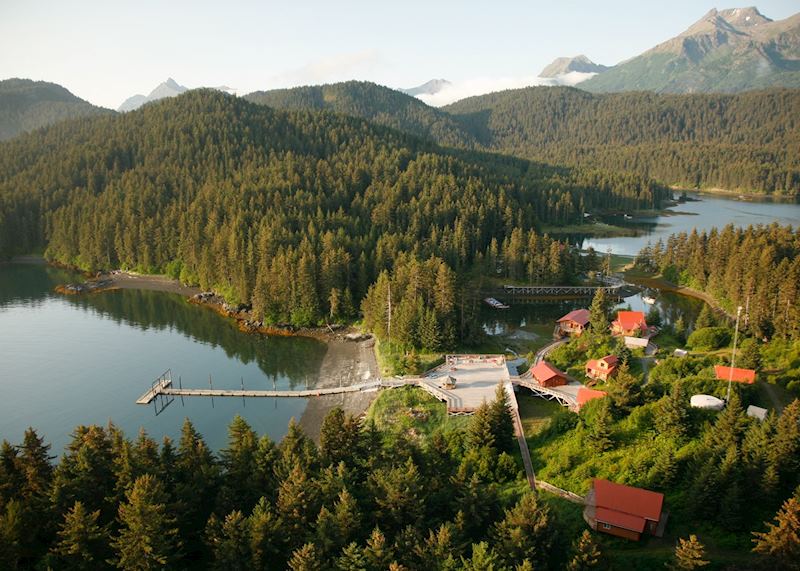 Tutka Bay Lodge
Tutka Bay Wilderness Lodge is located on the Kenai Peninsula across the bay from Homer and is adjacent to Kachemak Bay State Park.
Tutka Bay, a spectacular and rugged fjord, reaches seven miles into the glacier-studded Kenai Mountains. These glaciers join one another to form the massive Harding Icefield, which presses down the other side of the mountains into the Kenai Fjords National Park.
The delightful lodge buildings at Tutka Bay sit in a secluded cove. The six spacious rooms each have a bathroom and shower, TV and internet access, and panoramas of the ocean, mountains and forest.
A beachfront gazebo contains a hot tub, and there is also a wood-fired sauna to relax in. From the lodge solarium guests can enjoy views of the islands and inlets of Little Tutka Bay, as well as the grand and moody Jakolof Peak.
The property also has a library where guests can learn more about native Alaskan art, archaeology, birds, marine biology or local botany.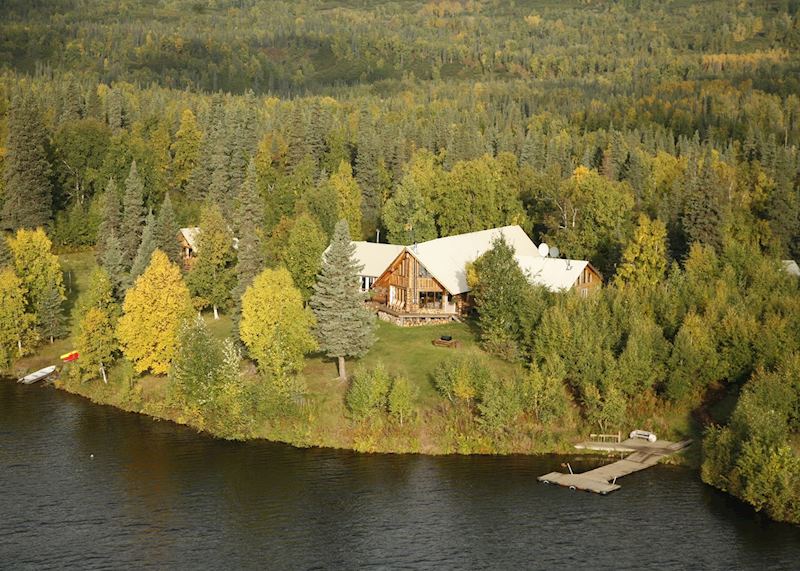 Winterlake Lodge
Winterlake Lodge stands in 15 acres overlooking Winter Lake, a two-mile finger-shaped waterway where landings are by floatplane in the summer and ski-plane in the winter.
Winterlake provides seclusion and spectacular scenery; views of Trimble Glacier and the beginnings of the Rainy Pass are visible here. Behind the lodge, Wolverine Mountain offers hiking and wildlife spotting, and there are wild flowers, plants and many species of Alaskan bird that are difficult to see in other areas.
Activities arranged by the lodge include hiking along the Iditarod Trail, swimming in the lake and kayaking or canoeing. Further afield are opportunities to go glacier trekking, white-water rafting, fishing for salmon and rainbow trout, and exploring for gold.
Rooms are in individual cabins located around the main building.
Lodge facilities include a comfortable central sitting room where guests can relax by the fire and view the lake from large picture windows, as well as a cozy dining area, large meditative yoga room, hot tub on the main deck, and a lakeside wood-fired sauna.
The lodge is owned by chef Kirsten Dixon, who offers culinary classes and guests are welcome in the kitchen to watch, or assist, if they wish.
Further reading