By Borneo specialist Shannon
Borneo is the only place on Earth where you can encounter wild orangutans and proboscis monkeys swinging hands over legs through the jungle canopy, and pygmy elephants in their natural habitat. Some may argue that this experience is luxury in itself. However, for a truly luxurious trip, it's all about having your own guides and naturalists, who are fully attuned to your specific interests. From my travels across the island, I've put together some of my highlights, including private river cruises and jungle hikes.
There are exclusive jungle lodges and five-star beachfront hotels in Borneo, too. I've recommended some of the best below. I'd suggest a luxury tour of Borneo's Sabah state as a starting point, with additions to Kuching and Mulu National Park, in Malaysian Borneo's lesser-visited Sarawak state.
Luxury in Kuching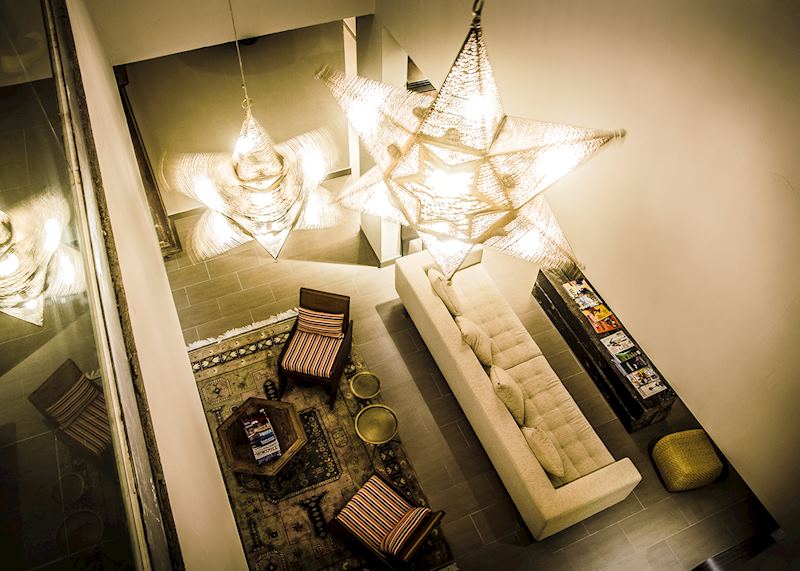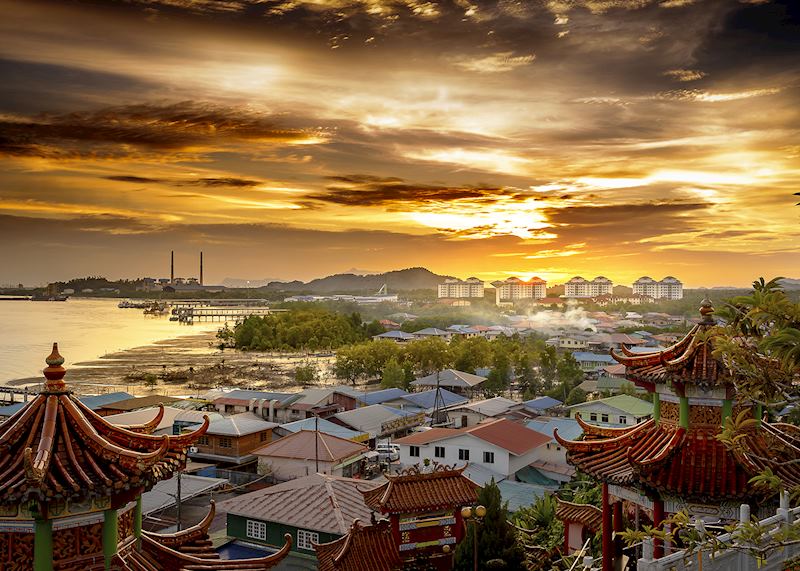 Embracing the shores of Sarawak River, Kuching's a melting pot of Indian, Malay, and Chinese cultures and cuisines, with British-colonial buildings sandwiched between curved-roof temples and 19th-century shophouses. I recommend diving straight into life in the well-preserved old town. To make sure you don't miss any of the highlights, a private guide can lead you through the muddle of narrow alleys, lined with hawker-style restaurants, carpenter shops, coffee houses, and museums. You might even like to visit the market to buy ingredients for a cooking session at the home of a local family.
My go-to hotel is the centrally located Ranee Boutique Suites. Once a shophouse, it's now one of Kuching's few boutique properties and artfully fuses vintage finds with natural materials — imagine timeworn suitcases, a cannon, and tiffin tins alongside polished wood and linens. For extra privacy, the five premium suites tucked beneath the eaves are accessed by their own staircases, and boast wide windows and verandas overlooking the waterfront esplanade and the clay-tiled roofs of the bazaar.
Private day trip to Bako National Park
A 35-minute drive from the city, Sarawak's oldest national park might be small, but it packs in a star cast of curiously large-nosed proboscis monkeys, as well as monitor lizards, bearded pigs, flying lemurs, and oriental otters. With a private guide, you'll have the opportunity to observe the wildlife with no time limits, plus the freedom to explore as much or as little as you like. Based on your preferences, you can go beyond the well-trodden trekking trails to jungle streams, waterfalls, and hidden beaches.
Luxury in Mulu National Park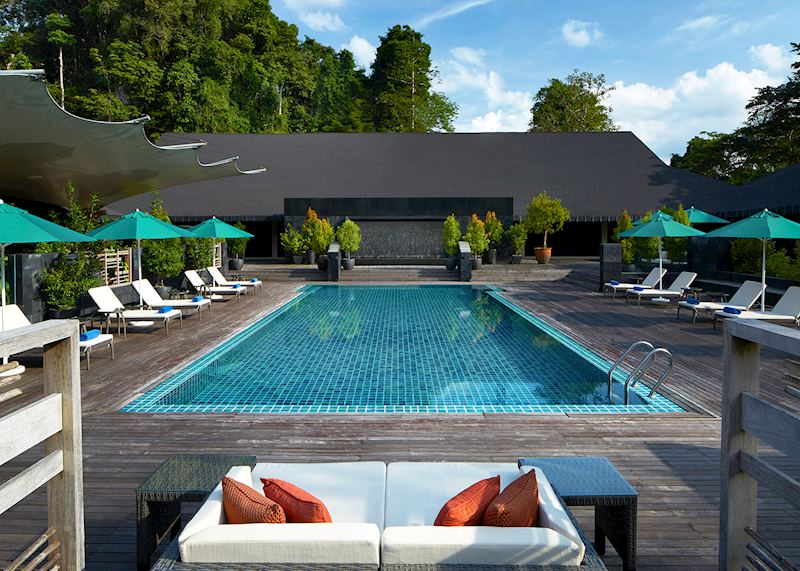 On the edge of Mulu National Park, Mulu Marriott Resort & Spa is a truly off-the-beaten-path hideaway in Borneo's rainforest — the only way to reach it is via a short domestic flight. The property's designed with a nod to Iban longhouses, with rooms and suites suspended on wooden walkways by the banks of the Melinau River.
This isn't the sumptuousness you might expect of some five-star resorts. The real luxury here is that, after trekking and wildlife activities, you can dip in and out of the pool, spa, and wellness classes, or simply relax on your private balcony with elevated jungle or water views and a soundtrack of cicadas.
Exclusive guide to Mulu National Park's caves
Encircled by skyscraping peaks and pinnacles, this UNESCO World Heritage Site is renowned for its limestone karst formations and caves — Sarawak Chamber is the largest in the world, Deer Cave's the size of an aircraft hangar, and Clearwater Cave is one of Asia's longest.
You can visit the highlights with a private guide and national park ranger, who'll point out stalactites, stalagmites, and rock corals, many of which are illuminated. At dusk, the spectacle of what seems to be black smoke streaking through the sky is in fact more than three million free-tailed bats pouring from the entrance of Deer Cave in search of food.
Luxury on Kinabatangan River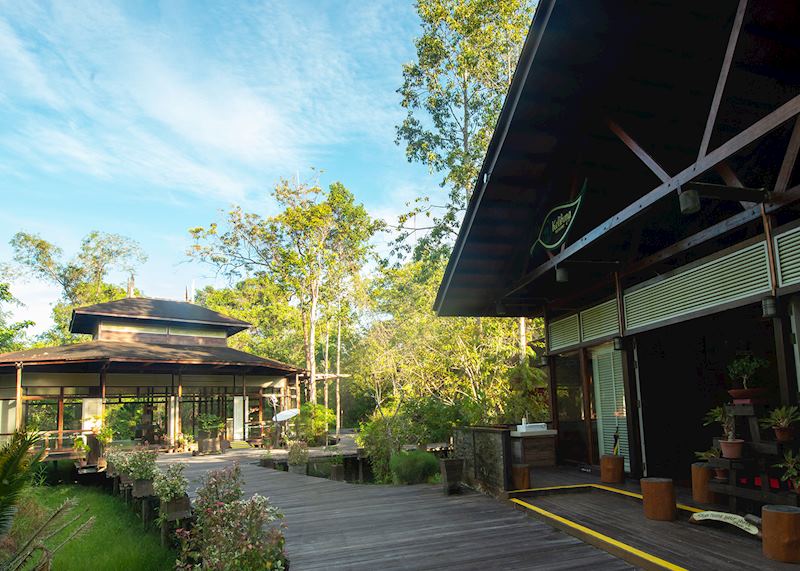 In my opinion, Kinabatangan Wetlands Resort is the best lodge on Kinabatangan River. You just can't beat its remote wetland setting above mangrove forest and freshwater swamps and the knowledgeable guides who'll direct you toward the orangutans, crocodiles, langurs, kingfishers, and rhinoceros hornbills that call this region home. You'll also be staying in some of the most spacious rooms by the water with raised walkways snaking a route between ten chalets with dark polished floors and bright fabrics.
Private river safari
I'll never forget my nature cruise with a private guide, who took me further up the river than I'd ever been before. We sat and drank coffee in a completely deserted spot, and waited. Our patience was rewarded with the sight of a juvenile male orangutan who came to sit on the nearby bank to eat palm shoots before he wandered off shouting a mating call.
It's why I believe that Kinabatangan Wetlands Resort has some of the most experienced guides in Borneo — it's as if they can sense the wildlife. They will happily tailor trips around your specific interests, like photography or bird watching. They also share information, so tend to know exactly where you're likely to encounter chattering monkeys, and maybe pygmy elephants patrolling the banks, although this is a rare sight and you'll need a lot of patience.
A second luxury is that you often have this stretch of the river to yourself. The lodge is only accessible by boat, and there's just one other property in the vicinity. In splendid isolation, you could end a day with a final cruise to see thousands of glowing fireflies in the trees that line the water. From a distance they look like a row of illuminated Christmas trees.
Luxury in Danum Valley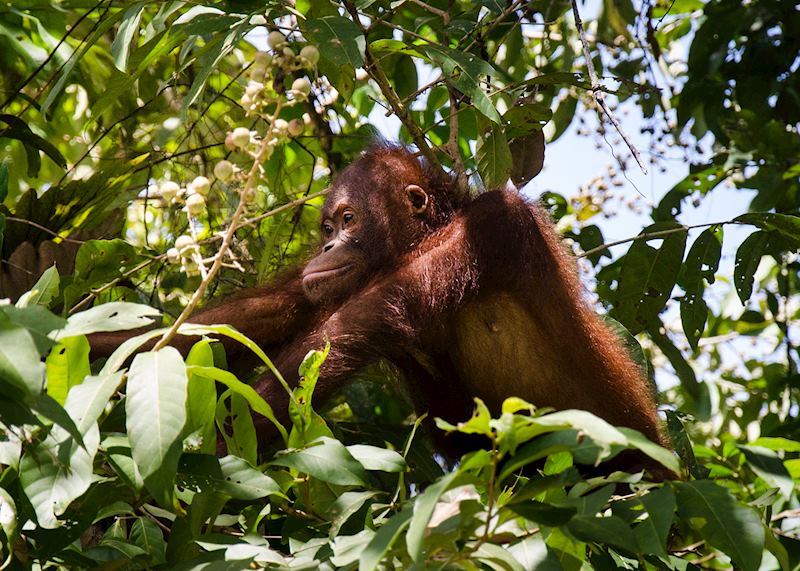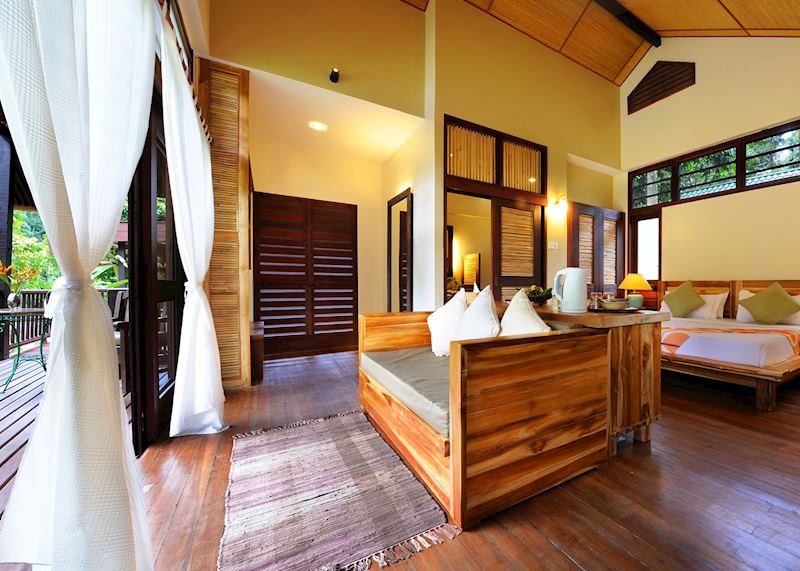 Borneo Rainforest Lodge is not just my preferred place to stay in Borneo — most of my clients tell me that it's the absolute highlight of their time away, too. Like me, they love the wooden chalets, with comfort that's matched by attentive service. Plus, it's a secluded property right in the heart of one of the world's oldest rainforests with a wealth of wildlife-spotting opportunities. It's common for orangutans to nest in the grounds, and you've a great chance of seeing macaques, gibbons, red leaf monkeys, and hornbills on one of the many trails around the lodge.
If you really want to go all-out, there's a double-story villa, which has a private plunge pool on a spacious viewing deck and your own personal butler. You can also indulge at the spa, where therapists use oils and scrubs derived from local herbs and spices, and there's an outdoor terrace for relaxing and enjoying the sights and sounds of the jungle.
Tailor-made activities in the rainforest
The lodge can arrange a private lunch for you in the middle of the rainforest. You'll have one dedicated guide looking after you for the duration of your stay, who'll accompany you on all wildlife treks, tubing adventures, canopy walkways, and night safari drives.
Luxury on Gaya Island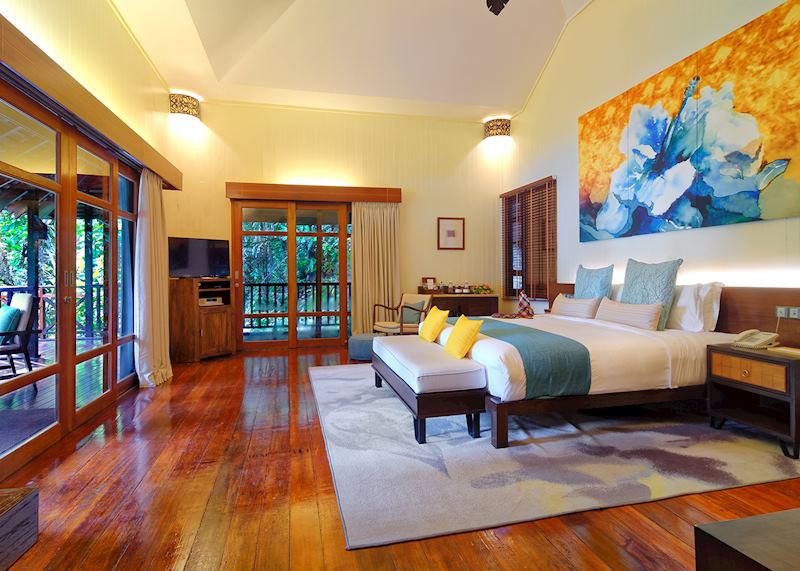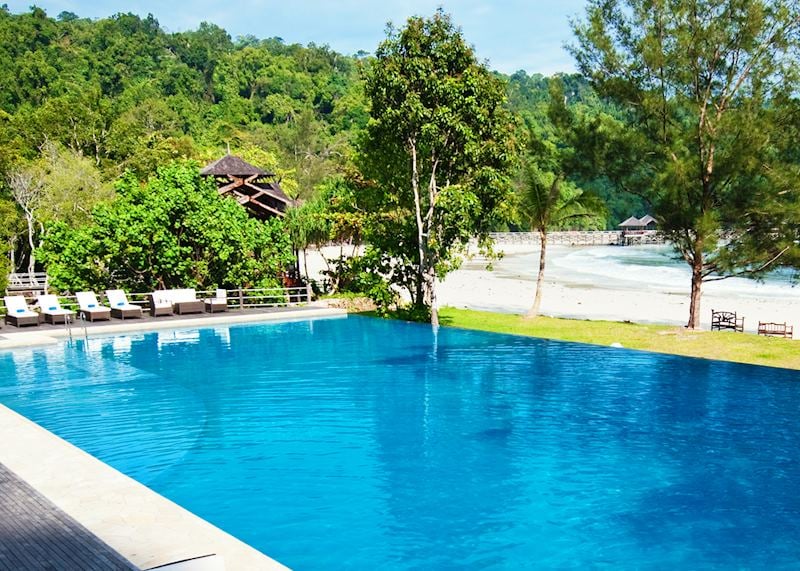 To finish your trip at a tropical hideaway, I suggest Bungaraya Island Resort on Gaya Island, off the north coast of Borneo. Nudging up against a private sugar-white beach, there's a choice of 47 stilted villas, fashioned after the local timbered homes. Some have a private plunge pool on their open-deck balconies, others benefit from jungle and South China Sea views.
Top-tier relaxation
The resort offers plenty of ways to do very little, from restorative treatments at its hilltop spa to a dip in the infinity pool. A zip-line and canopy walk call to the more energetic, or guides can take you on private snorkeling and diving outings around the island's coral reefs. And then there's exclusive dining, either with sand between your toes at the beach and a menu of fresh-caught scallops and red snapper, or on the patio adjoining The Longhouse Wine Cellar, surrounded by more than 4,000 bottles.
Read more about luxury trips to Borneo

Start thinking about your experience. These itineraries are simply suggestions for how you could enjoy some of the same experiences as our specialists. They're just for inspiration, because your trip will be created around your particular tastes.
View All Tours in Borneo