By Borneo specialist Mark
Borneo's tangled jungles, remote indigenous villages and quality of beach resorts provide a blend of luxury and adventure that I haven't seen anywhere else in Southeast Asia.
You could spend one night in a secluded jungle lodge, rising to the chatter of monkeys, and the next wake to the sound of the sea on a boutique island resort, ready for a day of snorkeling in some of the best dive spots in the world.
This is a destination that offers sunset cruising, but also the option to spend a night staying with members of the Iban tribe in a communal longhouse.
So, who should consider Borneo for their honeymoon? I'd say any couple drawn by wildlife and the outdoors, and ready for adventure. That might mean being prepared to rough it a little to get to the best areas, but the pay-off is watching the likes of orangutan, pygmy elephants and proboscis monkeys at close quarters in the wild.

Orangutan at close hand in Sepilok Sanctuary
Borneo's thickset rainforest is the only place where you can see orangutan in the wild other than the neighboring island of Sumatra. But spotting them is tricky and they're usually at a distance.
Visiting an orangutan sanctuary, such as the one at Sepilok, lets you see orangutan almost at arm's length.
The sanctuary is a rehabilitation center for orangutan that have been rescued after being orphaned or injured. Here, they're fed and cared for before reintroduction to the wild.
The orangutan are free to roam, but during the daily feedings at 10am and 3pm a good number will walk across in front of you on the feeding platform.
The Sepilok Nature Resort next door has charming chalets set around a lake, out of which monitor lizards entertainingly clamber from time to time, as well as its own orchid farm. It's a good base for a night if you'd like to make a couple of visits to the sanctuary.
The Orangutan Sanctuary at Sepilok is a 30-minute drive from Sandakan, the former capital of British North Borneo. This in turn is a short flight from Borneo's main entry point, Kota Kinabalu.

Riverboat safari along the Kinabatangan River
The wildlife that lives in and by the Kinabatangan River is as profuse as anywhere in Borneo. I'd recommend spending a couple of days on a river safari looking for orangutan and the endemic pygmy elephant. It also works nicely after visiting the Orangutan Sanctuary at Sepilok, as you can take a boat directly from here, or from Sandakan.
It's possible to catch a glimpse of wild orangutans, but sightings of troops of proboscis monkeys are more likely: big nosed, pot-bellied, and unique to Borneo.
Wildlife is unpredictable, but the river is one of the best places to see herds of pygmy elephants as they feed, wash and play.
There's a choice of lodges by the river to base yourselves, but my favorite is a little place called Abai Jungle Lodge. It's not the most comfortable, but it gives the strongest feel of 'being out there'. For one, the only way to arrive is by boat, which adds to the sense of romance.
The two-hour boat journey from Sandakan is an adventure in itself. The route takes you out into open sea and then to the mouth of the river. From here, the boat meanders through mangroves and gradually into the narrower river where you arrive at this intimate little lodge in the middle of nowhere.
No effort is spared. On my last night, I found a plate full of enormous river prawns awaiting me at dinner. I'd mentioned earlier that I was keen to try this rare local delicacy, so hey presto they appeared.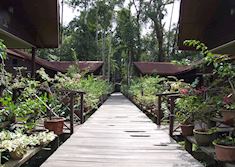 Rainforest retreat
After a couple of days exploring the Kinabatangan River, two or three nights at the Borneo Rainforest Lodge in the Danum Valley provides total rainforest escapism. It comes at a price, being located in the only pocket of private rainforest in all of Borneo, but this open-sided lodge looks out over the river and is set in pristine primary rainforest. And, they offer the best food I've tasted in a Borneo lodge, including delicious jungle ferns and Malay curries.
A canopy walkway runs through the treetops and there are opportunities to see some of Borneo's rarer wildlife: wild orangutan and tarsier, a tiny saucer-eyed primate. Clouded leopard are highly reclusive but their paw prints leave the occasional sign. Your private guide will be able to help you find any wildlife in which you have a particular interest.
The three kilometer trek to Coffin Cliff — so named because coffins of the local tribe's ancestors lie on ledges on the vertical stone face — brings you to a cascading waterfall under which you can cool off before heading back to the lodge.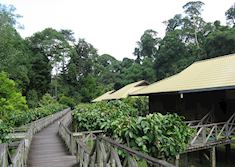 Treehouse stay in Permai Rainforest
For a more unusual honeymoon getaway in Borneo, I'd suggest traveling two hours by road from Kuching to spend a couple of nights in the Damai Peninsula at the Permai Rainforest Resort.
The accommodation is stilted treehouses, about six meters up in the canopy of the rainforest, so when you wake it's to the noise of the jungle.
A two-night stay will probably suffice, but you can take a boat trip out to nearby Satang — a tropical island and turtle conservation area — for snorkeling and relaxing on the fine white sand.
Stopping en route at the mouth of the Salak River, you might with a little luck spot the shy Irrawaddy dolphin.
Forest trails lead out of the resort and its hot springs are a relaxing place to end the day.

Longhouse stay with an indigenous tribe
There's an investment of time getting to the remote part of Sarawak where the indigenous Iban tribes live. From Kuching, it's four hours by road to get to the river and then a boat carries you to Batang Ai, on the border with Indonesia.
The Iban live communally in traditional longhouses, and visitors can stay in a longhouse with 12 Iban families. When you arrive, the tribe will welcome you into the family.
In the evening, you'll all enjoy a locally prepared dinner and share rice wine. You're accompanied by a guide who can speak Iban, so through translation you'll be able to talk to the families. As well as the conversation, the night might lead to a display of tribal dancing.
Sleeping arrangements are basic — a mattress protected by mosquito netting on the floor of the corridor. You'll have people coming in and out throughout the night, and for that reason I wouldn't say this is an experience for every honeymoon couple.
The next day, the tribe will induct you in their traditions and hunting techniques, which is followed by a delicious traditional lunch steamed within bamboo tubes on an open fire on the banks of the Lemanak River.

Stay with a local family at Kampong Melano
The coastal national park of Tanjung Datu at the southern tip of Sarawak is so secluded that you can only reach it by boat. For four months of monsoon season it's completely cut off. Very few travelers make it to this remote outreach.
Here, you and a guide can spend a couple of nights with a local Malay family, in the traditional fishing village of Kampong Melano, where you'll be the only guests.
Although the beaches and treks are beautiful, you really go to experience the atmosphere and authenticity of the village. Life there is really slow — it's about spending time with local people who will be just as interested and intrigued by you as you will be by them.

Scaling Mount Kinabalu
For active couples who savor a challenge, I'd suggest climbing Mount Kinabalu. With a summit exceeding 1,200 meters, it's Borneo's highest peak.
The climb takes two days and requires a reasonable level of fitness. It takes about six hours to climb up to Laban Rata, which is the overnight rest house. Getting up in the predawn, you make your way up to the summit by torchlight.
As the sun comes over the horizon it lights up the plains of Kinabalu Park. On a clear day you can see right over to the Philippines.
On the second day you descend the mountain in one hit. It's not too rocky but it is steep, and I remember my legs buckling at this point, so it's worth hiring a porter to carry your bags.
Very confident climbers can tackle Kinabalu via ferrata, which involves climbing across sheer rock faces and hanging from ropes. You don't need experience as you'll have assistance throughout, but it's not for the faint hearted.

Luxury at Gaya Island
After an active trip, four or five nights at the luxurious Bungaraya Island Resort on Gaya Island makes for a peaceful and romantic end to your honeymoon in Borneo. The resort's wooden villas are set into rainforest on the edge of my favorite beach in Borneo, a crescent bay of sand lipped by clear water that's wonderful for snorkeling. The overriding feeling is 'Robinson Crusoe' with a touch of luxury.
On the same island is Gaya Island Resort — another wonderful hotel, which while slightly larger has more facilities, including a good choice of restaurants and a wonderful spa. This is a good choice for those who are still hoping to stay active, with trekking, snorkeling, diving and sunset cruises all available.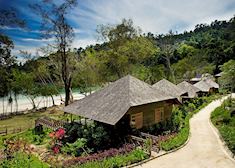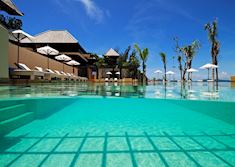 Best time to honeymoon in Borneo
The best weather is from March until the end of September as it should be drier, though it is worth bearing in mind that most of the island is covered by rainforest. Traveling outside July and August is a good idea for honeymoons — there won't be as many families and children, and you may be able to take advantage of hotel offers.
Start planning your honeymoon to Borneo

Start thinking about your experience. These itineraries are simply suggestions for how you could enjoy some of the same experiences as our specialists. They're just for inspiration, because your trip will be created around your particular tastes.
View All Tours in Borneo