By Borneo specialist Nicki
Wildlife plays a big role in any visit to Borneo. Although it's Asia's largest island, the rainforests that cover Borneo are relatively compact, so when you go looking for the wildlife you see it. Many of the colorful animals that inhabit the rainforests are native to the island, such as pygmy elephants and hornbills. And, it's one of the few places where you can see orangutans in the wild.
Borneo's sheer valleys shelter tribal peoples, and staying as the guest of the Iban tribe is a glimpse into a way of life that has altered little in thousands of years.
Trekkers can take on the arduous but rewarding climb up Mount Kinabalu, and the sandy beaches and crystal-blue waters that fringe the coast offer some of the best dive spots in the world.
This guide features my recommendations for things to do in Borneo. It focuses on the states of Sabah and Sarawak in Malaysian Borneo, which offer a lot more variety in a smaller radius than Indonesian Borneo.

Experience Kuching's colonial history
Kuching is a quirky and colorful low-rise market city, one of my favorites in Southeast Asia, and a great start point to a trip to Borneo. You can see past the city into the hills, the atmosphere is hot and muggy, and the rainforest feels close by.
The city has been bounced about in ownership, resulting in a strong mix of colonial, Malay, Chinese and tribal influences.
To get a feel for the history, I'd recommend taking a walking tour with a local guide who grew up in Kuching. Spend three or four hours exploring the city, walking through the busy, gritty markets.
There are all types of wares — anything from live animals to herbs, roots and medicines, and bright colored cloths — and food stalls. One dish I always look for is laksa, a mild Thai-inspired soup. It comes in many different types, my favorite is thick with noodles and vegetables.
Strolling along the riverfront, you'll pass modern hotels and restaurants on one side, and little houses perched on stilts on the other, a village where the city has grown around it.

Explore the caves in a UNESCO World Heritage Site
Walking into the caves of Mulu National Park is like entering an aircraft hangar. The sensation is one of being enveloped in a darkness that seems to stretch on forever. This is one of the world's largest limestone cave networks.
The park is in Sarawak, in the top middle of Borneo, easily accessible from Kuching. Once there, you explore by boat or on foot.
If you time your trip for dawn or dusk, you might see an immense black cloud of thousands of bats that head in and out of the caves to feast on huge amounts of mosquitos at night.
From the caves you can take a couple of days to trek the Headhunters' Trail, a remote route through lush rainforest. The overnight stay is with the local Iban community, a traditional headhunting tribe, in their communal longhouse.
To extend the trek another night, climb the rugged Mount Api to view the Pinnacles, limestone formations that look like jagged teeth sticking out toward the sky. This is one of the hardest, yet accessible treks you can take on in Borneo — I scrambled up rocks for the last couple of kilometers — but the fact that not many people do it only adds to the sense of achievement.

Trek in Bako National Park
Bako National Park is only an hour away from Kuching. A coastal reserve, it's only accessible by boat, so coming and going is timed with the tide and requires a little flexibility.
The park is an ecosystem of mangroves that meet steep cliffs, very different to Borneo's other parks. It's a habitat where pitcher plants (shaped like jugs with a lid that closes in on trapped insects) and wild orchids grow freely.
Walking through the forest, the chirping of crickets and other insects creates a constant murmur. The movement around you might be a bright red hornbill flying overhead, a proboscis monkey swinging in the trees or a flying squirrel.
Bako National Park's terrain and well-signed trails makes it well suited to first-time trekking. I'd recommend walking for a couple of hours before stopping on the beach for a Malay picnic lunch and a swim before heading back to Kuching.
Although the park is never crowded, for the best experience, I recommend staying overnight. Whilst the accommodation is basic, the day-visitors tend to arrive mid-morning and leave mid-afternoon due to the tides, so staying overnight allows you to make the most of the park at its most peaceful.

Climb Mount Kinabalu
Scaling Mount Kinabalu represents one of Borneo's great trekking opportunities.
Your first day is a journey through rainforest, staying the night in the Kinabalu National Park. You then leave the rainforest behind to make your way up through the clouds to the basecamp for food and an early night. The next morning, it's a 3am start to make it to the summit (at just over 4,000 m) in time for sunrise.
It's not a climb for the faint-hearted, you need a good degree of fitness (at some points you have to pull yourself up by rope), but you're on top of Borneo when you make it. Standing on the summit, above the clouds, is like being on a rugged, lunar landscape with the sparkle of head-lamps of other trekkers trailing down the mountain behind you.

See orangutans up close
There's something magical about seeing orangutans in the wild, but the Sepilok Sanctuary gives you the chance to see them up close. It's a rehabilitation center, where orphaned and rescued orangutans are brought up so they can be reintroduced back into the wild.
During the morning and afternoon feeding sessions, orangutans sweep down from the trees for their meal. Once they're mature enough to survive on their own, the idea is that they stop coming back. The sanctuary is open to the surrounding rainforest and wild orangutans sometimes wander in to join feeding sessions.
The sanctuary is only 20 minutes from where you fly in at Sandakan, and it combines really well with a trip on the Kinabatangan River to see orangutans in the wild.
There are resorts right next door, where orangutans from the sanctuary have been known to wander through the restaurant having dropped in over the sanctuary fence.

Pygmy elephants on the Kinabatangan River
If you could only choose one place in Borneo to see animals in the wild, you can't beat a riverboat trip on the Kinabatangan River. The riverbanks are common rest spots for monkeys, orangutans and pygmy elephants.
The team on your boat will always endeavor to track down the wildlife. At the end of my last trip, my guide got a call to say elephants were up-river and we headed in that direction. Rounding the river bend, we were confronted with a huge herd of pygmy elephants scattered on the banks and playing in the water.

Enjoy a headhunter's tribe stay
Borneo's Iban people have a colorful history of headhunting and one of their tribes lives next to a remote stretch of the Lemanak River in Sarawak, a four-hour drive from Kuching. Visiting the tribe and staying overnight in their longhouse was one of my most memorable experiences in Borneo.
Accompanied by a guide, you travel there in a canoe and are greeted by the chief. It's customary to take a gift that's shared between the families. It's a good idea to take something useful for cooking (I took shrimp paste). At evening time, all the villagers come together for dinner. Dancing and drinking rice wine follows, and the evening usually turns into a party.
About 12 families live in the longhouse. The back is divided into sections for sleeping and cooking, and the front is the communal space, where guests sleep on a mattress under a mosquito net.
The number of travelers staying at one time is limited, and balanced against Borneans who also visit, to limit the intrusion on a tribe still learning to balance tradition with aspects of modern living.

Borneo Rainforest Lodge in Danum Valley
Danum Valley is a protected area of rainforest, a few hours' drive from the small town of Lahad Datu. Although one of the more expensive places to visit in Borneo, its remote location and opportunity to explore pristine jungle, makes it worth the cost.
The Borneo Rainforest Lodge is set in the heart of the jungle beside the Danum River. You'll wake to the sound of gibbons in the morning and probably have monkeys jumping on your chalet roof at night.
From the lodge there are some high-canopy walks through the rainforest. Listen to the melodies of hundreds of species of birdlife, and look for cheeky red-leaf monkeys with inquisitive blue faces.

Visit Gaya Island
Borneo can be a really busy trip, so it's nice to finish somewhere you can put your feet up.
Gaya Island is on the edge of the Tunku Abdul Rahman Marine Park. It's only 20 minutes by speedboat from Kota Kinabalu, the capital of Sabah state and most likely your departure point for the flight back home.
There are two wonderful resorts that I'd recommend here: the Bunga Raya and Gaya Island Resort.
Discover small, hidden coves with soft, pale-yellow sand that ripples between your toes. For snorkeling or diving, there are around 60 magnificent dive spots where you might catch glimpse of a leopard eel and swim among brilliant-blue rays, as I did.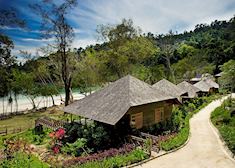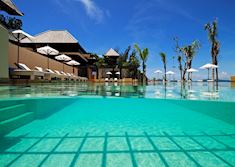 Start planning your trip to Borneo

Start thinking about your experience. These itineraries are simply suggestions for how you could enjoy some of the same experiences as our specialists. They're just for inspiration, because your trip will be created around your particular tastes.
View All Tours in Borneo