Contrary to popular belief, journeying around China doesn't necessarily entail taking multiple internal flights. For, the Middle Kingdom has been beavering away at creating what is now the world's most extensive high-speed rail network. More and more routes are opening up, connecting major cities and transforming domestic travel — and making this gargantuan country much more bite-sized. It's possible to take a trip along the lines of this journey and travel between many of China's major cities without ever setting foot in an airport (although all major cities have at least one).
Travel on China's high-speed trains is a breeze. Your guide will explain where you need to board and when (and show you how to locate this information on your ticket).
And, although China's trains are comfortable and not intimidating — even for non-Mandarin-speaking foreigners — you'll still feel like a bit of a pioneer. Your fellow rail users are likely to be domestic passengers and commuters, so expect a few friendly glances and expressions of pleasant surprise.
Life on board China's high-speed trains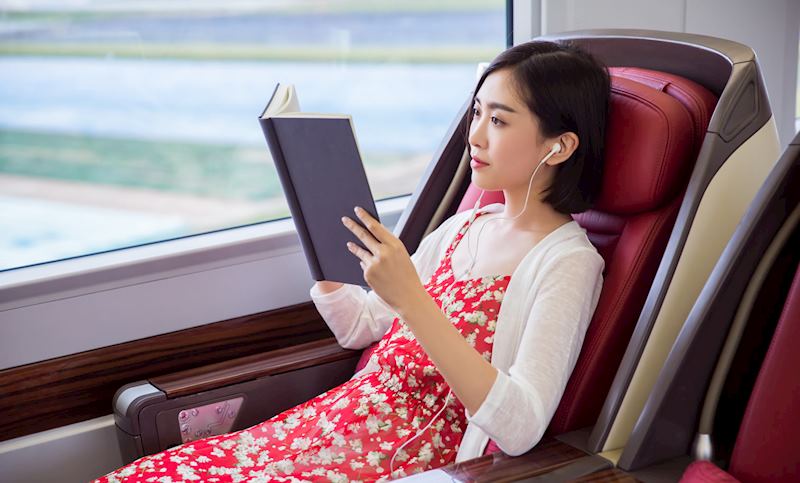 China sometimes evokes images of jostling crowds, but forget that: travel on board its high-speed trains is a sedate affair.
Seats partially recline and give you plenty of legroom (certainly compared with trains in the UK or US, in our experience). Lavatories are Western throne-style and clean. A dining car and coffee shop sells snacks and bento-box-style meals. You can even order hot meals to be delivered to your seat.
Boiling water dispensers are located near every carriage. We suggest copying your fellow passengers and bringing a reusable travel mug with you. Place green tea leaves in the bottom, and you can simply keep topping up your drink whenever you like.
High-speed train travel in China: a suggested route
Shanghai
Start your journey backward (chronologically speaking), if you like, in Shanghai: 'the China of tomorrow', according to my guide Leo.
The city's headline attractions are the Bund, an elevated riverside promenade fronted by a motley collection of neoclassical and Art Deco British colonial buildings.
It's best visited in the early evening, when you'll see engaged couples posing for a pre-wedding photoshoot (a tradition for modern young Chinese) against the Pudong skyline. Across the river, Pudong is a spiky assortment of modernist high-rises.
They illuminate as night falls in a light show, the great glittering orb of the Oriental Pearl Tower contrasting with the soaring futuristic skyscraper of the newly opened Shanghai Tower. Observe it all from a rooftop bar: my go-to is Hyatt at the Bund's VUE Bar.
But, Shanghai isn't all thrusting architectural exuberance. You could take a tour around Yuyuan Garden, a restored Ming dynasty walled retreat replete with rockeries, koi ponds and little tucked-away pagodas.
For an insight into China's more recent history, there's the Propaganda Poster Art Centre — an out-of-the-way archive of surreal Soviet-cartoonist-style art and disquieting political messaging that was spoon-fed to the masses during Mao's heyday.
One activity I'd heartily recommend is a guided bicycle tour around the city's French Concession district. It's a way of delving into the Shanghai that few foreign visitors ever really see.
You pass through warrens of traditional shikumen 'stone gate' houses. Then, you'll weave and duck along the backstreets of the old town with their lines of flapping washing and street-corner wet markets, while residents nonchalantly sit outside in their pajamas, chatting or playing chess.
During the tour, you stop off at one of Shanghai's manicured parks where local residents gather to take part in t'ai chi, water calligraphy, and folk dancing. Don't be surprised if you're invited to join in.
Shanghai to Beijing by high-speed train
Shanghai to Beijing trains have had their speed limits upped slightly from 300 km (186 miles) to 350 km (217 miles) per hour, so that more trains could run on this route to keep up with the boom in domestic tourism. This increased speed also handily shaves a 13-hour journey down to one that's four and a half to six hours.
If you enjoy hiking, consider splitting your journey and visiting Huangshan (four hours from Shanghai). You can climb this dizzyingly sheer granite peak with temples at its summit. On clear days, you're treated to far-reaching views over the surrounding mountainscape.
Beijing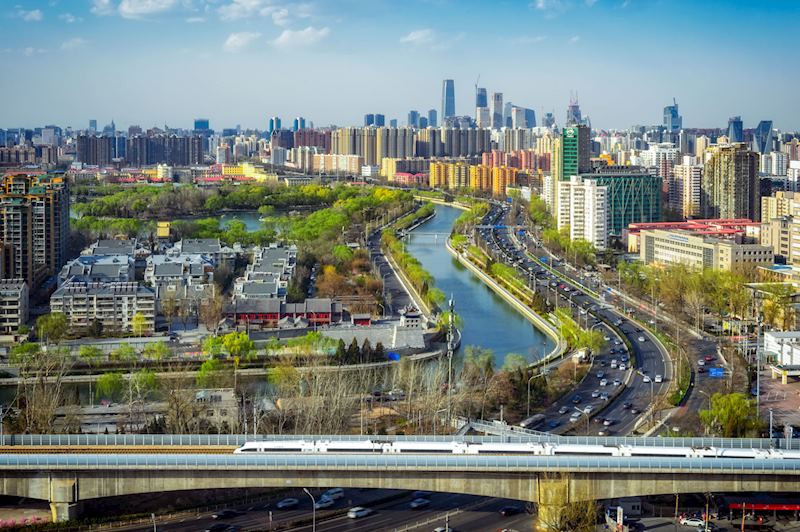 Beijing boasts the gilded Russian doll of a palace complex known as the Forbidden City. There's also the yawning space of Tiananmen Square, where Chinese dynastic architecture meets Soviet grandeur, and the hushed halls and altars of the Ming-period Temple of Heaven.
But, there are many other experiences that will give you a sense of Beijing and its people beyond these august monuments.
I always urge visitors to take a private cooking class in the hutongs. They're low-rise grids of streets with traditional courtyard housing, and wandering around them gives you a real sense of old-world Beijing.
My preferred cooking class, by far, takes place in the Jiang Fa hutong. Carlyle — an enterprising young Beijinger with an infectious enthusiasm for Chinese cuisine — will talk you through five classic dishes, including what I think is the definitive version of kung pao chicken.
The next day, you can escape the city and drive for two hours to reach the little-trodden Jinshanling section of the Great Wall.
Arrive early, and you might just find you have the entire pathway to yourself. Looking ahead, you'll see the wall scamandering over the crags and folds of the pine-studded mountains and disappearing into the haze. You can walk along it, virtually alone, for hours.
Beijing to Xian by high-speed train
From Beijing, take the high-speed train directly to Xian (a four-hour journey — it used to be 16), potentially stopping off to see one of China's best-preserved walled cities, Pingyao.
Xian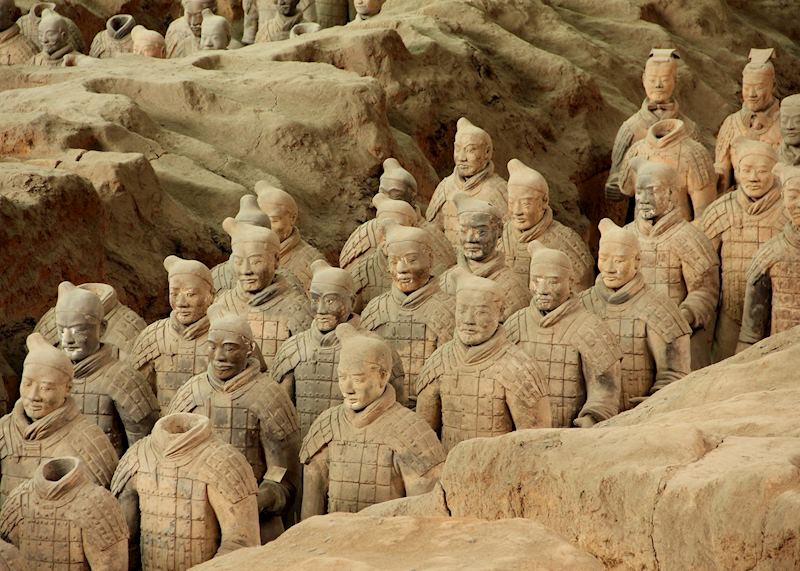 Xian is a pocket of old China (give or take the odd coffee shop chain and shopping mall). Its nucleus is a neat rectangle girded by 12th-century Ming ramparts, which you can circumnavigate on foot or bicycle.
It's mostly associated with Emperor Qin Shi Huang's famed funerary objects, the Terracotta Warriors. Your guide will expertly lead you around the vast pits containing these life-size clay models, helping you find a quiet spot to stand and admire them away from the crowds.
But, there's much more to Xian than the Terracotta Army: it's a living, pulsating city in its own right.
As night falls, I make a beeline for the Muslim Quarter. Its streets come alive with food stalls and vendors hawking their wares — everything from lamb kebabs to glistening ruby-red lollipops made from haws, the fruit of the hawthorn. Expect to see steaming piles of goat trotters, cold noodles in sesame sauce (a northern Chinese staple) and trays of just-baked persimmon cakes stuffed with crumbly walnuts.
The city's tastiest morsel, in my book? Roujiamo, aka 'Chinese hamburger' a pitta bun crammed with succulent, fatty pulled pork (though, of course, you won't find this titbit in the Muslim Quarter).
If you're intrigued to try everyday Chinese cooking in all its guises, Xian is a good place to do it. In a community just outside the central city, you can visit a family for lunch. As your hosts ply you with plate after plate of exquisitely cooked rice and noodle dishes, your guide-come-interpreter will explain Chinese home-cooking traditions. Your hosts might even treat you to a quick dumpling-making lesson.
For a real beyond-the-guidebook adventure, you can clamber into an old military-style 4x4 with a private guide for a tour of the rural plateau surrounding Xian. You'll drive through farming villages emblazoned with contemporary propaganda murals and meet a paper cutter and weaponsmith, both of whom will show you their craftsmanship in action.
Xian to Chengdu by high-speed train
From Xian, it's a three- to four-and-a-half-hour train journey to Chengdu.
Chengdu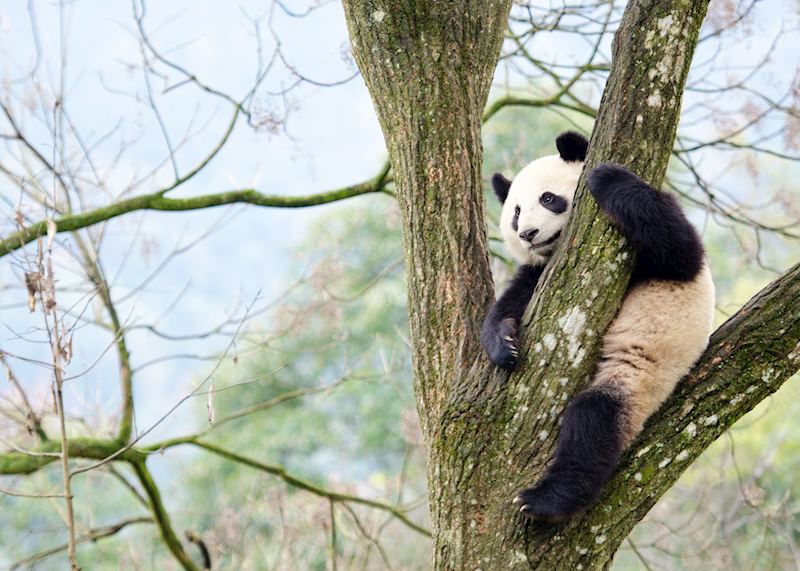 If Xian is much more relaxed than Shanghai or Beijing, then Chengdu is positively mellow. It's a leafy, park-filled city brimming with teahouses where the elderly, students and visitors alike all shoot the breeze for hours over bottomless cups of pu'er.
Chengdu also has a lively food scene, which you can best explore on a Lost Plate food tour. On this evening walk, you'll take a peripatetic approach to dining, stopping at various eateries to sample piquant Sichuan dishes. Just watch out for the infamously hot 'numbing peppers'.
Aside from food, tea, and an easy-going ambiance, Chengdu's claim to fame is its Giant Panda Breeding Research Base, 18 km (11 miles) to the north. Arrive as it opens for your best chance of witnessing these notoriously somnolent creatures tucking into a bamboo breakfast before bedding down for the rest of the day.
High-speed train travel beyond Chengdu
If you still have extra time to play with, you can continue for two hours on the train to Chongqing, China's most populous city and an industrial powerhouse. Try its signature dish, spicy hotpot, before embarking on a four-day (three-night) cruise of the Yangtze River to drink in the fjord-like scenery of the Three Gorges.
Or, carry on by train to Guizhou province (a three-and-a-half to five-hour journey) to explore off-the-beaten-path villages that are home to some of China's 56 minorities, each with their own style of dress and customs.
Read more about trips to China

Start thinking about your experience. These itineraries are simply suggestions for how you could enjoy some of the same experiences as our specialists. They're just for inspiration, because your trip will be created around your particular tastes.
View All Tours in China