Laid back Grenada is less developed than many other Caribbean islands and offers lush rainforest, waterfalls and historic cocoa and nutmeg plantations, as well as superb, white-sand beaches.
Rarely crowded, even in the most popular spots, the sheltered beaches are ideal for swimming, snorkeling, reef and wreck diving.
Our selection of ideas for Grenada
Hike Grand Etang National Park & Forest Reserve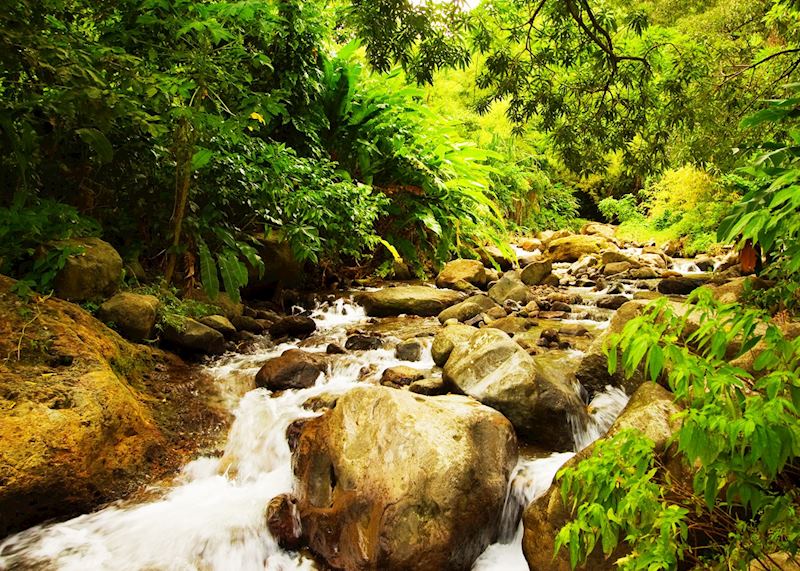 High in the mountains, Grand Etang's varied terrains maintain several different ecological subsystems with the lush vegetation providing shelter for a wide variety of animals, in particular the island's many species of birds. The park's also home to frogs and lizards, as well as opossums, armadillos, mongooses, and mona monkeys.
Trails at Grand Etang connect the misty mountain peaks with waterfalls and crater lakes and range from easy 15-minute strolls to demanding treks of several hours.
Explore Grenada's north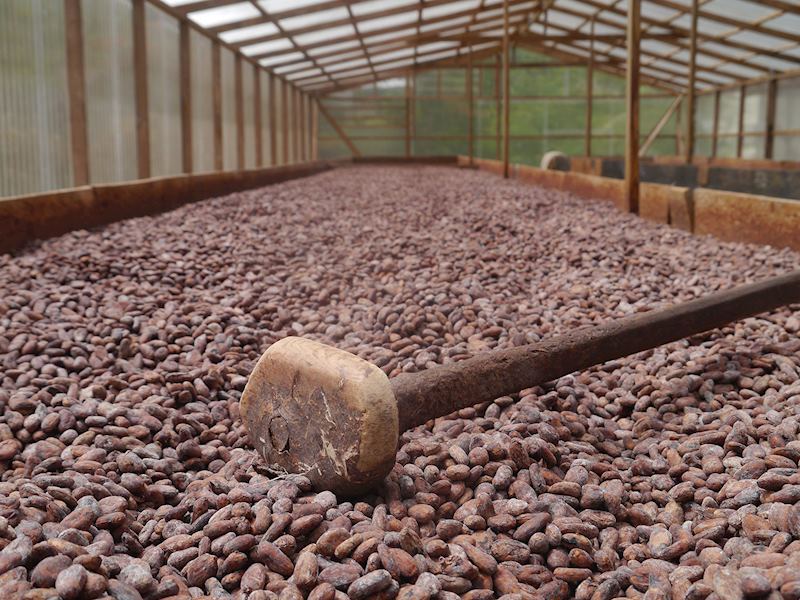 It's well worth taking some time to explore the rugged coastline and mountainous rainforest of the north of the island. In the northwest, the fishing village of Gouyave is an important part of the island's nutmeg production. Stop at the town's nutmeg processing station to see all the stages of nutmeg and mace production and explore nearby Douglaston Estate.
In the northwest, River Antoine Rum Distillery, the oldest water-driven distillery in the Caribbean, started back in the late 18th century. Nearby Belmont Estate dates back to the 17th century. At this historic plantation you can see almost all stages of cocoa production and sample cocoa tea. A local chocolate factory uses the Belmont Estate's beans to produce some of the world's finest chocolate.
A more unusual sight is Pearls Airport, abandoned in 1984 and seemingly frozen in time, with an Aeroflot and Cubana plane rusting on the runway.
Finally, Levera National Park on Grenada's northeast shore is a remote coastline with great hiking trails through the volcanic landscape.
Diving in Grenada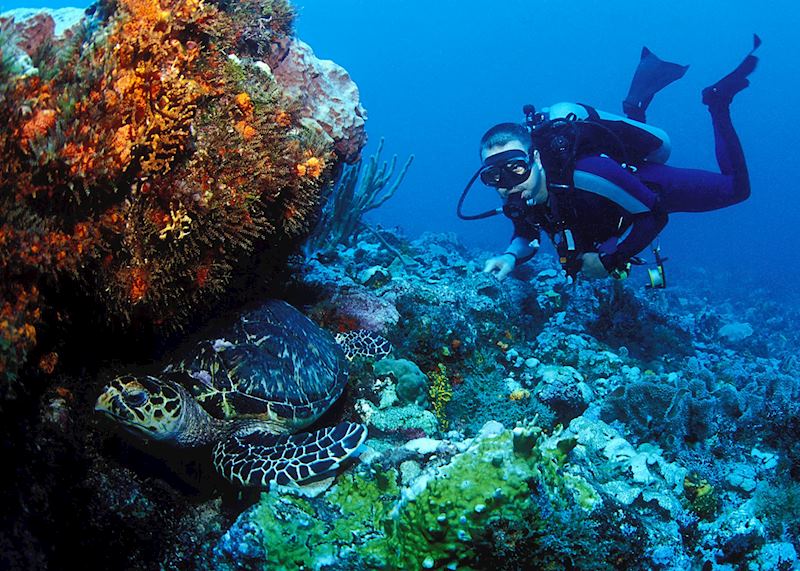 The turquoise waters around Grenada offer great diving, from lazy drift dives to wall dives as well as the largest shipwreck in the Caribbean, the Bianca C. You can even explore the island's underwater sculpture park. Most of the dive sites are within 15 minutes of Grand Anse beach in the southwest of the island.
Snorkel around the island's underwater sculpture park
The island's underwater sculpture park, the first of its kind, was established to create an artificial reef as part of the regeneration of Grenada's reefs. The sculptures are gradually being overtaken by coral and marine life and each has a story or meaning behind it. If you've arranged a tour, ask your snorkeling guide to tell you the stories of the sculptures.
Discover Grenada's history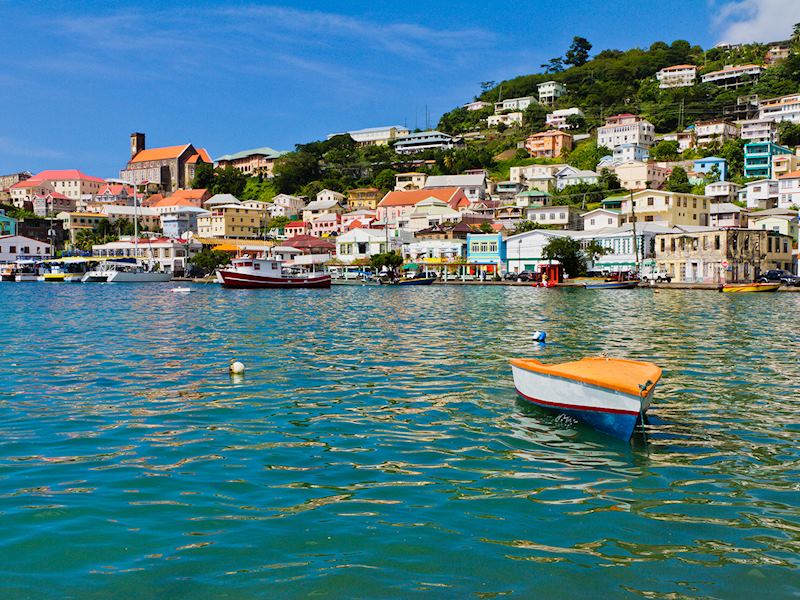 Visit historic Fort George and Fort Frederick for a glimpse of Grenada's past as well as a panoramic view of Saint George's, the island's capital. Carry on to the Grenada National Museum, where you can view historical artifacts and exhibits about the island, its first inhabitants, slavery and the plantation economy.
Later, drive past Parliament House and take in the architecture of the 18th century churches, rounding off your day at the Westerhall Rum Distillery, with sufficient time to sample the delicious rum on offer.
The 'Isle of Spice'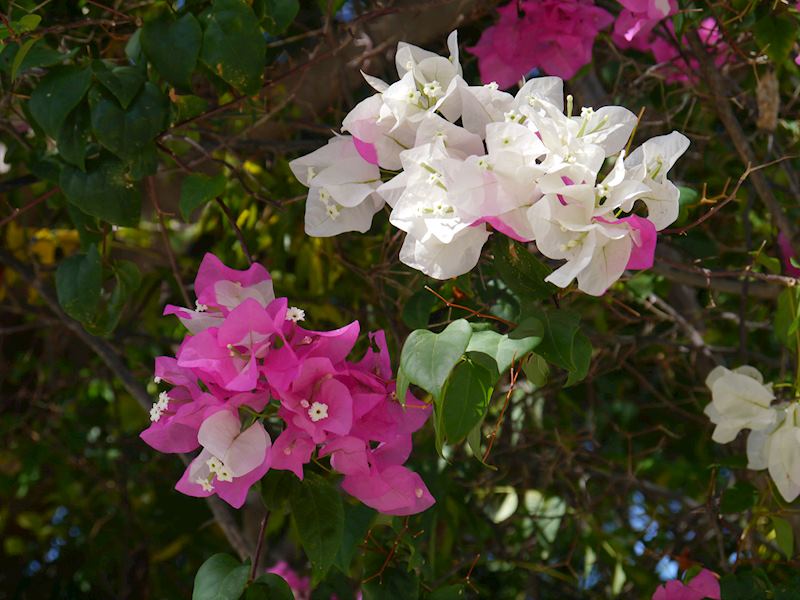 Nicknamed the 'Isle of Spice', Grenada is renowned for its nutmeg as well as its cinnamon, cloves, ginger, turmeric and mace. You can take a tour of some of the places where these spices are grown and used while you're on the island.
At De La Grenade, you can watch artisans make products made from the island's exotic spices, while Gemma's Home Garden is a quirky private garden brimming with local fruit, vegetables and flowers. You can also explore herb and spice gardens accompanied by a guide.
Go shopping on market day in St George's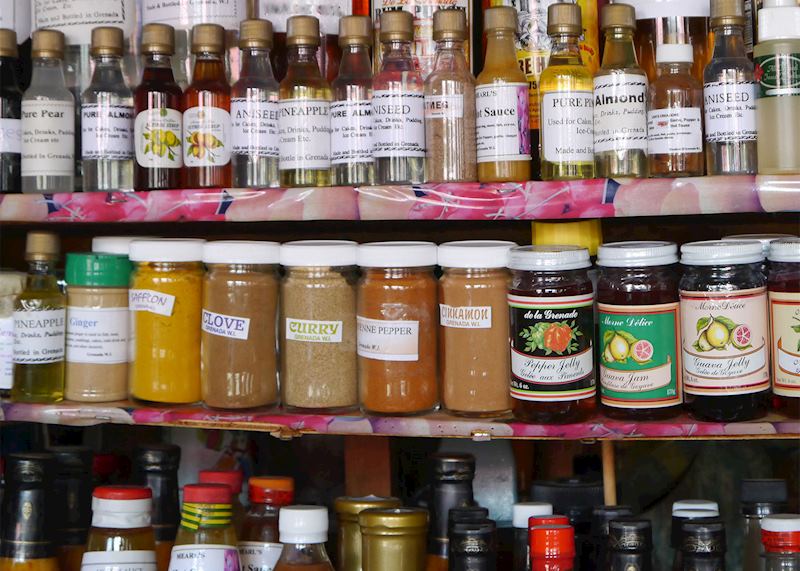 This popular market is in the heart of Grenada's commercial heart and is particularly lively on Saturdays. In the covered hall you'll find a multitude of stalls selling spices along with other local products such as nutmeg, jams and syrups and vanilla essence. The market also has many bright stalls piled high with exotic fruit and vegetables.
Day trip to Carriacou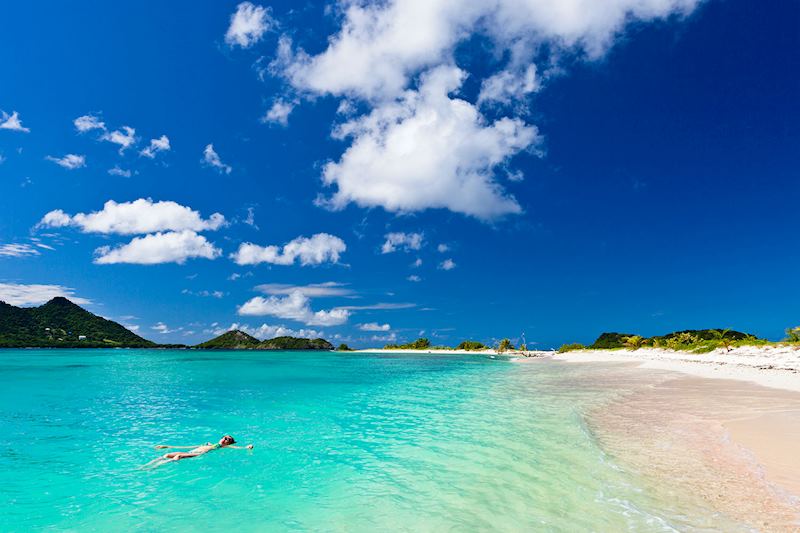 This small island, with a population of only 7,000, is the most southerly of the Grenadine island chain. Only a short ferry ride from Grenada, this laid-back island is even more relaxed in its pace of life. Look out for dolphins on your short journey over to Carriacou, which often follow the boat.
Once there, minibuses cover set routes around the island, or you can hire them as taxis. The north offers great walking trails while the beautiful sandy beaches are a draw in the south. The island also has some great dive sites.
Start planning your trip to Grenada

Start thinking about your experience. These itineraries are simply suggestions for how you could enjoy some of the same experiences as our specialists. They're just for inspiration, because your trip will be created around your particular tastes.
View All Tours in Grenada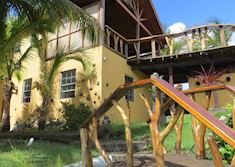 Spend a few days exploring the rugged and peaceful east coast of Barbados before heading to Grenada for a relaxing week at the beach in a spacious villa.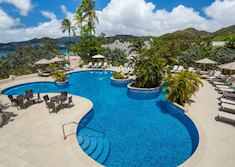 Stay at Antigua's picturesque English Harbour, discovering the island's cultural heritage and beautiful coastline before flying over to Grenada to explore the lush, volcanic landscape and spend time at a luxurious beach resort.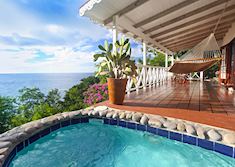 Discover Grenada's nutmeg and cocoa plantations and beautiful countryside before heading to St Lucia for a week on the beach at the charming Ti Kaye Resort.