By Caribbean specialist Annabel
The bread and butter of Caribbean hoteliers has long been beachside resort hotels. But, if you like a more intimate stay, there's also a good range of tucked-away boutique properties. The islands' historic towns, colonial plantations and wild coastlines are ideal settings for properties that offer something different.
You could stay at a working cocoa plantation on Saint Lucia or a reclaimed sugar estate on Nevis, or trace Nelson's footprints on Antigua — I've picked out some of the best choices below.
By their very nature, boutique hotels sometimes don't have direct beach access or huge amounts of facilities, so I've also suggested a complementary property for a two- or three-stop trip.
Little Arches, Barbados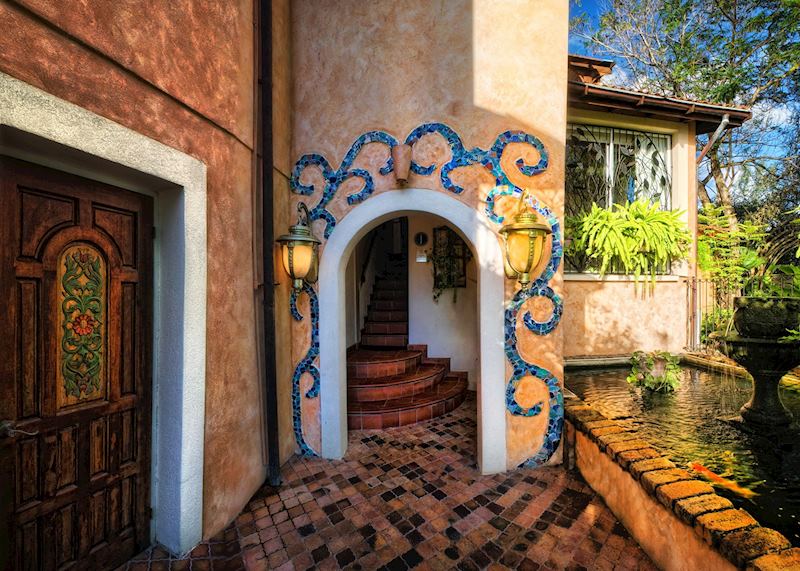 Away from the glitz of west Barbados, Little Arches is tucked into the more residential southern coast. Originally a (generously proportioned) private home, it's now a ten-suite family-run hotel, styled like a hacienda. Each suite is an individually decorated affair with local ceramics, mosaics and a Mediterranean palette of cobalt blue and terracotta.
You're a few minutes' walk from Enterprise Beach, a long stretch of porcelain-white sand where local residents come to relax in the shade of the surrounding sea grape trees. The gently shelving sand makes it an ideal spot for a swim, but there's also a freshwater pool on the hotel's roof deck and some suites come with their own plunge pool or Jacuzzi.
While this is a stylish escape, for me the big draw is the food. People travel across the island to eat at the hotel's restaurant, Café Luna. With a focus on Bajan cuisine, the menu draws from locally sourced breadfruit, chicken and seafood — the shrimp sautéed with a curried pineapple cream was a highlight. Meals are served on the alfresco terrace, which glows at night with candles and fairy lights.
But, don't get too comfortable. A short walk away is Oistins Fish Fry. On a Friday night, islanders get together to dine on freshly caught seafood at this Bajan institution.
Rows of street vendors display piles of flying fish, swordfish and fishcakes waiting to be fried fresh — you choose a sauce or seasoning. The party atmosphere continues late into the night with dancing in the streets to the beat of a soca band.
For a full trip: Barbados, Grenada and Bequia
With extensive flight connections, Barbados connects well with some of the lesser-visited Caribbean islands including Bequia in St Vincent and the Grenadines, and Grenada. I suggest combining all three for a two-week trip that takes in a real cross-section of the Caribbean.
Fond Doux Plantation & Resort, Saint Lucia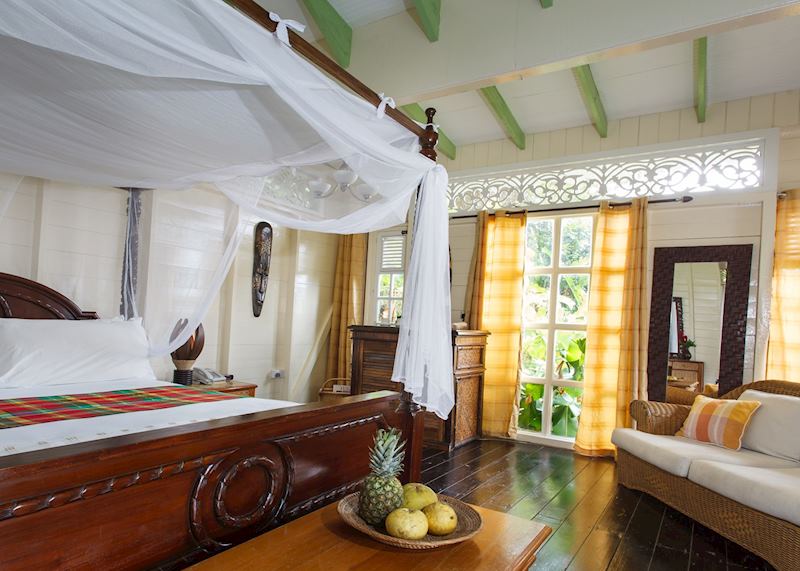 I hadn't been at Fond Doux Plantation & Resort long before my guide, Clinton, surfaced to give me a tour. As we followed a trail through the fruit orchards, I tried apricots, love apples and starfruits picked straight from the trees. Hummingbirds flickered about the tropical flowers, and Clinton showed me how to call them using a series of squeaky whistles.
We then moved into the cacao groves, where the pods dangle from heavily laden boughs. The plantation still makes its own chocolate, which you can sample, as well as seeing the process unfold from bean to bar.
The plantation has retained its character as an 18th-century French colonial estate, with the original owners' wooden cottages converted into simple but comfortable accommodations. There's a pool, spa treatments and the Bamboo Restaurant, which creates Creole dishes out of ingredients from the plantation gardens (look out for the organic chocolate cake).
Staying in the jungled shadows of Saint Lucia's twin pitons, you're surrounded by so much biodiversity that the region was made a UNESCO World Heritage Site in 2004.
A number of trails run past the hotel, ranging from gentle ambles to the summit route up Gros Piton, the tallest volcanic spire. The old capital, Soufrière, is a short drive away and, if you're craving the beach, complimentary shuttles will run you there in 15 minutes.
Petite Anse, Grenada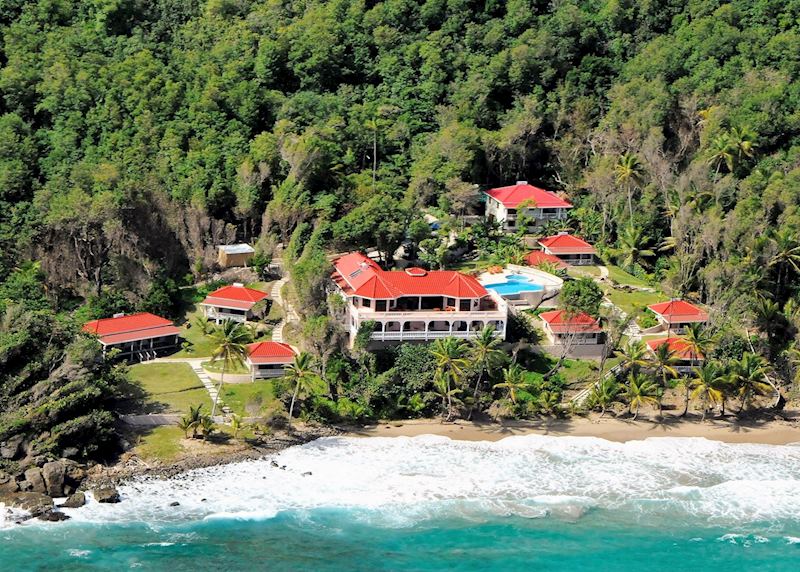 If you'd like to stay in a place where you're on first-name terms with the staff and can join the owners for a nightly tipple (or even a morning run), Petite Anse is the answer. British couple Philip and Annie Clift have built a 12-room property and cottages in a secluded cove on Grenada's quiet north coast.
This isn't a flashy hotel, but the rooms are comfortable and have their own veranda — opt for a beachfront cottage that takes you straight onto the sand.
The beach itself is a narrow sweep of undeveloped sand, bookended with volcanic, foliage-topped cliffs. Grenada's north coast has stayed relatively wild thanks to the rough ocean, so swimming is often off the cards. Petite Anse compensates for this with a pool on terrace.
While owned by a British couple, the hotel feels very Grenadian. Staff members are recruited from the nearest town, Sauteurs (as were Darius the donkey and Darcy the goat), and the restaurant serves home-cooked Grenadian specialties using local ingredients.
On Sunday mornings, everyone is invited to hike to a nearby bay — with a pit stop at Bev's Rum Shop — before enjoying a lunchtime barbecue.
You're well located for exploring the island, too — by car, bus, bicycle or guided tour. There are rum distilleries and spice plantations to visit, but Philip and Annie are always happy to help you discover some lesser-visited spots, including the local fishing town of Gouyave, a nearby turtle nesting site (April–May) and a dairy goat farm.
For a full trip: Grenada and Saint Lucia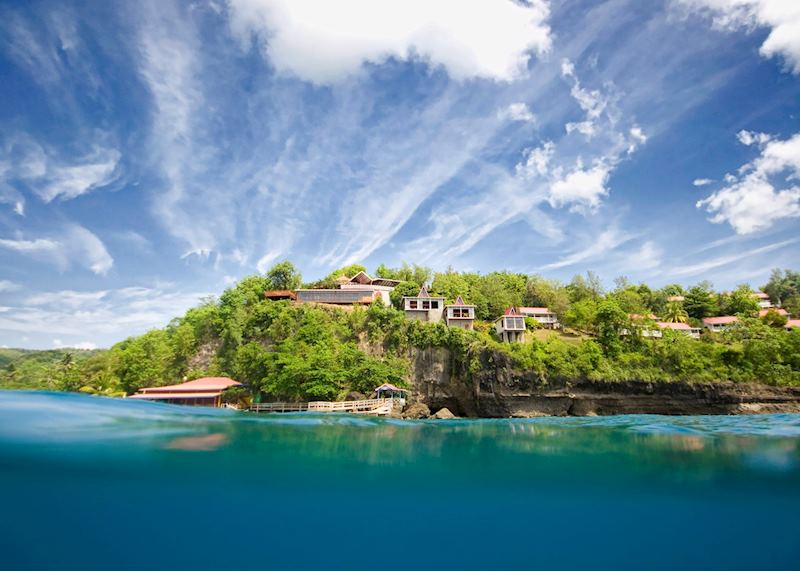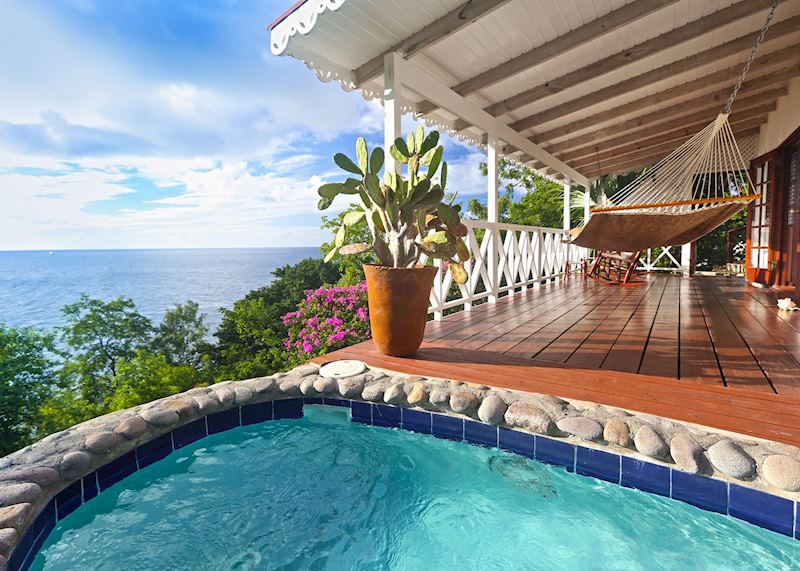 After staying at Petite Anse on the roller-buffed northern coast of Grenada, I'd point you toward the calm, glassy bays of Saint Lucia.
One of the best swimming and snorkeling points on the island is from Anse Cochon Beach at Ti Kaye Resort & Spa. With 33 rooms, Ti Kaye is one of Saint Lucia's more intimate resort hotels.
The two properties pair well for a combined trip to Grenada and Saint Lucia.
Montpelier Plantation Inn, Nevis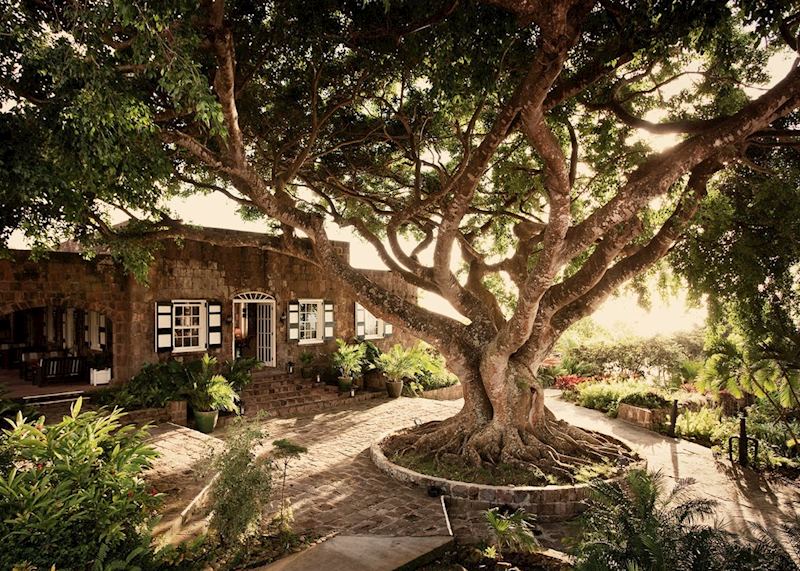 The Caribbean boasts a number of converted colonial plantations, but none have the historical clout of Montpelier Inn on Nevis.
The island itself warrants historical tomes — Alexander Hamilton grew up here, numerous battles played out in its waters, and British royalty holidayed here. It was also a focus of abolitionist activity, and Cottle Church, on the north of the island, was the first to welcome enslaved workers.
Britain's renowned Admiral Lord Nelson orchestrated many battles from Montpelier Inn, his preferred home on the island. So much so that he married Frances Nisbet, the niece of Nevis's council president, under the boughs of a bodhi tree in the inn's courtyard. The tree is still at the heart of the estate, which now encloses a collection of contemporary villas built around the colonial remnants.
Relaxation is a focus here, in the form of a pool, open-air spa and yoga terrace. The inn's private beach — with private cabanas to seclude yourself away in — is a 15-minute drive away (courtesy of your hosts).
Despite Nevis's prime role in the sugar industry, much of it is still primary jungle. Hiking here feels wilder than on other islands, and guided treks can be arranged while staying at Montpelier.
The inn's restaurant, the Mill Privée, makes use of a 300-year-old sugar mill that still stands proud in the garden. In the evening, its roughly hewn volcanic bricks are lit by candlelight and you can sit down to a six-course tasting menu featuring locally sourced produce. Very little surrounds the inn and, after dinner on a clear night, the stars come out in droves.
For a full trip: Nevis and Antigua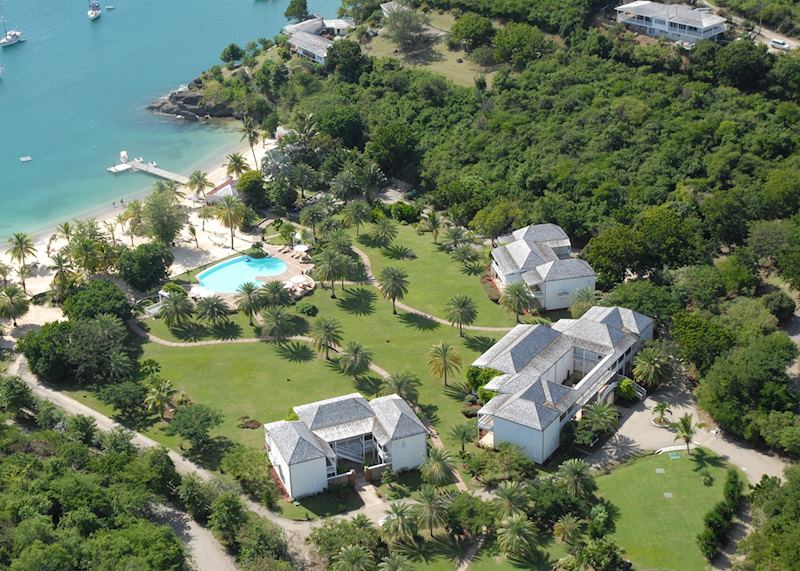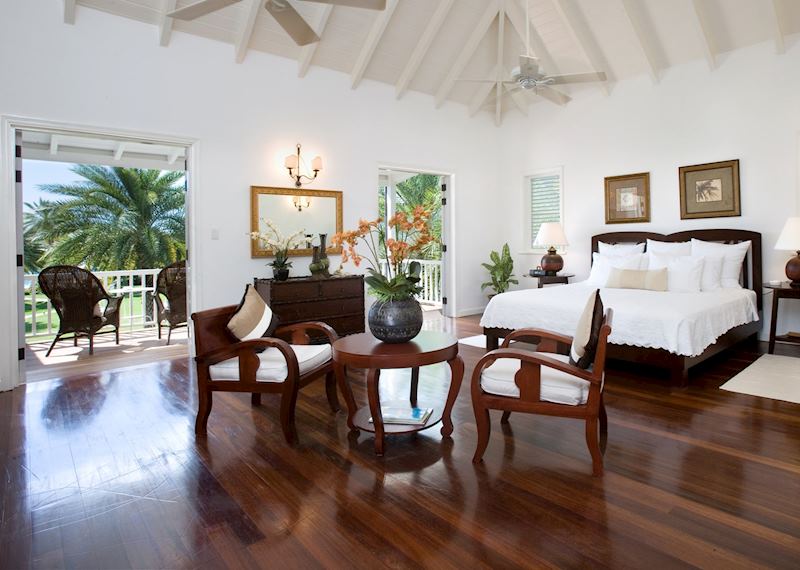 You can continue in Admiral Nelson's footsteps and take a trip that combines Nevis with Antigua.
The Inn at English Harbour on Antigua is set on its own secluded beach, a short, complimentary boat ride away from Nelson's Dockyard (the admiral lived here when it was a Royal Navy dockyard). Its often-yacht-filled marina hosts a range of fine-dining restaurants, which light up the waterside at night.
Start planning your Caribbean trip
Barbados, St Vincent and the Grenadines and Grenada

Saint Lucia and St Vincent and the Grenadines
Start thinking about your experience. These itineraries are simply suggestions for how you could enjoy some of the same experiences as our specialists. They're just for inspiration, because your trip will be created around your particular tastes.
View All Tours in The Caribbean