By India specialist Sophie
India's western foothills region is a special place, spiritually: it's all about the harmonious, no-nonsense, rubbing-alongside-each-other of different religions.
The places and experiences I'm going to talk about can all be included in a loop itinerary of the western Himalaya. You'll find all sorts of different faiths here, and the images that you might associate with spirituality in India come bursting into life.
Think worshipers lining the ghats of the Ganges, mountaintop Buddhist monasteries with flickering prayer flags, temples of glimmering bright gold and yoga retreats. I've even thrown in a British colonial church or two.
Delhi: for religious diversity, mosques and morning yoga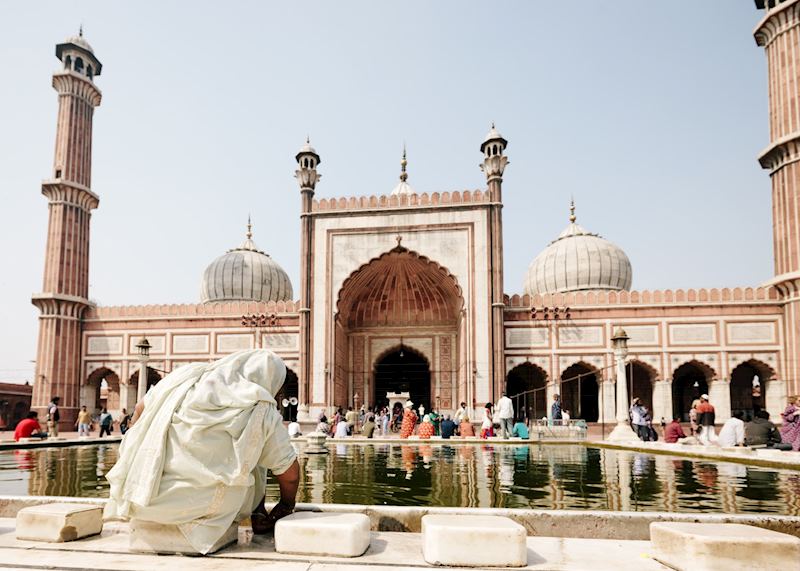 I'd start your journey in Delhi ― specifically, Old Delhi, where just a walk through Chandni Chowk sets the scene for the rest of your trip. In this bazaar-like quarter of narrow streets with shops selling everything from silverware and sari fabric to essential oils and spices, you'll see a mosque, church and a Sikh temple lined up in a row. For me, it's the epitome of how India is all about the coexistence of religious beliefs and communities.
While in Old Delhi, you can visit Jama Masjid Mosque, India's largest. Dating back to the mid-17th century, it's a venerable relic of red sandstone and marble, finished off with three domes and a pair of minarets, which you can climb for views over Old Delhi.
When you walk in, you feel engulfed by the size of its central open courtyard, which can hold over 25,000 worshipers during peak prayer times. But, for the most part, you can roam freely around the high-ceilinged halls which make for a cool respite from the surrounding busy streets.
We can arrange for you to take a yoga class virtually anywhere in India, but one of my preferred settings is the green haven of Delhi's Lodi Gardens. You can start the day with sun salutations among the park's lawns, landscaping and lake, before inspecting its scattering of 15th-century sultans' tombs.
Shimla: for Christ Church, the definitive colonial Christian church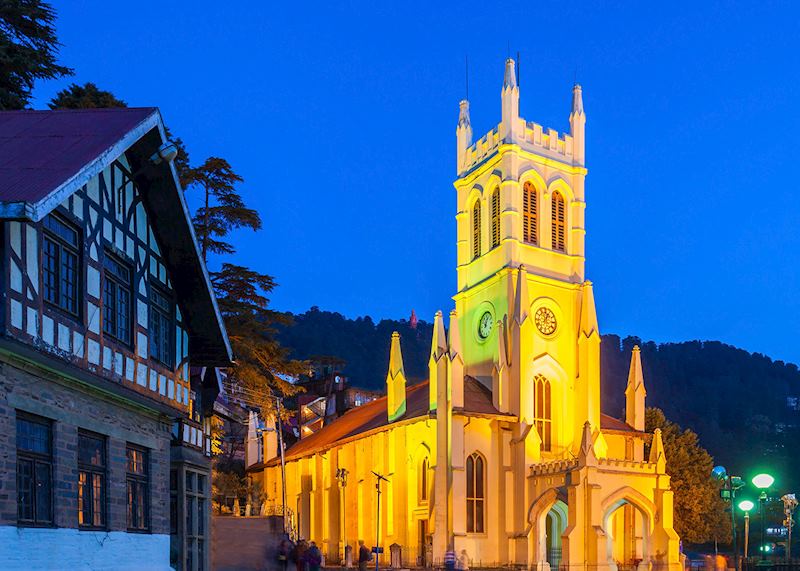 A hill station constructed amid the cooling pine forests and mountain slopes of the Himalaya foothills, Shimla was once the summer eyrie of the British Raj.
The British looked to home when it came to constructing Shimla, so you'll find lots of mock-Tudor houses. Lording it over the whole town sits Wildflower Hall, a turreted pile that mimics an English country estate and once belonged to Lord Kitchener. Now Shimla's foremost luxury hotel, you can still take afternoon tea on the lawns.
Another side effect of transporting Britain to the Himalaya is the presence of Christian churches. Christ Church, a vanilla-yellow neo-Gothic building, occupies a good vantage point over the town, and its serene interior contains several pieces of interest. Inside, you'll find walls the same shade of yellow, while ogee arches soar elegantly upwards in the nave, framing the main altar.
India's largest pipe organ sits on one side of the church, and sunlight pours through jewel-like stained-glass windows depicting the six Christian virtues. You can even see the pew where the Viceroy would once have sat.
Farther afield lies the red-brick Saint Andrew's Church, now deconsecrated and filled with rare books as part of Shimla's State Library.
As a contrast to the churches, you might like to walk to one of the Hindu temples above the town. One trail takes you to a temple dedicated to Tara Devi, goddess of the stars, while another leads to Jakhoo Temple, dedicated to the monkey god Hanuman. Appropriately enough, monkeys scurry around the temple and its surrounds, acting like they own the place (which, I suppose, they do).
The best way to get to Shimla from Delhi is to do as the British Raj did, and travel by rail. It's a day-long journey which culminates in a trip on India's first narrow-gauge railway — a scenic, five-hour peregrination across the lower Himalaya.
Dharamshala and McLeod Ganj: for Tibetan Buddhism in the Dalai Lama's adopted home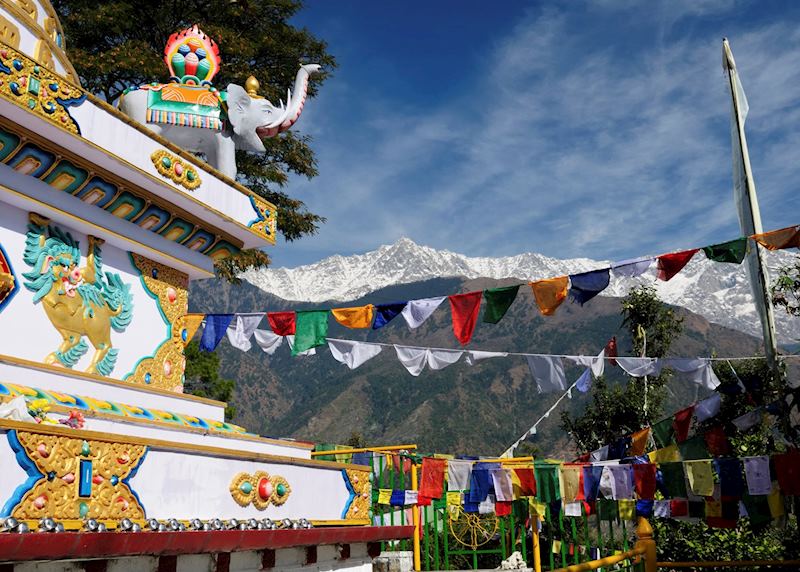 Cupped by the Dhauladhar range, Dharamshala and McLeod Ganj is the seat of the Tibetan government in exile and the Dalai Lama's place of residence. It's around eight hours' drive from Shimla, so I suggest an overnight stop along the way — the public transport is limited here, so a private car and driver is the best way to explore.
Dharamshala extends across the sharp slopes of the mountains in huddles of hamlets, and it's here you'll find markets selling Tibetan handicrafts such as thangkas (paintings on cotton or silk), shawls and prayer flags. When I last visited, my driver drove me up one of the smaller peaks, and we hung prayer flags from the trees.
Farther up the mountainside lies McLeod Ganj, the Dalai Lama's HQ. Monasteries sit among the deodar cedar and Himalayan oak forests, looking out over snow-topped mountains.
Ask your guide if you can perform a kora (circular walking route) around one of the monasteries. You'll be joined in your walk by pilgrims and the faithful, who perform kora as an act of meditation. Like them, you can spin prayer wheels clockwise as you go (which is believed to release the mantra, or prayer inside). You might hear devotees chanting 'om mani padmi hum' as they walk — a Sanskrit phrase used to clear the mind.
If the Dalai Lama is in residence we can arrange for you to attend one of his talks or watch him lead prayers. But even if he isn't in situ, I'd still recommend exploring his home and temple, the Tsuglagkhang Complex. During my last visit, my guide clocked one senior monk in particular and ushered me toward him.
We stood and talked for a while. He explained the meaning of Buddhism to me, and even though I've studied the religion, hearing it from his lips was quite something. Then, in reference to the Dalai Lama, the senior monk suddenly asked me, disarmingly casually, 'So — do you have any questions for him?' There was, of course, so much I could have asked — but I was so taken aback, my mind drew a blank…
You can learn more about what to do in Dharamshala and McLeod Ganj in our guide to India's western foothills.
Amritsar: for Sikhism's holiest shrine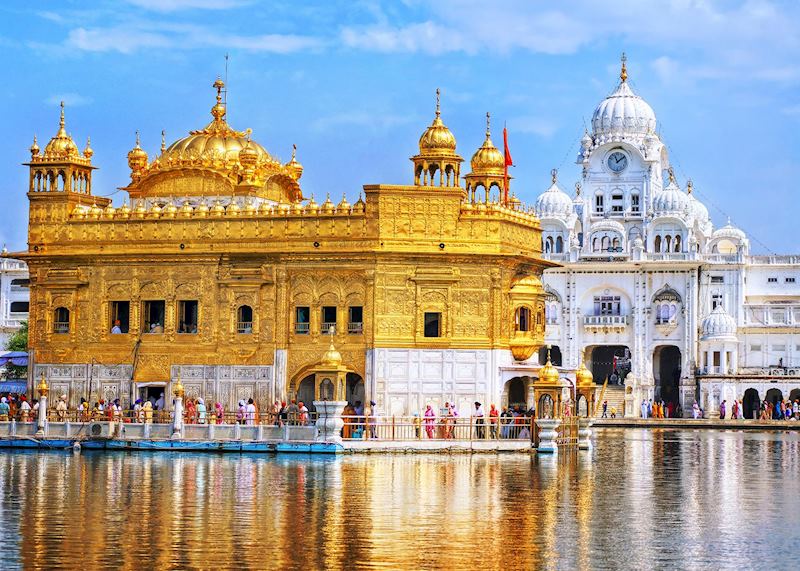 The spangling Golden Temple never fails to make me draw an intake of breath. It seems to shimmer like a mirage above the millpond-like waters of the sarovar, the tank that surrounds it. This is filled with holy water (as well as carp, who help to keep it clean).
For Sikhs, this water is the very 'nectar of immortality,' and I find it moving to see believers bathing in it, knowing its magnitude for them.
Stepping inside the temple complex, I'm always bowled over by the peace of it, despite all the visitors. Volunteers can show you around, though I'd always go with a guide who can explain features of the temple in more detail.
The Sikh holy book, the Guru Granth Sahib, sits under a canopy amid floral offerings and much gilding, and is 'put to bed' every night with pageantry. You can watch this nightly ceremony, which also gives you a chance to see the Golden Temple illuminated in the evenings. The book is 'awoken' at around 5am, but I wouldn't recommend attending that ceremony unless you're a real early bird.
I find Sikhism the most welcoming of all the religions you'll encounter in India, and this is exemplified by the fact that you can go down into the langor, the temple's community kitchens, and get stuck in helping the volunteers prepare food for the thousands of daily visitors.
You'll see someone stirring the dhal in huge vats, and you can help out with anything from rolling chapatis or washing up. There's no real protocol and no pretension to it. And, you're then free to enjoy the food yourself.
Amritsar is a five-to-six-hour drive from Dharamshala. You can also fly or take the train to Amritsar from Delhi, too.
Haridwar and Rishikesh: for a Hindu aarti ceremony by the Ganges
For me, no spiritual-themed trip to India would be complete without visiting the Ganges. It's everything to Hindus — the embodiment of the goddess Mother Ganga, and bestowed with purifying, sin-cleansing properties.
You might already know about the holy city of Varanasi, and have seen images of its ghats (sacred steps leading to the waterside) crammed with people. But, it's not the only holy city on the Ganges' banks. The cities of Haridwar and Rishikesh offer similar experiences, and they feel a little more off the beaten path (plus, they fit better into a trip through the western foothills).
They're also, I think, less overwhelming. To speak plainly for a second, in Varanasi you're surrounded by the burning ghats (funeral cremation pyres) — there's no getting away from them. But, at Haridwar and Rishikesh, these ghats are located away from the main ghats, so you won't wander past them accidentally.
The river runs faster in Haridwar and Rishikesh, so you won't see people wading out to bathe, but you might see them taking a dip while hanging onto chains. You're really here, however, for an evening aarti ceremony, performed by Hindu priests from a local ashram and attended by locals, pilgrims and inquisitive visitors alike — everyone is welcome, and everyone is included.
The idea behind the ceremony is that the negative energy from the day is lifted up and purged, while offering thanks to Mother Ganga. It's a spectacle, with priests manipulating flaming torches and passing them around the crowd, but it's not a made-for-tourists show. There's an infectious energy to it all: one minute you might be sitting on the ghats, and before you know it you have your hands in the hair, or are joining in the clapping and singing, or saying blessings.
In both towns, your guide can take you on a walk around the various ghats. They'll point out which ones belong to, say, an important local family, or a local ashram.
While you're here, I strongly suggest staying in a spa resort for a bit of relaxation and wellbeing-focused time. One of my best-loved places is Ananda, set in its own forest outside of Rishikesh. You can take part in yoga, meditation, and philosophy classes, try spa treatments and eat Ayurvedic food. All in all, it makes a fittingly restful yet mindful finale to your trip.
Read more about trips to India

Start thinking about your experience. These itineraries are simply suggestions for how you could enjoy some of the same experiences as our specialists. They're just for inspiration, because your trip will be created around your particular tastes.