If there's one guarantee that comes with visiting distant countries, it's that you'll get to experience authentic local cuisine. And if there's one thing we've learned over the years of helping people travel the world, it's if you're looking for great food, the locals know best. From the tastiest Thai street food on a tour with a Bangkok resident to a particularly fragrant tagine inside a family home in Fez, here are some of the best ways to experience local delicacies and home cooking.
Cape Town private food walking tour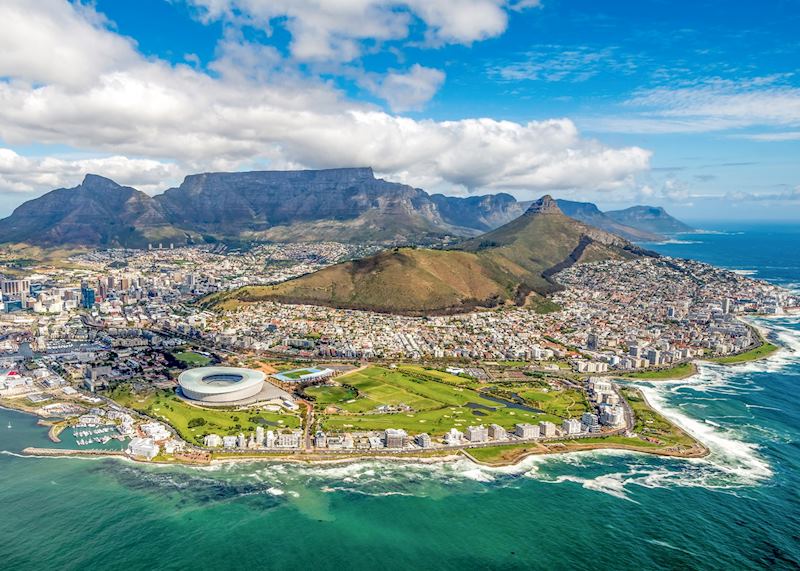 By South Africa specialist Hailey
Once ruled by both Dutch and British colonists, Cape Town has a rich food culture that marries the city's European influences with its African roots. During the colonial era, enslaved workers were brought over from Indonesia, India, Malaysia, and Sri Lanka. Over the centuries, their culinary influences have been passed down through generations of the Cape Malay community.
On this five-and-a-half-hour tour, you'll sample dishes that the diverse locals have been preparing and eating for centuries. With a private guide, you'll visit family-run eateries, sizzling street stalls and artisan coffee roasters, while learning about the history and culture of each area and getting to know the people who cook this food every day.
Exploring the city's African food traditions, try a portion of pap — a plain, very thick, porridge-like dish made from maize that's a staple across Southern Africa. It's thick so that it can be eaten by hand.
In the vividly painted Bo-Kaap district, you can sample Cape Malay specialties such as freshly-prepared samosas, babotie (spiced mince baked with a golden egg-based topping), and koesisters (spiced doughnuts).
Visiting an Indian eatery, sample the bunny chow (a rich curry served in a hollowed out loaf of bread). Then compare it to the Afrikaans-influenced vetkoek (fried dough bread filled with well-seasoned ground beef).
Finally, you can visit an independent micro coffee roaster, learn from the owner about the coffee-making process, and sit down for a mug of some of the best coffee you'll ever have.
Street-food tour of Calcutta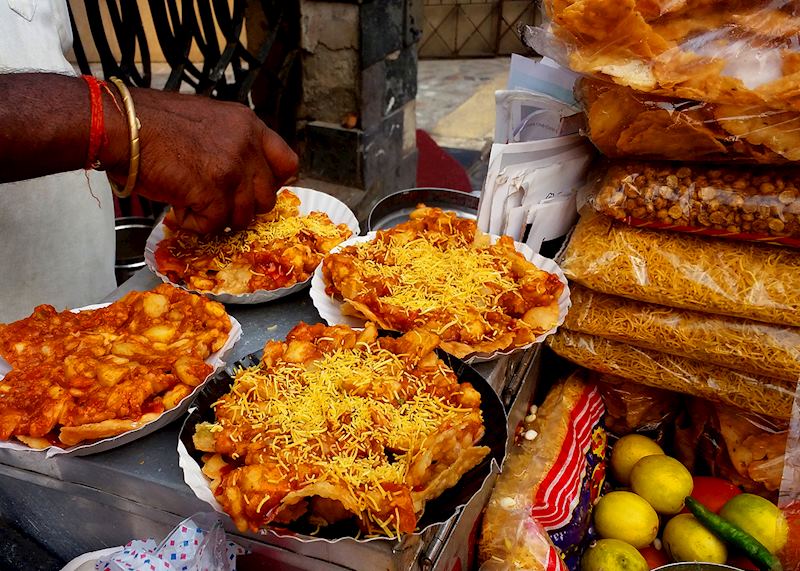 By India specialist Alison
Ifte, a Calcutta local, and his tiny team don't run guided tours. Instead, they offer a chance to roam the city with a trained explorer, visiting less-frequented districts.
Take a street-food walk and you'll find yourself wandering down dusty streets, past a rickshaw-wallah taking a nap, to find a tiny, steaming room where puri (crispy bread) is being fried. You'll be led to an open shopfront where a man sits, patiently tending to a vat of brewing chai. When it's ready, the sweet, spiced tea is served in little clay cups, thousands of which are made and recycled by potters across the city each day.
The capital of British India, Calcutta became a global city, a history you can taste in the chow mein served in Tiretta Bazar and Armenian dolma (stuffed vegetables) in the flower market. Be sure to try a kathi roll, Calcutta's most popular snack. Scrambled egg is spread across a paratha (fried unleavened bread) and topped with chutney, paneer, and vegetables before being expertly rolled together.
Bengalis are known for their collective sweet tooth, and after trying some of Calcutta's sweets and puddings, you'll understand why. You'll walk past a number of glass-fronted sweet stalls where dairy, nuts and sugar (the key ingredients in most Indian sweets) have been assembled into a variety of balls and squares.
Rasgulla are white dumpling-shaped balls of cottage cheese that have been soaked in a very sweet syrup so that they dissolve in your mouth. If that's a little too much sugar, consider finishing with mishti doi, a sweetened yogurt (served in another clay pot). Here, the sugar is curbed by the tang of the yogurt — it's a refreshing break from the Calcutta heat.
Thai food tour of Bangkok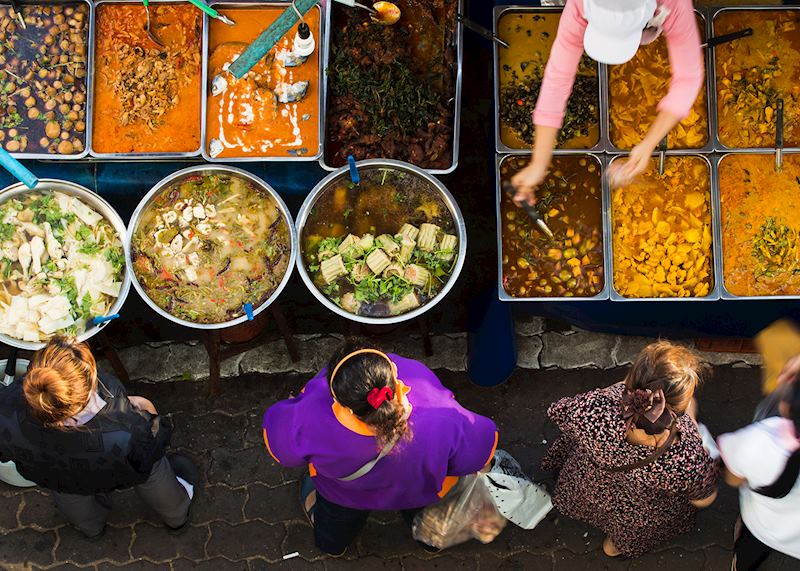 By Thailand specialist Jack
Much has been written about Bangkok's street food. There may be sky bars with panoramic views and fine-dining restaurants with innovative tasting menus, but in Bangkok, the street stalls steal the show.
With good reason, the city's street food has become legendary but it can easily feel a little overwhelming. There are so many regions to explore and specialities to taste that it can be hard to know where to start. The best way to make the most of your time in the city is to take a guided tour with a local resident.
A good starting point is Bang Rak, a commercial district where hundreds of food stalls are tucked into side streets and back alleys to feed the office workers in the towering skyscrapers above. Many workers have moved here from across Thailand, and are always eager to find dishes from their home town or province. It's an ideal way to dip your toe into regional dishes you might see elsewhere in your trip.
Perch in tiny plastic chairs with your guide to sample gaeng massaman, a thick curry from southern Thailand. Served with a rich coconut-milk-based sauce, you might want to opt for a small portion. As you try tom yum goong, a fragrant, sweet-and-sour soup, your guide may explain the importance of balance in Thai cuisine between sweet, salty, sour and spice.
You'll also get a feel for the heat of Thai food, and can learn key Thai words including mai phet (no spice) or phet nit noi (a little spice). If you do like fiery dishes, try laab, a minced pork dish from northeast Thailand that's served with plenty of fresh chilies, coriander, and fish sauce.
Cooking class in Fez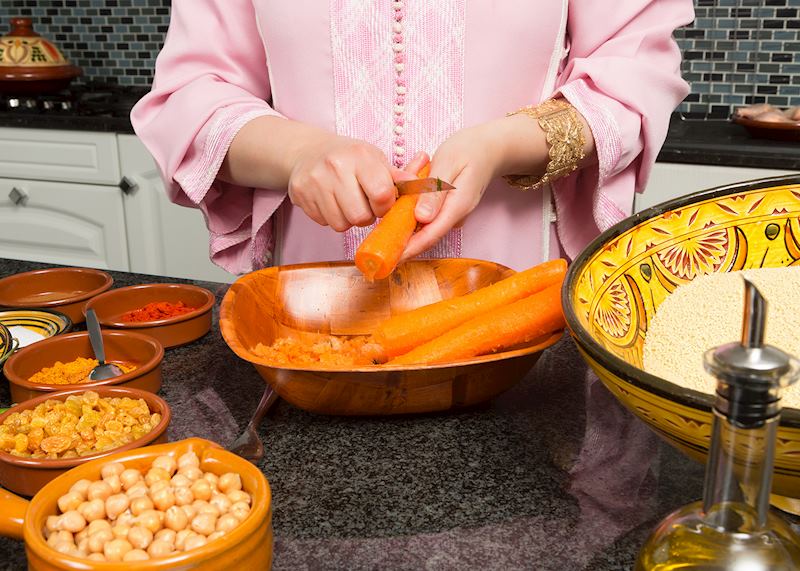 By Morocco specialist Emma
There's a saying in Syria that's common across the Middle East: 'beinanaa khobz wa milah' or 'there is bread and salt between us'. It means that once you've shared a meal with someone, there's a strong bond of friendship between you. It's indicative of the welcome you're likely to find across the region. Perhaps the most delicious way I've ever experienced that hospitality was a cooking class with Ouliya at her family's riad in Fez.
Ouliya is a perpetually smiling woman with dark hair that she wore back in a knot on the day we met. She began by taking me through the fragrant food souqs to get provisions for that day's menu: chicken tagine and a hearty soup called harira. She introduced me to the vendors and explained where the different ingredients came from before we headed back to her home.
Though most riads in the medina have been converted to hotels, hers is still a traditional family home, with most rooms, including the small kitchen, facing onto the sunny courtyard. We began by mixing up the bread dough, and once it was risen, we took it to the communal ovens to be baked. Then I helped her make the main meal, following her casual instructions for a pinch of this and a sprinkle of that.
As the dishes cooked in the funnel-shaped terracotta tagine, we sipped tiny glasses of sweet mint tea off an engraved tray. We ate the meal in the family courtyard, near the white fountain. Enjoying our stew and tagine with her family, I felt like there was bread and salt between us.
Macaron class with Marthe, Paris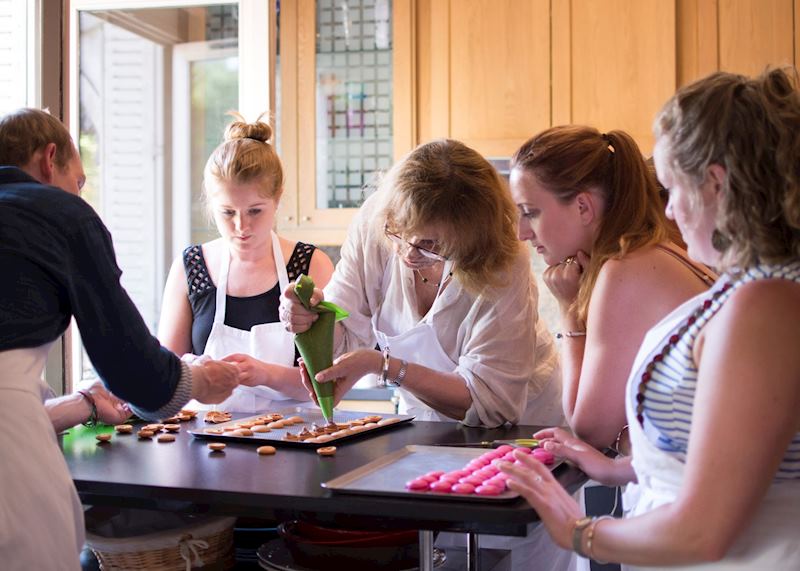 By France specialist Aislyn
There may be no place better to eat like a local than in Paris, a city known for nearly religious devotion to exquisite food — at home and in restaurants.
Macarons are those delicate little sandwich cookies that come in a veritable rainbow of shades, each denoting a different filling. Rosy red means raspberries, brown means chocolate and these days green might mean either traditional pistachio or the slightly more outré matcha tea with mango filling. A recent surge in popularity means they've become ubiquitous around the globe, but the sweet treat is quintessentially Parisian.
On your next visit to France, try taking a cooking class with Chef Marthe, a smiling woman with brown curls and quick, capable hands. She once ran a bistro in the 11th arrondissement, but now teaches exclusively from the small but well-equipped kitchen of her classic Haussmann apartment. With the afternoon sun streaming in through the huge windows overlooking a traditional Parisian boulevard, she walks through the procedures for creating these tantalizing treats.
You'll sift, whip, and pipe under her cheerful, patient tutelage, using only her standard home equipment. Because it's not a high-end professional kitchen, you'll be able to confidently recreate the recipe in your own kitchen after you return.
Once they're baked, cooled and filled, you'll finally taste your creations (though Marthe suggests they will be even better the next day, when they have had time to mellow into a lush, pillowy texture). The shell of the almond-based meringue will be shatteringly crisp and fine between your teeth, giving way to the bright berry burst of filling, the whole mélange dissolving on your tongue into a happy medley.
Cartagena market visit and private cooking class, Colombia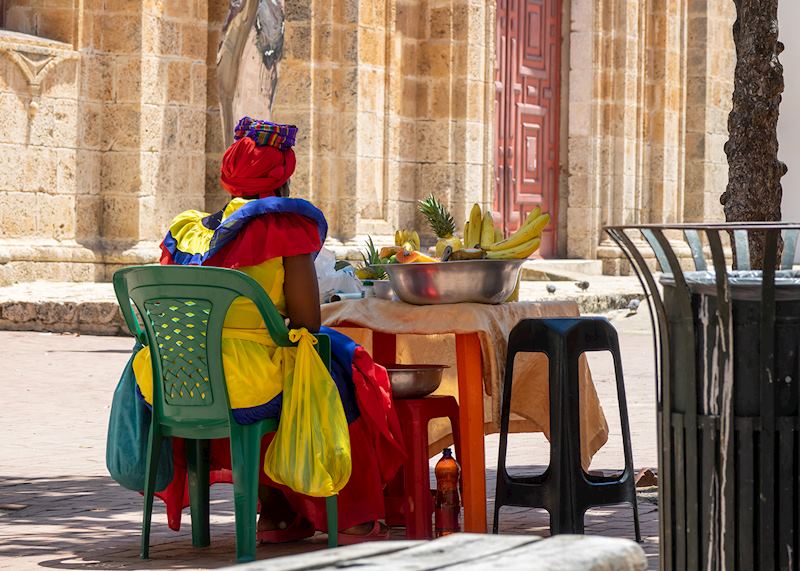 By Colombia specialist Tomas
Cartagena, Colombia's quaint walled city on the Caribbean Sea, is brimming with exquisite places to eat. Not surprisingly, seafood (and the signature local tipple rum) features highly on menus. But so do some of the zany-looking, neon-bright tropical fruits so beloved to everyday cooking in this country.
In this cooking class held at Carmen, one of the city's most celebrated fine dining restaurants, you'll learn how to work with this produce and make artful yet satisfying dishes using it.
You'll start off not in a kitchen, but in one of the city's strictly-locals-only markets, Bazurto, accompanied by Jaime, Carmen's head chef.
Bazurto is located outside Cartagena's city ramparts in an area where few foreign visitors venture. It's a messy jumble of stallholders preparing freshly caught fish, splitting coconuts, hanging pig carcasses and arranging vast heaps of fruit and vegetables in baskets. It's real-life, unpretentious, no-frills Cartagena (expect to see people wandering around barefoot), but it's here many chefs come to glean prime ingredients.
Jaime will likely chat about Colombian cuisine while picking out some of the choicest fruit specimens for you to try: scaly-skinned but sweet-fleshed cherimoya ("custard apples") and the piercingly citrusy, tangerine-like lulo. Back in Carmen's kitchens, Jaime will coax you into preparing a three-course lunch using some of the fruits and fresh fish you just bought, as well as some more classic Caribbean ingredients: green plantains, coconut rice, and fresh palm hearts.
Join a family for home-cooked Creole food in Mauritius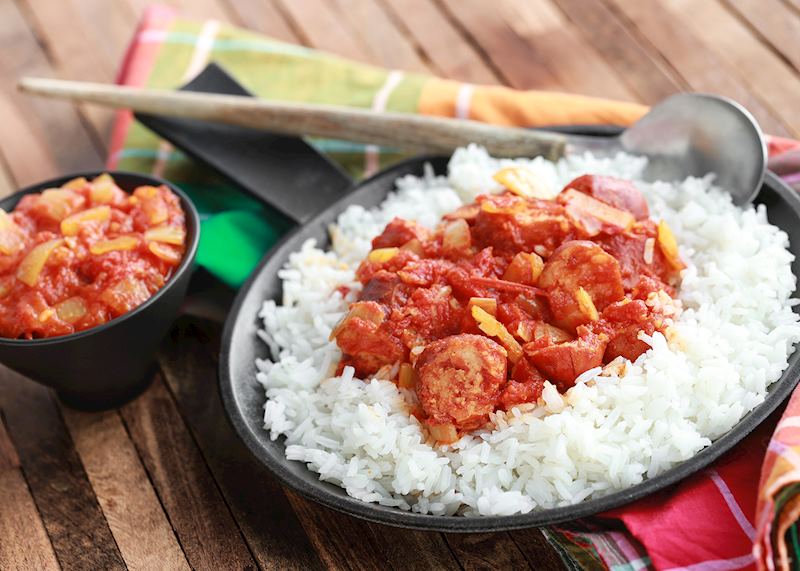 By Mauritius specialist Laura
Many Mauritian hotels offer Creole-style dishes— but there's nothing quite like genuine home cooking. As part of a guided tour of the island, I joined Marie and her family in her traditional Creole home for lunch.
To get there, I drove through central Mauritius, passing through the town of Curepipe. Marie lives in the middle of a small row of houses that back onto tall sugarcane fields. On arrival, she greeted me with a freshly-squeezed glass of pineapple juice and a massive grin. Only reaching my elbow, she's a tiny character with a bubbly enthusiasm for cooking that shone through, despite us not sharing a language (my guide joined us to translate).
While there's a kitchen inside, the majority of the cooking takes place outside under a corrugated iron roof. The traditional cooking technique Marie showed me, feu du bois, uses a wood-fired oven, stoked by blowing into a metal straw. You can see how curry paste is made by grinding spices, garlic and ginger between two stones. Most of the ingredients come from the garden, and a neighbor caught the tilapia fish in a nearby stream.
After the food is prepared, you'll sit at a heavily-laden table. Marie's sister, sister-in-law and young granddaughter, Eva, had been pitching in with the cooking, and sat down to join us. This is an opportunity to dip into a variety of dishes, from pumpkin puree and red lentil soup to deer or goat curry. Indian-inspired curries are popular on Mauritius, but Marie's recipes hark back to African roots, resulting in a more fragrant, sweeter dish.
After a leisurely meal, the women were keen to show me some sega, a dance which originates from mainland Africa — tiny Eva was particularly enthusiastic with her moves. As I departed, they proffered their range of homemade flavored rum.
As part of the day's tour you can also visit a French-colonial mansion for a spot of tea tasting. Afterwards, take a walking tour of the capital, Port Louis, for a well-rounded cultural experience.
Further reading