By Audley specialist June
Morocco's culture has been influenced over time by its Jewish, Arabic, Mediterranean and indigenous inhabitants. This has not only left its mark on the country's languages, traditions and architecture, but it's also reflected in the variety of food served in its streets, restaurants and family homes.
I've found that menus across Morocco feature a selection of mouth-watering lamb, chicken and beef dishes, fresh fish and a variety of vegetarian options. It's easy to try something different each day.
There are also experiences you can include in your trip that focus around making and tasting Moroccan food and giving you a greater understanding and appreciation of Morocco's distinctive cuisine.
Cooking tagine with the women of a local co-operative

The Amal Association is a women's co-operative in Marrakesh's new town, Gueliz. It provides six months of culinary and waitressing training to disadvantaged women aged 18 to 40, helping them become financially independent.
As part of the training, Amal invites visitors to dine and take part in cookery classes out on the association's plant-filled terrace. Together with nine others, I learned how to prepare and cook a tagine. Morocco's signature dish, it consists of meat or vegetables slowly boiled in a broth seasoned with herbs and spices.
Each pair of guests cooked a different type of tagine, based around lamb, fish, beef, chicken or vegetables — I was assigned a chicken and preserved lemon version. After an introduction into the various spices used in Moroccan cooking, we got to work preparing our ingredients and cooking them in a traditional conical clay pot over charcoal, using bellows to control the temperature. At the end, you sit down to eat your creations together.
Making mint tea the traditional way

Moroccans take tea drinking to a whole new level, and I was offered glasses of mint tea everywhere I went. Mint tea was first brewed by indigenous Amiazigh in the Atlas Mountains, but now every home has a tea set.
I was taught how to make tea by several different people during my travels. You'll find that many local people are eager to pass on their tea-making skills, taking pride in this old tradition.
To make mint tea properly, hot water is added to the teapot and discarded several times to remove impurities. Generous handfuls of fresh mint leaves are then stuffed into the pot, along with large blocks of sugar. I was surprised by how much sugar is normally used in the tea — it's best to ask for no sugar if you don't have a sweet tooth.
Serving the tea is another fascinating ritual. The pot is gradually raised higher and higher above the glass as the tea is poured, creating the drink's distinctive frothy top. It's an art to hold the pot as high as experienced locals without spilling the tea everywhere, as I discovered.
Sampling Moroccan street food

If your trip includes a stay in Marrakesh or Fez, you can take a guided tasting trail around the city's medina (old town). I tried out both tours, and they opened my eyes to the breadth of food on offer, and local life in Morocco generally.
The trails lead through bustling, maze-like streets lined with stalls selling rugs, leather bags and lanterns. We stopped at various food stalls to sample local delicacies. These ranged from sweet options like sfenj (Moroccan doughnuts), honey-covered briouats (triangular pastries filled with peanut paste) and krichlat (biscotti-like biscuits) through to harissa-spiced olives, méchoui (spit-roasted lamb) and fresh snails.
One of my highlights was visiting a local bakery. Nearly every street has one, so that local women and children can easily bring the dough they've prepared at home to be baked in the communal oven. A man is in charge of the cooking. He uses a long, oar-like wooden stick to place the dough inside the open furnace and remove it once baked.
Dining on fresh fish in Essaouira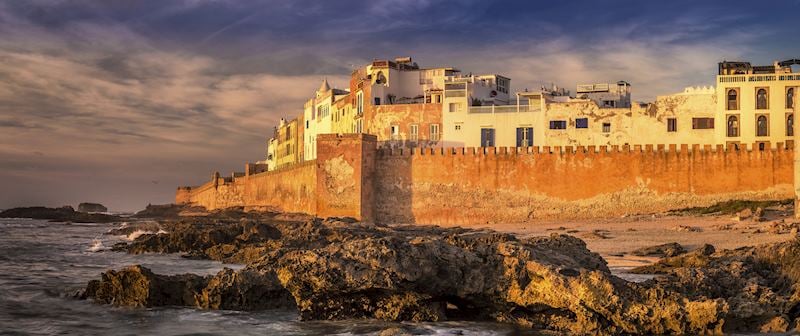 On Morocco's west coast, the laid-back town of Essaouira has a historic port where fishermen bring in their catch each morning. I headed out early one day to stroll around the ramparts overlooking the quay and watch the men empty their nets as local people bartered for their catch, which included thousands of sardines. This rush of activity is accompanied by a chorus of the hammering of boat builders at work and the cries of hungry seagulls overhead.
Lined up along the port are outdoor fish grill restaurants. They're known by their number as well as their name, and I ate at number 11, Chez Scow. While small, simple and often quite crowded at lunchtime, the fresh fish served here is delicious and very reasonably priced. I tried the red mullet and calamari — quite honestly the freshest and tastiest seafood I've ever eaten.
Joining a Moroccan pastries workshop

While in Morocco, you're likely to be greeted with plates of traditional sweets and pastries. These are usually accompanied by mint tea in restaurants, hotels and local people's homes, and are used by Moroccans to celebrate special occasions.
I joined a class to make some of these delicacies at hotel-restaurant l'Atelier Madada in Essaouira. Its oriental pastry workshops are run by British chef Alyson with the help of an experienced Moroccan cook. The workshops, for up to eight people, take place in a modern kitchen with a relaxed, informal atmosphere.
My group made gazelle horns (horn-shaped pastries filled with almond paste) and orange blossom biscuits. After watching the cook skillfully prepare the ingredients and work the pastry into the correct shapes, we had a go. Making the gazelle horns was harder than it looked, but I enjoyed attempting to master the skill.
While our pastries were in the oven, we learned how to make mint tea. The smell of freshly baked biscuits soon filled the kitchen, and we were able to eat a few of our delicacies still warm.
Food to try in Morocco

Tagine
The familiar conical earthenware pot surrounds stews cooked with meat, fish or vegetables, usually served with couscous. The complex and aromatic spice blend, Ras el Hanout, is used to create the tagine's distinct taste.
Couscous
Made from steamed semolina grains, Moroccans will ball it up in their hands along with the main dish instead of using cutlery.
Brochette
Succulent pieces of roast chicken or lamb, cooked on skewers.
Pastilla or b'stilla
Minced pigeon meat, almonds and spices served in layers of flaky pastry and dusted with icing sugar and cinnamon for a sweet and savory contrast. You'll also find chicken and seafood versions.
Harira
A hearty soup traditionally used to break the fast during Ramadan and often served as a starter or snack. It's usually made of tomatoes, lentils, chickpeas, lamb and spices.
Morocco restaurant recommendations

El Fassia, Marrakesh
55, Boulevard Zerktouni - Gueliz & 9, Bis Zone Touristique de L'Agdal, Km 2 Route de L'Ourika
Local women own and run this traditional dining experience in Marrakesh. The food is often referred to as the best in the city, and the shoulder of lamb earns particularly high praise.
You can choose from a set or à la carte menu. Advanced booking is recommended.
Le Foundouk, Marrakesh
55 Souq el-Fassi
A gentleman with a lantern will greet and lead you through a winding alleyway to Le Foundouk.
Choose from Moroccan and international dishes — I recommend the lamb and fig tagine. Dine in the inner courtyard or the candlelit roof terrace in summer.
Grande Cafe De La Poste, Marrakesh
Corner of Boulevard El Mansour Eddahbi and Avenue Imam Malik, Gueliz 40,000
Dine in the colonial ambience of the café's former years as jazz music plays around you.
The menu contrasts Moroccan fare against French and international dishes, and the cocktails are excellent. I particularly liked the starter of monkfish carpaccio.
La Maison Bleue, Fez
33 Derb El Miter, Talaa El Kbira, Ain Azliten
This restaurant has a reputation for being one of the best in Fez. Built in 1915, it maintains the charm of its first and eminent owner, Mohammed El Abbadi — astrologer, man of law and professor at the University of Quaraouiyine.
The food is beautifully presented throughout its five-course menu. I recommend trying a traditional pastilla dish here.
Start planning your trip to Morocco

Start thinking about your experience. These itineraries are simply suggestions for how you could enjoy some of the same experiences as our specialists. They're just for inspiration, because your trip will be created around your particular tastes.
View All Tours in Morocco