By Audley Morocco specialist Brigitte
The band of the Atlas Mountains stretches across northwest Morocco, while green valleys speckled with orchards and vegetable patches lie below. This is a far cry from the stone and sands of the Sahara in the southeast, a barren land occasionally broken up by streams of green where palms line rivers that come plunging out of steep-sided gorges. Morocco's landscapes are diverse and, as such, the country offers varied, stimulating terrain for walkers of all fitness levels.
What I love about walking in Morocco is that it offers many chances to meet and interact with local people, whether it's stopping for mint tea at a village household after a gentle two-hour stroll or visiting a nomadic encampment while exploring desert sand dunes.
Walking in the Atlas Mountains
Go on a day walk in the Ourika or Ouirgane Valley

A 45-minute drive from Marrakesh, the agricultural heartland of the Ourika Valley sits in the foothills of the High Atlas, with the Ourika River winding its way along the valley bottom.
It's criss-crossed with trails that you can walk during guided day hikes, and you'll find yourself passing through fields of tomato plants and orchards laden with figs and pomegranates. Your guide will happily pick fruit as you go and urge you to taste local produce such as intensely sweet, delicate-skinned white figs.
The Ouirgane Valley has a much more Mediterranean landscape. Sparse pine, juniper and cypress trees dot the reddish earth, and you can look upwards to russet inclines of soft sandstone, carved by the trickle of a thousand rivulets. Hill-walking is relatively moderate here as the valley is wide and level.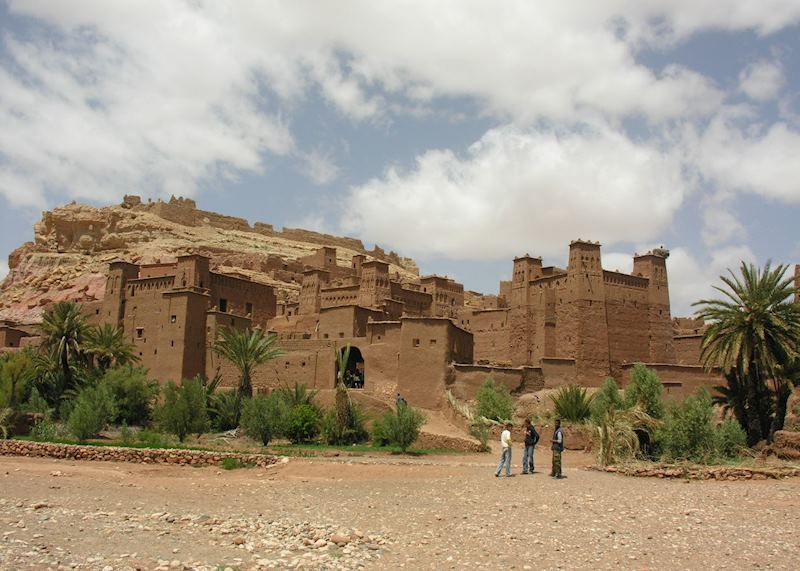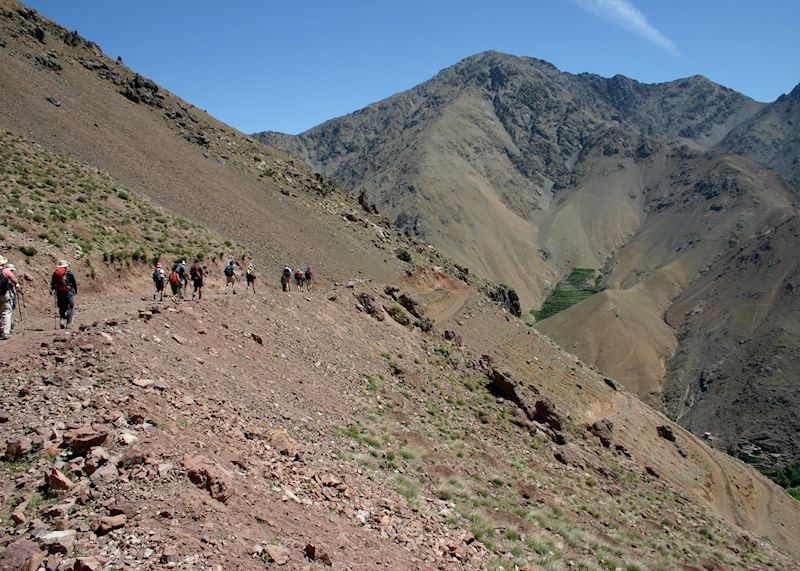 As you're walking in these valleys, you'll make out waterfalls and tiny Amazigh villages clinging to the mountains. Constructed with rough stone bottoms, mudbrick walls and flat roofs, these settlements are designed to blend into the landscape: sometimes you have to look quite closely to realize one is there at all.
Kasbah Bab Ourika in the Ourika Valley makes for a plush base for exploring the valley's trails. Resembling an authentic Moroccan kasbah, its rooms are decorated with traditional local furnishings — rugs, throws, candles and lamps — and there's a large pool.
Stop for lunch with a Amazigh family

On day walks in and around the Atlas Mountains you can stop and have lunch with a family from the Amazigh people. It's an experience I'd recommend without hesitation: a first-hand glimpse into the culture and everyday life of Morocco's indigenous people.
All meals begin outside as you sit on low stools in the family's yard and drink mint tea while bread cooks in the traditional beehive-shaped bread oven. You'll then head inside for flatbread, couscous and meat or vegetable tagine.
Mint tea is an important part of Amazigh hospitality. Great bunches of mint are fed into the top of the conical teapot lid. Once sugar has been added, your host will pour out the tea at least twice to aerate it, holding the teapot high in the air so that the stream of liquid swashes into glasses below.
If you visit in September or October (during wedding season), expect to hear music, drumming and the sounds of women ululating.
Set out on a multi-day hike from Imlil

If you wish to head out on longer walks at a higher altitude, I'd recommend starting from the village of Imlil, which sits at 8,000 feet (2,500 m), close to the base of Mount Toubkal and roughly a 90-minute drive from Marrakesh.
The scenery around here is craggier and the paths are steeper and rougher under foot as you peer down to the deep valleys below. There are numerous trails, including a five-hour hike from Imlil to the remote Azzaden Valley.
There are several types of accommodation for two or even three-day hikes from Imlil. On multi-day hikes, it's possible to stay with a Amazigh family or camp out on the hillsides.
Camping here does not mean roughing it: you are accompanied by a guide and a private chef while a mule carries your luggage. Tents are comfortable, with proper mattresses and separate sanitary facilities, including a Portaloo-style toilet housed within a separate tent.
Alternatively, you could stop overnight at the tiny Toubkal Lodge, which was built along sustainable principles in partnership with local people. Rooms are fairly basic but all are en suite with underfloor heating and a wood-burning stove.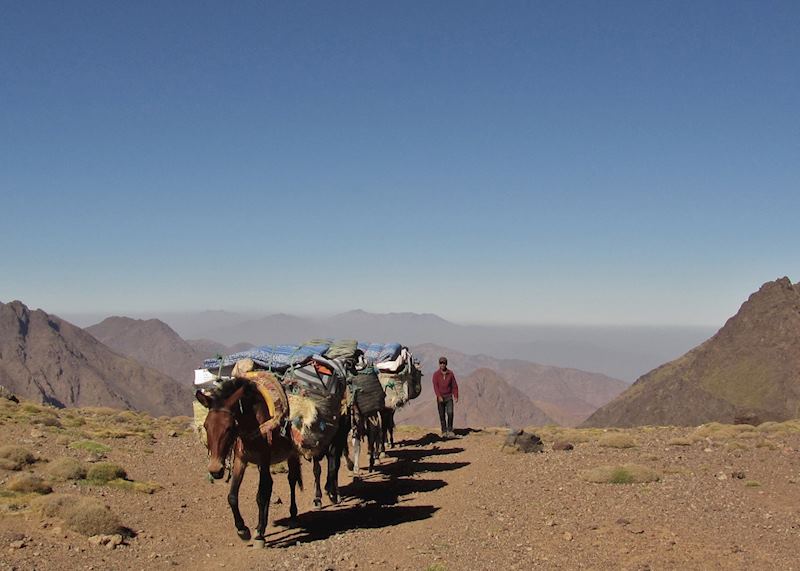 The Lodge is owned by the Kasbah du Toubkal, a rebuilt fortress with panoramic views of the mountains and the area's most well-appointed accommodation. You can stay there during day hikes or use it as a more comfortable base to come back to after longer expeditions in the Atlas. I particularly like its garden apartment, which has sliding windows on two sides and a deck overlooking Mount Toubkal.
At the end of the day, around Imlil, you'll hear the call to prayer ring out from the mosques of the Amazigh mountain villages. The local muezzin begin their calls at different times so I could pick out individual voices. The stars were just beginning to come out as I stood gazing at the darkening landscape and listening to the chants echoing all around me.
Summit Mount Toubkal, North Africa's highest peak

This guided hike can be done over two or three days. On the two-day route, you tackle the bulk of the climbing on the first day before camping overnight and summiting early the next morning. Three-day routes go at a slower pace. At 13,671 feet (4,167 m) high, Mount Toubkal poses the risk of altitude sickness, so smaller, localized acclimatization hikes can be helpful. The ascent rewards you with views stretching over the High and Anti-Atlas Mountains, with the Sahara shimmering in the distance.
City and desert walks in Morocco
Take a walking tour of Marrakesh or Fez

Walking in Morocco is more than a leisure pursuit: it's a crucial part of the country's culture. Cities such as Marrakesh and Fez, with their labyrinthine streets, were never built for cars. Some of Fez's 9,000 streets are so narrow and tortuous that you are obliged to turn sideways to pass down them.
As well as helping you navigate the maze of craft and spice souqs, your guide will help you unlock the cities' secrets, for Morocco can be a reserved, inward-looking society.
A mosaic fountain may lie hidden around a corner, or a semi-crumbling edifice may turn out to be a historic fondouk (inn) where itinerant merchants have stayed for centuries.
The scent of wood smoke will tell you that a steaming hammam lies tucked down a side street nearby. An imposing oak door cut into a wall swings open to reveal the shaded, tiled courtyard of a private riad, a pool scattered with rose petals at its center. But none of this is apparent from the street.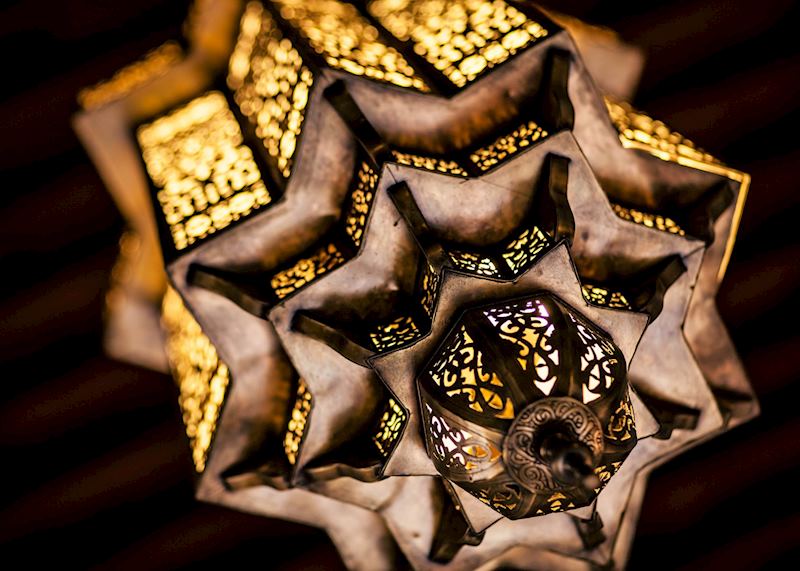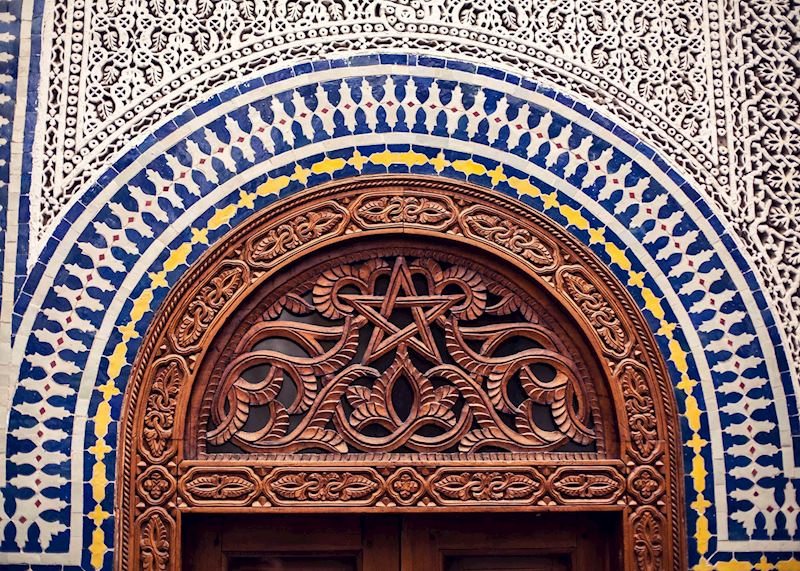 One of my lasting memories of Fez is its tanneries. Never has a UNESCO World Heritage Site had such an unimposing entrance — I was led through the back of a little leather shop and up to a balcony hanging above what looks like an oversized child's paint pot.
Here leather is tanned the old-fashioned way, soaked and treaded in large earthenware vessels before being transferred to the dye pots of bright yellow, blue, green and magenta. The stench is horrendous — I was given a little bunch of mint to hold under my nose — but the sight is fascinating and one that has barely changed since medieval times.
Discover the dunes of the Erg Chebbi on a desert trek

Erg Chebbi is a ten-hour drive from Marrakesh and you will spend the night at either Skoura or Ouarzazate. The next day, as you head east, you'll see the desert rising up in the distance, a huge sea of windblown sand dunes that are 800 feet (244 m) high at their peak.
Visiting them presents the chance to set foot in part of the world's largest desert, and to experience its unforgiving but unique environment. Two things that always strike me are its stillness and the way the dunes change from gold to red to violet as the sun goes down.
You can explore the desert on camelback, but going on foot gives you a better appreciation of the dunes' scale. Walking on the sliding, sinking sands can be tough going on the leg muscles. The desert's stony area offers slightly easier terrain but the desert campsite that awaits you is nothing less than a throwback to the days of the Victorian explorers, with separate bedroom compartments, luxuriant bedding and rugs.
There's also the opportunity to visit a nomad encampment, drink tea with its inhabitants, and watch them weaving their rugs and goat-haired tents.
Using a guide on your walks

With the exception of the low-level trails in the Ourika and Ouirgane valleys, which take only a couple of hours to complete, I'd recommend a guide wherever you are walking in Morocco. In cities like Fez and Marrakesh, there is no obvious plan to the medinas and it is easy to get lost — it took me over a week to learn my way around the souqs.
Guides are essential for walks in the Atlas Mountains or the desert dunes, especially if you are heading out on full-day or multi-day hikes, as they know the routes well and will also act as your interpreters if wish to meet with local people.
They are knowledgeable about every aspect of Amazigh life from, the use of medicinal herbs to marriage traditions. Apart from ensuring you complete your hikes safely, they really help to enhance your experience and understanding of Moroccan culture.
Best time to go walking in Morocco

Walking in Morocco's lower elevations is possible all year, but July and August are best avoided as the summer heat can be intense. High-altitude treks are not recommended between November and late March, when routes can become snowbound.
Overall, the best time to walk in Morocco is the spring months of March to May. The rains of winter have subsided by that point, and, if it has been particularly wet, the otherwise stony fields will be carpeted in marigolds and poppies.
Start planning your trip to Morocco

Start thinking about your experience. These itineraries are simply suggestions for how you could enjoy some of the same experiences as our specialists. They're just for inspiration, because your trip will be created around your particular tastes.
View All Tours in Morocco