By Audley Morocco specialist Kerry-Ann
With both exotic intrigue and easy transport links, Morocco has all the right ingredients for a fantastic family vacation. In many places you'll feel like you've stepped back in time, yet travel here is remarkably straightforward and the bustling souqs, ancient kasbahs, rugged mountains and endless desert dunes offer ample opportunity for adventure and plenty of hands-on activities for children of all ages.
Recommended experiences for families in Morocco
Explore the souqs of Marrakesh

The maze of alleyways in the lively souqs (covered markets) in Marrakesh has a storybook charm. Stalls are lined with rows of brightly dyed slippers, handmade carpets, huge mounds of spices and everything in between.
With the help of a guide, who will navigate you through the warren of side streets, you can visit pottery workshops, metalworkers, carpet makers and leather dyers. The sounds, smells and activity are only topped by the bizarre but brilliant entertainment on the main square, Djemaa el Fna, where you'll find snake charmers, jugglers, flame throwers and acrobats.
Family-friendly accommodations in Marrakesh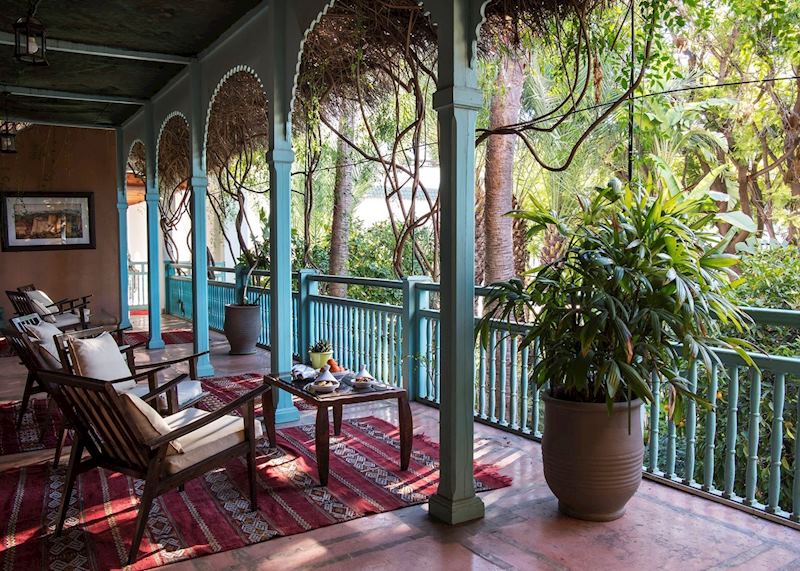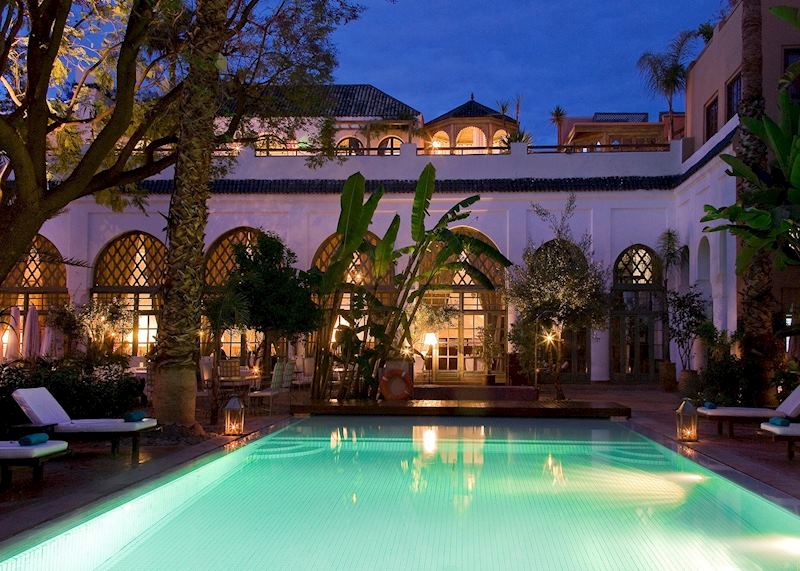 A short walk from the old city, Les Jardins de la Medina has bright, airy rooms set around a courtyard with a big garden and a lovely pool. A more affordable choice, in the same part of the city, is the traditionally styled Les Borjs de la Kasbah.
For more luxury, Villa Nomade, in the heart of the old city, is a chic boutique hotel with a small rooftop pool and a two bedroom private suite available for families.
In the Palmeraie area, about 15 minutes' drive from the old town, you'll find a choice of family-friendly hotels with large gardens and heated pools. My preferred option is Dar Zemora, a really welcoming country house hotel with lots of traditional Moroccan character, from its rustic wooden furniture to brightly decorated rugs and cushions. It's also set in beautifully landscaped grounds with rose gardens and frog-filled ponds. The hotel has good-sized rooms as well as a two-bedroom pavilion with private pool.
Visit an Amazigh family in the Atlas Mountains

Within an hour's drive of Marrakesh you can reach the foothills of the Atlas Mountains. Rising from west to east across central Morocco, the High Atlas range includes the highest peak in North Africa, Jebel Toubkal. At a height of 4,167 m (13,671 ft) it's also the second highest mountain on the continent.
The mountains are inhabited by the Amazigh, an ethnic group who were living in Morocco long before the Romans arrived. From their small terraced villages, the Amazigh of this region have maintained a traditional way of life and they still use their language.
While staying in the area, you can visit an Amazigh family and discover something of their culture and lifestyle. The family I visited lived in an adobe house built around a courtyard and we sat there on a wooden bench and chatted as their donkey, cow and chickens wandered about us.
Although the families live quite a simple life, they're extremely welcoming and you'll be treated to food such as dates, hard-boiled eggs, olive oil and freshly baked bread cooked in a clay oven, all accompanied by mint tea.
Family-friendly accommodations in the Atlas Mountains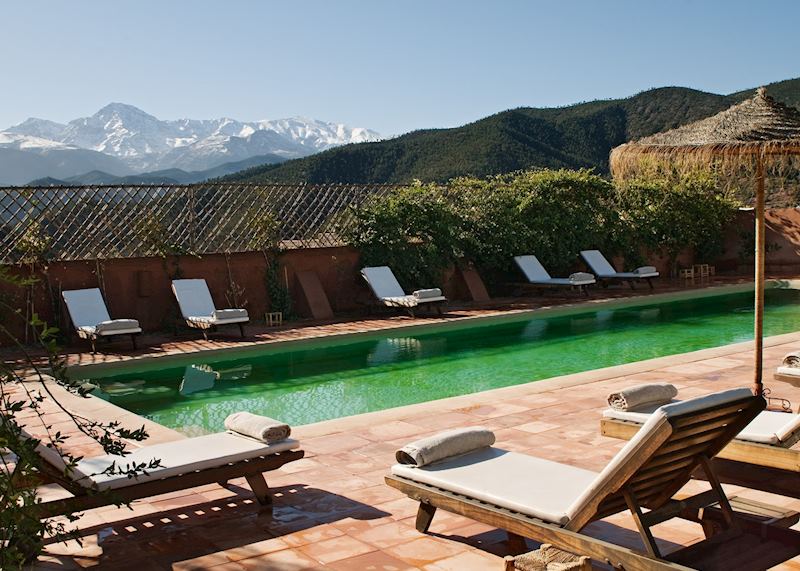 I'd recommend staying in the Ourika or Ouirgane Valley. Just a 45-minute drive from Marrakesh, Kasbah Bab Ourika offers stylish, spacious rooms with gorgeous bathrooms. There's a lovely pool, views over the valley with its deep red rocks and lush pine forests. There's also plenty to do from here, such as going on local walks, visiting an Amazigh family and the Assafou Foundation, or browsing a local market.
Explore kasbahs and fortresses in Skoura

A three- to four-hour drive that crosses the dramatic Tizi n'Tichka pass — the highest in Morocco at 2,260 m (7,415 feet) above sea level — takes you from Marrakesh to Skoura. Along the way you'll encounter big drops on the side of the road, rugged gorges and tiny villages cut into the hills where the local people harvest crops and wash their clothes in nearby streams.
The sight of a deep red kasbah set off against the greenery of a palm grove is an emblem of this area. The Dades Valley, close to Skoura, is known as the 'Valley of a Thousand Kasbahs' for the collection of fortresses built here, which now range from the well preserved to the more ramshackle.
It's worth spending two nights in Skoura to explore the region's palm groves on foot and visit some of the local kasbahs, including the 17th-century Kasbah Amridil. Its exterior is still impressive enough to appear on Morocco's 50 dirham note. It's well worth entering the kasbah for a glimpse into the past — you'll still see original bread ovens, olive presses and pottery once used by the family who lived there.
Family-friendly accommodations in Skoura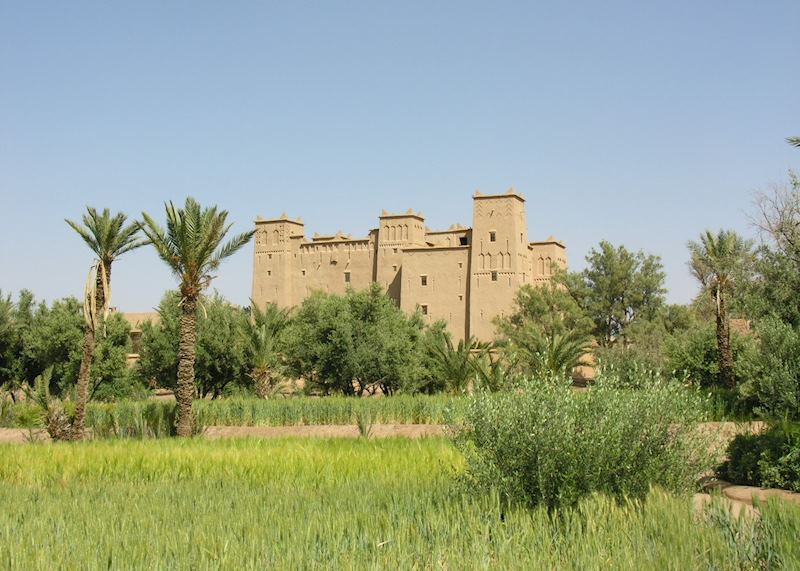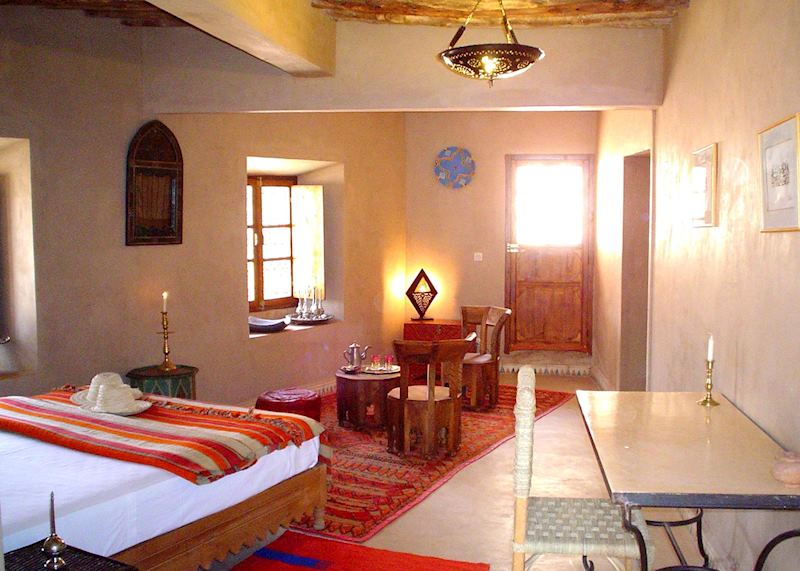 Staying in a traditional kasbah, with its warren of rooms, passageways and courtyards, is a thrilling option for children. For an authentic experience, I'd recommend Kasbah Ait Ben Moro, a beautifully restored 18th century property with simple but stylish rooms and plenty of local charm. For a little more luxury, Les Jardins de Skoura blends French style with North African flair. The rooms are very comfortable, there's a large pool and a very good restaurant.
Less obvious highlights for families in Morocco
Take a camel ride in the desert

From Skoura it's a six-hour drive to the desert. It's worth breaking your journey in Dades Valley or Todra Gorge, an orange limestone canyon that narrows so much in places that you have to walk it in single file.
Arriving in Rissani, a desert trading town, you can see the livestock market and select a cheche, a traditional Amazigh scarf. Then it's on to the dunes where you'll be met by your guide and taken on a 45-minute camel ride into the desert. You'll quickly be surrounded by sand as far as the eye can see. You can then extend your time in the desert by camping overnight.
Family-friendly desert accommodations

Staying in a Amazigh desert camp overnight is one of the best family experiences in Morocco. Accommodation is in tents with proper beds, electricity and shared or private bathroom facilities. As night falls your Amazigh hosts will light a campfire, serve you one of their meals and play traditional music under the stars.
The night skies here are incredible and in the morning your hosts will wake you by banging pots and pans or clapping so you can climb the dunes in time for sunrise. It's a magical experience and children can run up and down the dunes while it's cool.
Explore the Moroccan Hollywood

It's a long drive from the desert back to Marrakesh and I'd recommend breaking your journey overnight in Ouarzazate. The heart of Morocco's film industry, you can tour the studios and visit nearby Ksar Aït Benhaddou, a UNESCO World Heritage Site and one of the most beautiful fortified cities in the country.
Family-friendly accommodation near Ouarzazate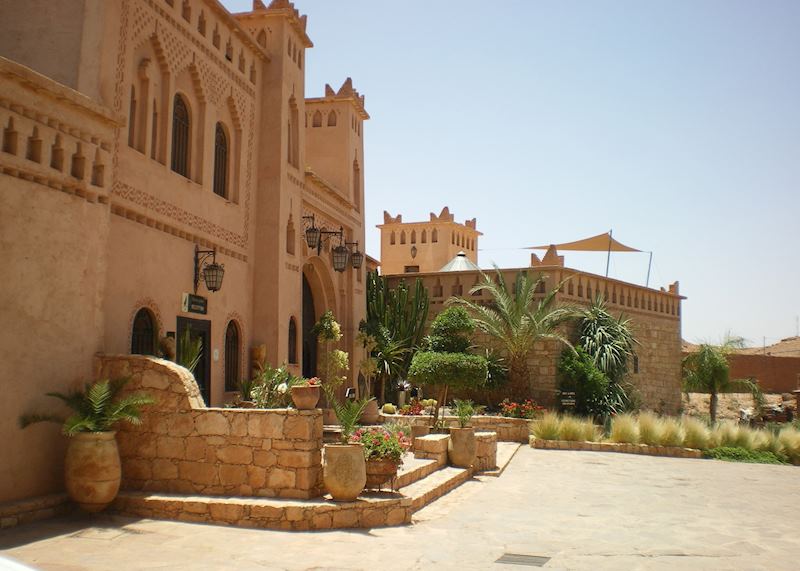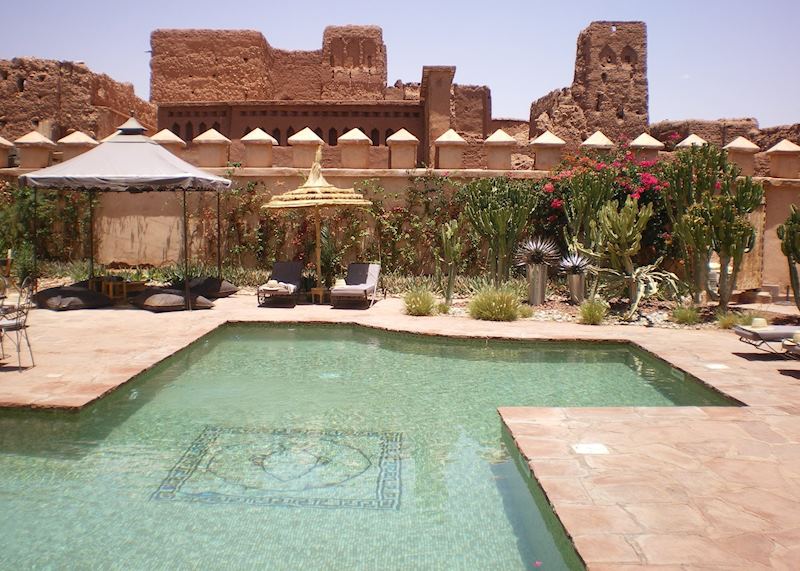 Ouarzazate has a lot of international hotels that cater for film crews, so I'd recommend staying outside the city to get a bit more character. Close to Aït Benhaddou, which is around 30 minutes' drive from Ouarzazate, Ksar Ighnda is a good option with a lovely pool and restaurant, and a series of roof terraces that offer beautiful sunset views.
Explore the Portuguese fort of Essaouira

Essaouira, a two and a half hour drive west of Marrakesh, is an old fortified fishing town that represents a total slowing of pace after the city. It's an atmospheric place to visit — and as yet shielded from mass tourism — with the port busy with fishing boats, woodworkers carving on the streets, and the small medina compact enough to navigate on your own. There are lots of art galleries and cafés, lines of stallholders grilling fish and a wonderfully relaxed ambience. The long, windy beach is ideal for windsurfing and it's easy to arrange lessons.
Family-friendly accommodations in Essaouira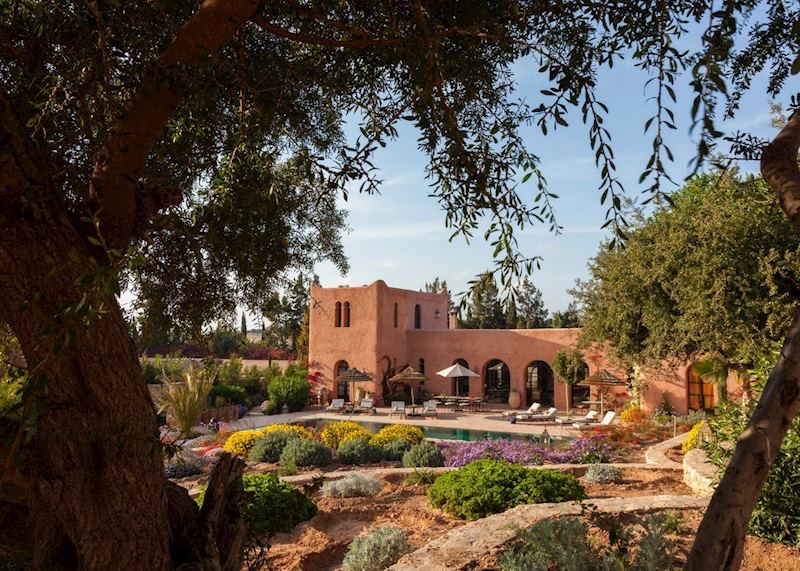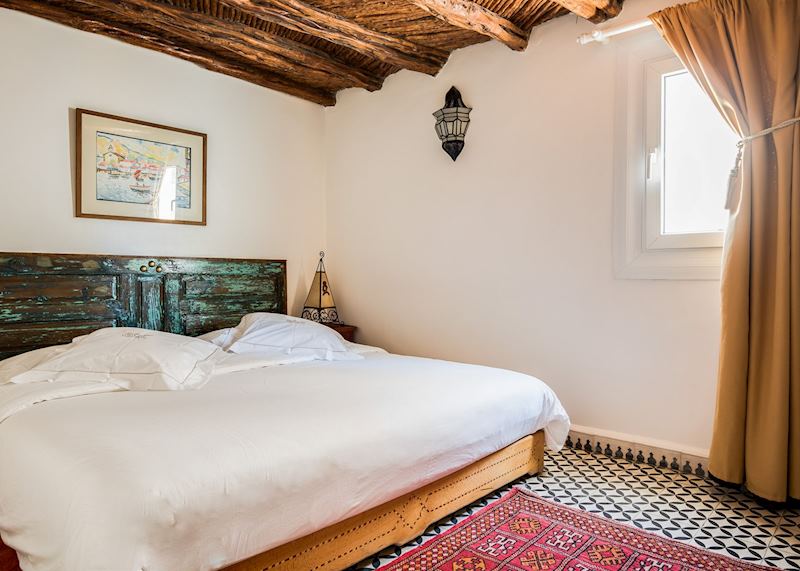 I'd recommend staying at Jardins Des Douars, a lovely property built in the style of an old kasbah about 15 minutes' drive outside town. It has great local character, family bungalows dotted around large gardens, two pools, a spa and very child-friendly staff.
Another option, in the center of Essaouira, is the quirky Riad Watier with its carved woodwork, patterned tiles and spacious family suites with two bedrooms and two lounges.
Eating with your family in Morocco

Moroccan food is varied enough to give children the choice they need, and fragrant yet mild. Expect tagines with tender meat and aromatic rather than spicy ingredients, brochettes (skewered meat), roasted corn, couscous, freshly squeezed orange juice and lots of pastries. Don't miss the gazelle horns, a hard-shelled pastry filled with almond paste.
Best time to visit Morocco with your family

Summer can be uncomfortably hot in Morocco, so the best time to visit is March to May or September to November. February and October are ideal times to visit, as is Easter. You will need to book well in advance at these times to ensure you stay in your first-choice of accommodation, as many properties such as the ones I've recommended only have one family suite.
Practicalities of visiting Morocco with children
Morocco is a very child-friendly destination and children are welcomed everywhere.
On a week's trip it is easy to visit Marrakesh, the mountains and the desert, or Marrakesh and Essaouira. You'll need ten days to see them all.
Start planning your family trip to Morocco

Start thinking about your experience. These itineraries are simply suggestions for how you could enjoy some of the same experiences as our specialists. They're just for inspiration, because your trip will be created around your particular tastes.
View All Tours in Morocco