By South Africa specialist Andrew
Lion roar to their pride, elephant and buffalo huddle around waterholes and leopard make themselves comfortable in the branches of leadwood trees. Encompassing Kruger National Park and the private reserves bordering it, South Africa's Greater Kruger Area is one of the continent's premier safari destinations.
Here, you have the flexibility to self-drive through the main park, pausing at will to observe passing wildlife. Or, stick to the traditional formula of a fully guided safari, benefiting from the knowledge of experienced guides. I also like the wide range of lodges you can choose from here, plus it's easy to combine with the rest of South Africa and beyond. Below, I've outlined the different safari options in the Greater Kruger so you can decide which style suits you best.
A note on the Greater Kruger Area
The vast Greater Kruger Area comprises the main Kruger National Park and the Associated Private Nature Reserves that border it. There are no fences between the national park and the private reserves, so wildlife is free to roam — you can see the Big Five here, as well as wild dog, cheetah, hyena, giraffe and more than 500 bird species.
Landscapes vary from bushy thickets, tree-lined rivers and rolling hills to rocky kopjes, mopane woodland and baobab-scattered foothills. Most people stick to the southern and central areas of the Kruger, where most of the private reserves are located. If you're willing to drive the distance, though, the park's wild north gives you wildlife sightings and untouched landscapes all to yourself.
Guided safaris in the Greater Kruger's private reserves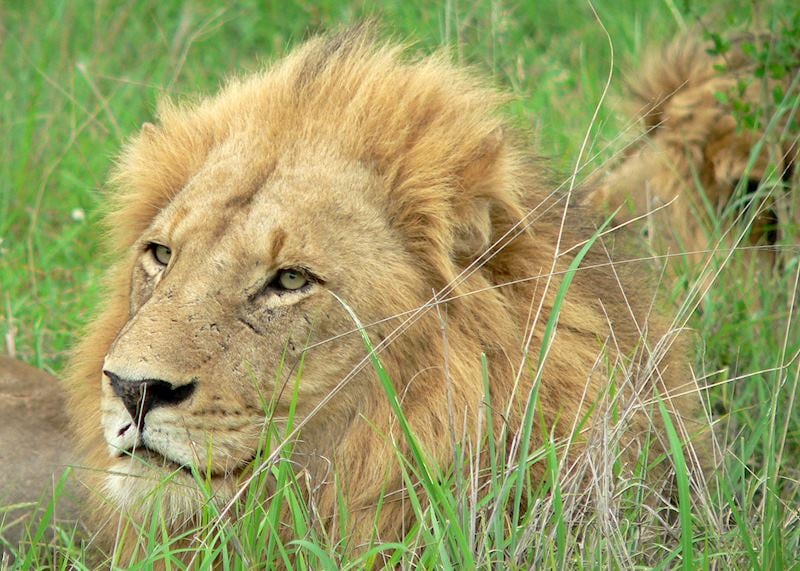 While wildlife sightings on a self-drive safari are down to chance, head to one of the private reserves bordering Kruger National Park and you'll have the expertise of local guides at hand. They'll know the reserve intimately and have a good understanding of where to find the animals you're most interested in. And, they can interpret animals' actions, so you come away with a better understanding of the overall environment.
Staying on a private reserve also gives you a more exclusive experience than in the main park. Only people staying in the reserves can do activities there, so you won't encounter self-drivers or day trippers. There's also a limit of two vehicles per sighting, so wildlife encounters feel more natural.
Camps and lodges are small, personal, and offer high standards of service, food and facilities. You'll find a wider choice of activities, too, including bush walks, night drives and, in some cases, cultural visits to local villages supported by your camp or lodge.
Even regular game drives have the added benefit of being able to go off-road, so you can follow big cats and other wildlife (from a respectful distance).
Private reserves we particularly recommend:
Sabi Sands Game Reserve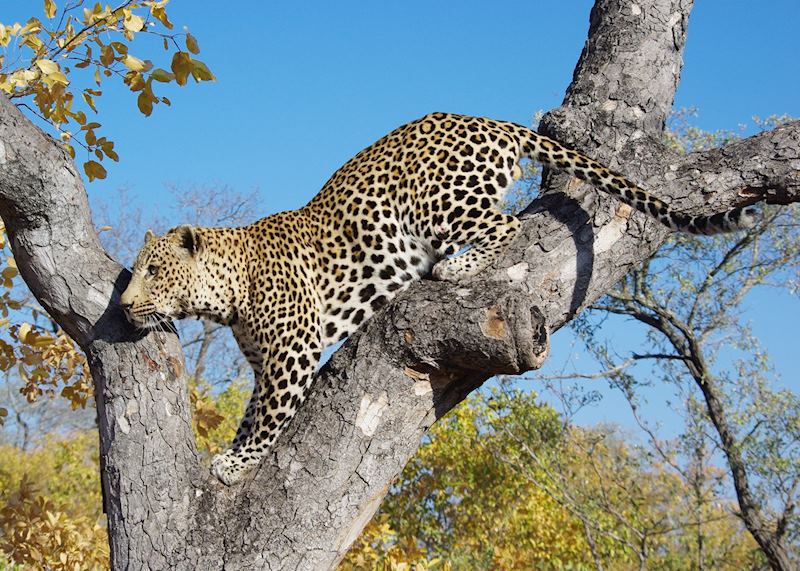 The best-known of the Greater Kruger reserves, Sabi Sands Game Reserve is situated at the confluence of the Sabie and Sand rivers, bordering Kruger National Park to the southwest. An area of bushy lowveld savannah, the land here was once used for farming, and the waterholes created for cattle now supply year-round water for the Big Five, as well as cheetah, giraffe and a wide range of birdlife.
The reserve's particularly known for leopard sightings — I've found it's one of the best areas in Africa to see the cats up close. On game drives, your eyes automatically wander to the branches of leadwood trees, where leopard tend to rest in the shade during the day.
Where to stay in Sabi Sands Game Reserve
Sabi Sands arguably has the most luxurious lodges in the region. One that stands out for me is Dulini River Lodge, which has just six thatched suites lining the banks of the Sand River, each with a private deck and plunge pool.
Thornybush Game Reserve

Just north of Sabi Sands Game Reserve, Thornybush Game Reserve has a similar landscape and feel. Its borders were fenced until more recently, but now wildlife roams through just like anywhere else in the Kruger ecosystem.
Again, all the Big Five are present, with good numbers of lion and elephant and hundreds of bird species.
Where to stay in Thornybush Game Reserve
You'll find a wider choice of good-value options here. I like sleeping under canvas at Chapungu Luxury Tented Camp, which has a traditional, early explorer style. Meals are shared around a big table in the open dining area, and there's a pool where you can cool off between activities.
Timbavati Game Reserve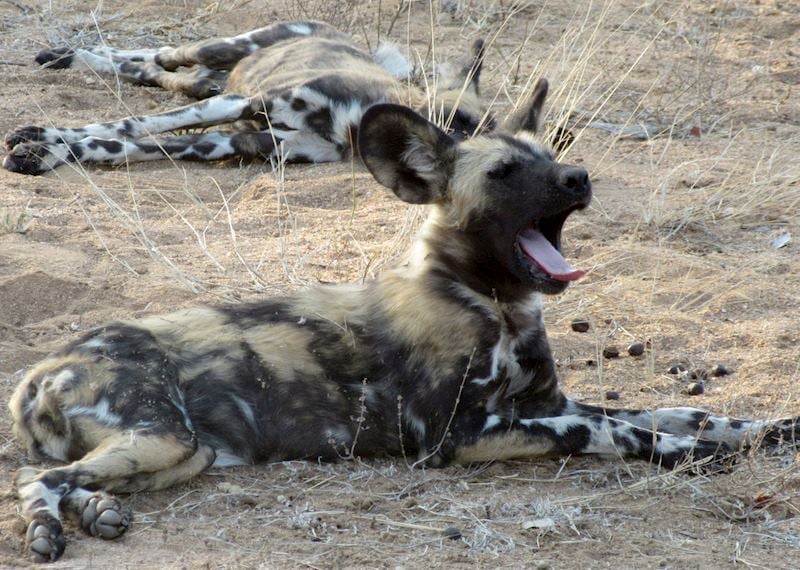 Farther north, Timbavati Game Reserve feels more wild and untamed. The landscape is less arid, scattered with mopane woodland, and, unlike the Sabie and Sand, there are rivers that flow all year, so you're more likely to see water-loving animals like hippo, buffalo and waterbuck.
Being a larger reserve, you'll see fewer vehicles. It does mean your guides might have to use their tracking skills more here, but I find this adds to the excitement of game drives and it feels more rewarding when you spot an animal. You can still see the Big Five, wild dog sometimes roam the area, and cheetah and hyena prowl the savannah.
Where to stay in Timbavati Game Reserve
&Beyond Ngala Tented Camp balances a traditional safari style with modern luxuries. It has nine air-conditioned tents raised on decks overlooking a sandy riverbed, as well as a pool and spa.
Self-drive safaris in Kruger National Park
How a self-drive safari works in Kruger National Park
With a decent network of paved and gravel roads, Kruger National Park is well set up for a self-drive safari. I love the freedom you have behind the wheel — you can stop off to watch the wildlife you're most interested in, plan your route and spend as long as you like at a waterhole or hide.
I also find you get a greater sense of adventure — elephant herds cross ahead of you, big cats lounge by the roadside, and your ears pick up on sounds you've never heard before. Just be aware that, in busier areas, you might have to wait your turn at a wildlife sighting.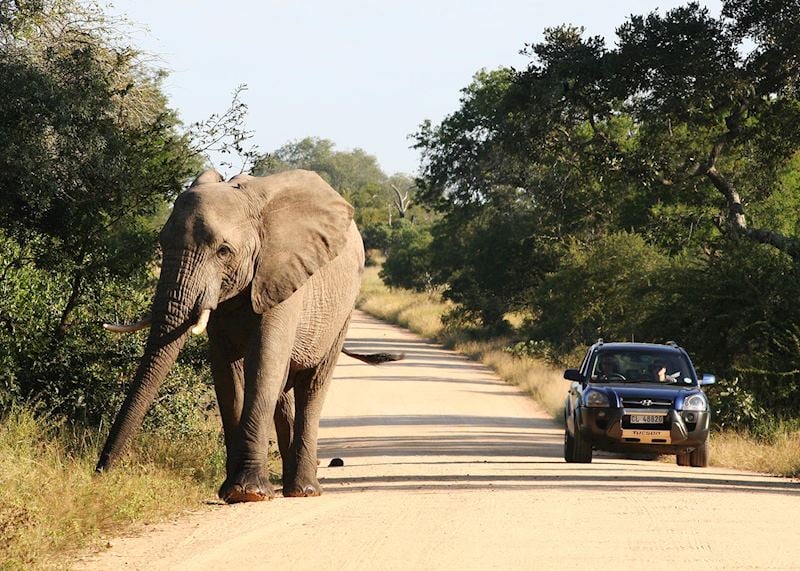 You can collect your vehicle from one of the Kruger's airports — I highly recommend an SUV so you can easily navigate the bumpier roads. Pick up a map from one of the park's visitor centers and think about buying a guidebook ahead of your trip so you can work on your species identification skills.
It's best to plan your drives according to where you're staying. Most people plot a route between government-owned rest camps. These large, simple camps have convenience shops and restaurants, as well as sightings boards so you can keep track of what wildlife has recently been seen in the area.
At some camps you can hire a guide to accompany you on your drive. It's a good way of gaining more insight into the park's ecosystem and learn about wildlife you might miss when driving alone.
It goes without saying that speed limits are important within the park, both for your safety and the animals'. But, with so much to see, you'll want to drive at a slower pace anyway.
Best time to safari in Greater Kruger National Park
You can visit at any time of year and experience excellent wildlife viewing. May to November is the dry season, when animals are easier to spot as they congregate around remaining water sources.
While you might experience the occasional downpour, January to March are the best months for birdwatching — the warm, sunny weather also makes this a good time to combine a safari with time in the Western Cape. Read more on the best time to visit South Africa.
Expanding your trip
Direct flights to and from Kruger Mpumalanga International Airport make it easy to combine a safari with time in Cape Town and the Cape Winelands, or farther afield. You could fly straight from the Kruger to Livingstone for a visit to Victoria Falls, or fly or drive from Kruger to Mozambique for some beach relaxation.
Read more about trips to South Africa

Start thinking about your experience. These itineraries are simply suggestions for how you could enjoy some of the same experiences as our specialists. They're just for inspiration, because your trip will be created around your particular tastes.
View All Tours in South Africa