By Audley South Africa specialist Toby
Standing on the shoreline of Walker Bay, my seven-year-old daughter stared at the ocean, open-mouthed. A pod of ten southern right whales were surfacing barely a stone's throw away. If my experiences are anything to go by, it's occasions like this that make South Africa so rewarding for a family vacation.
When I look back on trips I've taken with my family in South Africa, some of our most enjoyable moments were on the open road. There's a sense of freedom driving out of Cape Town, with Table Mountain looming behind you, and the rugged coastline ahead. You can drive onward to copper sand beaches, countryside speckled with rare wildflowers and shaped by mountain ranges, and to malaria-free national parks for safari.
Recommended experiences for families in South Africa
Explore Cape Town, Table Mountain and Robben Island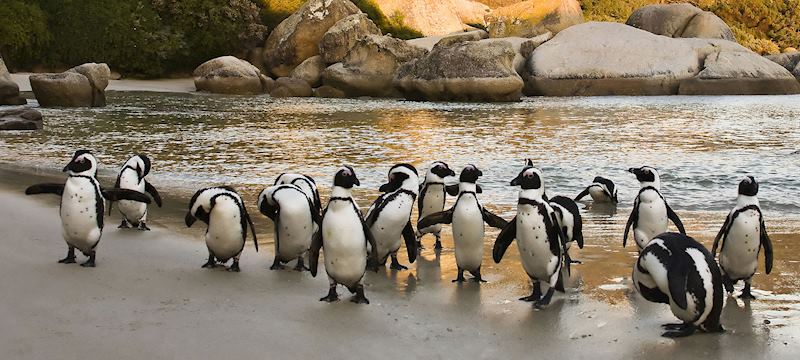 Nestled between striking Table Mountain and the Atlantic Ocean, Cape Town has an endearing charm that stems partly from its superb natural setting and partly from its vibrant and multicultural spirit.
From the city flea markets to the great beaches and amazing wildlife, there's lots for families to see and do. One great way to explore is on a Cape Town Eats gourmet walking tour, where you'll experience the ethnic diversity of the city through its food, tasting unusual dishes — such as spicy bunny chow and the moussaka-like bobotie — as you go and chatting to the people who make them.
Wherever you go, Table Mountain dominates the view. The cable car is a great way to reach the top and on a clear day the views from the summit stretch right down over the coast. You can hike along a network of walking trails with rock hyrax, guinea pig-like creatures, scurrying around you.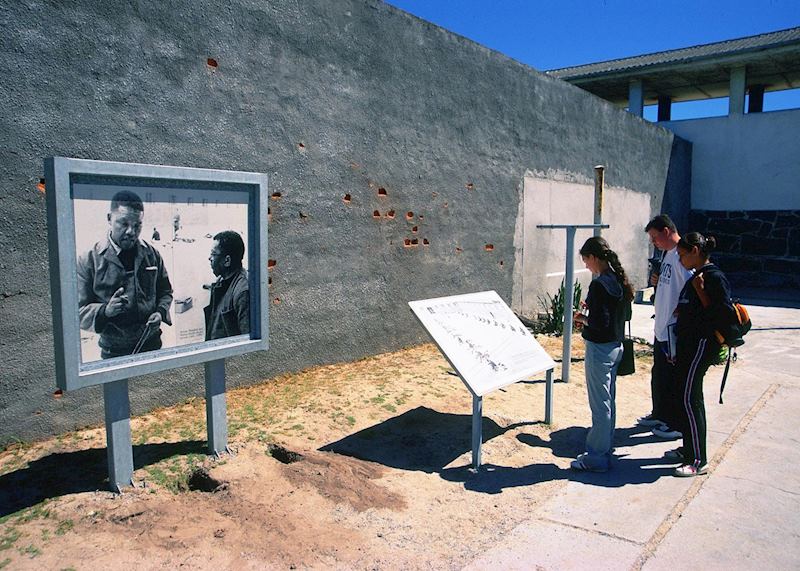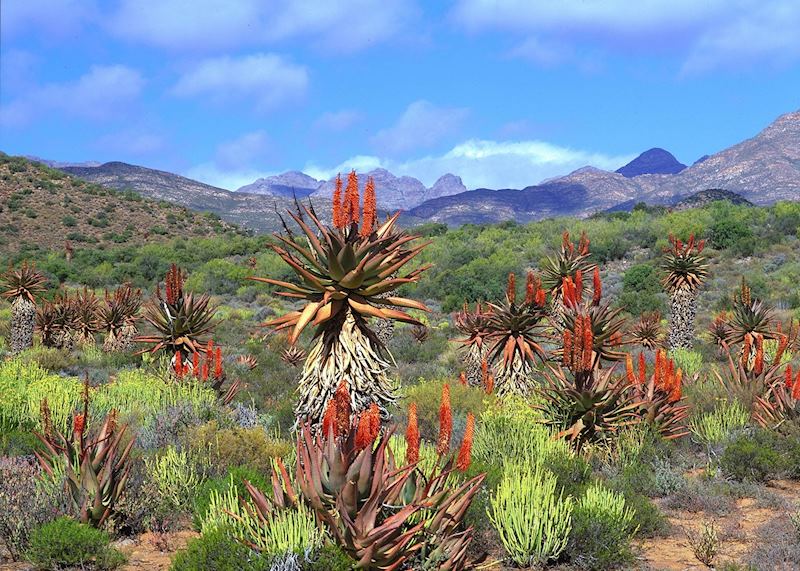 For older children a trip to Robben Island, where Nelson Mandela was imprisoned, offers a chance to learn about the history of apartheid. It's an enjoyable boat trip followed by a tour of the island from one of the former inmates.
Another impressive activity is to take a tour down the Cape Peninsula where you'll see lots of African penguins at Boulders Beach and the dramatic seascape at Cape Point. You can also go kayaking, take a cycle tour of the city or just relax on the beach at Camps Bay.
Family-friendly hotels in Cape Town

Many families stay in the V&A Waterfront area, which has lots of good hotels, shops and restaurants. There are some fantastic luxury hotels like Cape Grace, but for families I think the Waterfront Village is a better option. It has a choice of self-catering apartments, is right on the waterfront and they'll even pre-stock the fridge for you.
Another good, if less obvious, area for families to stay in is on the other side of Table Mountain, where upmarket suburbs like Newlands and Constantia are lush and green, and relaxed and welcoming to stroll around. Hotels such as The Vineyard combine being close to the city with natural surroundings and plenty of space.
Go whale watching in Hermanus

A beautiful town renowned for its whale watching, Hermanus overlooks Walker Bay, a deep inlet that attracts southern right whales between June and November. The whales swim very close to the shore here, and if you have younger children you can just walk along the cliffs and watch them gliding through the water below you. Older children will enjoy a boat trip out into the bay where you'll get so close you'll feel the spray off the whales.
Hermanus also has great beaches, some of them with little lagoons and natural swimming pools. I'd recommend at least two nights here to have time to enjoy it all. It's about an hour and a half's drive from Cape Town along the rugged Atlantic coastline and there's a good choice of hotels in the area.
Grootbos Private Nature Reserve makes a great base for families. It's a beautiful ecolodge with big, detached family rooms set in a milkwood forest. You get a real sense of seclusion here and children are very well taken care of with farm trips, pony rides and lots of interaction with the local village including football matches and botany lessons.
Explore the Garden Route

Some of South Africa's most beautiful coastline, the Garden Route, stretches for 185 miles (300 km) between Mossel Bay and Plettenberg Bay, passing vast stretches of white sands, lagoons, lakes, indigenous forest, unusual rock formations and rolling hills en route. It's an incredibly scenic area with lots of pretty towns, animal sanctuaries, walking trails and outdoor activities.
Tenikwa Wildlife Rehabilitation Centre near Plettenberg Bay is worth a visit to learn about local wild cat conservation efforts while the Tsitsikamma Forest is a wonderful place for children with plenty of outdoor activities such as bungee jumping and zip-lining, as well as lots of wildlife. You can take an ocean safari and visit a huge seal colony and enjoy the sight of dolphins popping up alongside the boat on the way.
Consider staying at either Emily Moon River Lodge or Hog Hollow Country Lodge, both of which offer wonderful views and excellent service and facilities for families. Hog Hollow in particular has loads of monkeys in the grounds and you'll be given a giant water gun with your breakfast just to keep them from stealing your food.
From Hermanus it's about a five-hour drive to Mossel Bay, so it's worth considering breaking your journey with an overnight stay in Rothman Manor in Swellendam.
Family safaris in South Africa

The malaria-free Eastern Cape makes the ideal safari destination for families with Big Five wildlife spotting and a choice of game reserves. The landscape here makes the reserves some of the most scenic in South Africa with lush vegetation and high hills offering superb views over the plains below. You'll have the chance to see lion, leopard, elephant, rhino and buffalo, giraffe and zebra as well as a wide variety of antelope.
Typically, you'll go on two game drives a day, one in the early morning and one in the late afternoon. You'll get amazingly close to the animals. One morning, the rangers took my group to see a family of lion that had made a kill the night before and were lying around with full bellies. We got quite close and just watched them, there must have been eight lion. Then we heard the call of another lion just before the eldest son of the family padded softly around our vehicle and joined the group. His younger brothers and sisters jumped up to play with him.
The rangers are very good at adapting activities for a young audience and I suggest spending three nights on safari in Shamwari, Kwandwe or Amakhala. Shamwari, for example, has two lodges — Sarili and Riverdene — specifically designed for families. Sarili is bright, modern and minimalist, and a better option for older children. Riverdene offers lodge rooms in old farmhouses and is a better choice for younger children as it's completely fenced in.
It's a three to four-hour drive from the Garden Route to the Eastern Cape game parks, with about 45 minutes of off-road driving to reach your lodge once you turn from the main road.
Less obvious highlights for families in South Africa
Discover the Madikwe Game Reserve

Vast savannah plains dotted with rocky kopjes (outcrops) stretch across the Madikwe Game Reserve on the border with Botswana. It's a remote park that offers a more off-the-beaten-track safari experience yet still remains malaria-free. Rhino, leopard, lion, buffalo and elephant can all be seen as well as wild dog, rare predators famed for their hunting techniques.
Explore the KwaZulu-Natal region

If you're planning a trip to South Africa with older children who are interested in being more active and can handle longer drives, you should consider a trip to the KwaZulu-Natal region in South Africa's northeast.
It's an area steeped in history, home to the Anglo-Zulu battlefields, untouched wilderness, and beautiful game reserves such as Phinda and Hluhluwe-iMfolozi. That's as well as the wetlands, dramatic coastline, remote lodges and the Drakensberg Mountains with their ridges of incisor-shaped peaks.
Visit the Cape Floral Kingdom

South Africa's Western and Eastern Capes encompass one of just six floral kingdoms in the world and feature many rare and endemic species. Although your children may not be avid botanists, the transformation of the desert here in August and September is so dramatic it will catch the attention of even the smallest child.
Eating with your family in South Africa

South Africa is the best country I've ever been to for food. Eating out here combines high quality with great variety, and there are always plenty of international options that will your children happy. Local dishes are generally meat focused with the traditional South African braai, or barbecue, a popular option.
In the bush you'll find grilled kudu and springbok and even crocodile, while on the coast great fish and seafood are the mainstay of menus. Bobotie, a baked dish of spiced minced beef or lamb with a creamy egg-based topping, is a really popular local speciality to look out for.
Best time to visit South Africa with your family

The South African spring, between September and November, is a great time to visit. The deserts are in bloom and lots of whales congregate in Walker Bay, which makes a half-term break in October well worth considering. March, April and early May are also good months to travel to South Africa, making an Easter visit a good option. Christmas is also a good time to visit, but you'll need to book well in advance — we advise at least a year.
Practicalities of visiting South Africa with children
The regions of South Africa we recommend on this trip are all malaria-free, but we would advise you to discuss the latest requirements for travel with a doctor. Your doctor is also likely to tell you to make sure your tetanus and polio shots are up to date and that you have a hepatitis A vaccination.
Parents of under 18s must carry their original, unabridged birth certificate to enter the country.
Game drives can last up to three hours and, for safety reasons, children need to remain seated, particularly when game is spotted. Children prone to wriggling might find this too much sitting in one spot.
Start planning your family safari to South Africa

Start thinking about your experience. These itineraries are simply suggestions for how you could enjoy some of the same experiences as our specialists. They're just for inspiration, because your trip will be created around your particular tastes.
View All Tours in South Africa