By Sri Lanka specialist Alison
One afternoon, the last time I was in Sri Lanka, it started to drizzle with rain. My guide suggested we duck into a local home for shelter — his friend's house. Despite us dropping in unannounced, I was welcomed and treated to an afternoon tea of sandwiches and biscuits, carefully laid out for us. My fondness for Sri Lanka stems from moments like these, and it's why I recommend it wholeheartedly as a family destination.
The blend of experiences for families who travel in Sri Lanka will leave you in little danger of becoming 'templed out'. In a single trip you can visit tea plantations and jungle, and spend time on the beach.
Recommended experiences for families in Sri Lanka
Explore Sri Lanka's cultural triangle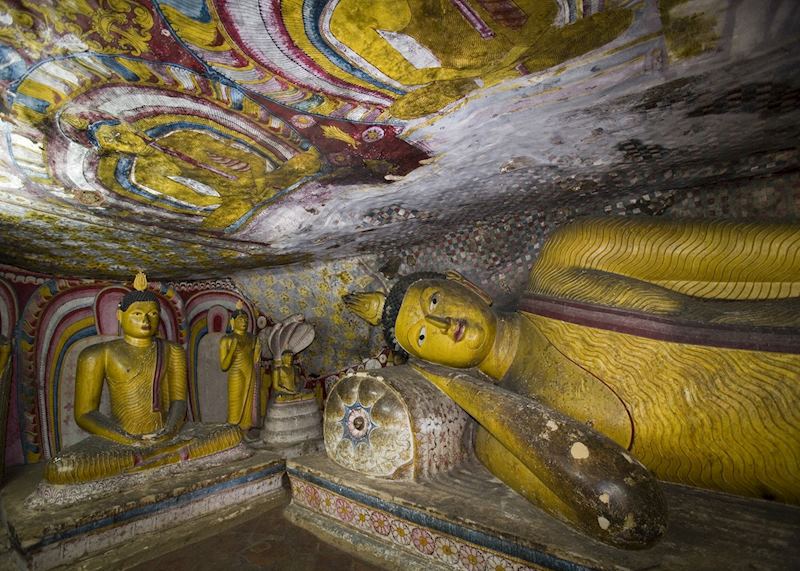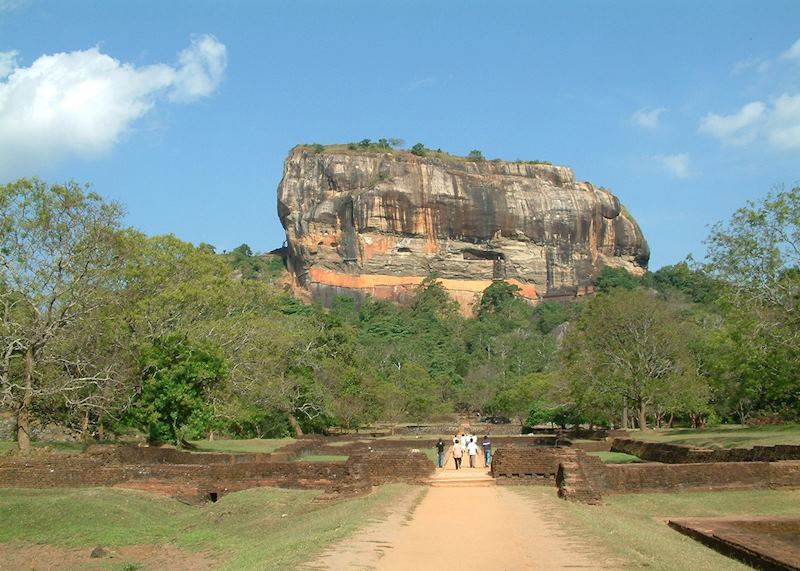 The majority of Sri Lanka's big cultural sites are focused around the three towns of Habarana, Dambulla and Sigiriya, the three points of Sri Lanka's cultural triangle.
As a child, I always liked scaling heights; Sigiriya Rock, an imposing rock fortress jutting up from the plains, is an exciting but safe climb. It takes about an hour to reach the top, following a path of chunky carved steps, spiral staircases and metal stairs pinned into the rock. The top, which is littered with the remains of a royal palace, is a panoramic viewpoint across the patchwork of farms and jungle below.
Visiting the nearby Dambulla Caves again involves climbing, this time up a long staircase, before you enter the nooks and crannies of the cave network. Dating back to the 1st century BC, the caves contain brightly patterned Buddha statues in an array of sizes and positions.
The Golden Temple, a modern pastiche below the caves, is easy to dismiss, but the life-sized plastic elephants and monks decorating the outside are wonderfully kitsch. It's also interesting to compare the ancient with the modern.
Jim's Farm, my hotel choice for the area, is seemingly designed for children. A working farm, there's plenty of space here to roam as well as a coconut-tree-fringed pool. The charismatic owner Kevin will take you on a guided tour of the farm's spice garden, and can arrange for you to all try your hand at activities as diverse as milking a cow and yoga. The spacious rooms, spread around the farm in three villas, are furnished with artisan textiles and traditional furniture.
Celebrate the Kandy Perahera

Over two weeks in July or August, the city of Kandy in the middle of Sri Lanka becomes a focal point for Buddhists all over Sri Lanka. Originally performed to guarantee rainfall for a good harvest, the Kandy Perahera (meaning a religious procession) worships the Sacred Tooth Relic of Lord Buddha. The relic is believed to be one of Buddha's canine teeth, saved from his funeral pyre by a disciple. A series of parades takes place throughout the festival, and the streets fill with orange-robed monks, fire-twirling dancers and plate-spinning acrobats.
If you're planning to travel over the July and August period, I suggest including a visit to Kandy. Perahera tickets are sold for tiered seating areas that line the streets, an easier option than jostling with the standing crowds which gives you a clear view of the action.
The city at festival time is crammed with visitors, so it's worth staying just outside in the hills overlooking Kandy. It's a good idea to book well in advance. I like to stay in the Ellerton, a converted plantation bungalow that retains its colonial charm through decor such as antique furniture and traditional textiles. The infinity pool has views right across the valley. A hand-drawn booklet of local walks is left in your room. The featured trails, leading up into the hills above the hotel, are easy to follow.
Visit Sri Lanka's tea region

Neat rows of dark-green tea bushes, interspersed with brightly painted tea pickers' villages and sliced through by quick-running rivers, make up Sri Lanka's hilly tea region. Entrepreneurial Sri Lankans have made the most of the area's typography, and most hotels will arrange activities for their guests including white-water rafting, cycling and hiking.
For older children, I'd consider climbing Adam's Peak. Sri Lanka's fifth highest peak is simultaneously one of the country's most striking natural landmarks and one of its most important pilgrimage sites. It's believed to be blessed with the footprint of Lord Buddha on its summit.
Traditionally, the peak is climbed overnight from December to May, with a string of lights illuminating the way up the mountain. I set off at around 1:30am to tackle the 5,000 steps to the top. I found myself climbing with Sri Lankans of all ages, from grandparents to tiny children being carried by their parents. Everyone gathers together at the summit, eagerly waiting for sunrise.
After undertaking Adam's Peak, I'd take some time to relax. Staffordshire Bungalow, a converted tea plantation residence, is a peaceful retreat. Depending on the size of your family, you could book the large family suite, which has two separate sleeping areas, or the entire four-bedroom bungalow. Spend your time playing croquet on the lawn, cycling through the tea fields or taking a tea-tasting tour.
Tracking Sri Lanka's wildlife
The largest concentration of leopards in the world, a healthy elephant population and hundreds of bird species: Sri Lanka's wildlife is prolific. And, with 22 national parks, it's easy to find one that fits neatly into your trip.
Yala National Park

A sanctuary for the majority of Sri Lanka's leopards, Yala National Park is located on the southeast coast, which is best visited from December to May. I've been lucky enough to see leopards every time I've visited, but they don't always make an appearance. Sightings of crocodiles, elephants, deer and monkeys are more certain. It's also worth noting that there's no restriction of jeeps in the park, so it can get very busy.
Camping in Yala National Park
Staying in one of the tented camps set up in the buffer zone of the park feels like a real jungle adventure. This isn't high luxury living, but the tents have bathrooms and proper beds. From my tent, I spotted a family of wild boar investigating the camp one morning. Come evening, guests congregate around the fire, sharing stories of the day's animal sightings.
Minneriya National Park

In the north of Sri Lanka, you can visit Minneriya during most of the year, so it's a good choice for the school summer break. You're almost guaranteed to spot elephants here — I've seen herds of more than 60, including tiny calves tucked between the adults. Other wildlife can be a little scarce, but there's an abundance of deer and birdlife.
Sri Lanka's best beaches for families
Sri Lanka's beaches aren't the pure sands of the Maldives, but I think they're more interesting. The rose-colored sand has an exotic feel and, being a focal point for the coastal communities, beaches buzz with local life. Toddy tappers can be seen climbing the coconut palms to extract sap, fishermen pull up on the beach in their bright boats and local workers break for picnic lunches.
Beaches on Sri Lanka's northeast coast

Best visited from June to early September, Sri Lanka's northeast beaches are some of the most family friendly. The coastal town of Passikudah claims to have the longest stretch of beach in the world. I can't verify this, but it's easy to appreciate the truth of the claim as you look down a coastline that recedes for miles. It's possible to walk out to 50 m (164 ft) in the shallow sea, which with no real current is a safe option for toddlers.
The hotels in Passikudah are family orientated — my recommendation is Maalu Maalu, meaning 'fish fish' in Sinhalese. Thatched-roof chalets, influenced by the houses, or 'waadiya', of the local fishing village, are dotted around a central pool area. The deluxe attic rooms have a separate space for children and are decked out in vibrant local textiles. Water sports and a children's club run on a daily basis, there are cinema nights on the beach, and bicycles are on hand to help you explore.
Beaches on Sri Lanka's south coast

From December to May, Sri Lanka's south coast has the better weather. Rough seas and strong currents means it's important to choose your beach hotel carefully, but don't be dissuaded as the coastline is littered with more sheltered coves. The southeast coast is well developed, but head further south and you'll still find beaches peppered with fishermen rather than T-shirt sellers.
I'd choose to stay in the Anantara Peace Haven Resort, on the outskirts of the coastal village of Tangalle. It fronts onto a paddle-safe beach, and facilities include a splash pool and tennis and badminton courts. You can also make use of bicycles and tuk-tuks to explore the coconut plantation surrounding the hotel. Separate children's and teens' clubs run daily and there's a babysitting service.
Touring around Sri Lanka with your family
Sri Lanka may be a small island, but the hilly topography and crumbling roads can make getting around tedious. My trick is to make the journey part of the experience by using a chauffeur guide. You have the flexibility to stop whenever needed — guides know the most comfortable toilet stops as well as intriguing places to stop off at, such as the roadside stalls selling curd and treacle in little clay pots that I discovered.
To avoid the driving becoming too monotonous, I'd suggest including one or two domestic flights on your itinerary. Cinnamon Air's fleet of small sea and land planes links sites of major interest, some of which land on one of Sri Lanka's many lakes. It's an entertaining way to travel, and the views on a clear day are extraordinary.
Start planning your family trip to Sri Lanka

Start thinking about your experience. These itineraries are simply suggestions for how you could enjoy some of the same experiences as our specialists. They're just for inspiration, because your trip will be created around your particular tastes.
View All Tours in Sri Lanka