From the quaint clapboard inns of New England to the sun-baked desert expanses of the Southwest, these USA destinations are classic for a reason. But there's something special about seeing them without large throngs of other visitors in tow. And outside of peak season, you can do just that — sometimes with an unexpected twist.
Here, our USA specialists share their top destinations to explore outside of the busiest months, offering new and more peaceful perspectives on some of country's most cherished spots. Not only that, but less competition and lower prices also mean you can pick from a wider selection of the very best stays and experiences to make the most of your all-American trip.
The Southwest from March to April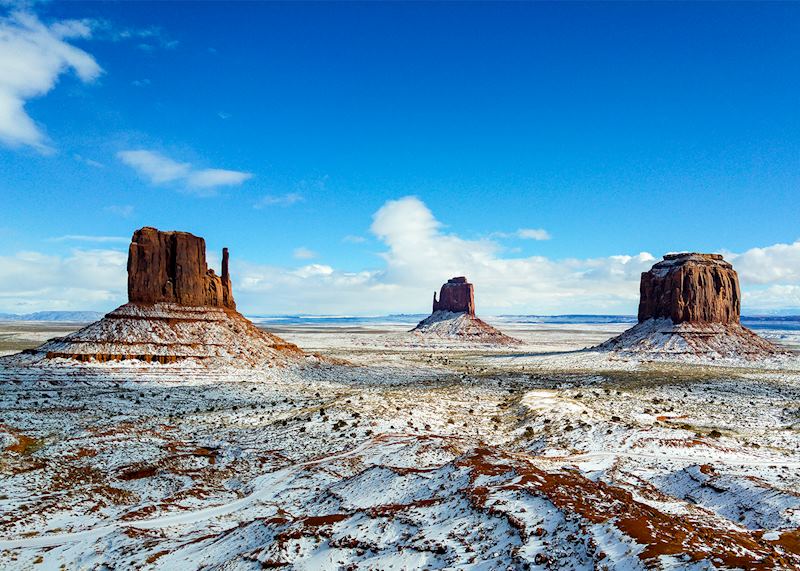 By USA specialist Tom
Witnessing the red rocks of Zion National Park and the Grand Canyon sprinkled with fresh snow was surreal. Prior to that, I'd always associated the Southwest with sun-scorched desert lands basked in eternal summer. But in March, many of my photos wouldn't have looked amiss with 'Seasons Greetings' cheerily scribbled on top of them.
While some of the higher-altitude roads were closed due to ice during my trip, I was still treated to thunderous waterfalls replenished by snowmelt, expansive park views with few other visitors in sight, and cool temperatures that made exploring the snow-dusted scenery much more comfortable.
I remember standing in Monument Valley Navajo Tribal Park with my Navajo guide learning about the land's Indigenous history, the last of the snow thawing in the spring sun. There's no real shelter here, just vast swathes of scrubby desert with huge sandstone buttes protruding from the baked earth. In the heat of summer, you're really exposed to the elements, so I was thankful for the cool spring breeze — and equally pleased to photograph the seemingly never-ending stretches of wilderness without a single person in the shot.
If you're willing to wrap up, I also recommend a trip to Capitol Reef National Park for some secluded desert stargazing. With a private guide, you'll uncover the mysteries and mythologies of the constellations against a grand backdrop of canyons illuminated by the star-studded night sky.
Texas in April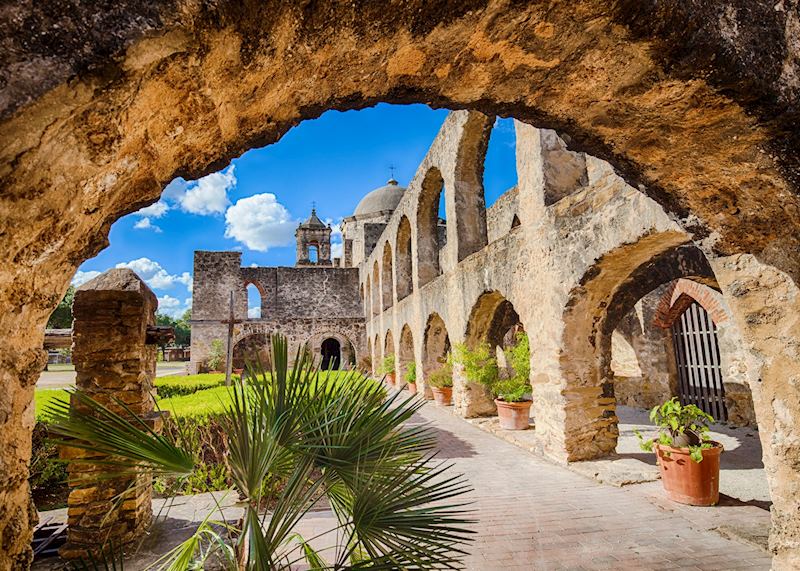 By USA specialist Karl
My first-ever visit to the USA was to see my extended family in Texas, and what an introduction to the country it was. I experienced my first baseball game with its electric atmosphere, dipped in and out of Austin's thrum of live music venues, and hiked up Enchanted Rock State Natural Area's pink-hued granite dome to gaze across the shrub-blanketed Texan wilderness.
I've been back to the States time and time again, but I maintain that Texans give the warmest welcome. As does the weather in the peak summer months — but that isn't so pleasant. That's why I find April to be a wonderful time to visit because the weather is balmy, wildflowers carpet the parks in a floral haze, and the outdoor events season kicks off with spring festivals and vibrant parades.
Houston and Dallas are both well connected cities for domestic and international travel, but I think a couple of days in each is more than enough time to explore. So, once you've tucked into Texan barbecue and delved into local history in the museums, I recommend swiftly moving on to San Antonio, Fredericksburg, and Austin.
San Antonio is a historic city filled with 17th-century architecture, winding cobbled paths, and arched stone bridges crossing the tree-lined San Antonio River. Here, it's all about enjoying the spring sunshine on long walks or bike rides as you soak in the state's medley of cultural influences, from Indigenous to Spanish to Mexican.
Nearby, you can visit an array of parks blossoming with vivid flurries of wildflowers, including the state's cherished bluebonnets, which boast a delicate cloud of purplish-blue petals. I find those displays to be striking enough, but if you're a real flora fanatic, I recommend heading into DeWitt County, otherwise known as the Wildflower Capital of Texas, where you can see over 1,000 different species.
For more floral flourishes and a spot of wine tasting, Fredericksburg is ideal for a countryside hideaway before or after you head into the bustle of Austin. I can arrange for you to stay at Rose Hill Retreat in the serene Texan Hills where you can dine, sip, and unwind to your heart's content.
Personally, I love ending a trip in Austin. It's a laidback, progressive city where toe-tapping live music, indulgent eats, and lazy riverside strolls are top of the agenda. For a barbecue bonanza, I can arrange a food truck tour with a local guide who knows the city's best spots for brisket and ribs. Then, end your evening with something a little different: a kayak tour on Lady Bird Lake where you'll not only get to see the Austin skyline aglow with the setting sun but also watch a colony of over one million bats emerge like plumes of smoke from under the Congress Avenue Bridge.
If you have a few more days to spare, you could add on time at the coast or, for something truly Texan, don your cowboy hat and feel the spring breeze on your back as you ride horses at Wildcatter Ranch.
New England from May to June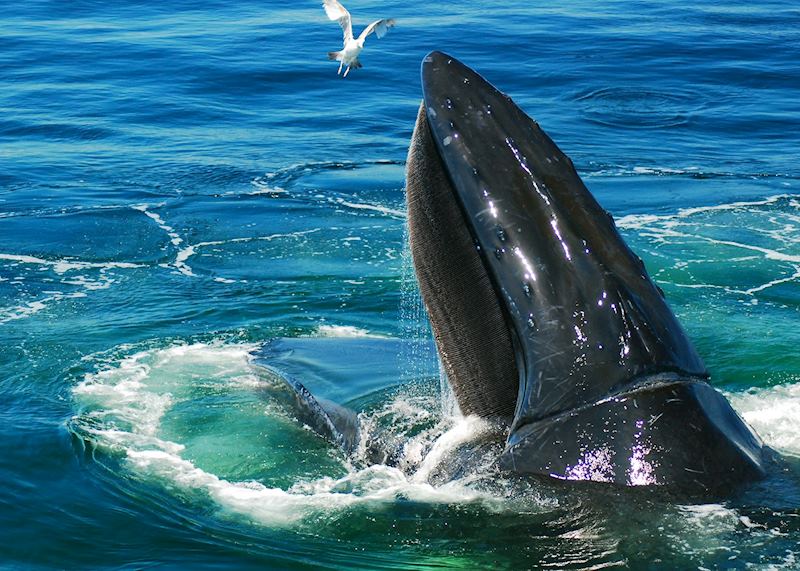 By USA specialist Carla
Waking from its winter slumber, New England comes to life in late spring as the little roadside ice cream shops swing open their doors in anticipation of peak summer season. The end of May to the first half of June is the sweet spot for those who want to visit before the crowds descend on this storied corner of the USA.
Now, before I go on, I have to admit that the weather at this time is unpredictable to say the least. I've experienced glorious days in spring as well as buckets of rain. So, this isn't a great destination if you're looking for steadfast weather. But there are plenty of other reasons to choose New England as the seasons shift.
In fact, there's not much you can't do at this time of year as long as you bring a raincoat. And one of my most-cherished New England pastimes is whale watching. The season starts in May, but for your best chances of witnessing a humpback breaching out of foamy waters, I recommend going in June on an afternoon tour, once the guides have pinpointed where the whales are hanging out that day.
Typically, you see just one whale at a time, but I was once lucky enough to spot a mother and her calf on one trip. Everything else seemed to fall away as I stood still watching the calf curiously approach our boat.
With fewer visitors around, you'll also get the pick of the quietest coastal inns at a much more reasonable price. It'll be too cold to step into the water, but I love taking windswept walks along the beach as the choppy Atlantic waves crash to the shore and warming up with a cup of creamy clam chowder after.
Finally, a trip to New England wouldn't be complete without a few days delving into the history and culinary culture of Boston. To combine both, I can arrange for you to go on a food tour of the city's historic North End. You can opt for a private tour, but I prefer the energy of being in a group and sharing a feast with an eclectic group of foodies.
As you hop from restaurant to restaurant, sampling cannoli and cappuccino, you'll walk part of the historic Freedom Trail and learn about the Revolutionary War. I always recommend doing this tour on your first day in Boston because the guides have a knack for coming up with the most tempting recommendations that'll keep you well fed for the rest of your stay.
Florida from November to December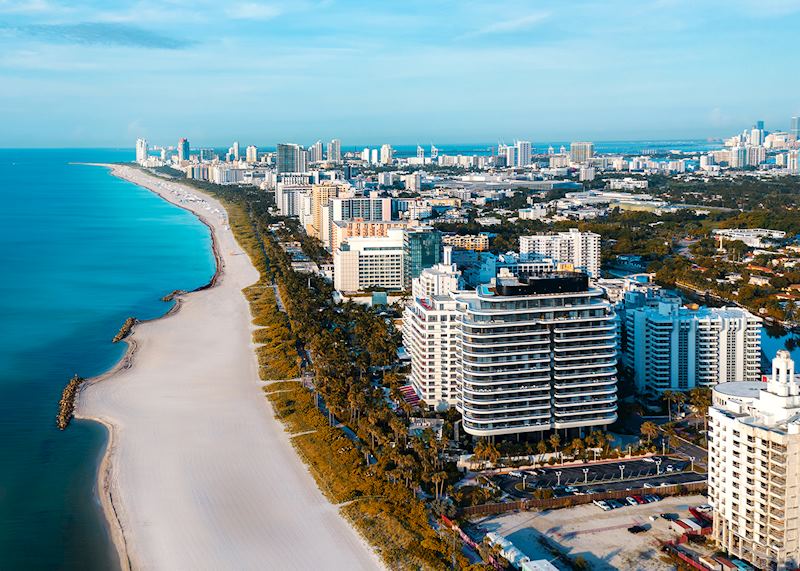 By USA specialist Monty
If you're looking for winter sun, feet-up relaxation, and (if you like) a dash of adventure, you can't go amiss with the Sunshine State of Florida. Except for Thanksgiving and Christmas, the last couple of months of the year offer a peaceful waterside retreat with very little rain to interrupt your alfresco lounging.
You can while away your days at just one hotel, but I find it more satisfying to experience two or three destinations to discover the various essences of Florida beach bliss. For example, you could spend some time soaking up Cuban culture and strolling along the skyscraper-fringed beaches of Miami before snorkeling in the coral-laced waters of Key West, and then tying up your trip with laidback solitude on the peaceful beaches of Anna Maria Island.
If you'd like a little more adventure, I suggest exploring some of Florida's more rugged wilderness, too. The Everglades National Park is a safe haven for a multitude of curious creatures including the West Indian manatee, the vanishingly rare Florida panther, the American crocodile, and, of course, alligators. The best way to explore these vast wetlands is with a naturalist guide who'll help uncover its mysteries and steer you as close as possible to its dazzling array of fauna and flora.
On my last trip, I took a kayak out into the mangroves of Tavernier Creek near Islamorada. Much like the Everglades, it's a tangle of mangrove tunnels that shelter a myriad of wildlife. The waters were too murky when I visited to see any lumbering manatees, and they tend to move away to warmer waters in winter anyway. However, wading through the dense foliage of the mangroves to the backing track of buzzing insects felt otherworldly, and not knowing what was below only added to the adventure.
However, if you do want to see manatees, I recommend heading to Crystal River where the warmer waters welcome these docile sea cows in droves. Here, you'll not only get to see them, but you can snorkel alongside them too, witnessing the way they gently bob and forage along the grassy riverbed.
The South from November to January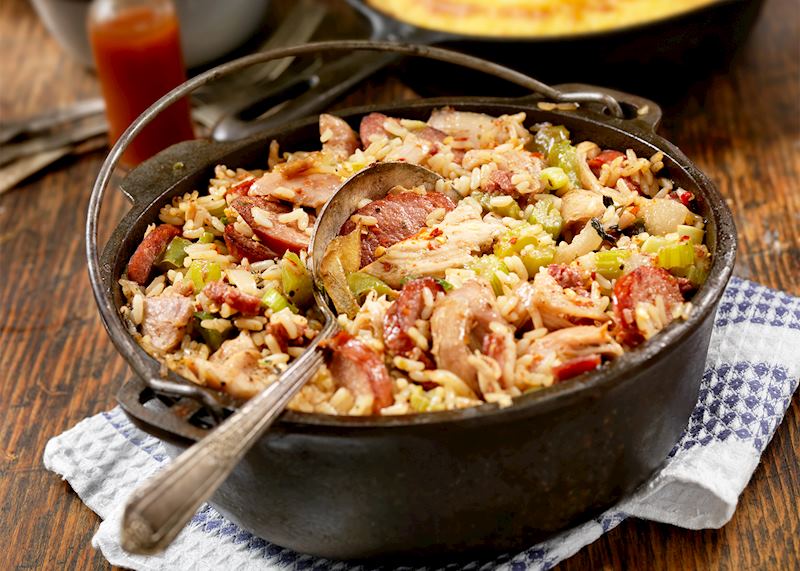 By USA specialist Ellie
Infectious energy, bighearted hospitality, and an unmatched passion for good food and music. That's what I love most about the South, and it's available all year round.
In November, the weather is still warm, but the crowds dissipate somewhat — not enough to dial down the region's vivacity but enough to give you a little more breathing space. The hotels become more affordable, too, making it one of the best times to visit.
The winter months are a little cooler, but if you're willing to dress warmly, the near-constant festivities, from dazzling Christmas lights in December to pre-Mardi Gras celebrations in late January, more than make up for the weather. And I find it much easier to get up and go compared to the sweltering summer days.
Due to the typically mild weather, you can do almost everything you can in peak season, just with fewer crowds — though the alligators tend to be a little shy in winter, so I advise against a swamp tour.
For example, you could peel back the layers of Nashville's history during an in-depth walking tour that covers much more than the city's musical heritage, learn how to recreate New Orleans's most renowned dishes during a hands-on cooking class, or enjoy Elvis's glittering Graceland complex in Memphis without the long wait to get in. In the evenings, you can soak in the sounds of jazz, country, and rock 'n' roll at storied venues or catch an ice hockey or basketball game to enjoy a totally different cultural experience.
While the cities are still lively in winter, the smaller towns turn into quiet havens, and it's here that you can really enjoy the Southern hospitality. With fewer visitors around, I find that the locals have much more time to enthuse about their best-loved spots, giving you insider tips for tucked-away restaurants, peaceful winter walks, and one-off community events that you might have otherwise missed.
Read more about trips to the USA

Start thinking about your experience. These itineraries are simply suggestions for how you could enjoy some of the same experiences as our specialists. They're just for inspiration, because your trip will be created around your particular tastes.
View All Tours in The US