By USA specialist Natalie
The history of New Orleans is written in its food. West African, Choctaw, Caribbean, Provençal, Acadian and Spanish influences have been tossed into a big, black cast-iron pot along with the abundance of local seafood and simmered slowly for more than 300 years. That melding produced a complicated and storied cuisine that's unlike any other.
This is just the barest introduction — there's also a wealth of Louisiana-specific food outside the city. Stop at roadside bait shops for alligator corn dogs, sample Cajun boudin (a spicy sausage) in the area around Lafayette or try chargrilled oysters near Baton Rouge. You can delve deeper on a trip through America's Deep South
Louisiana staples: gumbo and red beans and rice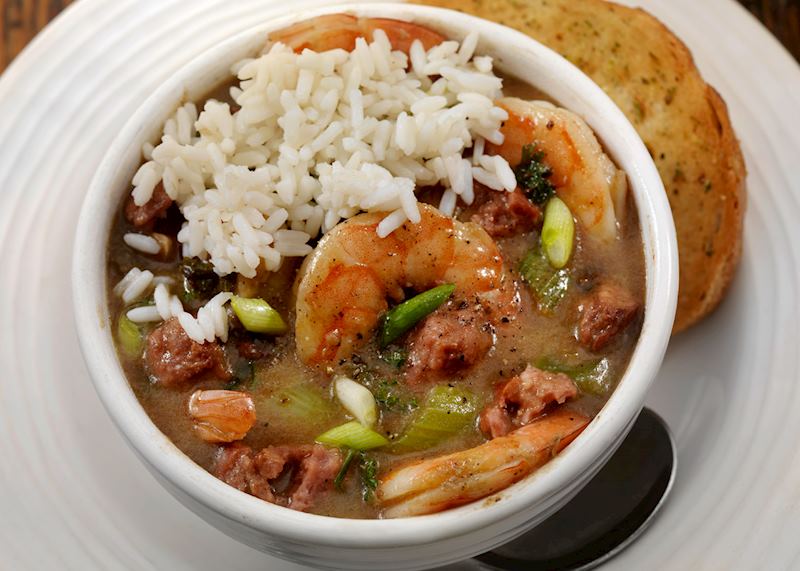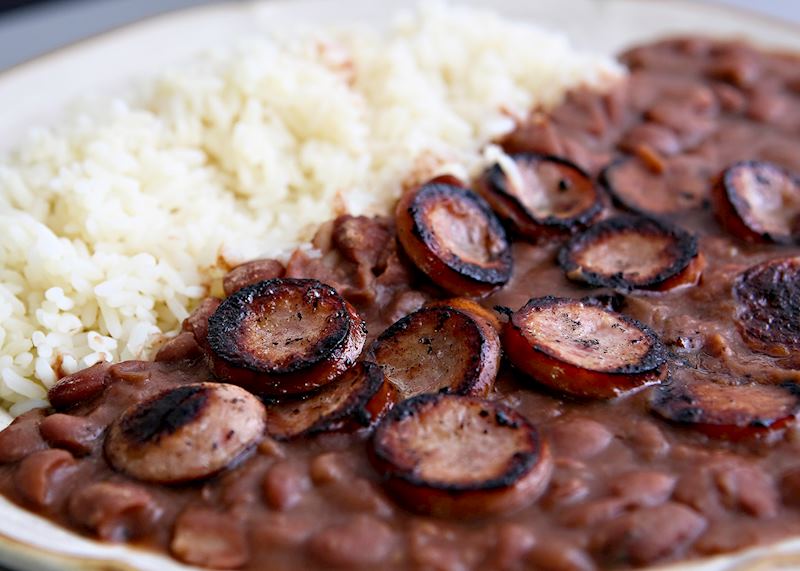 Gumbo, jambalaya, étouffée, or red beans and rice — most of the dishes that Louisiana is known for can be described as down-home cooking that's been elevated to high art.
For instance, gumbo is a stew with a flexible recipe that can incorporate 'anything that crawls, slithers, swims, or flies', according to a local saying. The dish is thickened with either okra or filé (a spicy herb made from powdered sassafras leaves) and then served with rice.
Of course, that description belies the complexity of the finished dish. Briny and earthy all at once, the richly piquant sauce seeps into the rice and wraps around the tender shrimp or silky chicken before settling warmly in your stomach. I find it soul-satisfying in a way that is hard to describe.
The same can be said for the alchemy of red beans and rice, traditionally served on Mondays. Each household has its own version, but the long-simmered dish is usually seasoned with pickled pork and andouille sausage. The bright acidity of the vinegar, the richness of the pork and the subtle heat of the sausage combine to transmogrify this simple staple into something amazing.
The New Orleans School of Cooking helps outsiders deconstruct these dishes so they can learn to make them at home. We can arrange either a demonstration or a hands-on class, depending on your taste. Even if you have only a passing interest in food, I suggest making time for at least a demonstration, because, in many ways, understanding New Orleans' cuisine is a key to understanding the city.
The sweet life: pralines, beignets and king cake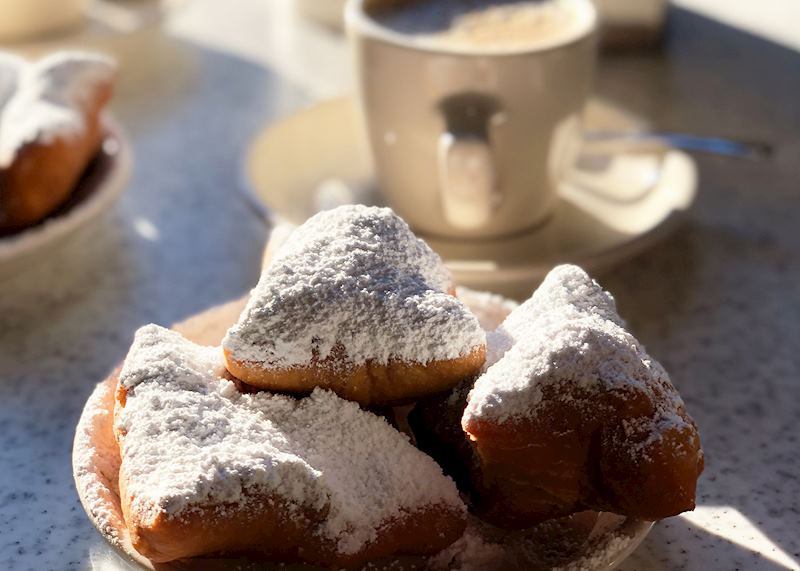 The easiest way to tell the difference between a local and a tourist in New Orleans is this — tourists wait for a table at Café Du Monde, locals just grab any open seat. Though it goes against my polite inclination to ask permission, I suggest you do the same.
Why is everyone there? Beignets — palm-sized rectangles of dough fried into puffed golden pillows with delicate interiors and golden-crisped exteriors that glisten richly with grease under a thick coating of icing sugar.
They're served in batches of three by busy wait staff who can be rather direct, so have your order in mind before you sit. The limited menu includes two classic Louisiana coffee drinks — café au lait or chicory coffee. I've never had chicory myself — it's an acquired taste — but locals who love it say it tastes a little like very nutty, woodsy (caffeine-free) coffee.
The Decatur Street café is the classic place to get beignets, but if you can't face the idea of cutting the line, I suggest Café Beignet, tucked into Music Legends Park on Bourbon Street.
The city's signature sweet is the praline. Creamy, studded with pecans and tooth-achingly sweet, these confections are very different to the French version that they descended from. Hundreds of shops sell pralines, but I like Aunt Sally's Praline Shop, on Saint Charles Ave, because you can watch the workers as they make the candies.
Even a cursory discussion of New Orleans food would be incomplete without a mention of king cake. Ask any NOLA native about king cake and a heated argument will erupt about the most authentic form, but it's loosely defined as a circular cake that's iced in the traditional Mardi Gras green, yellow and purple. There's a trinket baked into the cake — a small plastic baby or a bean — and whoever gets the trinket is responsible for throwing the next Mardi Gras party or bringing the king cake to the next event.
Because king cake is associated with the pre-Lenten season, you'll find it everywhere during Mardi Gras season, but it's harder to find at other times of the year.
Creole elegance: New Orleans' restaurants
Keeping up with the ever-changing restaurant scene in New Orleans is a full-time job. The small city supports a constantly rotating cast of 1,700 eateries, not to mention food trucks, small shops and pop ups. If you want to visit the hippest new place, I suggest talking to your hotel's concierge.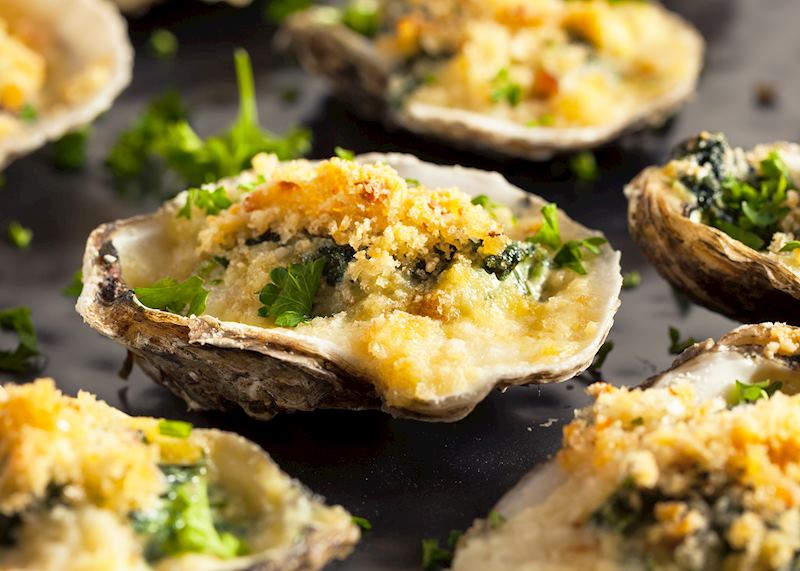 But some restaurants are institutions in the city. They usually offer Creole food, an elegant Southern take on classic French cuisine, served in genteel surrounds. These are old-fashioned destinations, where you go for creamy seafood bisque, garlicky escargots à la bordelaise, shrimp rémoulade and buttery oysters Rockefeller.
In fact, oysters Rockefeller was invented at Antoine's Restaurant, a fixture in the French Quarter since 1840. The dish, which was invented in 1889, consists of oysters on the half shell, topped with butter, herbs and breadcrumbs. It was so rich it was named after the wealthiest man in the country at the time, John D. Rockefeller.
At Antoine's, each timeless dining room is named after a different Mardi Gras krewe, with members' crowns and costumes displayed in glass cases. Jackets and reservations are both strongly recommended.
Though none quite match the sheer longevity of Antoine's, other restaurants offer a similar combination of historic pedigrees, rich Creole food, impeccable service and convenient French Quarter locales: Galatoire's, Arnaud's, Brennan's and the Court of Two Sisters. Most of them also offer an indulgent jazz brunch on weekends, with live music — I recommend the Court of Two Sisters, which has a staggeringly huge buffet.
Set in a barefaced brick building, Mother's Restaurant is less elegant but also a local institution. It opened to serve dockworkers in 1938 and claims to serve 'the world's best baked ham'. Try the Ferdi special, named after a regular who requested a po' boy with baked ham, roast beef and 'debris' (a New Orleans-specific term for the bits of the roast that fall into the gravy), fully dressed with shredded cabbage, pickles, mayonnaise and mustard.
Located in the Tremé, Dooky Chase serves up a plate of the city's African American culinary heritage. Known as the Queen of Creole Cuisine, the late Leah Chase served luminaries like Thurgood Marshall and Martin Luther King Jr here during the civil rights struggles of the 1960s. Its menu features local classics like fried chicken and red bean and rice.
Laissez les bon temps rouler: signature drinks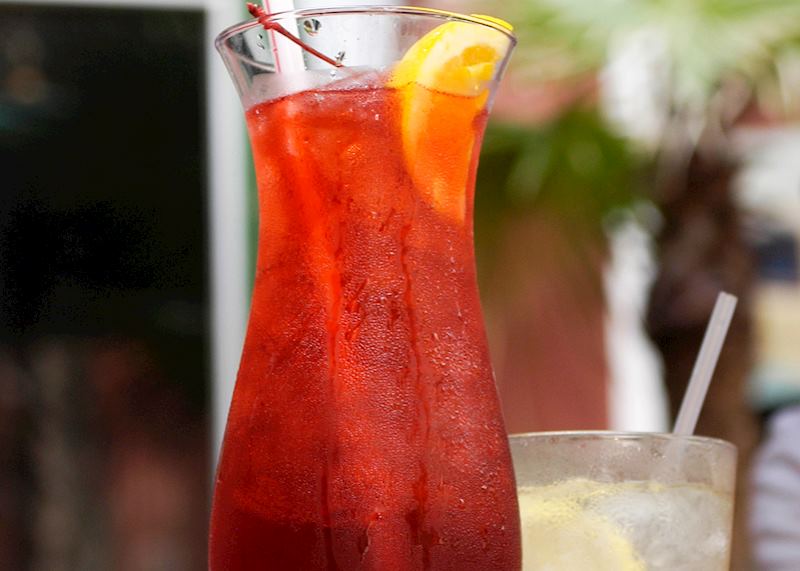 In much of the USA, where you can drink alcohol is severely restricted. But the rules are somewhat looser in New Orleans, as befits a city with the motto 'let the good times roll'. The city also has a long history of inventing cocktails.
The best-known is probably the hurricane, a sweet red cocktail made with lemon juice, passionfruit syrup and rum and then topped with a maraschino cherry and a slice of orange. It was invented at Pat O'Brien's Bar during World War II, when whiskey was hard to find, and is named after the curvy glass that it usually comes in, said to resemble a hurricane lamp.
Other home-grown cocktails include the sazerac, gin fizz, French 75 and bywater. If you'd like to explore the history of the city's many drinks, we can arrange a cocktail-themed walking tour of the French Quarter. Pop in and out of bars and discover how Prohibition, the Civil War and other events influenced the drinks on the menu.
Sandwiches: po' boys and muffalettas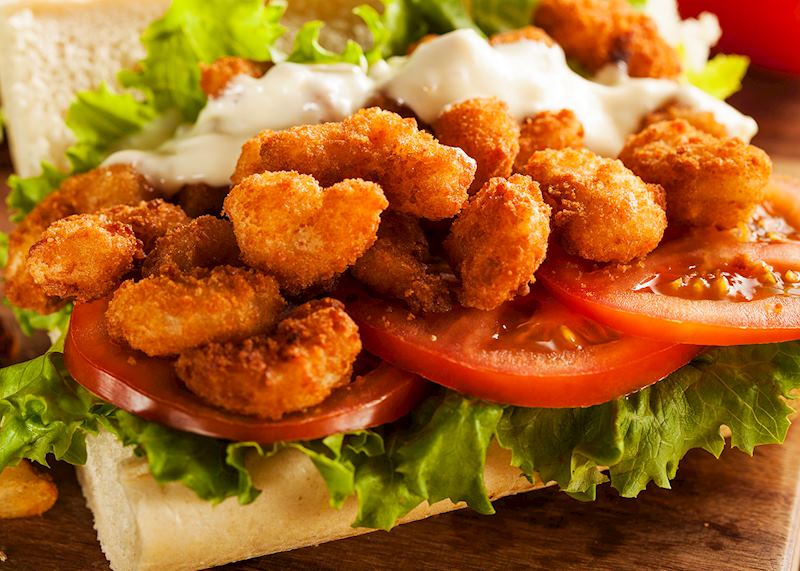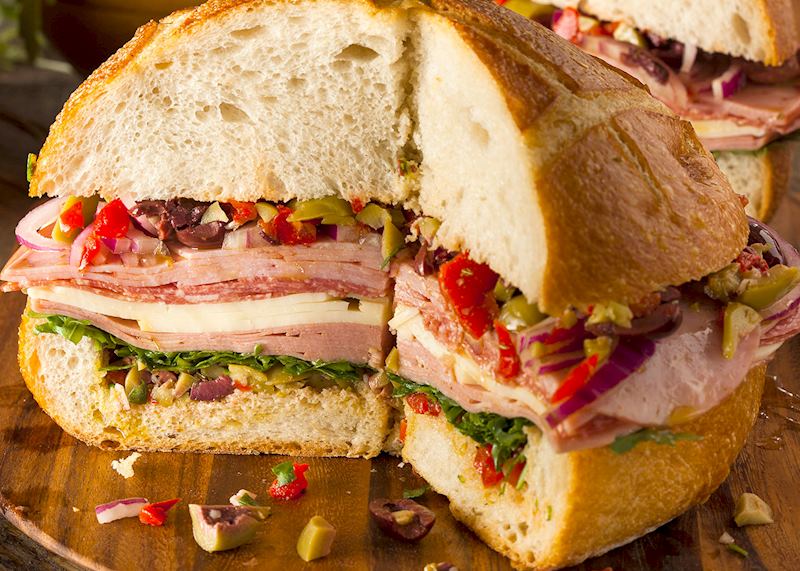 Sometimes so overstuffed that you have to eat them with a knife and fork, po' boys are the signature sandwich of the city. Soft, chewy French bread is filled with roast beef or fried seafood and dressed with a generous helping of shredded lettuce, tomatoes, mayonnaise and pickles.
If you're a little leery of crawfish, this is a good way to try them for the first time, where the 'mudbugs' are hidden by a crisp batter coating and lost amid the piles of dressing. Another popular filling is barbecue shrimp, a misnomer because the shrimp are not barbecued but drenched in a silky, spicy butter sauce that's unique to New Orleans.
Po' boys are sold everywhere, so choosing where to get the best one is nearly impossible. In contrast, it's easy to know where to get the muffaletta, the city's other sandwich. You go straight to the origin at Central Grocery & Deli, right across the street from a statue of Joan of Arc known locally as 'Joanie on the Pony'.
The first muffaletta in New Orleans was created in the 1920s by a Sicilian immigrant working at this unprepossessing Italian grocery on Decatur St. Muffaletta sandwiches are common in Sicily and were immediately popular with the many Italian immigrants who worked at the docks in the port city at the time.
The sandwich consists of a platter-sized loaf of bread sliced horizontally and filled with layers of salami, ham, mortadella, Swiss and provolone cheese, and marinated giardiniera. Central Grocery will sell you a whole, half or quarter — unless you're feeding a whole family, I suggest starting with the smallest portion.
Read more about trips to New Orleans

Start thinking about your experience. These itineraries are simply suggestions for how you could enjoy some of the same experiences as our specialists. They're just for inspiration, because your trip will be created around your particular tastes.
View All Tours in The Deep South