Oman has not been renowned for its conservation record but, as Harry Ring discovers, the turtle project in Ras Al-Jinz is an encouraging development in the quest to protect this delicate species.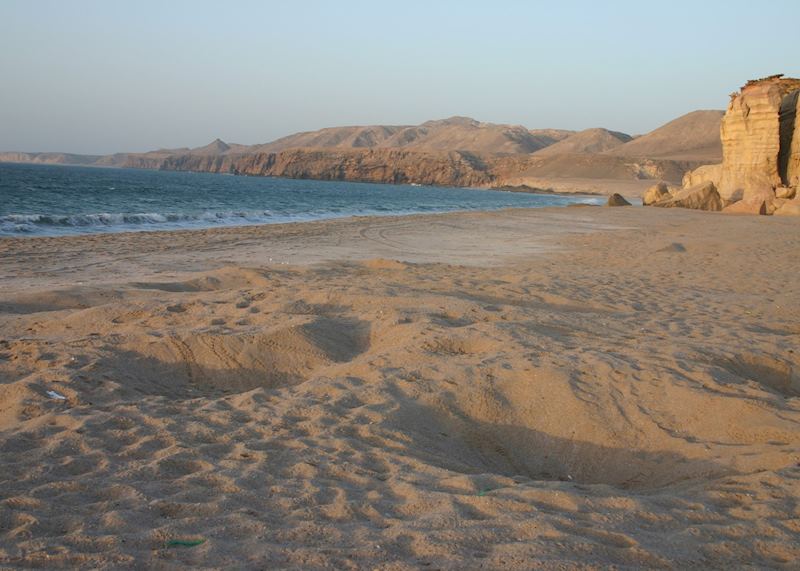 Having lived most of my life in Oman, I've been going to Ras Al-Jinz for years now, and it's so good to see the efforts being made to turn it into a real beacon for eco-tourism in Oman.
Whenever I look out at the swirling and lonely emptiness of the Indian Ocean, I can't help but hope that there might somewhere be a young green turtle that remembers the gentle helping hand it received down to the sea as it emerged from its nest about ten years ago. If it's a female turtle, then when she reaches sexual maturity (scientists are unsure exactly when this is, but speculate between 20 and 50 years old) she will return to that same beach, which I sincerely hope will still be a protected reserve and where another small group of wide-eyed visitors can see her laying her eggs, or watch in amazement as her hatchlings struggling down to the apparent safety of the ocean.
That beach is at Ras Al-Jinz in Oman, and before we continue there are a couple of things I should point out. Firstly, visitors are now discouraged from handling the hatchlings: conservation policies and procedures have, thankfully, moved on a long way since my earlier visits to "Turtle Beach". Secondly, and sadly, it's highly unlikely the hatchling I helped into the water made it to maturity. They are so small and vulnerable between emerging from the nest and developing into full-grown turtles (whose only predators are sharks and humans) that a staggering 99.9% of all hatchlings are doomed not to make it to maturity. Each nesting turtle lays between 100 to 200 eggs, so the four different nests of hatchlings I saw emerging that night had a 50/50 chance of producing one adult turtle between them. This extremely low reproductive success rate, when coupled with habitat destruction, hunting and accidental capture in fishing nets, is what has decimated turtle populations and led to their endangered conservation status in 2002.
The establishment of the Ras Al-Jinz Sea Turtle and Nature Reserve in 1996 was one step along the path to preserving these impressive creatures, although initial conservation efforts were perhaps not that well directed; in fact we were so concerned about the lack of control exerted over visitors that we stopped sending people to the reserve for a while. Thankfully, the new Ras Al-Jinz Scientific and Visitors' Centre now delivers an informative experience that puts the well-being of the turtle before anything else. So we are once again happy to be able to offer people the chance to watch turtles nesting, and hatchlings emerging: one of the real must-sees for any wildlife enthusiast.
The Scientific & Research Centre hosts interpretive presentations before the visits to the beach, and there is a small museum as well. Turtles are a fantastically old species and have always been hunted by man, so maybe it was the nesting beach that drew ancient fishermen to Ras Al-Jinz: remains of the oldest dwellings in the Arabian Peninsula can also be found in the reserve, and the center offers tours to look around them. The center also boasts a new restaurant and some simple accommodation. Having lived most of my life in Oman, I've been going to Ras Al-Jinz for years now, and it's so good to see the efforts being made to turn it into a real beacon for ecotourism in Oman.
For all but the real die-hard naturalist, the turtles are likely to be the only wildlife experience included on a visit to Oman, and they are a great way to add variety to your trip. The main draws of the country are the amazing scenery, and the fascinating history and culture. Ras Al-Jinz slots nicely into a circuit around northern Oman, where the greatest concentration of attractions is to be found. Muscat boasts a range of excellent luxury hotels, and enough of interest to detain you for a day or two, including the Sultan Qaboos Mosque. Built by the current ruler and only completed in 2001, it is a beautiful and peaceful building. Gleaming marble competes for your attention with the second-largest carpet in the world and a glittering 14 m (46 ft) high crystal chandelier built by Swarovski.
Leaving the comforts of Muscat you head for the conservative interior of the country. Along the way you will probably visit the first of your traditional Omani forts, restored using only the original building techniques and materials, as well as enjoying the thrill of your first off-road driving. Basing yourself at the ancient capital of Nizwa, dominated by its vast fort, you can spend a couple of days exploring the canyons, wadis and villages of the Hajar Mountains. Having done this, it's now time to live out your Lawrence of Arabia fantasies, with a night amidst the vast ocher dunes of the Wahiba Sands. Finally, sandwiched between the desert and the journey back to Muscat, comes your night at the Ras Al-Jinz Scientific and Visitors Centre. Many people choose to round their trip off with some downtime in one of those fantastic Muscat hotels, but for the intrepid, the history and monsoon microclimate of Salalah, or perhaps the fjord-like scenery of the remote Musandam Peninsula beckon, but we'll save those for another day!