Long a popular destination for travelers, Morocco continues to attract visitors in increasing numbers. Our specialists explore some of the options available for those wanting to escape the crowds and get under the skin of the country.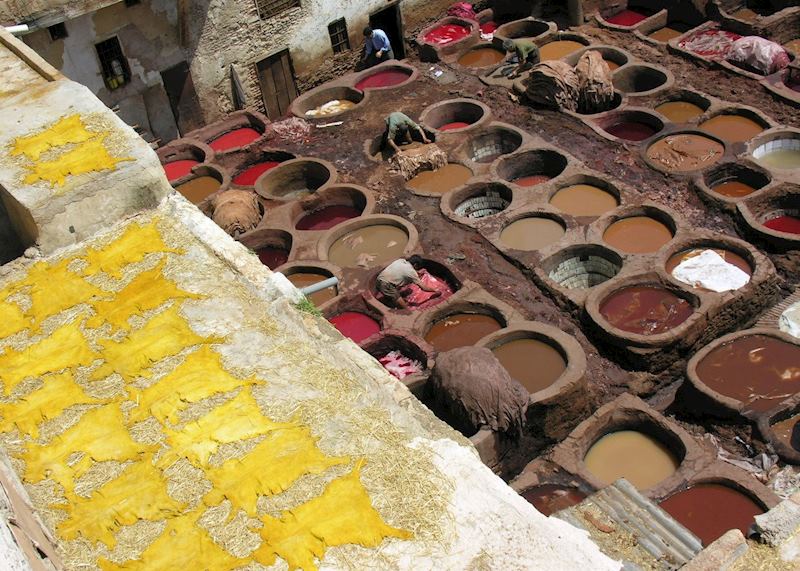 The beating heart of Morocco, Marrakesh, is a magical, evocative city that offers a tantalizing introduction to North Africa. With budget airlines flying here regularly it's also very accessible and a short stay of three to four nights is quite feasible. Yet it would be a shame to come this far without exploring beyond the city walls. Within a short drive of Marrakesh you'll find stunning mountain landscapes, rippling desert sands, Roman ruins, historic cities and relaxed yet cosmopolitan coastal towns.
With new routes to Marrakesh and Casablanca with BMI and British Airways it's now possible to travel in more comfort and have more flexibility on itineraries. Opt for a circuit between these two cities and you can include all of Morocco's major highlights for a comprehensive first time visit. Alternatively, use Marrakesh as a hub and in the space of a relaxed week explore the city, see North Africa's highest peak and sample some of the delicious seafood on the coast.
Here our Morocco specialists describe their favorite destinations outside the Red City and offer tips on where and how long to stay.
---
Essaouira
Essaouira is a picturesque city on the west coast, only a three-hour drive from Marrakesh. Perfect for a two to three day break, it offers a complete change of scenery and pace after the bustle of Marrakesh. Essaouira's laid-back atmosphere is as yet unspoiled by mass tourism but the city boasts an enviable collection of charmingly restored riads (traditional Moroccan homes) offering visitors a wonderful choice of accommodation.
Unusually for Morocco, Essaouira has always had something of a relaxed, hippy vibe. Jimi Hendrix was a regular visitor in the '60s and the city's ramparts are a popular film location; recently seen in Ridley Scott's Kingdom of Heaven and Oliver Stone's Alexander. Orson Welles was so enamored with the place that he chose to film Othello here in the 1950s. His legacy lives on, with a monument to the actor and director in the center of Orson Welles Square, just outside the walls of the medina (old town).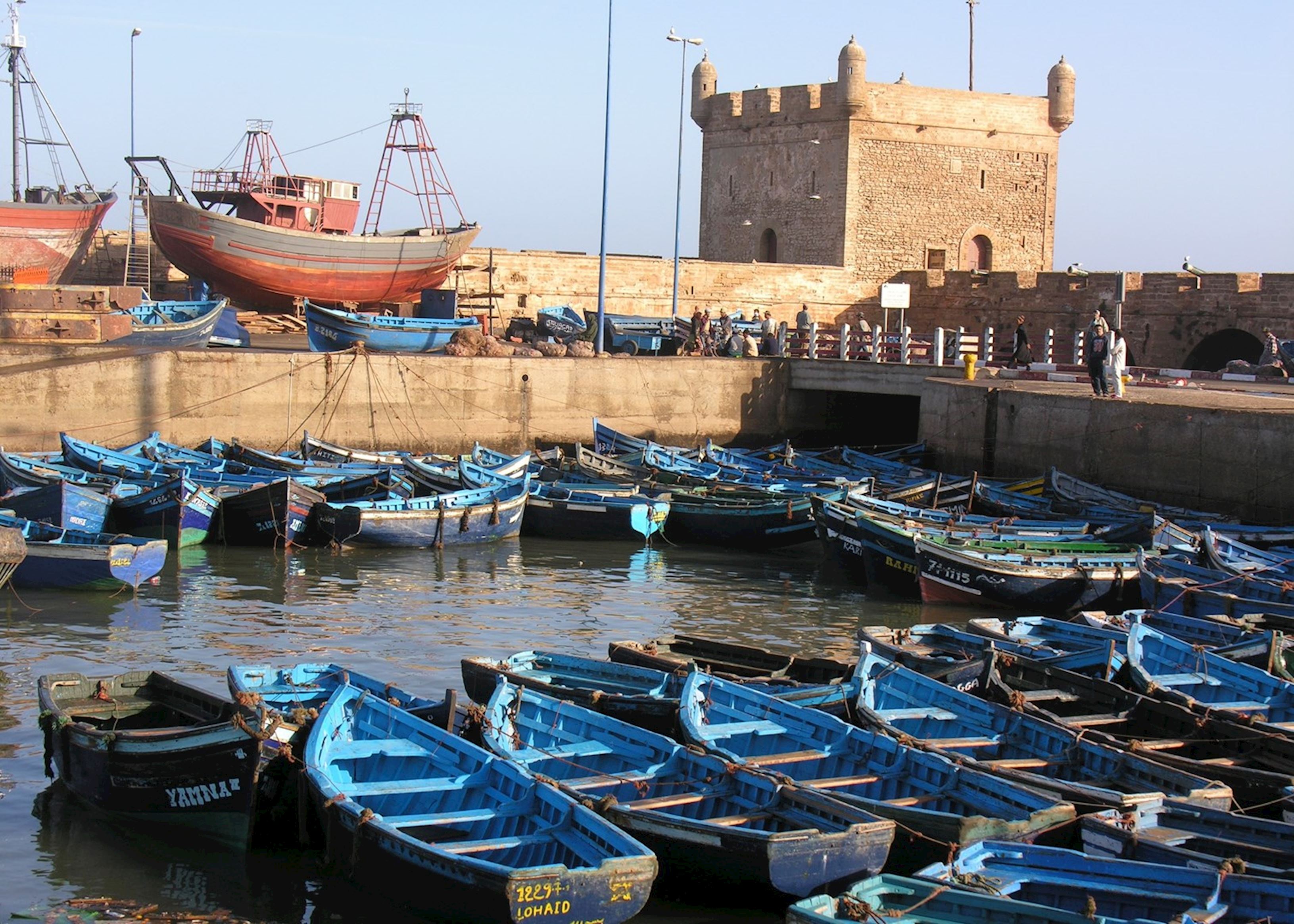 Essaouira boasts a number of excellent seafood restaurants, a quaint souq (market), a wild beach for walking, horse riding and kitesurfing and a handful of laid-back bars offering live music. En route from Marrakesh you can stop off at a Women's Cooperative to see how argan oil, produced from the kernels of the argan tree and valued for its nutritive, cosmetic and medicinal properties, is made.
---
The High Atlas Mountains
The snow-capped peaks of the High Atlas are so close to Marrakesh that they are clearly visible from the roof terraces of most of the city's riads. Within an hour's drive you can be in the scenic Ourika Valley; bartering at the local market, enjoying gentle hikes and staying at one of my favorite places, the Kasbah Bab Ourika. With just 15 beautiful rooms, leafy gardens and stunning views this hotel is difficult to beat if you are looking for a mixture of activity and relaxation during your stay. Despite being at the very foot of the range there are some jaw-dropping views around the Ourika Valley such as those down the rugged valley or up to the shimmering peak of Jebel Toubkal, North Africa's highest mountain.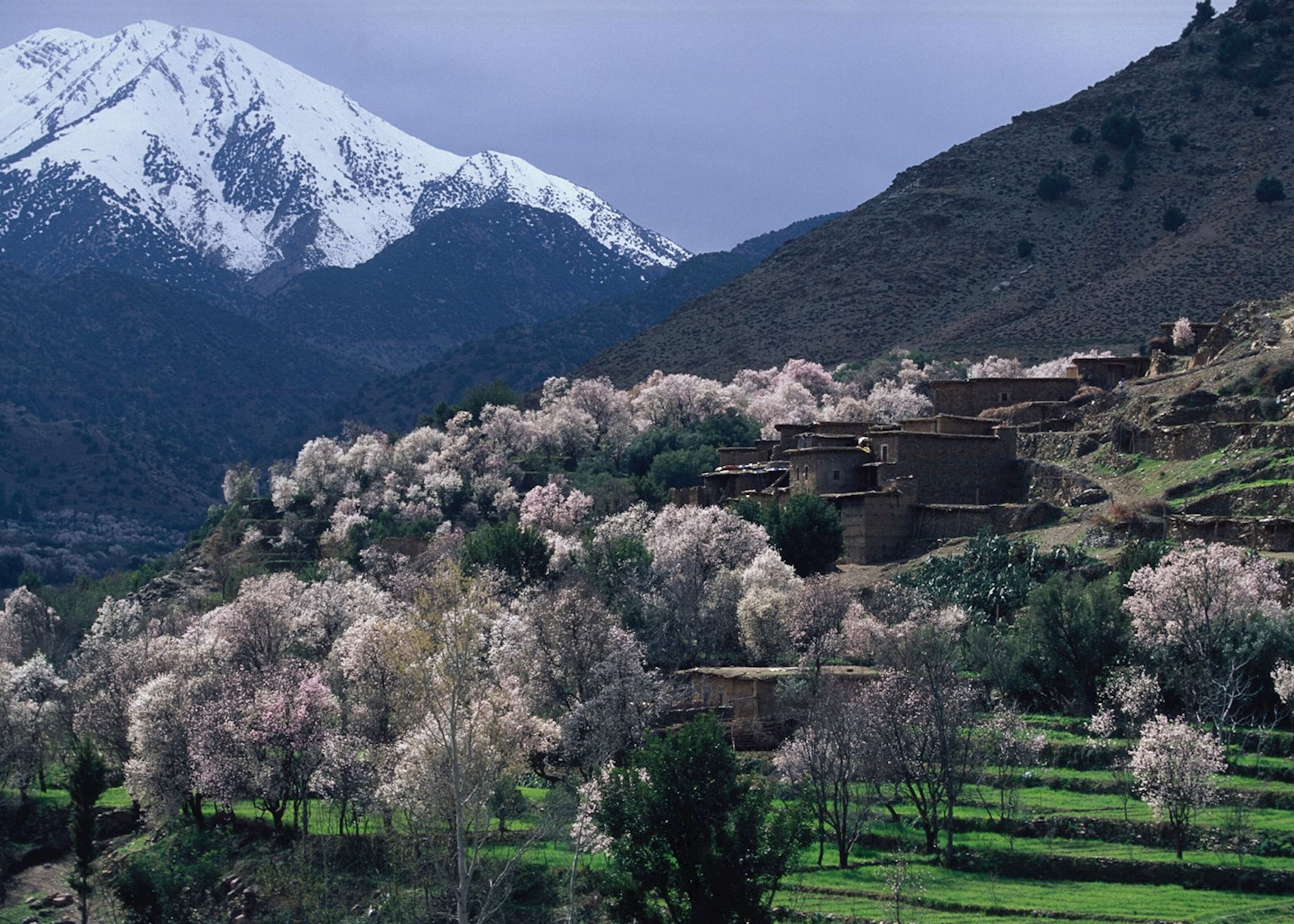 Moving higher up, there are a couple of wonderfully scenic, serpentine mountain passes that you can drive: the Tizi-n-Tichka and my favorite, the Tizi-n-Test. A short detour from the latter is the historic 12th century Almohad mosque in the small mountain village of Tin Mal. Naturally the mountains make spectacular walking territory with many hikes launching from the Berberrun eco-property, the Kasbah du Toubkal. The views here are fabulous and you can try anything from a relatively gentle stroll around the village of Imlil to a full-on assault on the 4,000 m (13,123 ft) summit of Jebel Toubkal.
---
Fez and the Imperial Cities
Regular visitors to Morocco will tell you that while Marrakesh is undoubtedly worth a visit, Fez is the real deal. Step foot inside the medina walls and you are instantly transported back in time. A mystifying warren of tight alleyways and medieval structures, it makes the Marrakesh markets seem like child's play. The bustling souqs are more tailored to locals than visitors but there is still some fantastic shopping to be done and the colorful tanneries have to be seen to be believed. A full day guided tour introduces you to the main sights of this historic city and will help you to get your bearings for further exploration on your own.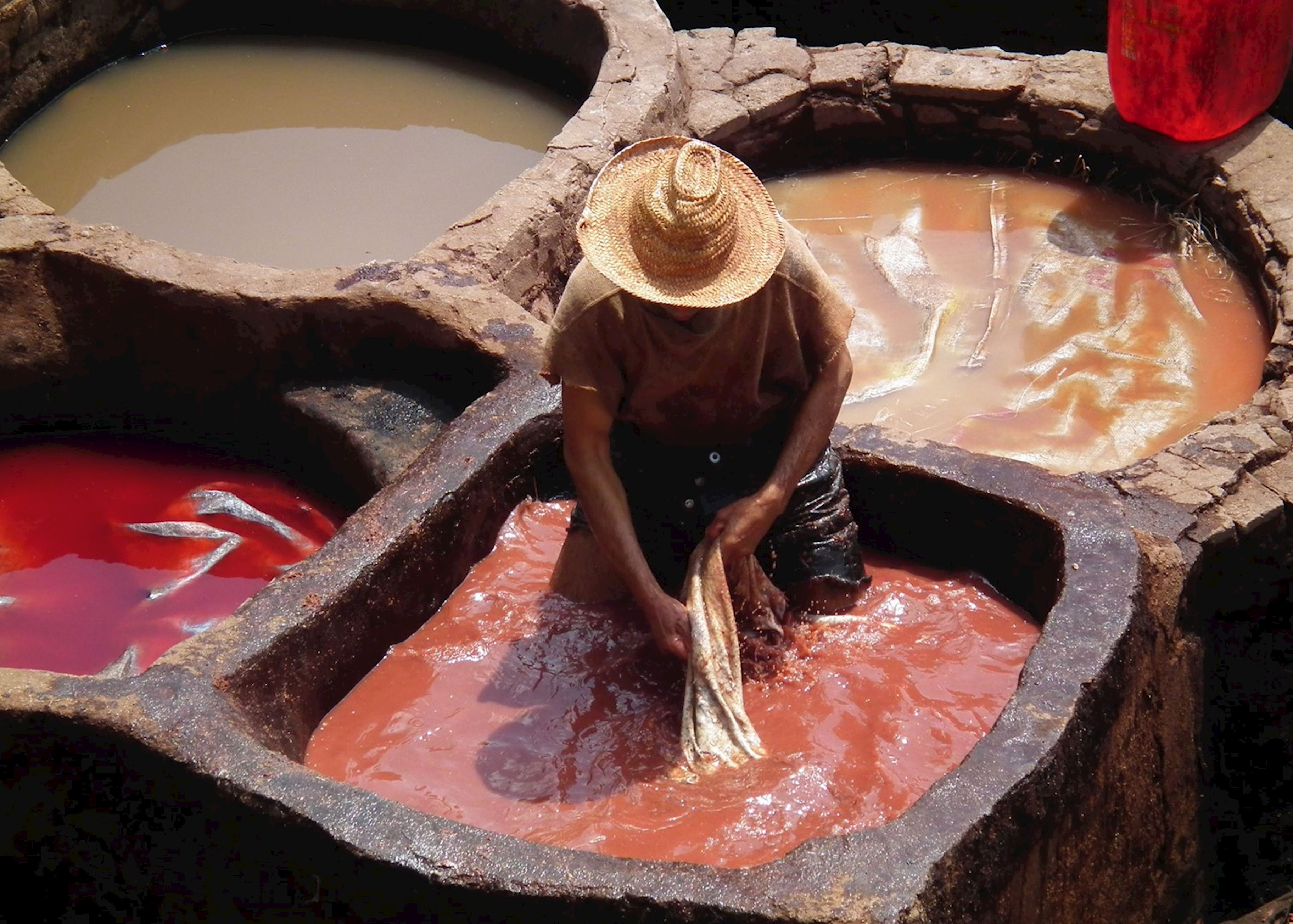 Fez, like Marrakesh, has a host of excellent new riads offering a variety of levels of style and comfort, but its atmosphere is timeless and more authentic, making it a perfect accompaniment to a trip to the Red City.
Not far from Fez you can visit the historic city of Meknes, the capital Rabat and the impressive Roman ruins of Volubilis.
---
Skoura and the south
Morocco's south is a heady combination of snow-capped mountains, verdant palm groves and wide open plains. The pace of life here is slower and the backdrop of lush valleys and crumbling kasbahs is picture perfect.
Skoura is a small town close to the Dades Valley, the 'Valley of a Thousand Kasbahs'. Many of these historic kasbahs are in a state of disarray but others are much better preserved. Seeing a traditionally-dressed local leading a donkey past a deep red ruin set against an emerald palm grove is a classic Moroccan scene.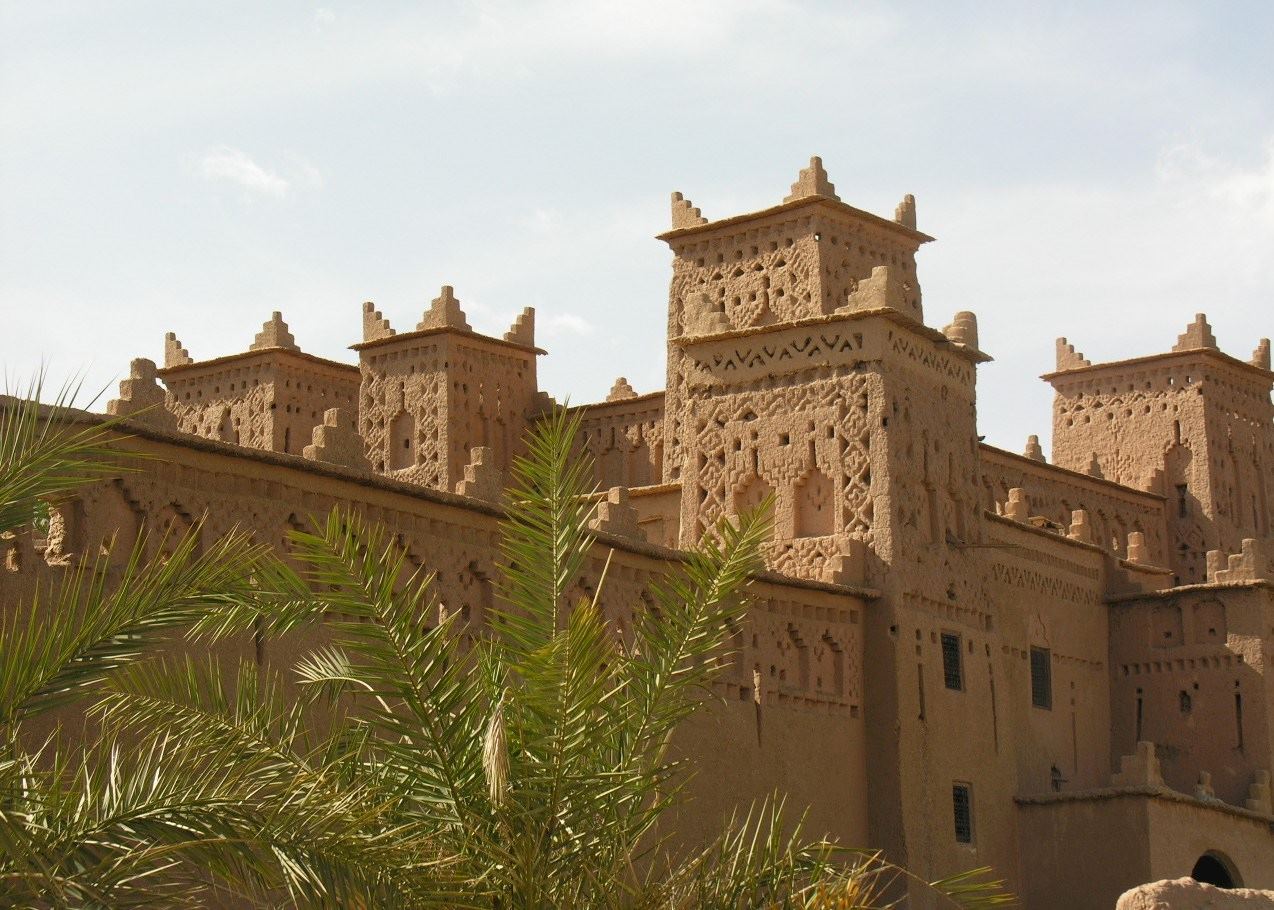 Although there is not much in Skoura itself, it is a great base for exploring the south. The rugged Dades and Todra Gorges are just a couple of hours away, while nearby Ouarzazate is Morocco's answer to Hollywood, with a modern film studio that you can explore. Immortalized in both Gladiator and The Jewel of the Nile, nearby Ait Benhaddou is possibly the most impressive of all of Morocco's kasbahs. But perhaps the best reason to visit Skoura is that it also possesses one of Morocco's finest places to stay, Dar Ahlam, the House of Dreams.
Our favorite places to stay in Morocco
Tailor-made vacations to Morocco
Morocco's intoxicating mix of bustling cultures, exotic cities, fine food and luxurious accommodations makes it a firm favorite with travelers. Highlights include the frenetic Djemaa El Fna night market in Marrakesh and the dramatic Atlas Mountains, perfect for walking enthusiasts.