Traditional accommodations in Morocco
No trip to Morocco would be complete without a stay in either a riad or kasbah - traditional Moroccan accommodations.
Effortlessly charming, riads and kasbahs are undoubtedly one of the major reasons to visit this diverse and exciting North African country, and spending a night or two in one of our carefully selected properties allows you to experience Moroccan hospitality at its very best.
Stylish and intimate, Marrakesh riads have been on the tourist radar for some time, but further off the beaten track there is also an exclusive selection of converted kasbahs that offer very high quality character and charm.
Start planning your trip to Morocco
---
Start thinking about your experience. These itineraries are simply suggestions for how you could enjoy some of the same experiences as our specialists. They're just for inspiration, because your trip will be created around your particular tastes.
Stay in a riad
Riads have developed a mythology and set of assumed conventions all of their own, but simply put, a riad is a house built around an interior garden.
They are often the former houses of merchants and noble men that have been modernized to suit tourist needs. Most will now have a roof terrace, a small plunge pool and sometimes a spa and Hammam. Some of the more luxurious riads boast gardens replete with verdant orange trees, ornate fountains and opulent little cubby holes where you can enjoy mint tea or a full private dinner.
The interior layout and aesthetic of your typical riad has had a great influence over contemporary interior design, but in truth there are now so many riads, particularly in Marrakesh, that there is a wide variance in style, quality and service.
The best riads of Marrakesh and Fez in particular provide an oasis of calm from the surrounding medina streets.
A selection of our riads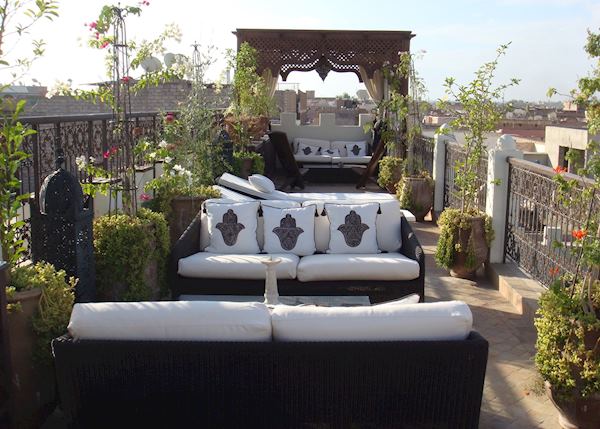 Riad Assakina is a beautiful riad situated in the historic Jewish quarter of the old medina in Marrakesh. It offers great service with a personal touch.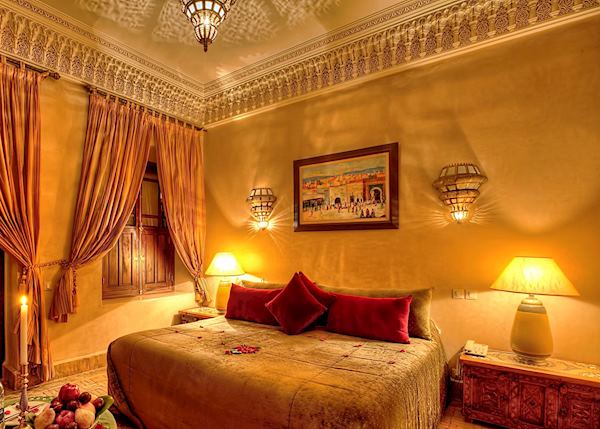 Riad Kniza is often regarded as one of the best luxury hotels in Morocco, and deservedly so. From the décor and the food to the service and the amenities, every aspect has been carefully thought out.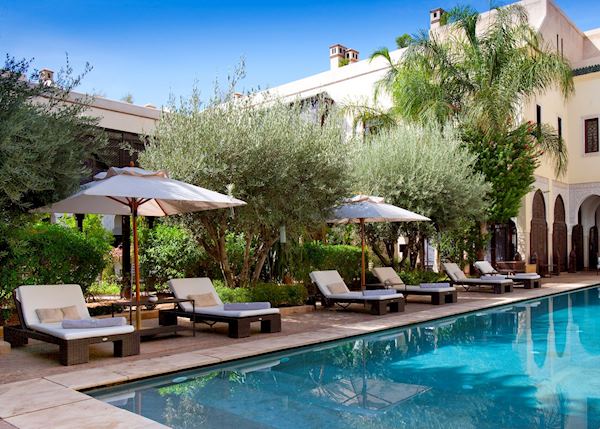 In addition to its spacious and comfortable rooms, the Villa des Orangers in Marrakesh also features a spa area with a gym, hammam, pool and massage rooms.
Located in one of Fez's narrow alleys, the rooms and suites at Riad Fes are appointed with turn-of-the-century period pieces that evoke the grand living of rich Fassi merchants.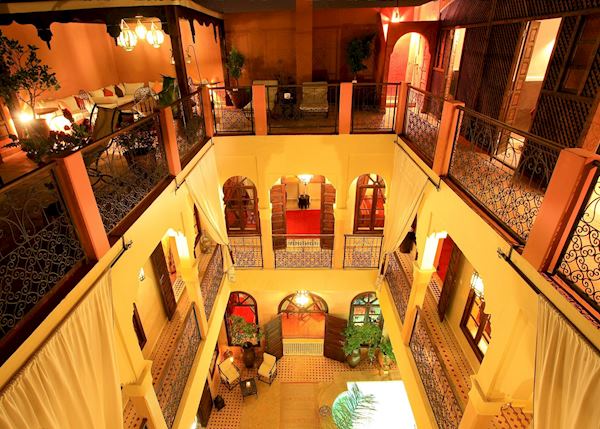 Riad Djemanna is a lovely, simple place to stay in Marrakesh, offering consistent, reliable service and food, as well as comfortable guest rooms. This property is a classic example of a traditional Moroccan riad.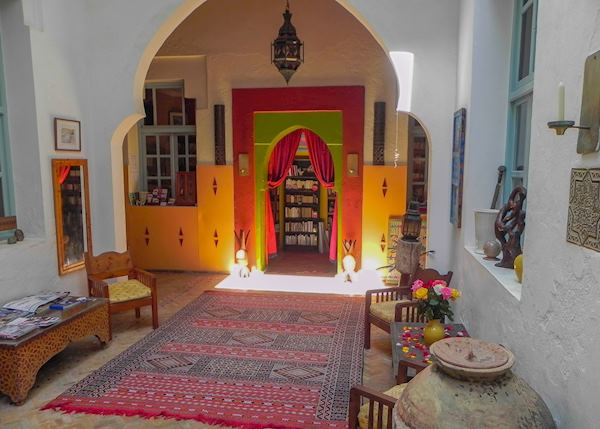 Just a five minute walk to the old fishing port and the golden beach of Essaouira, Ryad Watier is a quirky yet traditional property with exceptionally friendly staff.
Stay in a kasbah
Perhaps not as well known but no less interesting, some of Morocco's finest accommodations are converted Kasbahs.
Built (or more often rebuilt) in traditional style, with walls made of mud and straw, they have been reinforced for modern needs with more solid structures within the walls that are not visible to guests and therefore take nothing away from the authentic feel.
The best examples tend to be found in the High Atlas Mountains and in the remote south of the country, in an area known as the "route of 1000 Kasbahs."
Again, there are a range of styles and quality to be found, from the more humble Kasbah Ait Ben Moro, where you can meet staff who were born in the original Kasbah before it was renovated, to the top end luxury of Dar Ahlam and Richard Branson's Kasbah Tamadot.
A selection of our kasbahs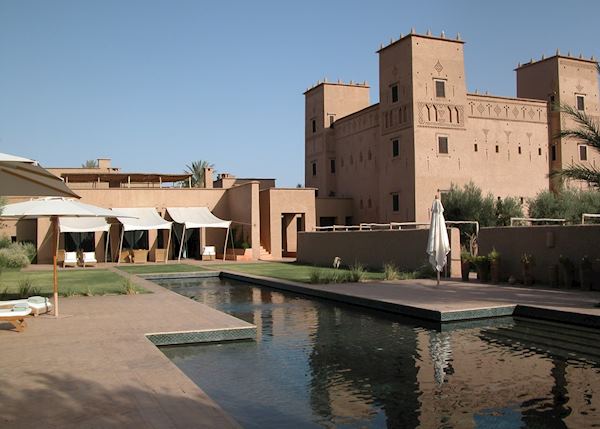 The Dar Ahlam is an amazingly opulent hotel in the heart of the Palmeraie. With a fantastic pool and great service it's a real treat.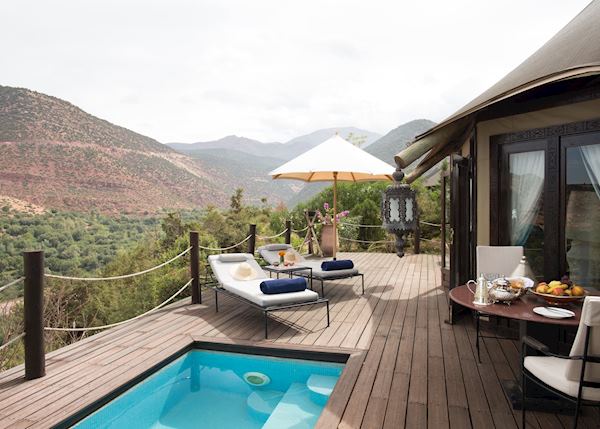 Kasbah Tamadot is located in the foothills of the High Atlas Mountains. This luxury, boutique hotel offers fantastic service, a beautiful spa, restaurant, and a stunning mountain backdrop.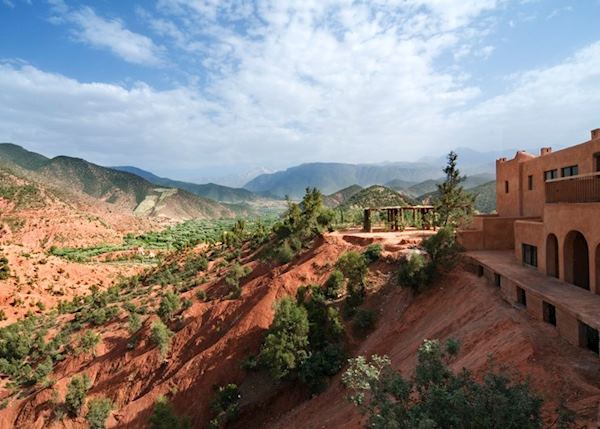 Just 45 minutes from Marrakesh, Kasbah Bab Ourika is well-situated at the foothills of the High Atlas Mountains. It is in a perfect location for hikes in the stunning Ourika Valley, or to simply relax around the luxurious pool.
Located at the base of Jebel Toubkal, with breathtaking 360 degree views of the peaks and valleys, Kasbah Du Toubkal is the perfect base for exploring the Atlas Mountains and getting to grips with Berber culture.