We are thinking about a vacation in Morocco but am concerned about my wife's gluten-free diet. Can you provide any information on how this might be catered for in Morocco please?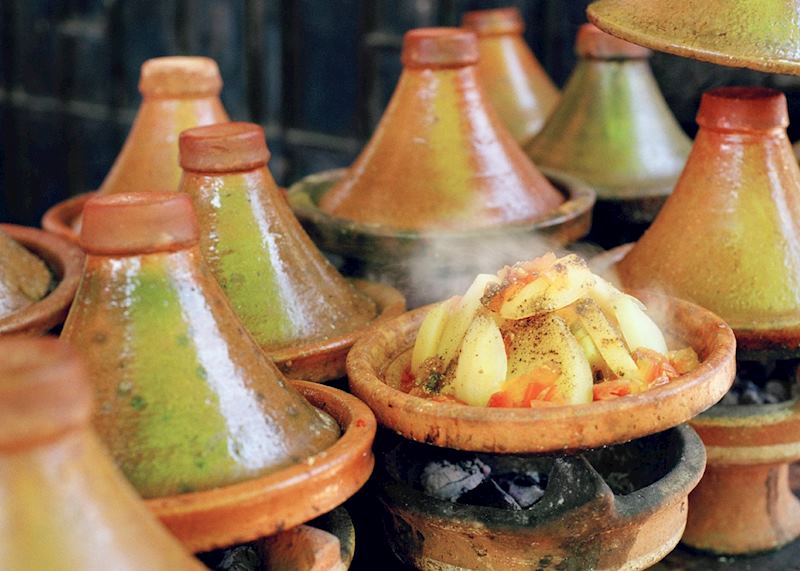 Answer
It is still definitely possible to visit and enjoy the Moroccan cuisine, but there are certain things that you'll have to avoid and even bring with you on your trip to make your life easier.
It is really easy to find food for lunch and dinner, for example lots of restaurants do meat or vegetable only tagines and you can order rice as a side dish, so rumors of always having to have tagines with couscous are certainly not true! There are also a lot of international restaurants in the larger cities such as Marrakesh or Rabat, where the French influence is still felt in the cuisine. On the coast dishes tend to involve a lot of seafood; places like Essaouira are famed for their fresh fish grills, which you can eat with various side dishes.
Issues tend to arise with traditional Moroccan breakfasts, which are often pastry and bread based. In this instance we would recommend taking your own bread with you. Some riads can cater for gluten free diets (and offer gluten free bread or international breakfast options) but these tend to be the larger or more luxurious accommodation options. If you are staying in a smaller riad or traveling off the beaten track, having your own bread will mean that you will be free to enjoy the delicious range of jams and honeys that are on offer.
If you are going to be doing any hiking on your trip, you will almost certainly be invited into a Berber home to enjoy traditional Moroccan mint tea and bread with a local family. We would recommend advising your guide beforehand that you won't be able to eat any of the bread so that you won't feel uncomfortable. For full or multi-day hikes your meals at lunch are likely to be a selection of salads with a hot tagine dish and some bread on the side. We can let the trekking team know of your dietary requirements beforehand and it should then be easy to adjust the menu.
In summary, we would not recommend against visiting Morocco if you have a gluten free diet as it is still certainly possible to enjoy much of the local food here. However, it does pay to be aware of where you are traveling and what they may (or may not) be able to offer, and plan accordingly. Our Regional Manager for Morocco is a coeliac and she has just returned from a thoroughly enjoyable trip to Marrakesh, so would be willing to discuss any details with you!