Written by Ian Simkins, Audley CEO
Free The Children
We're delighted to announce Free The Children as our charity of the year for 2016.
Founded over 20 years ago by brothers Craig and Marc Kielburger, Free The Children created an international development model called Adopt a Village that addresses the five primary causes of poverty with holistic and sustainable solutions that work in tandem to transform communities. Adopt a Village's five pillars are: Education, Clean Water and Sanitation, Health, Agriculture and Food Security; and Alternative Income and Livelihood. Each pillar is a critical component in breaking the cycle of poverty.
By setting up initiatives such as Adopt a Village, WE Day (celebration of young people making a difference in their local and global communities) and ME to WE (an innovative social enterprise which provides products that make an impact, including life-changing volunteer trips), Free The Children aims to empower communities to lift themselves out of poverty, assisting them in ultimately becoming self-sustaining. Here our CEO Ian Simkins shares an account of the time he spent in Kenya with his family.
Ian shares his experience of Free The Children in Kenya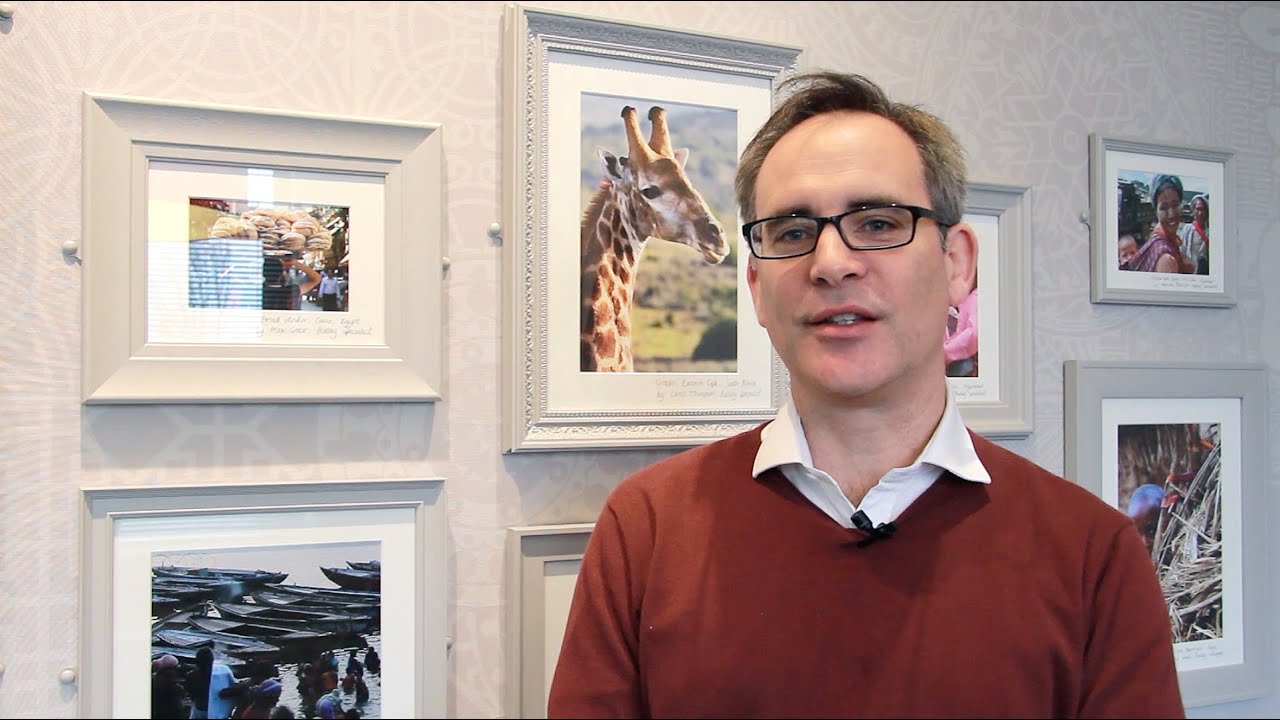 Audley CEO, Ian Simkins talks about his experience of Free The Children
Watch a short video of Audley CEO, Ian Simkins talking about Free The Children and his family trip to Kenya.
Attending WE Day in London
In March 2014 I was invited to WE Day at Wembley Arena. The event was amazing with speakers such as Al Gore, Malala Yousafzai and top acts such as Ellie Goulding. Even Prince Harry made an appearance to rapturous applause.
But what inspired me most was the motto of 'Be the Change' and the enthusiasm of the audience. Thousands of school children listened intently to messages ranging from climate change to bullying, and the development of under privileged areas of the world, with the underlying message being how they could 'Be the Change.'
There and then I made the decision that my family: Jake (aged 9), Luke (aged 6), my wife and I should go to one of Free The Children's partner communities in Kenya and experience the work they do first-hand.
What is WE Day?
WE Day combines the energy of a live concert with the inspiration of hearing the remarkable stories of people leading change. It is a movement that brings together world-renowned speakers and performers with tens of thousands of students to celebrate the power young people have to change the world. Students can't buy a ticket to WE Day — they earn it through the year-long active citizenship program, WE Schools, by participating in one local and one global action.
Planning our trip to Kenya
Normally I don't give a second thought to traveling by myself, but when it's with my family my concerns about safety are at their highest. The other factors to consider are the practicalities: time off school, length of flight, time difference for jet lag, and family-friendly accommodation.
Kenya is a great destination from a practical point of view. The flight is nine hours from the UK, with just a +two hour time difference. There is also a good variety of accommodation and room types to choose from.
In Kenya we stayed at Bogani Cottages and Tented Camp in the Masai Mara. Our two bedrooms were close together and only separated by a private lounge area. On safari we all stayed in one huge tent; quite reassuring when you can hear pods of hippo nearby.
Arriving to Bogani, Kenya
We arrived at Bogani after an overnight stay in Nairobi and a short light aircraft journey, from which we could see the vast plains of Kenya. After a spot of lunch it was time to venture out with our fellow ME to WE travelers.
Our first trip out of the camp was a real treat for Jake and Luke. We went to experience life at a local primary school. The first thing we saw was the old classroom, decayed and falling down. From the non-existent walls you could see the new brick classrooms, and it was here that Luke and Jake met children their own age. Although language was a barrier, a game of 'it' or 'tag' ensued with just the language of laughter necessary.
Jake and Luke connected with primary school children of the same age and instantly found things in common. The Kenyan children, like most their age, were particularly fascinated by any electronic gadget that appeared.
On the second day we met Mama Jane, an important figure among the community. She showed us how Free The Children have helped to develop a cooperative run by the local women for the benefit of the well-being of the community. We also helped to fetch water, which was a two-kilometer round trip with eight liters of water.
In the afternoon we helped build a wall as part of a school classroom. Having never laid a brick in our lives this was a lovely bonding experience for us as a family, and pretty comical at times.
For me, there were two real highlights from the last few days. Playing football with the local school and Maasai people, and weapons training with Jackson, a fully-fledged resident Maasai warrior. To say the children enjoyed this would be an understatement.
Although we passed our Maasai warrior training we lost 3-0 at football as the Kenyan children out-played us in both skill and fitness. It was telling that the three goals came in the last 15 minutes.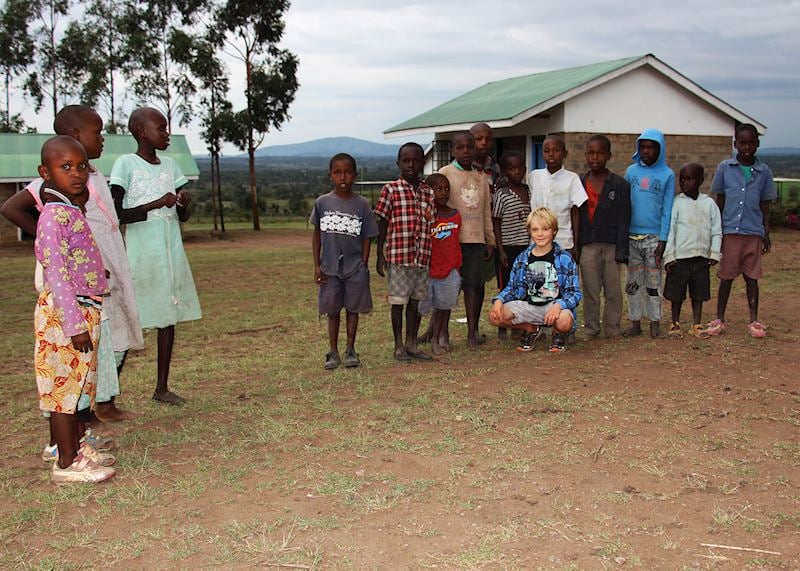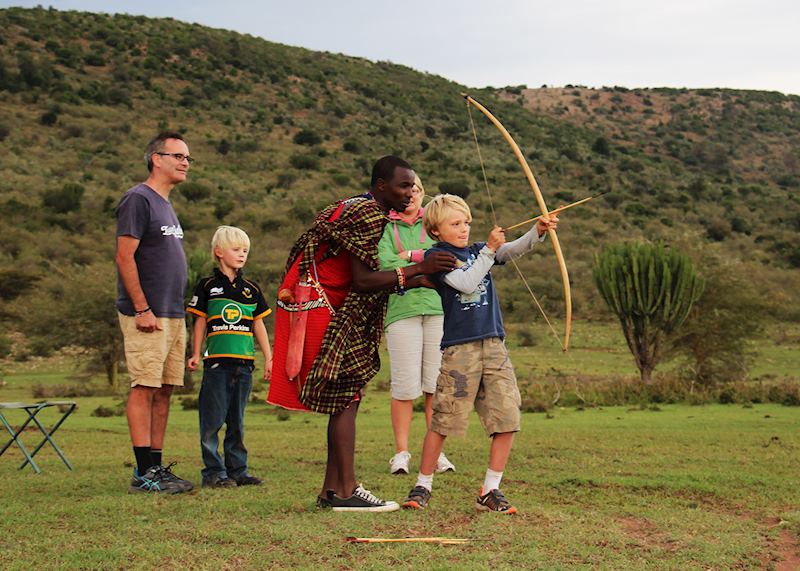 On safari at Karen Blixen Camp
After four days at Bogani it was time to say goodbye and head out on safari. We set off for Karen Blixen Camp in the Masai Conservancy. This was carefully selected for its close proximity to Bogani and good standard of accommodation. It also has a small pool, which we used to cool off after safari drives and provide some alternate fun and relaxation.
As soon as we arrived at Karen Blixen Camp we spotted around 20 hippo that live in the waterhole opposite the restaurant. It's one of those 'money can't buy' experiences watching them wallow and play every time we sat down for breakfast, lunch and dinner.
A highlight of our stay at Karen Blixen Camp was our driver, Twala, who was patient and a fantastic guide, driving us round the conservancy and reserve to spot numerous lion, antelope, hyena, giraffe and elephant. We didn't manage to find an elusive leopard but it wasn't for want of trying.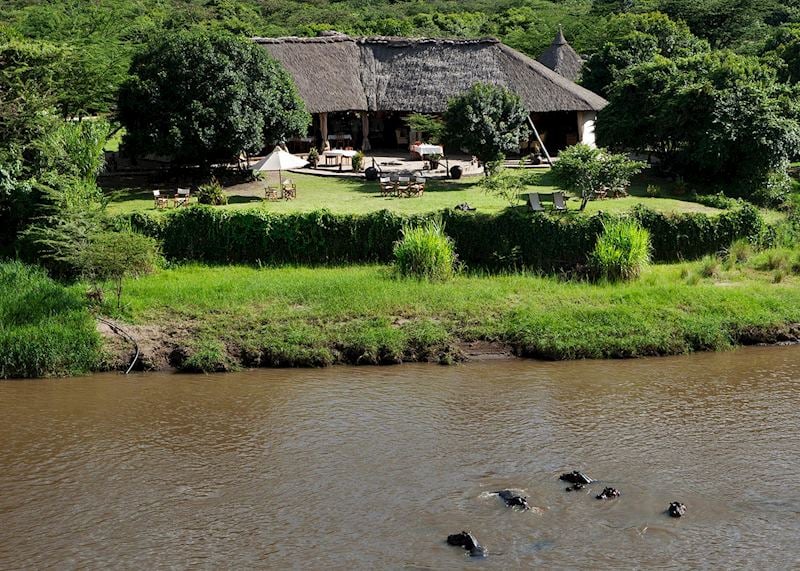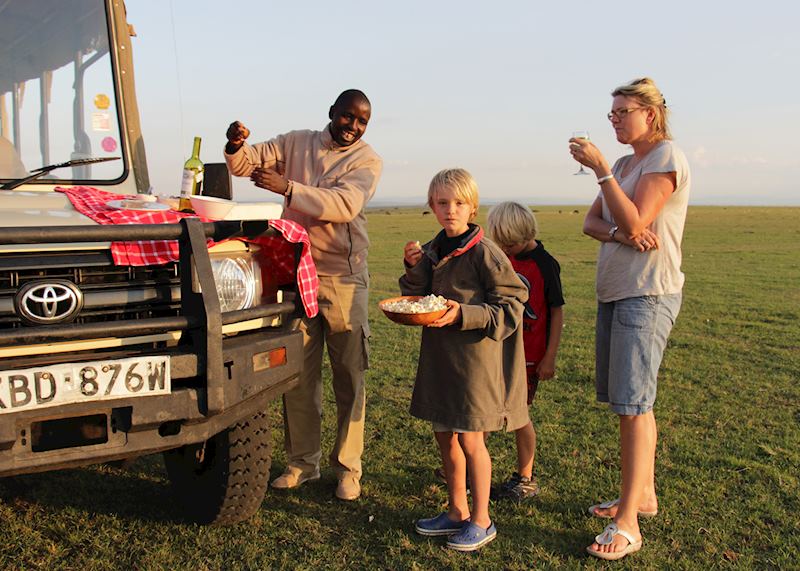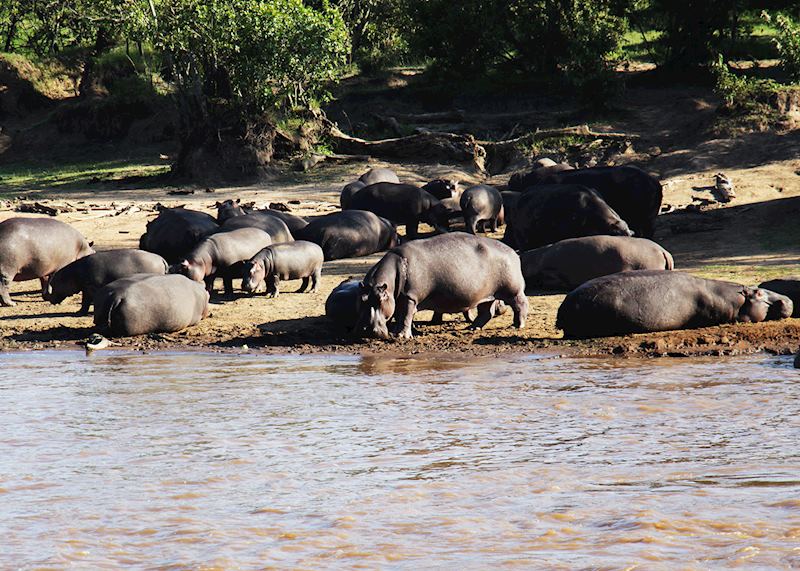 Back home
Now back in the UK our memories are still as vivid, talking about the Kiboko, Pumba and Simba. Has it changed the children's perspective on life? I'd say there's no revolution but slowly the dishwasher is emptied by them more often. They have both completed great school projects on Kenya as part of the WE Schools Program and are determined to 'Be the Change.'
Include Bogani Cottages and Tented Camp and Karen Blixen Camp on your trip to Kenya
Start thinking about your experience. These itineraries are simply suggestions for how you could enjoy some of the same experiences as our specialists. They're just for inspiration, because your trip will be created around your particular tastes.
Further Reading