After fully immersing yourself in the immensity of Southeast Asia, end your journey in the secluded serenity of one of our favorite world-class properties.
From Thailand to The Philippines, these award-winning properties can only be reached by speedboat or small aircraft. Whether you're enjoying spa treatments in Sumba, Indonesia, scuba diving the pristine coral reef in The Philippines or simply taking in the ocean views in Cambodia, these luxury stays lend themselves to a quiet and care-free vacation.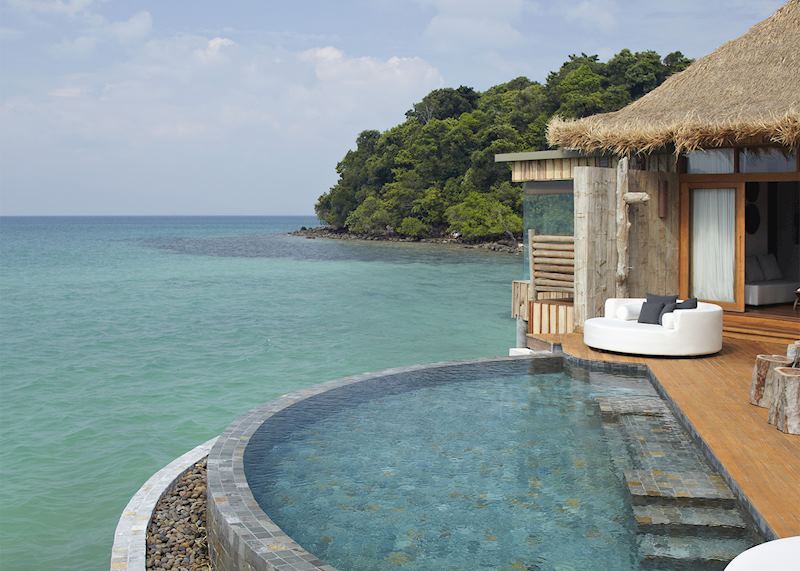 Six Senses Yai Noi, Koh Yao, Thailand
Getting there: Either private vehicle to Grand Marina followed by 45 minute speedboat to Six Senses, or private helicopter from airport to island
Six Senses Yai Noi is a stunning eco-friendly property with incredible views over the limestone karst islands of Phang Nga Bay. In addition to the beautiful beaches and fantastic infinity pool overlooking Phang Nga Bay and James Bond Island, there is a free range chicken ranch where you can pick your own eggs for breakfast. The restaurant uses all its own fresh produce and herbs, and the water is filtered on site from rain water. All the rooms have pools and wine cellars, complete with butler service and golf carts to take you anywhere you'd like within the resort.
If you want to explore beyond the resort, you can rent bicycles, Vespas or tuk-tuks. Keeping active is easy with the flying yoga pavilion and even a Mai Thai boxing ring where you can practice some skills or take lessons. End your workout with daily complimentary ice cream, or relax at the outdoor cinema on the beach and sit back as a server brings you popcorn during movie showings. The Six Senses Yai Noi has everything you could possibly need, but if something is missing your GEM (Guest Experience Maker) will do their best to help make your stay the best it can be.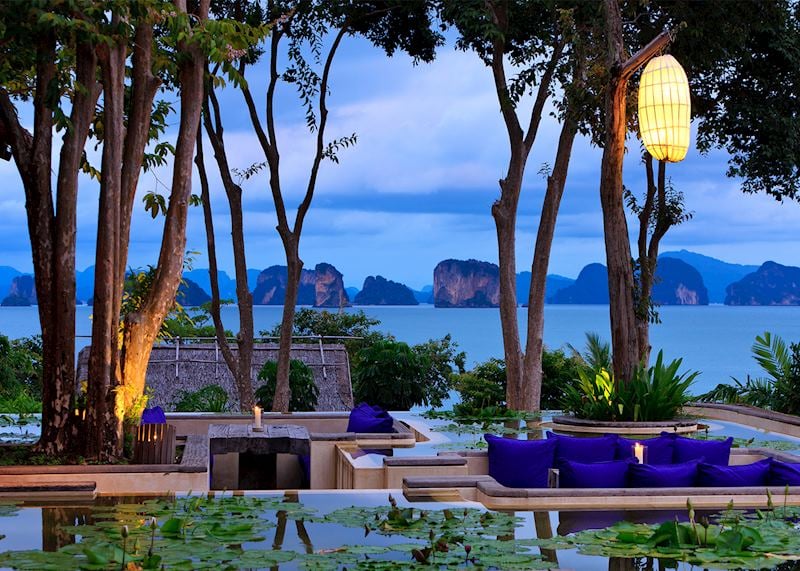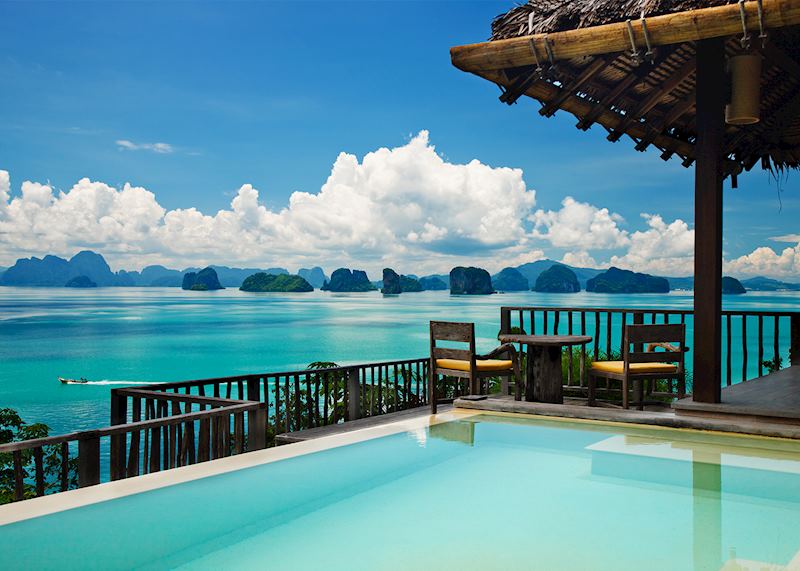 Song Saa, Sihanoukville, Cambodia
Getting there: 45 minute speedboat transfer from the coastal city of Sihanoukville
The Song Saa on the Koh Rong archipelago is one of Cambodia's most striking retreats in a pristine location, existing in its very own time zone. The resort is its own private island — or rather, two small islands connected by a footbridge. The 27 ocean view overwater bungalows each have their own private pool overlooking the emerald waters. The overwater restaurant and lounge allows you to dine under the starlit sky. The restaurant offers a twist on traditional Cambodian dishes made with fresh, organic ingredients sourced from on-site gardens and seafood from local fishing villages. In between meals, visit the spa for a myriad of tranquil treatments.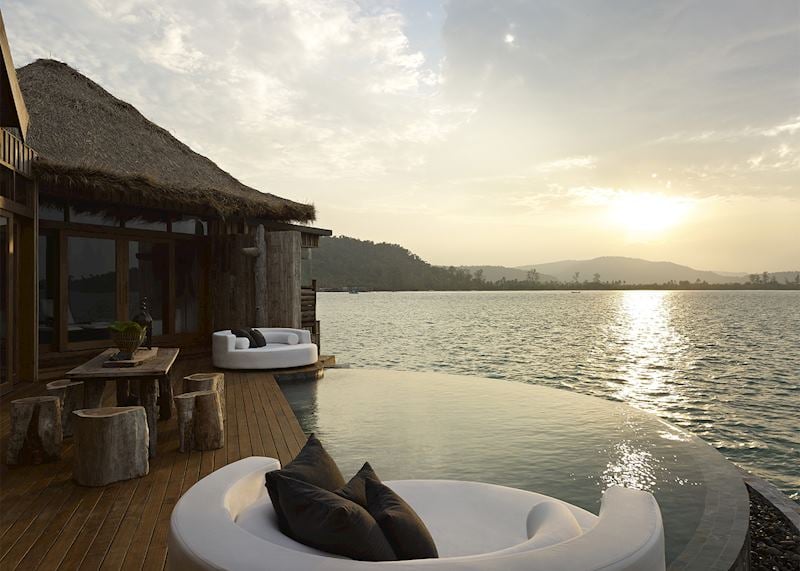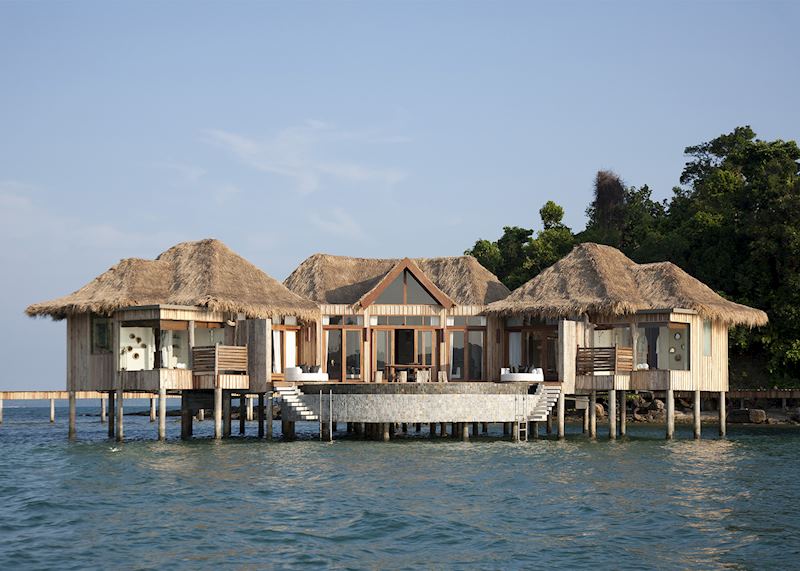 Soneva Kiri, Koh Kood, Thailand
Getting there: Light aircraft from Bangkok to neighboring island, followed by speedboat to the arrival pier
This remote paradise is located on over 100 acres of natural grounds, with beachfront property surrounded by huge hills rising up from the sea. The 36 private pool villas come with personal, friendly and attentive service, all set in this natural paradise. Delectable and local cuisine is offered at the restaurant, and there's even a chance to take your dining to the next level with the "Treepod Dining" experience. A bamboo pod sits high up in the rainforest, and from up high you'll gaze out at the shoreline as you enjoy your gourmet meal, delivered by zip-line by your personal waiter. After dinner, watch a movie under the stars at the open-air theater. This barefoot intimate stay is complete with priceless sunsets and an excellent spa.

Getting there: 1.5 hour private vehicle journey through forests, local villages and rice fields
Nihiwatu, located in southern Indonesia on the remote island of Sumba, is a top-of-the-line, sophisticated resort. The island and people of Sumba have influenced much of the resorts décor, and its raised villas with balconies were inspired by traditional Sumbanese homes. The resort itself has a strong connection with the people of Sumba who make up 90% of the staff.
Nihiwatu was originally discovered as an exceptional surf location, and today it continues to be home to a famous world-class surf wave. It exudes a relaxed yet chic atmosphere and serves as a perfect beach hideaway. Endless spa treatments, personal plunge pools, visits to waterfall, deep sea fishing and sunset horseback rides are just some of the luxuries guests can look forward to. Named the world's best resort in 2016 by Travel and Leisure, Nihiwatu is situation on over 400 acres of protected tropical forest and has its own private 1.5 mile shoreline. There's even a three-villa tree house that sits atop a cliff overlooking the ocean.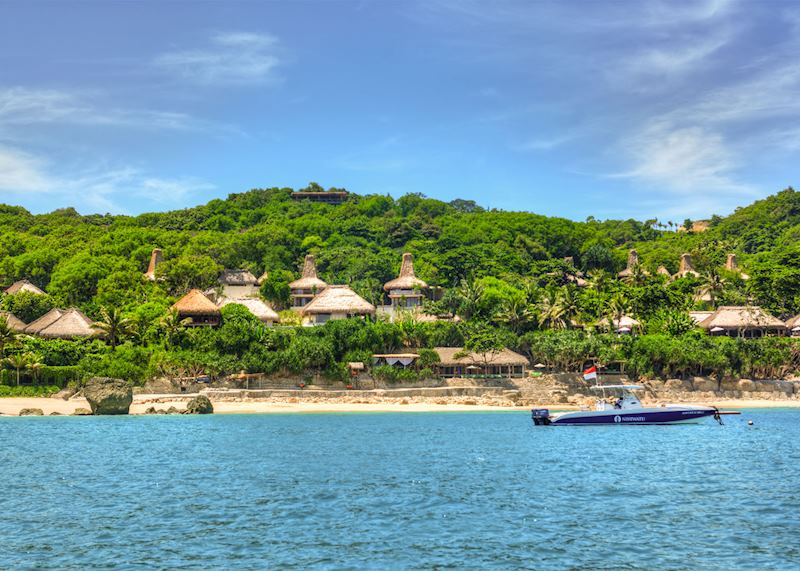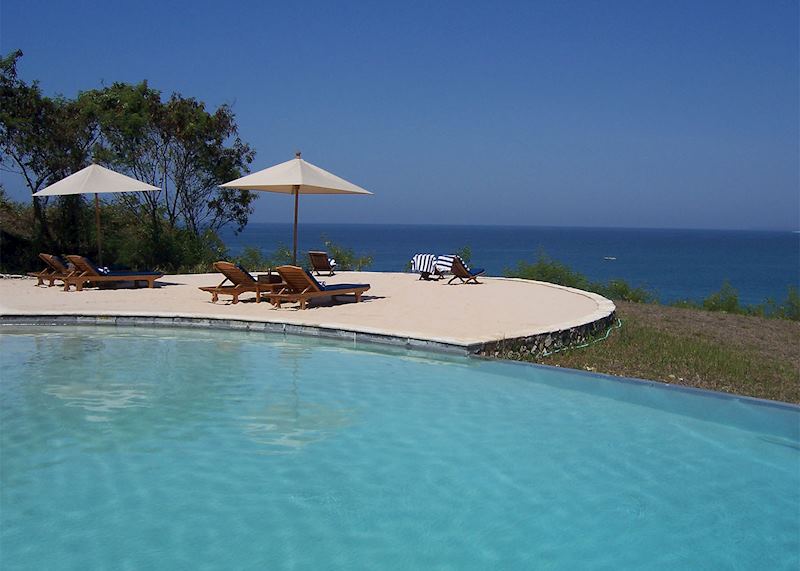 Six Senses Con Dao, Vietnam
Getting there: 45 minute flight from Ho Chi Minh City
The elegant Six Senses Con Dao Resort is situated on its own private stretch of beautiful white sand. Con Dao is a 16-island archipelago off the coast of Southeast Vietnam. It is famed for its crystal clear blue-green waters, soft golden sand beaches, lush mangrove forests and beautiful coral reefs. The 50 villas at the Six Senses offer generous personal space with lush tropical mangrove vegetation and breathtaking views. Each of the villas has its own private infinity pool, indoor and outdoor bathrooms, private landscaped garden and unobstructed views of the South China Sea.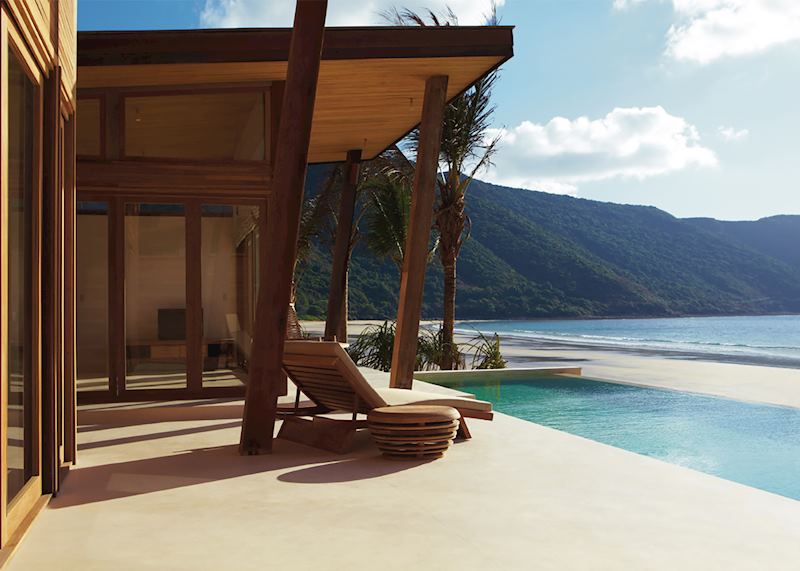 Getting there: 45 minute small aircraft journey from Manila to Amanpulo's private runway
Amanpulo is world-famous for being one of the ultimate private island luxury resorts with white sand beaches, immaculate coral reef and even its own airstrip and plane with private hanger in Manila Airport. The short flight to Amanpulo offers views of turquoise waters and tiny coral islands. Amanpulo has its own jungle adventure trail in the center of the island and offers nature walks through the lush plants and by the dozens of bird species living on the island. Visit sea turtles up close, enjoy sailing or scuba diving, or get up close to the stars through a specialty telescope at night. You also have your own bicycles and golf cart to explore the island at your leisure. To top it all off, the food is sensational, with service to match.

Further Reading